Are you looking for the best email subscription popup plugins for WordPress, but not sure which option to choose?
Growing your email list can be tough, especially since online consumers are bombarded with offers every single day.
And yet, there's no denying that email marketing can be one of your company's most profitable assets.
The good news is that with the right tools, growing your list can become infinitely easier.
That's why, in today's post, we're going to share 7 of the best email subscription popup plugins for WordPress.
Ready to get started? Let's jump straight into the list.
Email Subscription Popup Plugins (WordPress)
The following tools are designed to make your lead generation efforts EASY.
That's why, for this list, we chose plugins that are:
Powerful and come with all the features you'll need,
Flexible and integrates with your site's other plugins,
Affordable, so you don't sacrifice one problem (lead gen) for another (cost).
With those factors in mind, let's start with our first email subscription popup plugin.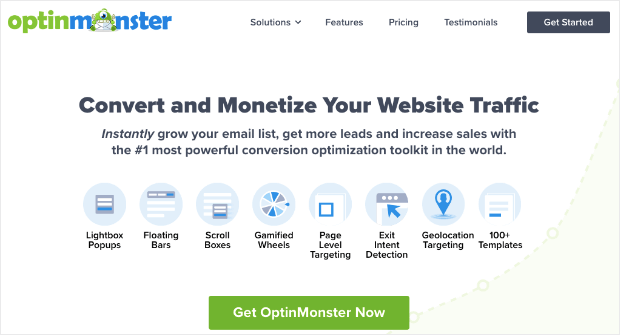 OptinMonster is a premium WordPress plugin that helps you get MORE email subscribers in LESS time.
That's because this tool lets you create a variety of "optin campaigns." This term refers to things you're likely already familiar with, such as:
Lightbox popups
Floating bars
Fullscreen welcome mats
Inline campaigns
Gamified spin-to-win wheels
And much more…
By giving you more variety in your campaign choices, you can build a personalized lead generation strategy.
But when it comes to making a classic email subscription popup, there's simply no easier tool to work with.
Part of that is thanks to OptinMonster's 50+ templates: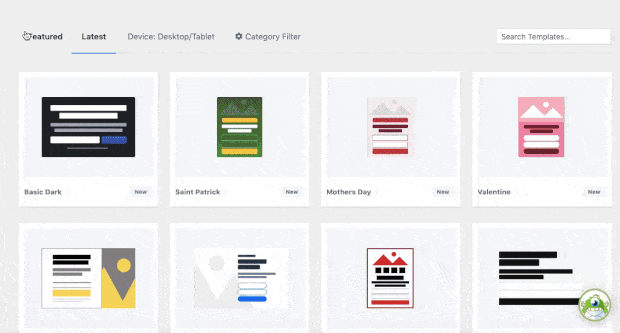 These templates are designed to save you time, energy, and headaches in the campaign creation process.
In fact, many OptinMonster customers choose to publish these templates without any modifications at all.
But if you do want to make changes to your campaign, you certainly can.
OptinMonster has a codeless drag and drop visual builder that gives you complete control over the look, style, and message of your campaign: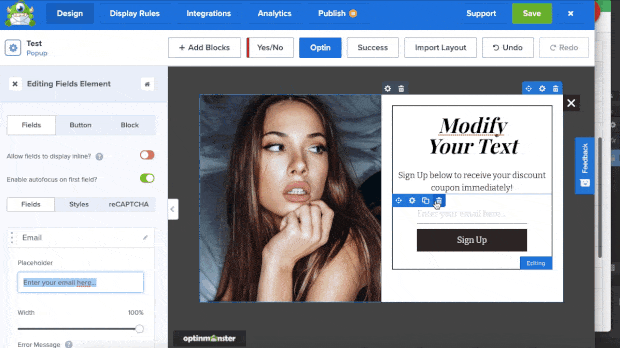 This makes it easy to add new functions to your popup, such as:
Images
Videos
Custom HTML
Dividers
Call to action (CTA) buttons
Backgrounds
And much more…
And to modify any of the text, you can simply use OptinMonster's inline editor. This lets you highlight the text you want to change and make those edits directly in the builder itself: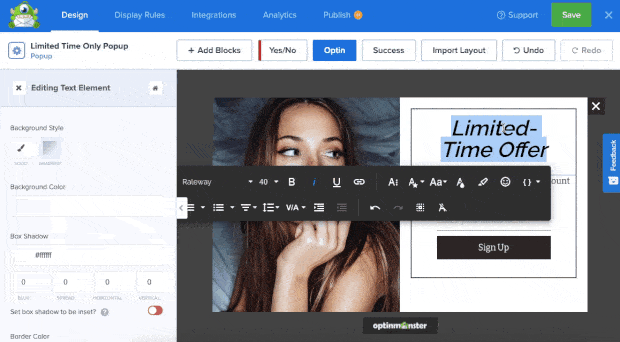 In short, OptinMonster gives you everything you need to create stunning and professional email subscription popups FAST.
But remember, building the popup is only half the battle.
After that, you'll need to show your offers to the right people, in the right places, and at just the right times in their customer journey.
For that, you'll want any of OptinMonster's many targeting rules. Some of the more popular options include:
Exit-Intent® Technology: Recover abandoning visitors and carts by showing offers as people are actively leaving your site.
OnSite Retargeting®: Keep users engaged by showing fresh campaigns to returning visitors.
Geolocation: Personalize offers by targeting users based on where they're physically located.
MonsterLinks™: Boost conversions by transforming your email popups into a clickable link (from a button or anchor text).
These are just a few of the targeting rules OptinMonster gives you, though there are many others.
And they're the same kinds of rules that allowed Shotkit to grow its list with 40+ NEW leads every day.
Or how Human Food Bar is able to add 1800+ signups to their list every month.
From there, you can set your entire lead generation process on autopilot.
That's because you'll be able to sync OptinMonster with your email service provider (ESP).
That means when a new subscriber joins your email list, they'll be sent to your email marketing funnel.
You can send automated campaigns to nurture the relationship and, eventually, transform that lead into a happy and paying customer.
To recap, here are some of the main reasons why over 1.2 million websites are using OptinMonster to grow their list right now:
Fast setup and installation
Variety of campaign types
Codeless drag and drop visual builder
50+ templates to choose from
Integrations with 3rd-party marketing tools
Powerful targeting rules
And much more…
For more proof that OptinMonster is a tool that just works, check out the following resource: 11 Case Studies to Inspire Your Success.
Or you can simply click below to start your 100% risk-free OptinMonster subscriptions today:
Get Started With OptinMonster Today!
BONUS: Done-For-You Campaign Setup ($297 value)
Our conversion experts will design 1 free campaign for you to get maximum results – absolutely FREE!
Click here to get started →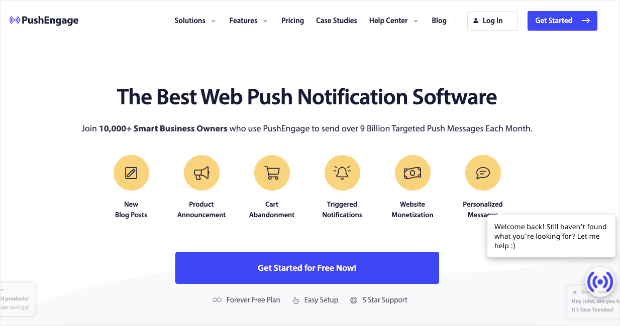 You might know PushEngage as the best push notification software on the market.
So you're probably also be wondering, "What is this tool doing on a list for email subscription popups?"
Here's why we added this as one of the top tools to our list.
Earlier, we mentioned that it can be tough to grow your email subscribers. One of the reasons is the combination of 2 factors:
Some site visitors won't feel comfortable handing over their contact information on their first visit to your site
And most of your first-time visitors won't ever come back
This means you're leaving LOTS of leads on the table every single day.
And that's exactly where a tool like PushEngage can help through "push notifications."
Push notifications are small popup messages that appear on your user's browser screen even when they aren't on your website.
Plus, you can add links to these messages and redirect users to high-converting posts or landing pages.
But here's the real advantage: push notifications don't require users to hand over personal contact information to subscribe.
When someone lands on your site, they simply need to click a single button to allow these notifications to appear.
As a result, subscription rates for push notifications are much higher than for email popups.
That means you can grow your push notification subscriber list faster and use that list to redirect users to an email signup landing page.
Or you can simply send subscribers to pages that tend to get the most email signups organically.
Either way, PushEngage can be a great way to unblock your lead generation strategy and will drastically help grow your email list.
And here are some of the things we KNOW you'll love about PushEngage:
Set up with no coding or "tech skills" required
Create automated "drip" series
Organize your list into sub-groups (or "segments")
Personalize messaging with user data
Recover abandoned carts
Schedule campaigns for future use
And much more…
But why not see it in action for yourself? Get started with PushEngage 100% risk-free today!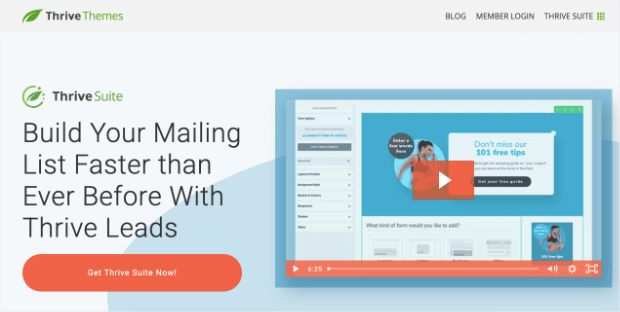 Thrive Leads is a list-building plugin with all the bells and whistles you'd want in a WordPress email popup builder.
It helps you design and deploy your popups with minimal effort. You also have access to advanced targeting rules to ensure you're showing offers to the right segments of your audience.
From there, Thrive Leads helps you A/B test your campaigns so you can get the best results possible.
And you'll rest assured knowing you're not leaving any leads on the table with their powerful analytics reports.
You can purchase Thrive Leads separately or as part of the Thrive Suite bundle of 9 different business plugins for WordPress.
Key Features
Easy to use popup builder
Fast installation
A/B testing
Analytics dashboard
And more…
Learn more about Thrive Leads today!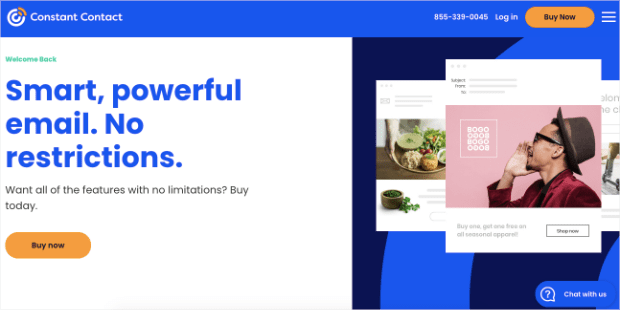 Constant Contact is one of the most popular email providers on the market. It helps people organize their email lists and send targeted campaigns to their subscribers.
But what some people don't know is that Constant Contact comes as a convenient plugin that also helps you capture leads.
With this tool, you can create your own signup forms with popups, inline campaigns, landing pages, and more.
Then you can target those campaigns across your website for higher conversions.
This lets you keep all of your email marketing tools in one place, from signing up to sending email campaigns.
The only thing we should mention is that you'll be more limited in the type of popups you can build. You also won't have as many targeting rules as if you went with another software like OptinMonster.
That's because, again, Constant Contact is primarily an ESP at heart.
But for people just getting started and already using Constant Contact, this is an excellent option to begin with.
Key Features
Easy to use popup builder
Timing and display rules
Fast installation (like most plugins)
Audience segmentation
Reliable analytics
And more…
Get started with Constant Contact today!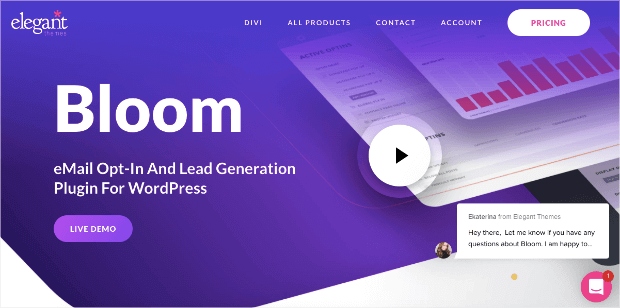 Bloom is an email popup creator specifically for WordPress brought to you by Elegant Themes.
This tool helps you grow your email list and convert your traffic into leads.
Bloom gives you 6 different types of optin forms to create:
Lightbox popups
Slide-in (or "fly-in") popups
Inline campaigns
After content campaigns
Widget area forms (like a sidebar)
Gated content
It also allows you to target your audience based on how they engage with your website.
That means you can create offers for particular parts (or "segments") of your audience. Then, you can choose whom to show these offers to (and where) for higher conversions.
Finally, Bloom integrates with many of your favorite 3rd-party marketing tools. That makes Bloom a strong addition to any marketing stack already in motion.
Key Features
Easy to install
Works great with the Divi theme
Multiple campaign types
Advanced targeting rules
Flexible integrations
And much more…
While Bloom is a great option for people working with products from Elegant Themes, we should mention that it doesn't have as many campaign types or targeting rules as OptinMonster.
That said, it can be a good email subscription plugin for new businesses or marketers starting their lead generation strategy.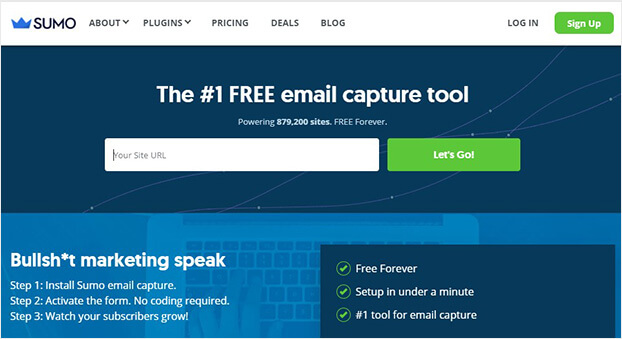 Sumo is a free popup building plugin for WordPress. It has a fast and easy setup that makes it a good option for beginners.
They do, however, have a premium version of the plugin for more advanced needs.
Sumo offers users a variety of campaign types to get started. They also give you plenty of templates so you can start getting popups on your site FAST.
Plus, you'll have access to targeting rules that help you display your offers to the right portions of your target audience.
Then you can rely on the powerful analytics dashboard to optimize your results for higher conversions.
The downside of this plugin is that it can be harder to scale.
There is a free version, yes. But after that, you'll be looking at $39/month (if purchased annually).
While that price point isn't an issue in itself, those are the only 2 options: all or nothing.
It's important to understand this when comparing popup software because it means you may need features the free version doesn't have, OR you may pay for features you won't use.
Key Features
Easy to set up (in less than 1 minute)
Multiple campaign types
Advanced targeting rules are available
Simple popup builder with a low learning curve
And much more…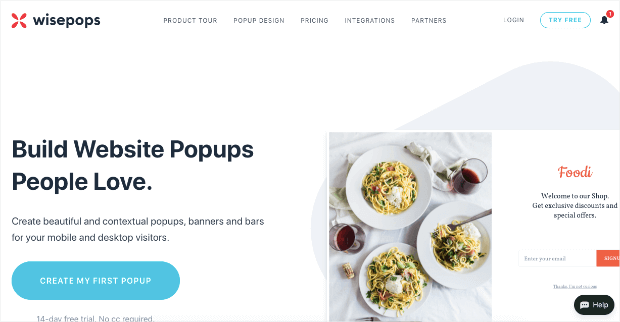 Wisepops is the last email subscription popup plugin for WordPress we'll look at today, though it's certainly not the least qualified to be here.
This software is simple, powerful, and comes with everything you'd expect in a popup builder.
There are lots of pre-built templates to get you started, and modifications can be made in minutes.
They also have 30+ targeting rules and triggers to help your offers get in front of the right people.
Plus, Wisepops integrates with lots of 3rd-party tools, allowing you to fit it into your current marketing stack.
All in all, this is a good email popup builder for WordPress.
The only downside is pricing, which may be out of budget for many small businesses. Paid plans start at $49/month and reach $250/month before custom pricing begins.
Key Features
Pre-made templates
30+ targeting rules and triggers
Easy installation
Integratable with other marketing tools
And much more…
Learn more about Wisepopups today!
Now that we've looked at 7 of the best email popup subscription plugins on the market, let's look at which one we feel comes out the winner and why.
Which Is the BEST Popup Plugin for WordPress?
While we looked at many great options on this list, we're confident that OptinMonster comes out ahead on this one.
The reason is simple. OptinMonster is the ONLY tool that is more:
Powerful in terms of targeting,
Flexible in terms of use cases and benefits,
Affordable with tiered plans that fit ANY stage of business.
Plus, we've seen this tool help over 1.2 million websites grow.
But why not try it out for yourself? Click below to start your 100% risk-free OptinMonster account right now:
Get Started With OptinMonster Today!
BONUS: Done-For-You Campaign Setup ($297 value)
Our conversion experts will design 1 free campaign for you to get maximum results – absolutely FREE!
Click here to get started →
And that's all for now. These have been 7 of the best email popup subscription plugins for WordPress.
We hope you enjoyed this post. If you did, then you'll definitely want to look at the following resources:
These articles will have even more information that you can use to get MORE leads in LESS time.