Are you looking for a complete review of the AffiliateWP plugin?
AffiliateWP is an affiliate marketing plugin that lets you create an affiliate program to promote your products. It helps you leverage the power of affiliate marketing and encourage the affiliates to sell your products.
In this AffiliateWP review, we'll check out the premium features of the plugin and figure out if it's the best affiliate marketing plugin for your business.
What is AffiliateWP?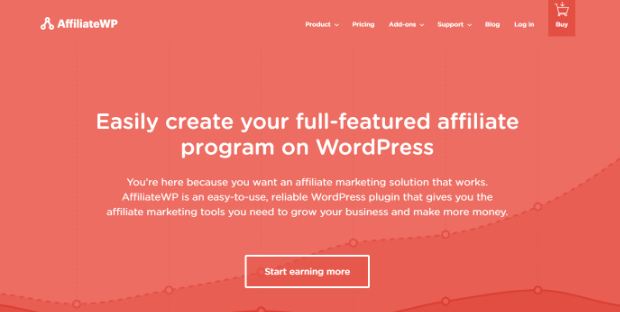 AffiliateWP is a premium plugin that helps create your affiliate program and scale your business with affiliate marketing. It opens the door to collaborate with online marketing professionals and promote your products on the internet.
Before we jump into the plugin details, let us quickly understand how affiliate marketing works:
You start an affiliate program and marketers sign up for your program.
Marketers promote your business using links with unique codes on their websites and social media.
Users make a purchase utilizing their affiliate links and you get sales.
You reward marketers for bringing in sales by offering them a commission.
This makes it a win-win situation for both. Your affiliates make a commission when they sell your products. You get the chance to promote your products for free and you only have to pay when the affiliates make a sale.
Getting Started with AffiliateWP
Just as any WordPress plugin, the first step is to install the AffiliateWP plugin.
Since it's a premium plugin, you'll need to complete the purchase and download the plugin on your computer.

Next, upload the plugin on your website and complete the installation. Once you activate the plugin, you'll be welcomed by a setup wizard.
Enter the license key and click on Activate. Another method is to navigate to Affiliates » Settings and enter the license key.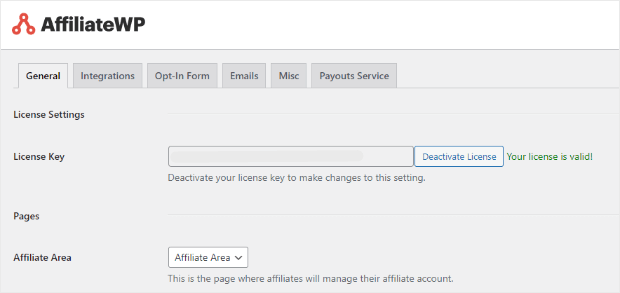 That's all needed to install the AffiliateWP plugin.
Now we can move forward and check the plugin features.
AffiliateWP Review: Complete Features
AffiliateWP is designed for WordPress websites and comes with a dedicated affiliate management dashboard.
But that's not the only reason for adding an affiliate plugin. AffiliateWP comes with plenty of features and makes sure you get everything integrated into a place without writing any code.
With that said, let's dig in and explore the plugin features.
1. Affiliate Management Dashboard
AffiliateWP comes with an easy to understand affiliate management dashboard that gives you all the information like affiliate earnings, referrals, and traffic in a single place.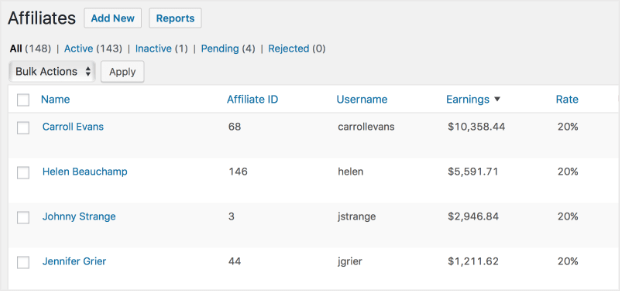 You can easily add new affiliates and remove the non-performing affiliates from the dashboard.
Besides, here are some of the affiliate management features that you'll love:
Affiliate registration: AffiliateWP comes with a simple affiliate registration form that you can use to add affiliates. The registration defaults to manual approval, so you can personally verify before approving new affiliates.
Generate referral links: Easily add, delete or edit referrals from the Referrals tab. You can also select from referral types like sale, opt-in, and lead-type referrals.
Affiliate coupons: Affiliate coupon tracking enables you to connect coupon codes to affiliate accounts. Whenever a coupon is used, the linked affiliate user account is awarded a referral commission, just like a referral from a link.
Cookie time: Easily set the cookie period to track the referrals for your affiliates.
2. Real-time Affiliate tracking
The AffiliateWP overview dashboard makes managing and reviewing your affiliate accounts easy. It comes with real-time data reporting, meaning it updates the stats immediately after a new activity.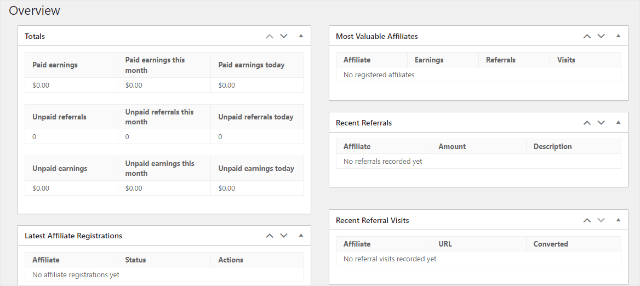 The Overview tab gives you a glimpse of the Total paid and unpaid referral earnings, most valuable affiliates, recent affiliate registrations, high converting URLs, and similar data.
Overall, the Overview tab makes it easy to track all the essential stats in a single place and saves time without visiting each activity tab.
3. Plugin Integrations
While AffiliateWP lets you quickly set up an affiliate program, you might want to customize some of the features with other plugins that you've already installed.
For example, you might want to customize forms with dedicated form plugins like WPForms.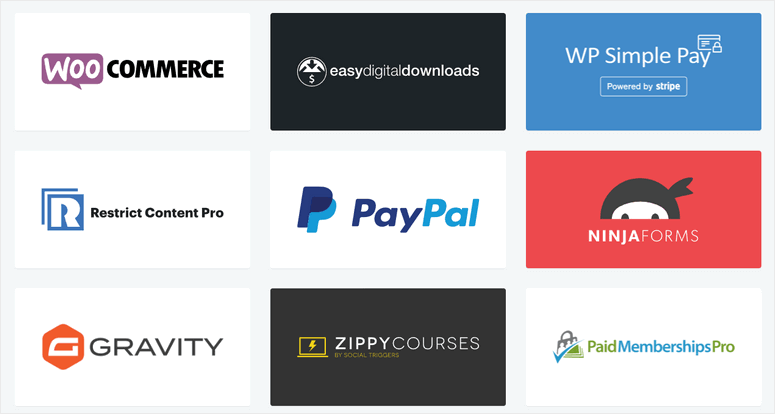 The best part is that AffiliateWP seamlessly integrates with popular eCommerce plugins, LMS platforms, invoice tools, and WordPress plugins.
Thanks to these one-click integrations, you can launch affiliate programs quickly in minutes.
Some of the significant WordPress integrations include WPForms, Easy Digital Downloads, WooCommerce, and Simple Pay.
4. Affiliate Payments
Affiliate commission payouts can be a mess if not handled carefully. Since affiliate marketers promote products to gain a commission, you must make timely and error-free payments.
AffiliateWP makes paying commissions hassle-free. You need to connect to the AffiliateWP payout service and enable it to make payments directly from your website.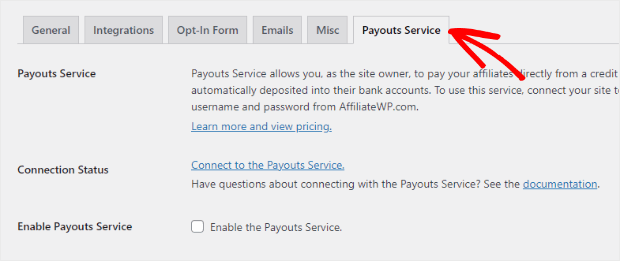 Once the setup is complete, you can directly pay commissions from your bank account, debit card, PayPal, etc.
You can easily customize the payment receipts and invoices and handle tax agreements from a single setup.
5. Unlimited Creatives and Coupon Tracking
Creatives are advertising materials that you can offer affiliate marketers for promoting your products. Some popular types of creatives are product images, flash banners, gifs, videos, widgets, and product screenshots.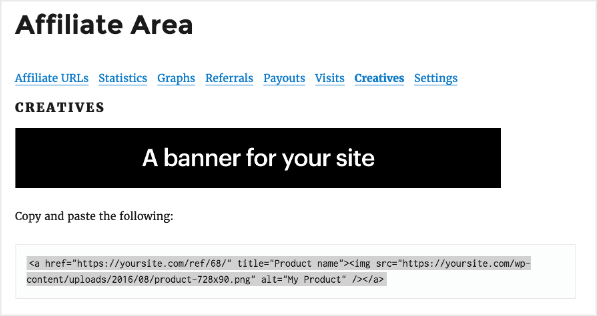 With AffiliateWP, you can create unlimited creatives and offer affiliate links, images, and other resources for promoting your products.
Navigate to Affiliates » Creatives and click on Add New to add a new creative.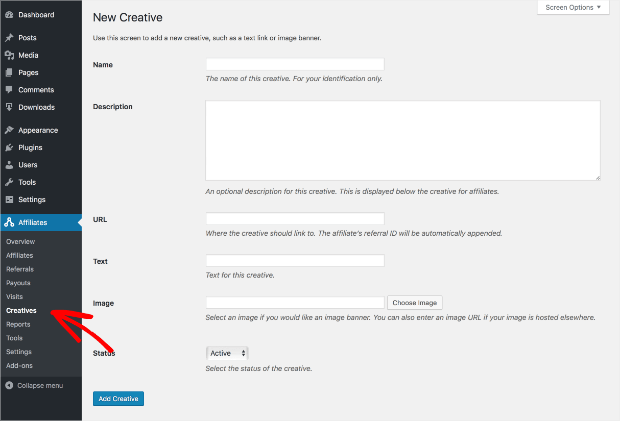 You can add all the necessary creative detail and share them with your affiliate members.
With the AffiliateWP Vanity Coupon Codes addon, you can even allow your affiliates to request their very own coupon code. These coupons offer a sense of exclusivity and bring in a good chunk of sales if executed well. You can also add a tailored commission rate to vanity coupons.
6. Easy Import/Export Data
Affiliate data can quickly build up over time, and it's not convenient to analyze the data within the WordPress dashboard.

AffiliateWP lets you easily export the affiliate list as a CSV file. It makes it easy to analyze data in offline mode and share it with your marketing and accounting team.
You can also upload a list of referrals and affiliates in CSV format, which saves you a lot of time than manually entering data.
7. AffiliateWP Addons
We already know that AffilateWP integrates with third-party plugins. Aside from that, you also get access to free and premium addons to extend the functionality of your affiliate program.
You can access the addons by going to Affiliates » Add-ons.
Pro Addons: Pro Addons are available in Professional and Ultimate pricing plans. So if you're going to subscribe to any of these plans, you'll get access to all Pro addons available.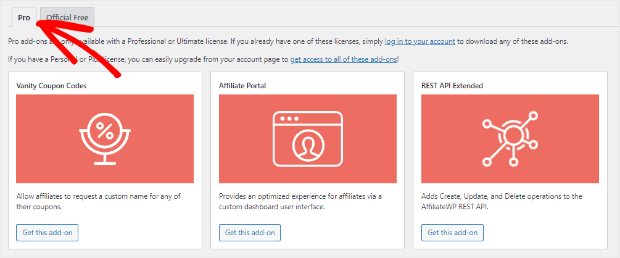 Here is the list of a few Pro addons:
Affiliate Portal
REST API Extended
Zapier
Affiliate Landing Pages
Direct Link Tracking
And so on.
Free Addons: AffiliateWP free addons are available in all the pricing plans. These addons add extra features to your affiliate management system without additional costs. As of now, the plugin has listed 18 free addons.

Some of the free addons are:
Affiliate QR Codes
Affiliate Blocks
Affiliate Area Tabs
External Referral Links
Allow Own Referrals
Leaderboard
And many more.
AffiliateWP Pricing Plans
Now that we explored all the essential features, it's time to check if the plugin can be a reasonable investment for creating a successful affiliate program.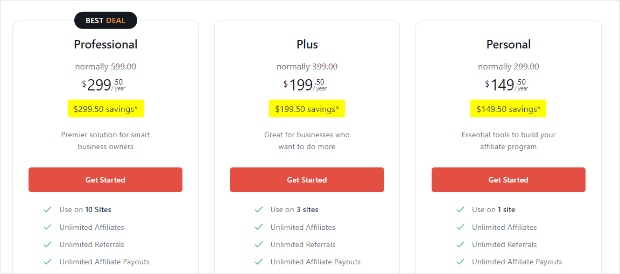 The AffiliateWP plugin comes in three different plans:
Personal: This plan costs just $149.50/year and you can go with this package if you're just starting an affiliate program.
Plus: If you're running multiple websites and want to install AffiliateWP on 3 websites, you can opt for the Plus plan by paying just $199.50 per year
Professional: This is the best plan for agency owners priced at $299.50/year. It lets you use the plugin for up to 10 websites.
AffiliateWP Final Verdict: The Best Affiliate Plugin?
Is AffiliateWP the best affiliate program plugin for your WordPress website?
Yes!
Creating an affiliate program might look easy, but the real challenge is making the overall campaign successful.
AffiliateWP stands out from all the available affiliate program plugins regarding ease of use, seamless integrations, analytics, and affordability.
We hope you liked our AffiliateWP review and you might also want to check out the following articles to learn more about affiliate marketing:
What are you waiting for? Get started with AffiliateWP today!
If you liked this tutorial, please follow us on Facebook and Twitter for more free WordPress tutorials.