Do you struggle to retain your customers and keep them coming back? You could be missing one or more critical pieces of an effective customer retention email campaign. In this post, we'll cover 7 types of emails to send to your customers that will keep them coming back for more.
Once a company loses a customer, 68% of consumers will never go back. They will be lost to that brand forever.
However, 80% of those "switchers" feel that the company could have done something to retain them!
Are you doing everything you can to retain your customers, or are you just letting them walk away?
The seven emails below are critical to any email marketing campaign for ensuring that your customers keep coming back. These emails can be used as a part of an effective email autoresponder series so that you can put the entire customer retention process on autopilot.
Let's dive into the seven email types that will help your customers fall in love, and stay in love, with your brand…
1. Onboarding Emails
Onboarding might not be the first thing you think of in regard to getting customers coming back for more. However, brand new customers are the warmest: they are the most likely to return because your brand and their purchase are still fresh on their minds.
Also, if customers don't actually use the product they purchased, then they won't come back for more later on. Getting them to use your product right away is a critical piece of the puzzle that you can't ignore, or you'll risk losing these customers.
One way to ensure that your new customers complete the onboarding process is by sending an email 48 hours after sign-up, encouraging them to complete their profile or to take the first step in using your product.
Hired reminds new users to complete their profile by showing them exactly where they are in the process and how far they have to go. This takes advantage of the fact that humans have a natural tendency to feel uncomfortable with leaving a task incomplete.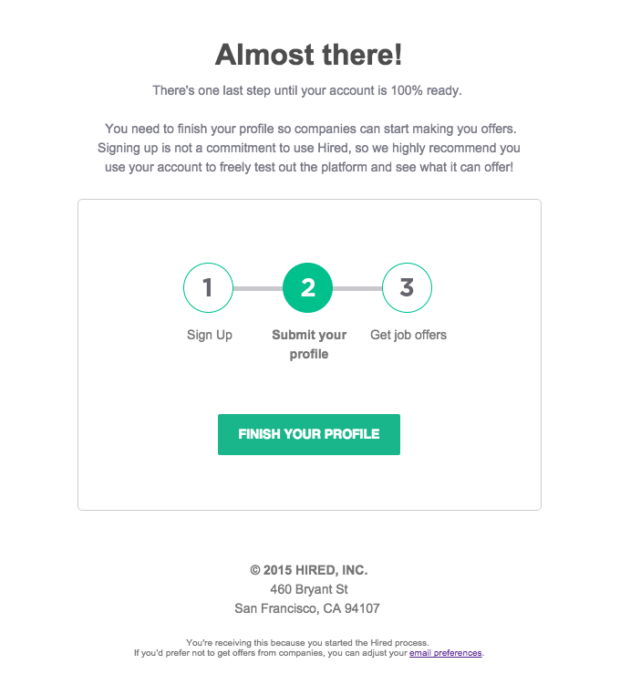 Another great way to engage new customers is by educating them about the product they just purchased, so that they can use it more effectively.
Designmodo uses their onboarding email to assist their Qards customers in getting to know their product and letting them know their first steps. They also include video tutorials and FAQ. This makes their onboarding email super helpful, and is likely to greatly increase customer satisfaction.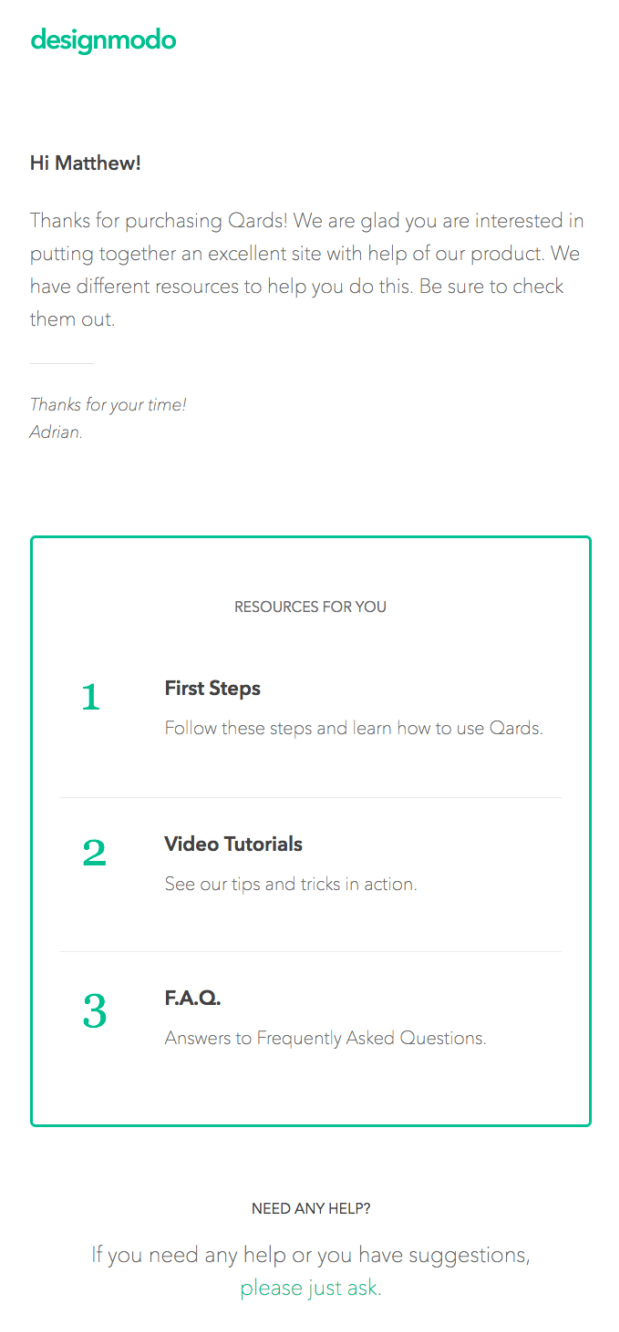 You should also be using onboarding emails to warm up new leads and encouraging them to make their first purchase. For instance, if you offered a coupon as an incentive for a prospect to join your email list, make a reminder email a part of your onboarding process.
For example, Ugmonk adds urgency by reminding prospects that their coupon for their first purchase is about to expire in 48 hours.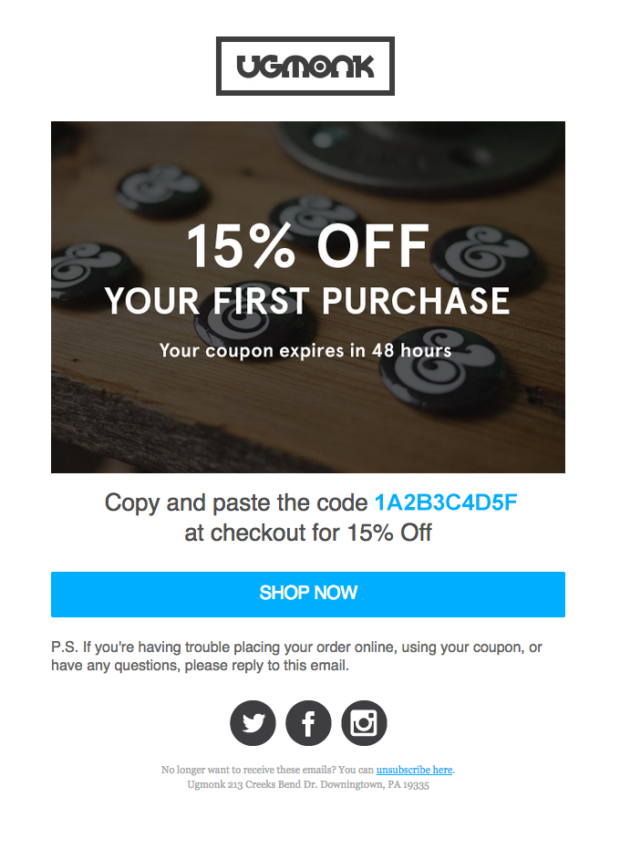 2. Inactivity Emails
Use inactivity emails to re-engage customers who haven't interacted with your brand in a while.
Sometimes inactivity happens because customers don't fully understand your product or service. Send them an email with actionable tips and advice which can encourage them to become more active.
Tookapic, a daily photo project management tool, uses a reminder email to keep users on track with their goal.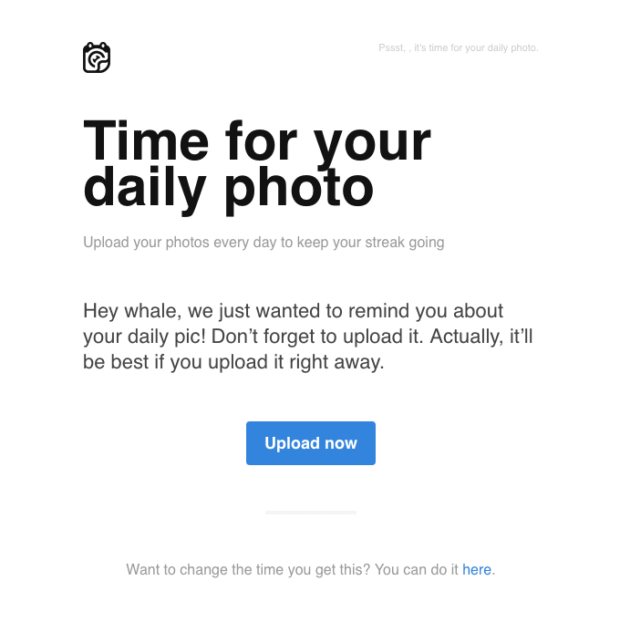 Total inactivity means you have nothing to lose. If the email doesn't work, you're in the same place you were prior to having sent it, so don't be shy about sending these emails!
Unroll.Me uses a clever win back email campaign to re-engage completely inactive users. The subject line is, "Unroll.Me has stopped working." Of course, the application itself hasn't stopped working, but this subject line really grabs your attention.
The call to action is to put Unroll.Me back to work and "clean my inbox". By focusing on the benefit (having a clean inbox), this makes for a very compelling call to action.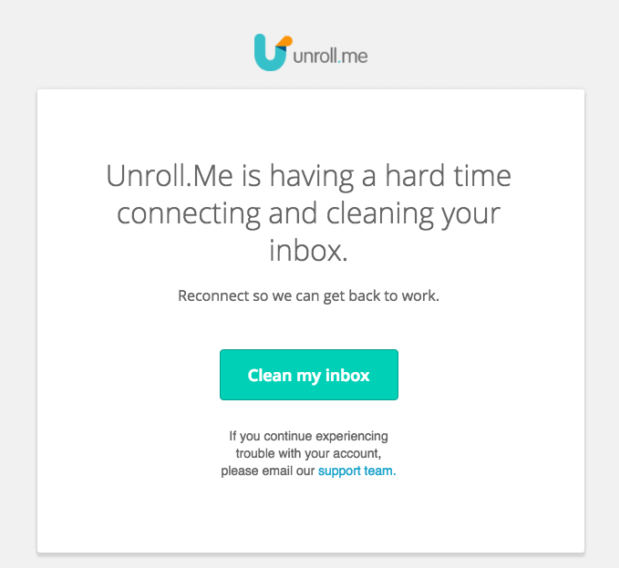 Teespring takes the emotional tack. In their inactivity email, they include a big photo of a sad puppy… who can resist that face?
The Wall Street Journal says science finds "short snouts, high foreheads, round faces and big eyes activate the dopamine reward center in the brain." That's why ads with puppies or babies work so well.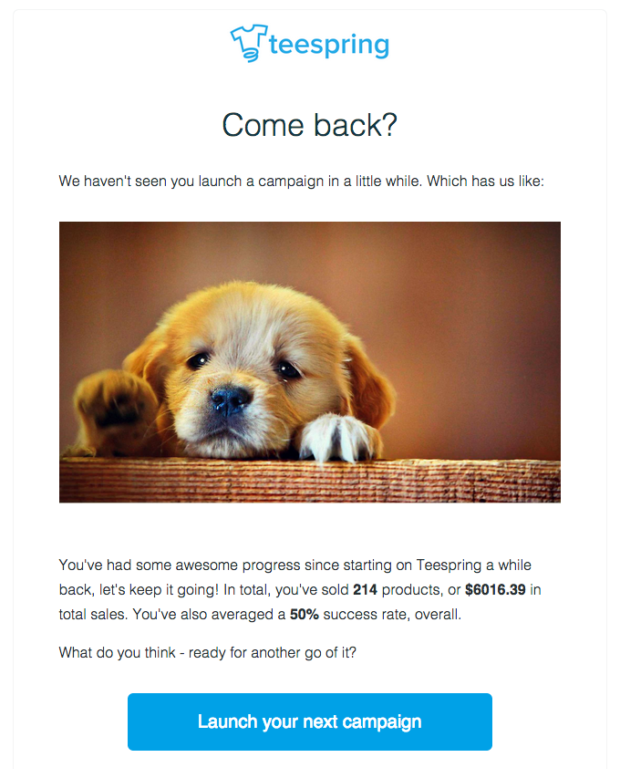 You can also send emails to recover lost customers, such as shoppers who abandoned their cart.
For example, Pinterest sends a cart abandonment email with the subject line, "Still thinking it over?" This subject speaks directly to how the shopper was probably feeling when they abandoned their cart… they are still on the fence.
Related Content: Email Subject Line Statistics To Help You Maximize Your Open Rates
The call to action to "Take a closer look" is another smart move. It's a much lower commitment to simply take a closer look than to "Buy now!" or "Checkout", so this is likely to get them a much higher click through rate.
For more inspiration, check out our roundup of abandoned cart email examples.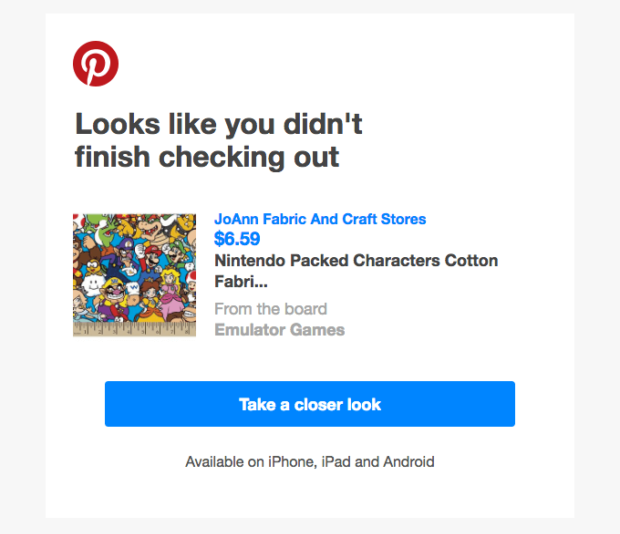 3. Activity Emails
Everyone is pretty comfortable with activity emails, and these tend to me the emails that users are the happiest to receive. These contain notifications, updates, or summaries of the user's activity.
Since users are so comfortable with these emails, they are perfect for increasing engagement. In fact, research shows that activity emails are opened eight times more often than promotional emails. In other words, if you aren't sending out transactional emails, you're missing out on an opportunity to reach subscribers.
Here are some excellent examples of activity emails that engage users and keep them coming back for more…
Product Hunt sends notification emails to keep users coming back to their website. This is the most basic form of activity email, and it is really simple to do.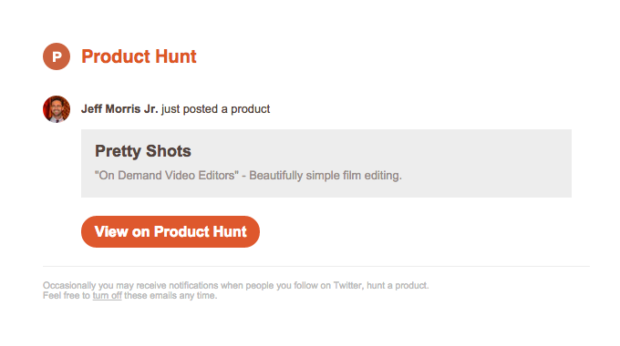 Pinterest takes a more aggressive approach. When the user saves a buyable pin, and that pins price drops, they send an alert email about it in order to push for the sale.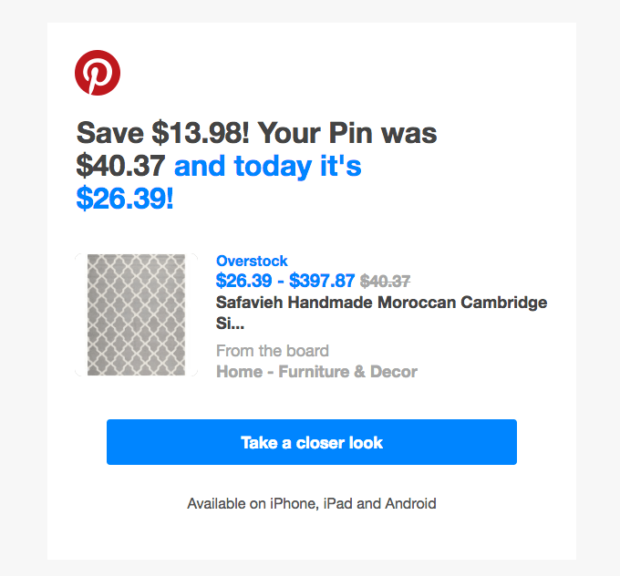 Jawbone doesn't wait for something to occur before they send out an activity email. Instead, they use a very detailed weekly summary email to reward and reinforce engagement with their UP fitness tracking device.

4. Renewal Emails
If you have a subscription based product, it is important to remind customers when it is about time to renew their membership.
Apple Music sends you an email when your membership is about to expire. Their call to action is to turn on automatic renewal, so you don't have to ever think about it again.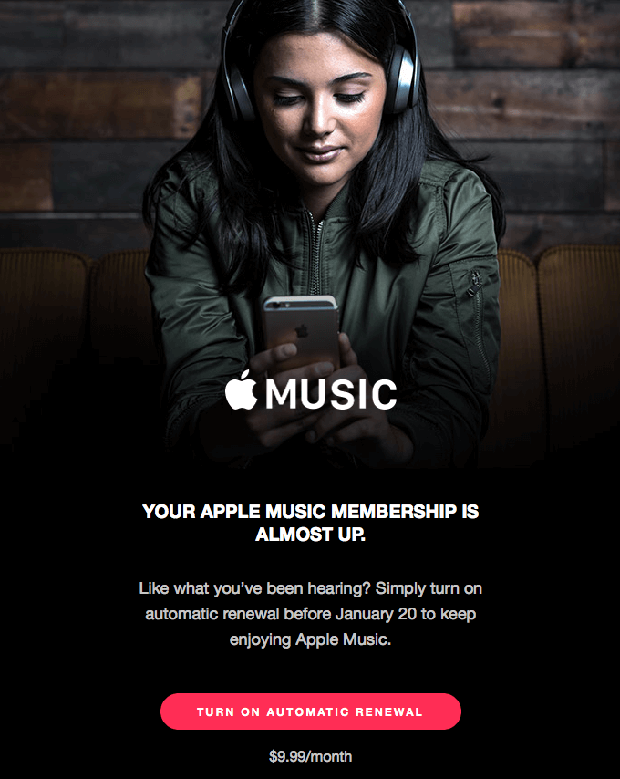 If you offer a free trial, don't forget to remind your users to continue their service. Here is an example from Avocode (a collaboration tool for designers and developers):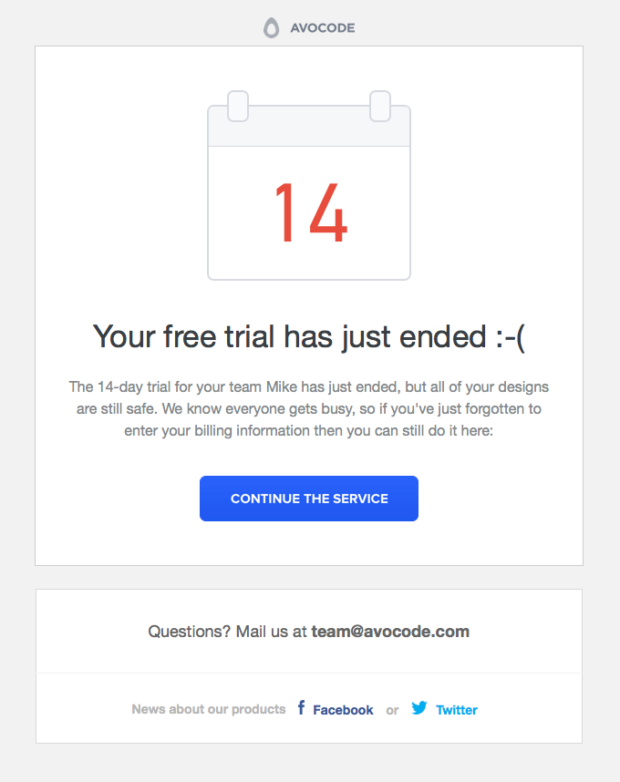 5. Cross Sells & Up Sells
Remember how customers who just bought are the most likely to buy again? Use this to your advantage by giving customers who recently purchased the opportunity to buy a related product (a cross sell) or a higher-end product (an up sell).
The Dollar Shave Club does this brilliantly by offering to add items to the purchase, just before it ships. This is the absolute perfect time to make an additional offer.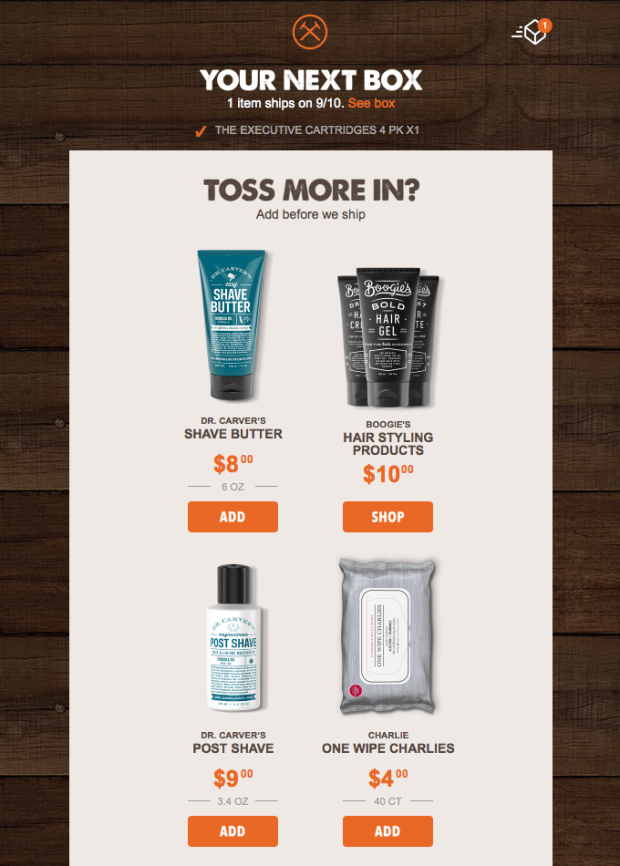 MOO uses the order receipt email as an opportunity to present their cross sells.
If you purchased a pack of business cards, they will show you some greeting cards that you can also purchase.

6. VIP Offers
Customers love to feel special. If you encouraged customers to sign up for your email list with the promise that you would offer them special perks and "VIP" content, then following up on that guarantee is a must.
One of the best ways to do this is to present them with the occasional "exclusive subscriber offer." There's unlimited potential for exclusive content… you just have to get creative! You can offer discounts, secret products, free samples, courses, webinars, podcasts, and more.
Whatever you do, be strategic about how you permit users to get access to these offers: you want them to be truly exclusive to your customers and subscribers.
Zapier offers live training sessions to their subscribers. The genius of this offer is that it does double duty: it not only makes their users feel special, but it also educates them about how to use their product effectively.
Remember, education is key to keeping your customers happy and coming back for more.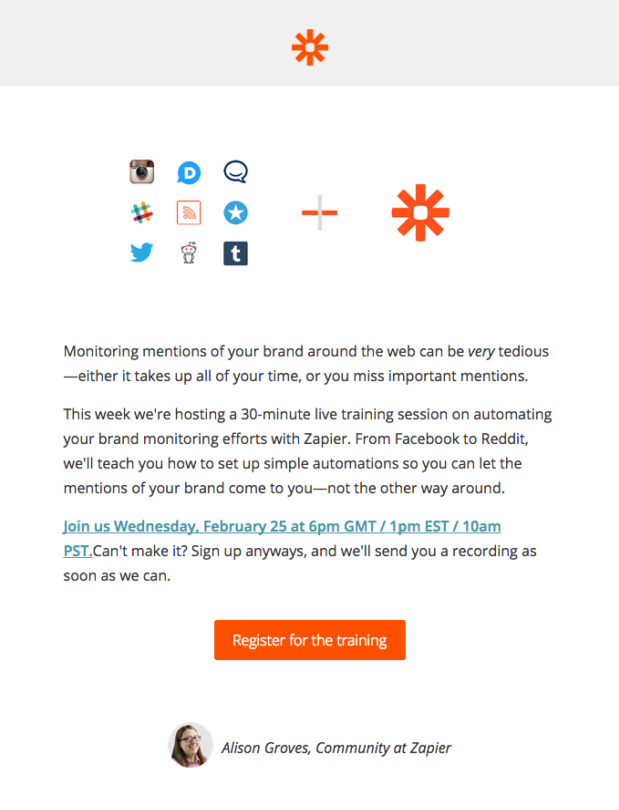 Another great way to reward your subscribers and keep them engaged with your brand is by offering an exclusive giveaway.
MileIQ offered their subscribers the opportunity to win an entire year of gas for referring their friends (the subject line read, "No Joke: Win Free Gas For a Year"). What's so great about this is that customers who do you a favor by referring people to you are also then more likely to return! It's just a natural human phenomenon to do more for people who we've already done small favors for.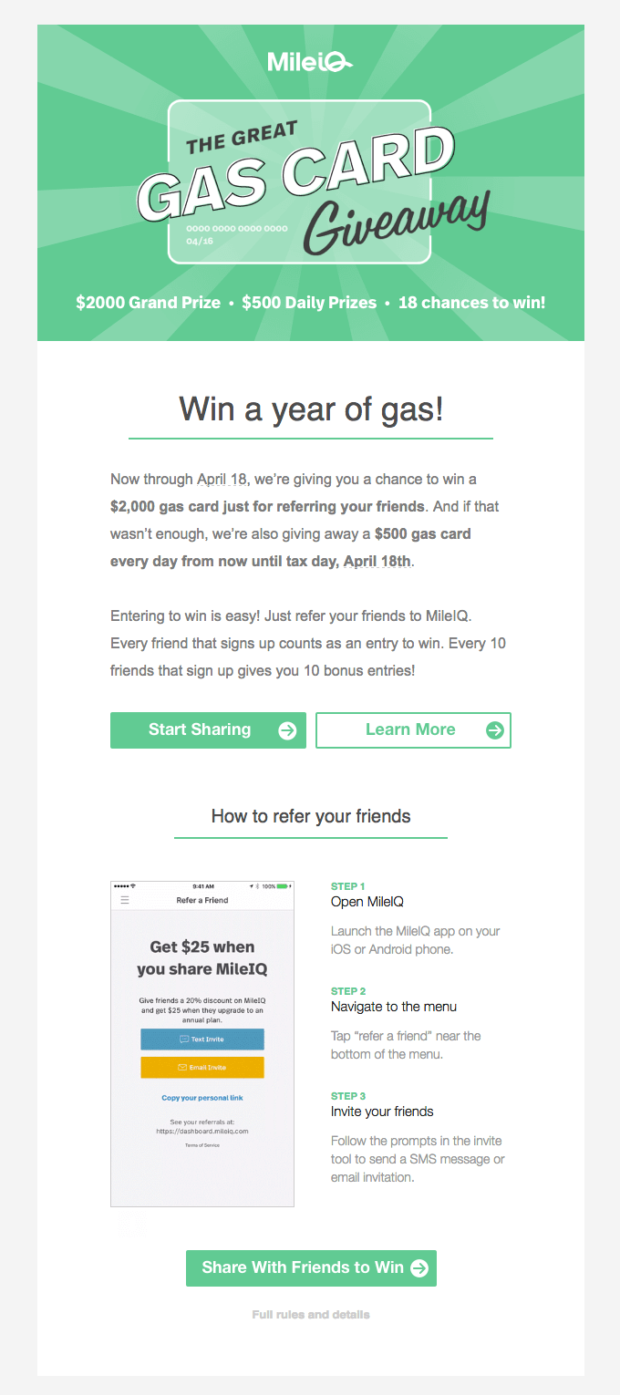 If you do a giveaway, just make sure you don't fall into the trap of offering something that anyone would want. If your prize is too generic, you will get low-quality leads.
In the case of MileIQ, however, yes most people would probably want free gas for a year. However, it is especially relevant to their audience because their product (a mileage logging application) is specifically for people who have long commutes, or otherwise need to drive a lot. And because the giveaway is being promoted by their existing customers, they are more likely to get qualified leads.
7. Surveys
Survey emails are extremely useful for getting customers to come back, and for getting new customers as well, because they help you to improve the product itself.
You can send surveys to customers who buy, or leads who didn't buy your product. You can even send surveys to your general audience to segment them based on their particular needs, so that you can create and tailor your products specifically to each of your segments.
Here's an example of a survey email from Taylor Stitch. They include the survey directly in the email to make it super easy for customers to give valuable feedback.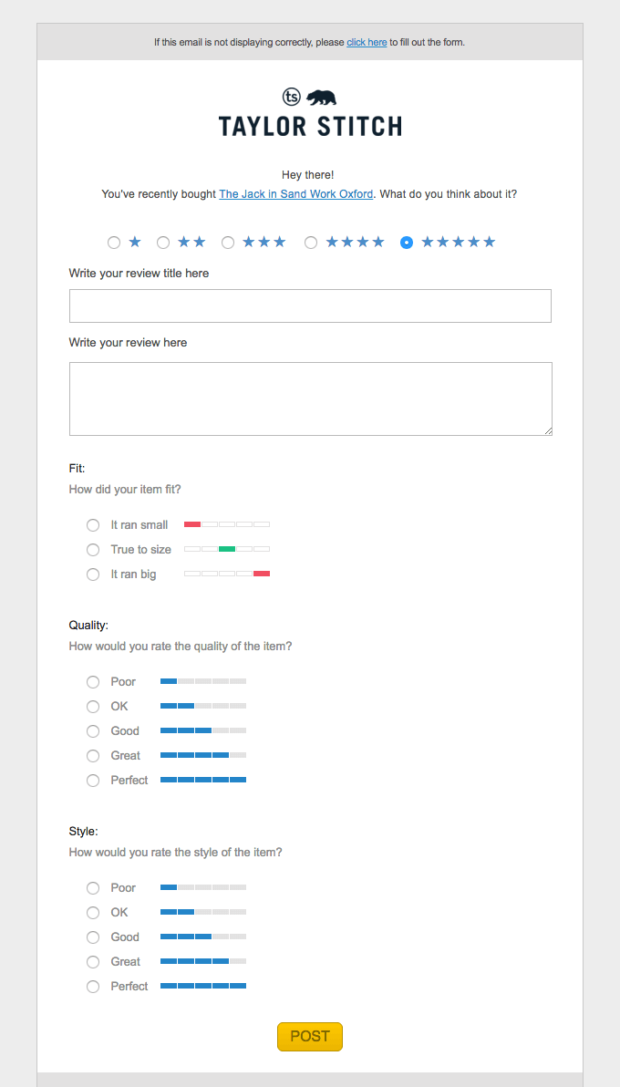 Typeform does something brilliant with their survey email. They entice you to complete their survey by letting you know in the P.S. that there will be a special surprise waiting for you on the Thank You page. (The star emoticon draws your eye right to the P.S., as does the call to action button, and the face is even animated.)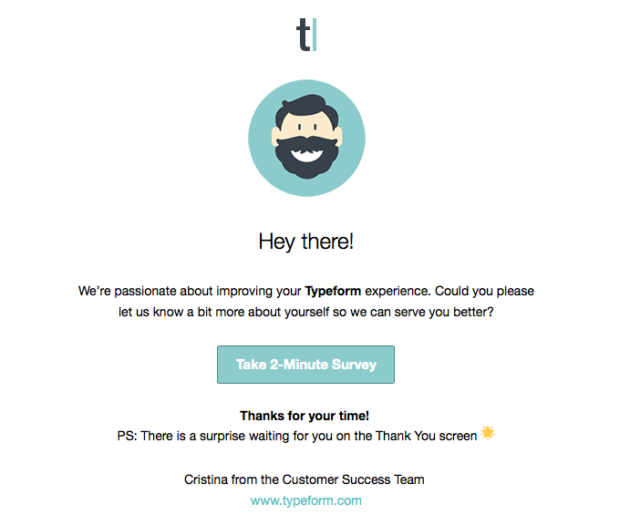 Conclusion
An effective customer retention strategy includes an email marketing campaign that continuously engages customers all along their journey with your brand.
If you miss any one of these critical components, you could be losing customers to another brand. However, if you include all of these types of emails you could really knock their socks off and obtain loyal customers for life.
Which of these seven emails do you need to implement into your customer retention strategy? Which one is working well for you? Let us know in the comments!