Are you looking for the best platform to launch your eCommerce site?
If you've ever considered building your own online store, chances are you've heard about both WordPress and Shopify.
In fact, these are two of the most prominent eCommerce platforms loaded with powerful features.
But whether you're starting from scratch or simply dissatisfied with your current website, choosing between the two can be tough.
That's why, in this article, we'll provide a detailed comparison of WordPress vs Shopify for eCommerce. Then you can choose the best tool for YOUR unique needs.
Ready to begin? Let's get started.
Overview: WordPress vs Shopify 
WordPress and Shopify are two of the most popular eCommerce website builders.
But before we get into the comparison, let's look at each platform individually, starting with WordPress.
What Is WordPress? 
WordPress is one of the most popular eCommerce platforms that's used by more than 40% of all the websites on the internet.
At first, WordPress was a go-to solution for creating blogs. Nowadays, you can create any type of eCommerce website thanks to WordPress's ever-growing ecosystem of stunning themes and useful plugins.
Plus, if you're using a self-hosted WordPress site, it's a free and open-source platform for website development. That means it can be used by anyone.
Not sure what a "self-hosted" WordPress site means? Check out the following article: WordPress.com vs WordPress.org: Which Is Better?
Now that we have a better understanding of WordPress, let's turn our attention to Shopify.
What Is Shopify?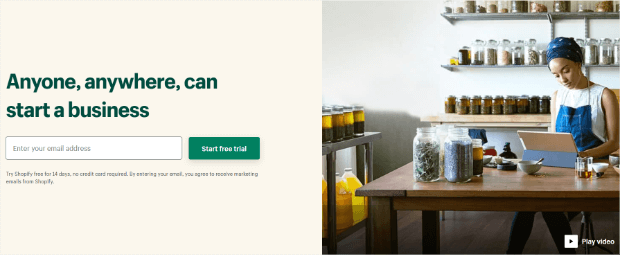 Shopify is a leading eCommerce platform that's used by more than 1,700,000 businesses across 175 countries.
That's because it's a premium website builder that comes with extensive features for everyone from first-time users to eCommerce experts.
In short, Shopify provides a one-stop solution for your eCommerce store.
That's possible because it supports tons of helpful apps to manage every aspect of your online store. Through these apps, you'll find everything you need to successfully run an eCommerce store.
Now, let's discover how these platforms deliver in terms of:
That way, you'll be better prepared to figure out the best eCommerce platform for you.
1. Ease of Use
Ease of use becomes one of the most important parameters when choosing an eCommerce platform.
That's because when you launch an online store, there are a lot of things to manage at the same time.
Ideally, you should select a solution that allows you to seamlessly manage multiple aspects of your business with helpful integrations and smooth workflows.
Ease of Use – WordPress
You need a helpful plugin such as WooCommerce to launch your online store with WordPress.
But first, you need to create a WordPress site. The best part is that you don't need any coding knowledge to do that.
In fact, this platform comes with a lot of free and paid themes that you can use right away to build a stunning eCommerce website.
Then you can use plugins like WooCommerce for inventory management and product listing.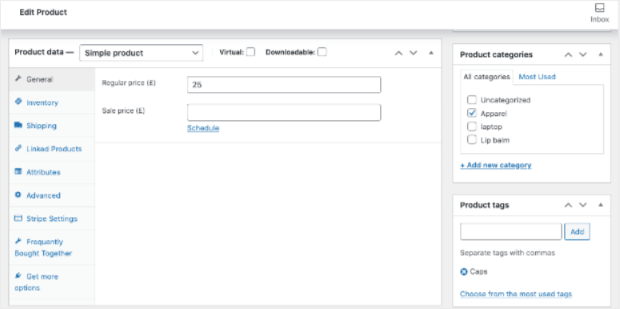 The best part is that there are no limitations. You can add unlimited products and you get complete access to your site's backend.
Plus, it is 100% customizable. That means you can add any feature to enhance the functionality of your site.
So when it comes to ease of use, WordPress is a platform that is truly accessible to everyone.
Ease of Use – Shopify 
One of Shopify's unique selling points is its simplicity.
In fact, anyone can use Shopify to create eCommerce websites because it doesn't require any coding experience.
Plus, it's a fully hosted platform which means you don't need to invest in hosting plans or any other software to get started.
Creating an eCommerce website with Shopify is super easy. You can simply signup for an account, link your domain, choose a website layout, and add product inventory to get started.
That means you can create your Shopify store with just a few clicks.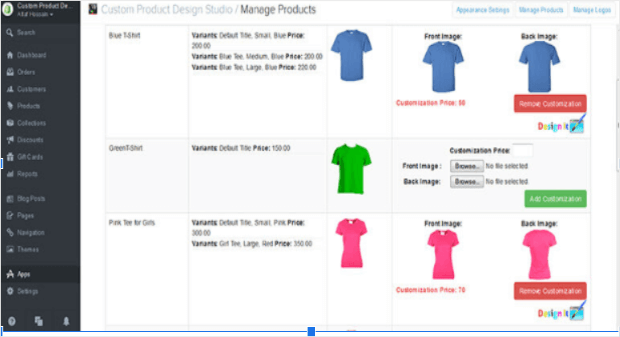 The best part is that you can customize your store's appearance with a variety of themes provided by Shopify.
However, your choices are limited compared to the number of WordPress themes. But, you can still create exceptional sites with the design tools from the Shopify store.
Now that we know how easy it is for you to use each platform, let's look at how easy it will be for your customers to pay.
2. Payment Gateways 
When you're selling products online, you need to accept a lot of online payments. This is where you need a secured payment gateway that is easily accessible and not too costly.
Payment Gateways – WordPress
You can use the WooCommerce plugin to manage payments for your WordPress site.
WooCommerce integrates with 100+ payment gateways. 
It even supports some of the world's most popular payment processors such as Stripe and PayPal by default.
A big plus is that it also supports the Cash on Delivery option.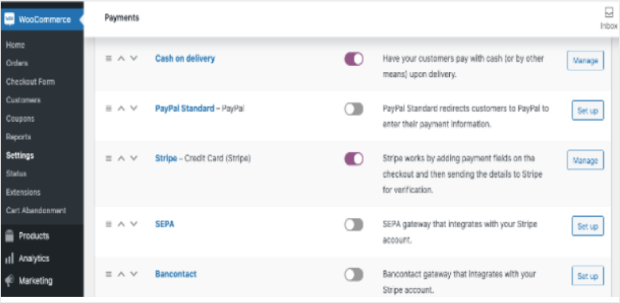 You can even add less popular and regional payment processors through addons.
The best part is that you can make unlimited transactions and WooCommerce won't charge anything for that. It's completely FREE (though you'll still need to pay fees charged by your payment gateway).
Payment Gateways – Shopify
Shopify comes with native payment options powered by Stripe.
It also supports tons of popular third-party payment gateways such as PayPal, Amazon Payments, Authorize.net, and more.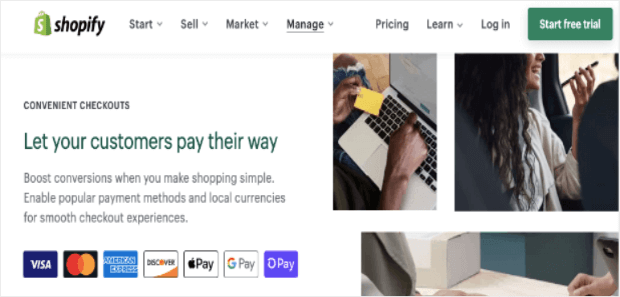 However, if you use any third-party payment gateways, Shopify charges 0.5%-2% fees per transaction. This charge is determined by the Shopify plan you're using.
Next, let's take a look at the different tools that are available for each website builder.
3. Addons and Extensions
Addons and extensions help you to expand your online store. You need addons and extensions for inventory management, lead generation, order fulfillment, and so on.
Addons and Extensions – WordPress 
WordPress is an industry leader when it comes to premium plugins.
In fact, WordPress has more than 50,000 free and paid plugins that you can use to enhance your store right away.
You can find plugins and addons for anything that your store needs like website loading speed management, appointment bookings, tax calculation, and more.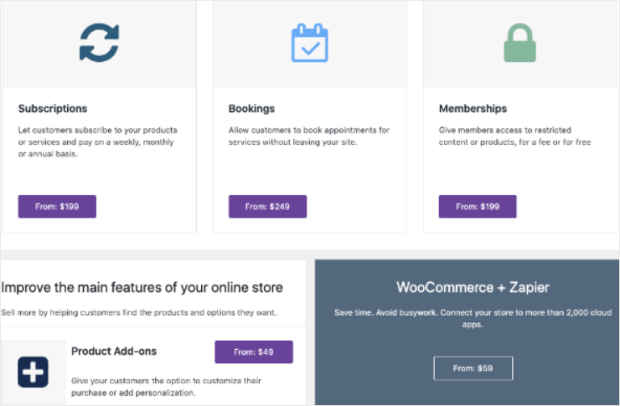 Most of the time, you'll easily find a plugin when adding a new feature to your site. If not, you can upgrade your site's functionalities by hiring a developer that's not too expensive.
This is thanks to WordPress having a large community of experienced developers to choose from.
Addons and Extensions – Shopify 
Similar to WordPress plugins, you can find lots of helpful apps in the Shopify store.
In fact, there are 3,200+ free and paid apps on the Shopify store. You can get apps for shipping management, social media marketing, accounting, and a lot more to grow your online business.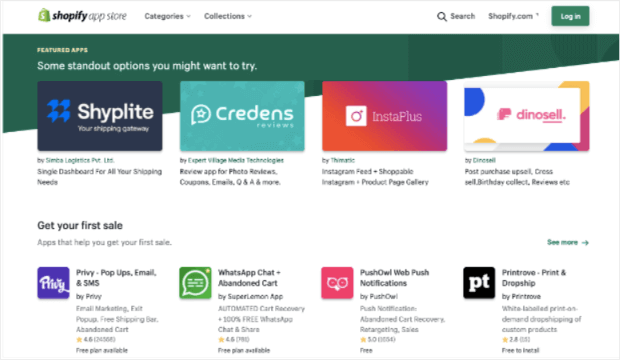 You can simply download these apps from the Shopify store with a single click and get started.
This allows you to run every part of your store from marketing to product fulfillment without needing to outsource the work.
These tools save you time, energy, and money as you grow your online business.
But now you might be wondering, "Both platforms sound great… so what's the catch? How much do they cost?"
Let's look at how WordPress and Shopify break down in terms of pricing.
4. Pricing
Budget is one of the most crucial factors when it comes to choosing the right eCommerce platform.
Ideally, you'll want a low-cost platform that provides all the important features you'll need for growth.
Pricing – WordPress
WordPress is an open-source platform.
But, you need to pay for hosting, domain name, and SSL certificate to get started. The cost ranges from $3 up to $100+ per month.
It depends on your needs, but most new companies can go with specialized
The best part is that there are many companies that offer specialized WooCommerce hosting plans which are very affordable.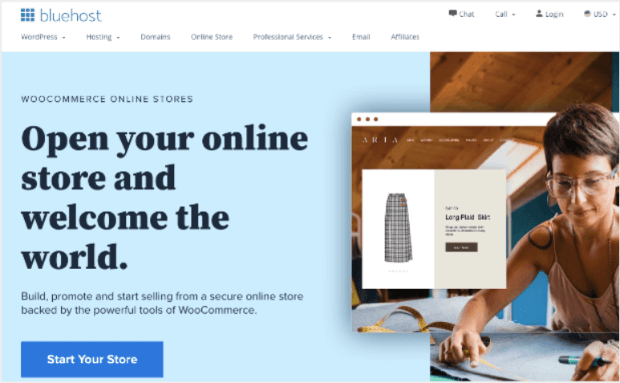 For instance, Bluehost provides you domain, hosting, and SSL at just $12.95/month.
To make things even better, you get 24/7 customer support and free Office 365 for 1 month.
Pricing – Shopify 
Shopify has 3 plans:
Basic Shopify
Shopify
Advanced Shopify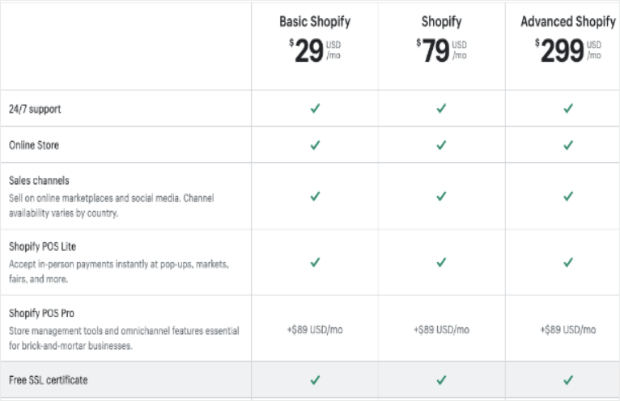 Each of these plans includes 24/7 support, web hosting, and an SSL certificate.
However, if you want to use your own domain name, then you need to purchase it separately.
That's because Shopify provides branded domains like https://storename.myshopify.com. Generally, the price for a regular domain name starts at $14 per year depending on the name you want.
Final Verdict: WordPress vs Shopify?
WordPress and Shopify are both powerful options to build your online store. Both of these platforms have plenty to offer.
It truly comes down to what features you need, your technical expertise, the flexibility you're looking for, and more.
Shopify is very easy to set up. You don't need to install anything to get started. Also, you get a lot of apps that help you to upgrade your business really fast.
The downside to Shopify is that you have limited control. Plus, your expenses can increase with transaction fees and subscriptions.
WordPress.org is an open-source platform that provides complete control over your site.
Also, it costs a lot less to start an online store with WordPress, and it doesn't charge any transaction fees.
You can also enhance your business really fast with WordPress. And that's possible because WordPress has the highest repository of helpful plugins and addons that you can use right away.
If you're a growing business looking to expand fast and have a limited budget, then WordPress is the most obvious option.
And once you select the right platform, you need the right lead generation tool to expand your business.
This is where we have handpicked a tool that helps you to grow your store on both WordPress and Shopify.
Best Lead Generation Tool for WordPress and Shopify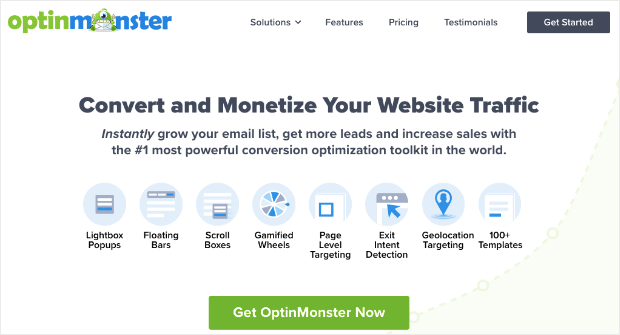 OptinMonster is the world's #1 conversion optimization tool for WordPress and Shopify.
OptinMonster provides everything that you need to monetize your WordPress or Shopify store. When we say everything, we mean it.
You can use this tool for lead generation, expanding your email list, affiliate marketing, driving more sales, and much more.
That's possible with OptinMonster's eye-catching optin campaigns.
By 'optin campaigns', we mean things such as floating bards, popups, gamified wheels, and others that you've likely seen on different websites.
OptinMonster helps you create these high-converting campaigns without any coding knowledge.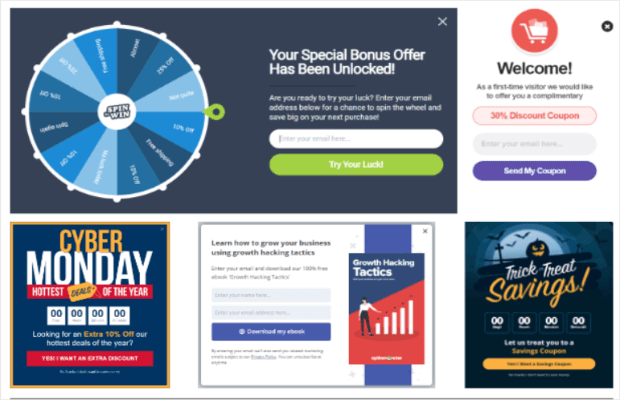 Plus, OptinMonster makes it EASY to customize all of your campaigns with just a few clicks.
That's because you can start with any one of OptinMonster's 50+ pre-made templates. These were designed to save you time, energy, and headaches in the campaign creation process.
And from there, you'll have 100% control over your campaign's customization options with the codeless drag and drop builder: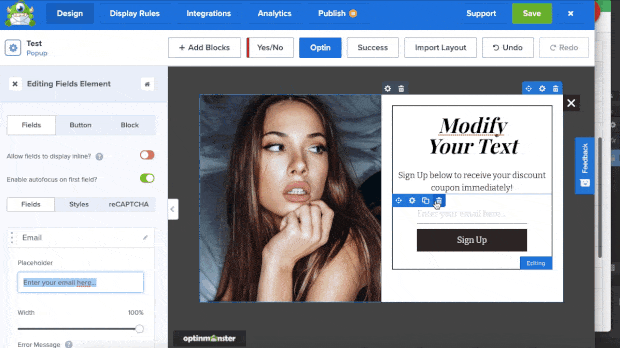 But designing the perfect campaign for your audience is only half the battle. You also need to target these campaigns to the right people.
That's where OptinMonster's targeting rules come in, such as Exit-Intent® Technology.
This technology can detect exactly when a visitor is going to leave your site. Then, it displays a popup with a persuasive targeted message that prompts the visitor into taking an action on your site.
You can use this advanced targeting rule to get new subscribers, recover abandoned carts, and a lot more.
But that's just one example of the many ways OptinMonster helps you convert visitors. Others include:
Geolocation: Personalize the user experience by targeting people based on their physical locations.
Page-Level Targeting: Boost conversions by matching your offers with the on-page content visitors are reading.
OnSite Retargeting®: Keep users engaged by showing fresh campaigns to returning visitors.
The best part is that all of OptinMonster's targeting rules drive conversions by displaying the right campaigns to the right audience and just at the right time when they're more likely to take action.
There are even built-in rules specifically for WooCommerce and Shopify that let you target users based on:
Products they're viewing
Products added to cart
Cart sub-total and total
And much more…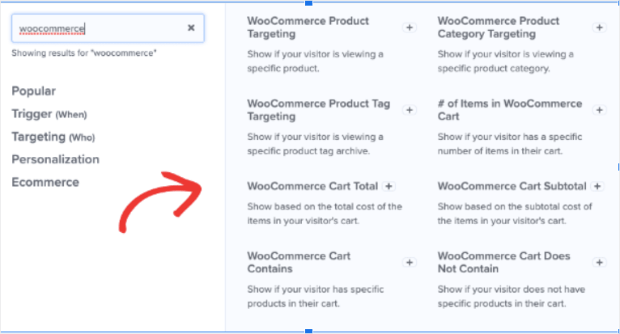 These are the same types of rules that helped Flywheel increase engagement by 660%.
Want to get more leads with OptinMonster? Then get your 100% risk-free OptinMonster account below:
Get Started With OptinMonster Today!
BONUS: Done-For-You Campaign Setup ($297 value)
Our conversion experts will design 1 free campaign for you to get maximum results – absolutely FREE!
Click here to get started →
And that's a wrap for now!
We hope you find this post helpful. If that's the case, then you'd definitely like the following resources:
These posts will help you get more traffic, boost conversions, and eventually grow your business really fast.