Are you looking for an in-depth Klaviyo review to see if it's the BEST email service provider (ESP) for your unique needs?
When it comes to growing an online business, email marketing is key.
It gives you direct access to a list of warm leads who are eager to engage with your brand.
The only problem? With so many ESPs on the market, it can be difficult to find the solution that will get you the biggest results in the least amount of time.
That's why, in today's post, we're going to review one of the most popular ESPs on the market: Klaviyo.
More specifically, this Klaviyo review will look at the software in terms of:
Ease of Use
Flexibility
Automation
Lead Generation
Pricing
Feel free to use the table of contents above to navigate to the section that interests you most.
Otherwise, let's start from the top to discover if Klaviyo is the right ESP for your business!
Klaviyo Review: Is It the Best ESP?
1. Ease of Use
When we're talking about using new software, ease of use can be broken down into 2 categories:
Let's look at how easy Klaviyo is to set up.
a) Ease of Use for the Setup
Right when you sign up, you'll be taken through a setup wizard that guides you through the entire process.
This includes basic information about your business so Klaviyo can provide you with a better user experience (UX). This will ask you to do 3 things, including:
Add business details
Connect your platform
Add branding information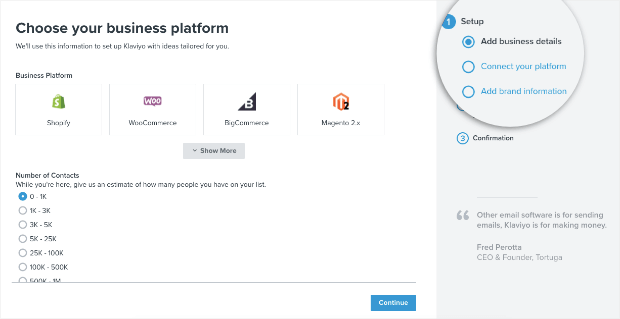 Then it will help you design and customize your email templates based on the URL you provided for your business during the registration process: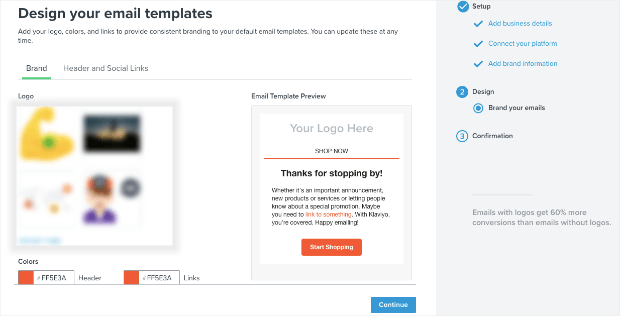 Finally, you'll be prompted to choose the overall goal of your email marketing efforts. The options include:
Grow my audience
Build customer relationships
Earn more revenue
I'm just exploring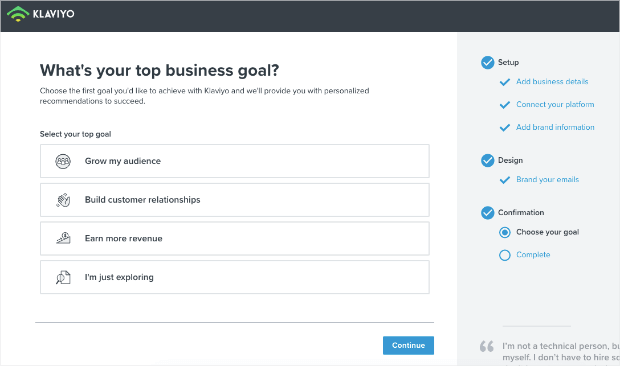 From there, you'll get a confirmation email to verify your account.
After that, the setup will be complete.
Overall, Klaviyo is extremely easy to get started with. It takes less than 3 minutes to sign up for an account and begin writing your first email campaign.
With that in mind, let's see how easy it is to craft your emails.
b) Ease of Use for Writing Your First Email 
Having an easy setup is great, but it won't matter if you can't write emails once your account is created.
Fortunately, this isn't an issue with Klaviyo.
That's because this ESP makes it EASY to create all of your emails for any of your marketing goals.
You can quickly build a campaign by navigating to Campaigns in the left-hand side menu.
Then simply click Create Campaign: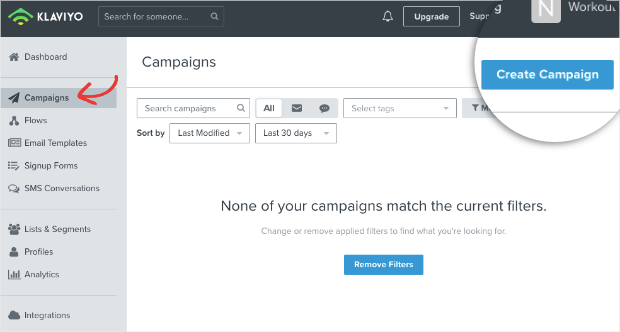 Then you'll choose between building an SMS or Email campaign: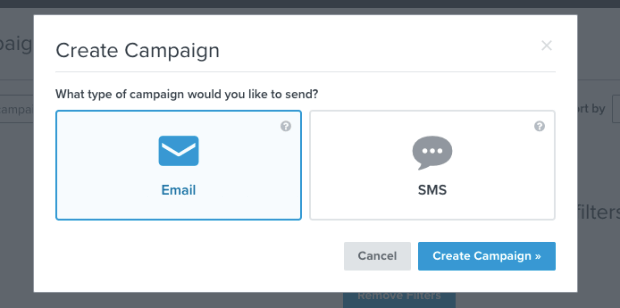 For emails, you'll add a bit of basic information including the name of your campaign and who you'll send it to.
Then you'll be able to design the content of your email. You can add:
Subject line
Preview text
Sender name
Sender email address
Then you can choose between a drag and drop builder, text only, or HTML emails: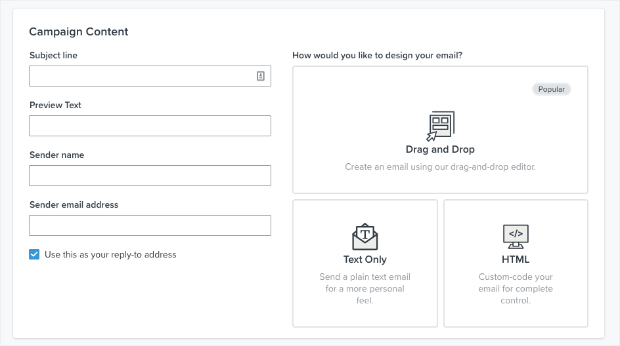 After that, you'll be able to write your email in an intuitive editor: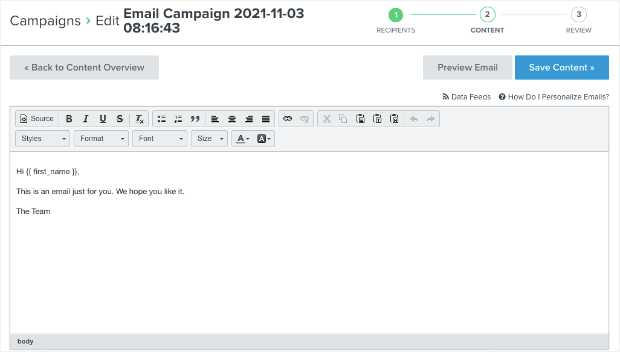 All in all, Klaviyo makes creating your first email incredibly easy.
When it comes to "ease of use," Klaviyo gets 5/5 stars.
It's a simple, easy-to-use software that will allow ANYONE to get started with email marketing FAST.
Next, let's see how well Klaviyo would fit into your current marketing stack.
2. Flexibility
When you're investing time, energy, and money in a new tool, it's important that it fits well with the tools you're currently working with.
And, ideally, it'll fit with tools you want to use in the future.
The reason is simple: changing out your marketing tools is infinitely more complicated when one software is totally dependant on another.
That's why it's important your ESP has lots of integrations and "plays well with others."
Klaviyo integrates nicely with loads of marketing tools, including OptinMonster.
This helps you connect Klaviyo with eCommerce platforms like:
Shopify
WooCommerce
BigCommerce
And more…
Plus, it connects with other marketing tools, like:
HelpScout
Salesforce
Typeform
And more…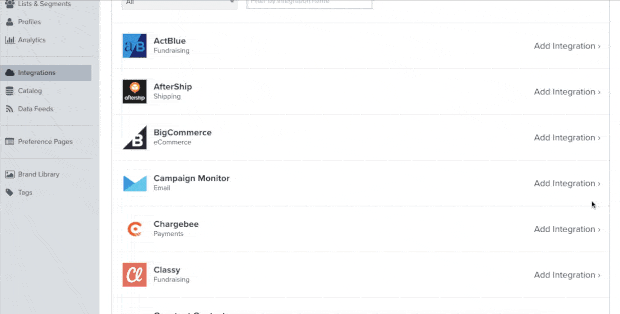 At the end of the day, you'll have all the integrations you need to build a powerful marketing stack that helps you reach your goals FASTER.
Again, when it comes to flexibility, Klaviyo is one of the best ESPs available.
Now let's turn our attention to another key factor when choosing an email provider: automation.
3. Automation
One of the biggest qualities that you should be looking for in an ESP is automation.
By that, we simply mean how well it can automate mundane tasks and how easily you can create workflows that send pre-scheduled campaigns.
In other words, will Klaviyo let you sit back, flip on autopilot, and nurture your leads with email funnels?
For that, the answer is a resounding YES.
Klaviyo gives you everything you need to automate your entire workflow. You can quickly and easily create custom campaigns that send automated messages to your audience.
You can even segment your audiences for better results.
The term "audience segmentation" means organizing subscribers into subgroups within your Klaviyo account.
For more information on audience segmentation, check out this helpful resource: 50 Email Segmentation Tips You Need to Know.
You would organize people based on purchase history, demographics, personal interests, and more. Then you can send MORE targeted messages to your audience.
But how does this tie into Klaviyo's automation features?
Each segment of your audience can have a tag.
This tag is then used to send automated emails to specific parts of your contact list.
Imagine creating a special offer that you KNOW a portion of your audience will love. For this example, let's say it's a free eBook on how to generate more leads.
Plus, you have the perfect email series to nurture new leads who receive that special offer.
When someone signs up for that eBook, they'd get a unique tag.
Then Klaviyo can send automated emails to anyone with that specific tag using your pre-written campaigns.
In the end, this transforms more of your leads into happy (and paying) customers.
But now for the real question: are these workflows difficult to set up?
Not at all.
Klaviyo even offers pre-planned workflows for:
Welcome series
Cart abandonment
Browser abandonment
Customer thanks you
Product cross-sells
Customer win-backs
And much more…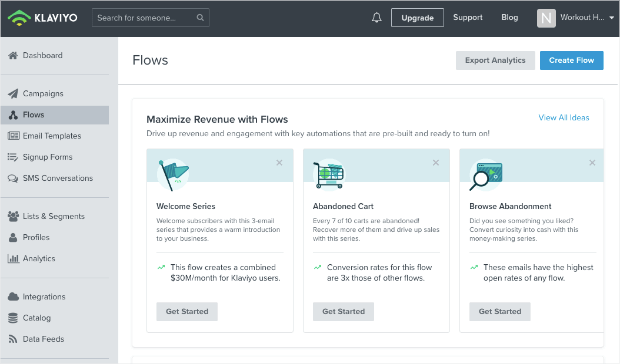 This gives you direct access to a "plug n' play" solution for all of your email marketing campaigns.
All you need to do is get started, select which type of automated workflow you want to set up, and you'll be growing your business in minutes.
Before we get to how much Klaviyo costs, let's look at one other important factor to selecting the right ESP for your unique needs: lead generation.
4. Lead Generation
If you've been searching for email service providers, you might have noticed that many come with lead generation options.
Klaviyo is no exception.
This tool allows you to build popups and inline forms to:
Collect emails
Collect phone numbers
Make announcement
Nurture leads
And much more…
Plus, it comes with pre-made templates that you can use to get these forms on your site FAST: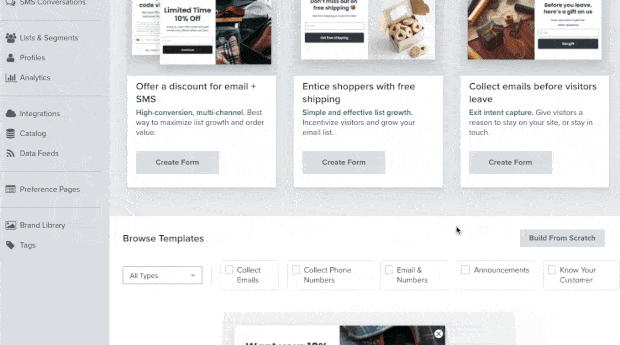 But here's the question: is this the BEST way to get new leads on your list?
That answer is a little more complex than the other categories we've looked at. And here's why…
Klaviyo is primarily an email service provider. That means its main role is (and has always been) allowing users to send bulk emails while ensuring high deliverability and tracking.
Its lead generation efforts are a secondary product or an added bonus.
If you're looking for the best results, though, you should search for a software that's primary goal is to help you generate more leads.
And the best tool on the market for that is OptinMonster: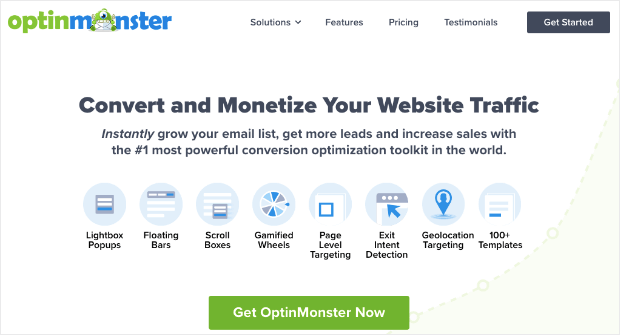 OptinMonster is hands down the world's best lead generation toolkit. It allows you to build professional optin campaigns in minutes.
By "optin campaigns," we mean something you're already familiar with, like:
Popups
Floating bars
Fullscreen welcome mats
Spin-to-win wheels
Slide-in scrolls boxes
Inline campaigns
And much more…
Here's an example of a lightbox popup built with OptinMonster in under 5 minutes: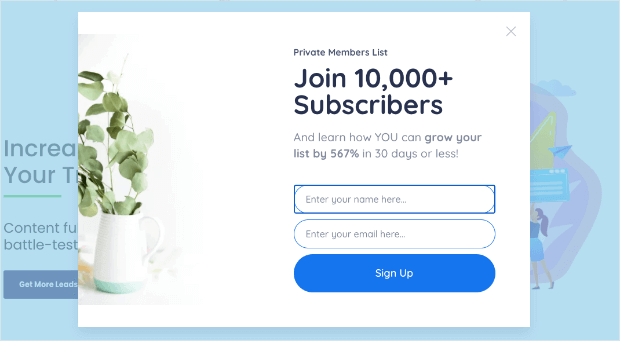 Plus, you don't need any coding or "tech skills" to make anything work.
That's because OptinMonster comes with TONS of pre-made templates that you can use to get a head start: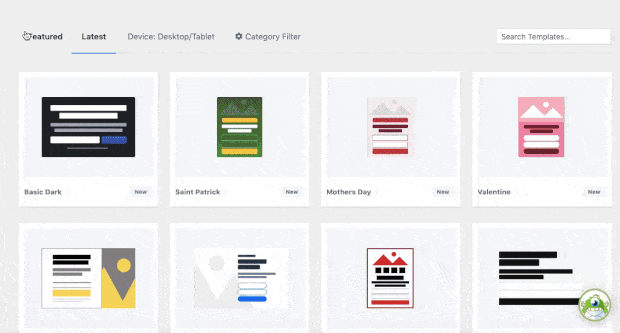 These save you time, energy, and headaches in the campaign creation process.
From there, you'll have access to a drag and drop visual bulder. This lets you instantly change any text in your campaign: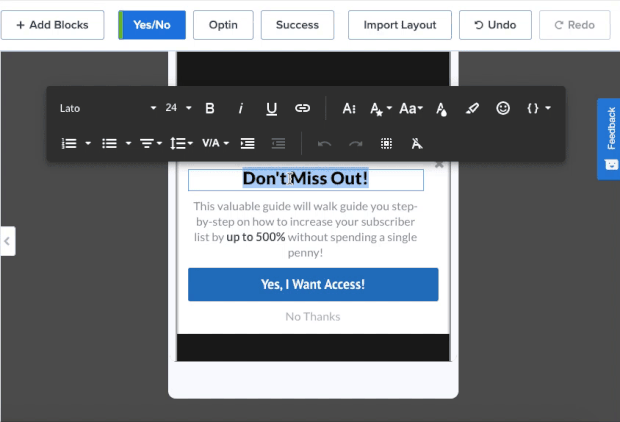 Or you can add new features, such as:
Video
Images
Text
Custom HTML
Countdown timers
Dividers
Spacers
Icons
And so much more…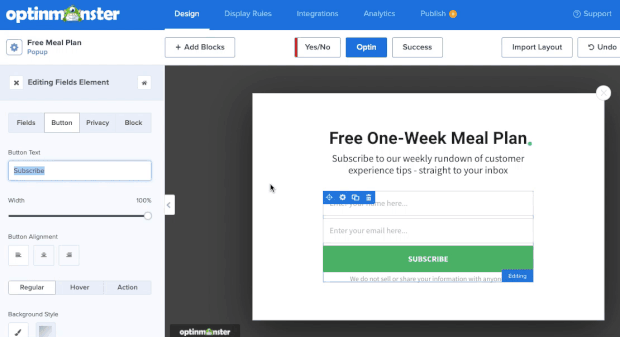 But here's why you should really consider using Klaviyo as your ESP and OptinMonster as your lead gen software:
OptinMonster has MORE advanced targeting rules which equals HIGHER conversions.
When it comes to getting people to opt into your offers, you need to present the right message to the right people at just the right time in their customer journey.
Klaviyo has some basic targeting rules but, again, that's never been its main product.
OptinMonster gives you tons of options. Here are a few of the most popular:
Exit-Intent® Technology: Recover abandoning visitors and carts by presenting campaigns as visitors are actively leaving your site.
OnSite Retargeting®: Keep users engaged by showing fresh campaigns to returning visitors.
Geolocation: Personalize the user experience (UX) by showing popups to users based on their physical locations.
MonsterLinks™: Boost conversions by making all of your optin campaigns clickable links in any text-based content.
These are just a few examples, though there are many more.
Finally, OptinMonster seamlessly integrates with Klaviyo. That means ALL your new leads can go directly to your Klaviyo contact lists, even if you've already segmented your audience.
This gives you a POWERFUL combination of tools that will take your lead generation efforts to the next level.
How do we know? Because we see it happen every single day.
In fact, it's how Crossrope exploded their email list by 900%.
Or how Human Food Bar gets 1800+ new leads each month.
You can get the same massive results by clicking below and starting your 100% risk-free OptinMonster account today:
Grow Your Email List Today
BONUS: Done-For-You Campaign Setup ($297 value)
Our conversion experts will design 1 free campaign for you to get maximum results – absolutely FREE!
Click here to get started →
Before wrapping up, let's take one more factor into consideration for this Klaviyo review: pricing.
5. Pricing
Let's be honest: when it comes to choosing a new tool, pricing is a big factor.
Klaviyo's pricing is incredibly flexible, which makes it a bit hard to understand.
They'll charge for the number of contacts on your list. You can use their pricing calculator to find out how much you'd need to pay per month: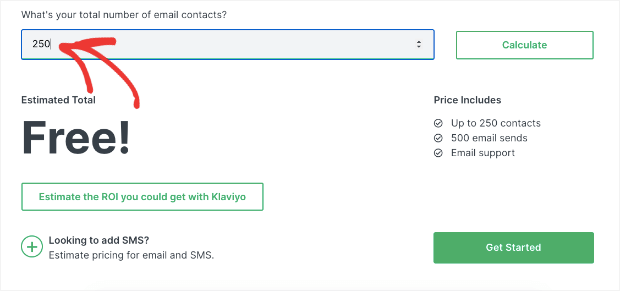 Here's a breakdown of their most-used plans:
250 contacts = Free
500 contacts = $20
1000 contacts = $30
1500 contacts = $45
2500 contacts = $60
3000 contacts = $70
3500 contacts = $80
This continues and at 10,000+ contacts, you can expect to pay $150/month.
Pricing also changes depending on whether you want SMS capabilities or not.
This can be a little pricier than other ESPs like Constant Contact or Brevo, but it's still a very competitive pricing model.
Another benefit to Klaviyo's pricing is that it's flexible enough to help you scale in the future.
Want to see it in action for yourself?
Sign up for Klaviyo totally free and learn if it's the right ESP for you!
And that's all for today! We hope you found this Klaviyo review helpful.
If you did, then you'll definitely want to check out the following resources:
These articles will have even more information that you need to drive higher conversions and more revenue from your email marketing efforts.