Are you looking for the right email marketing software for your business but not sure which one is the best to use? Then this HubSpot review is for you.
Email marketing software is just one tool that marketers and businesses use to reach out to their customers. They use this software for a variety of tasks:
Designing email templates
Creating and storing subscription lists
Tracking stats such as click-through rates, open rates, read rates, etc.
Increase brand awareness
and more…
When done right, email marketing software helps you connect with your customers in a trusted and efficient way.
To get the most out of what email marketing has to offer, you need the right software.
One popular email marketing software is HubSpot. They are known for being wizards of automating many marketing tasks.
Also, HubSpot features email marketing capabilities that make designing an email campaign quick and easy, all without the need for specialized design knowledge.
That's why, in today's post, we'll do a full HubSpot review. We will look at many aspects of HubSpot, including:
Though, before we get too far into this, let's explore HubSpot a little more in-depth and find out why it is such a great resource.
What Is HubSpot?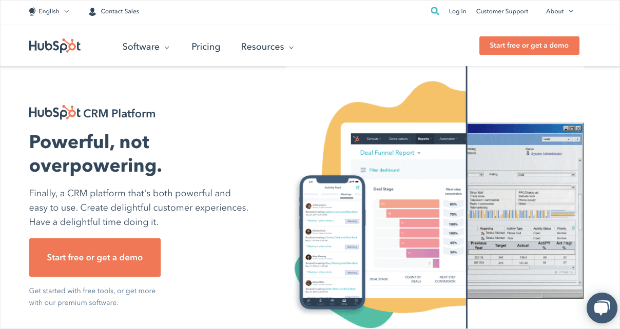 HubSpot is a cloud-based platform that centers around inbound marketing and sales to help your business attract visitors, provide customer service, and close sales.
It's a HUGE platform with more capabilities than we have time to discuss in today's article.
Essentially, HubSpot is a complete CRM platform that gives you many of the tools you need to grow your business through targeted and streamlined marketing efforts.
So, let's narrow it down a little bit for this HubSpot review.
What exactly is HubSpot as an email marketing tool?
Users flock to HubSpot for their dazzling email templates and reporting capabilities.
With HubSpot, you can create stunning conversion-ready emails and learn from valuable insights and reports into how your emails are performing with your customers.
Though it has so many capabilities and tools, this HubSpot review will focus purely on email marketing.
Ready to get started? Let's dive in!
HubSpot Review for Email Marketing
1. Ease of Use
In terms of ease of use, HubSpot is one of the easiest email service providers (ESP) on the market.
Let's start at the beginning: signing up is a breeze.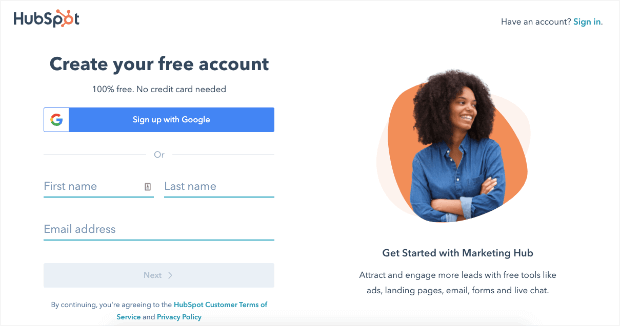 Once you create an account, you will start with HubSpot's Getting Started Guide that will walk you through:
Getting your account set up
Learning what a CRM is and how it can help your business
Understanding what the free tools can do
That means you're creating your first contacts and marketing lists within minutes of signing up.
If you are familiar with HubSpot or other email service providers, you can get going on your own and aren't limited to working within their getting started wizard.
In the basic free plan, you have five email templates to start:
Welcome
Simple
Promotion
Plain email
Newsletter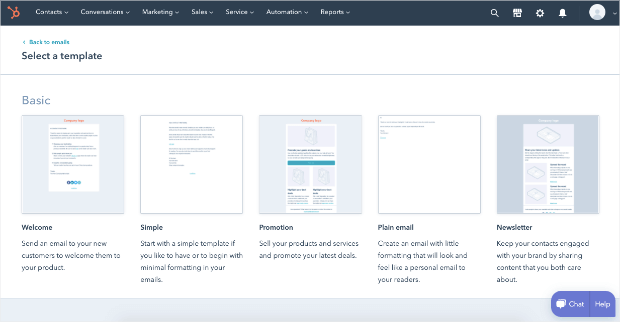 Each one has a description to help you decide which one will be best for whatever email you need to send.
Now, these are pretty plain in terms of design with the free account, but HubSpot's drag and drop editor is VERY user-friendly.
When you upgrade to their Starter plan, templates are unlocked which helps in the design process.
Simply put, creating an email with HubSpot is so easy, anyone can do it.
HubSpot allows you to customize any of their email templates to add content like buttons, videos, images, and links to all your social media.
Even though designing email templates is simple with HubSpot, it's still understandable if you are worried about the time commitment.
HubSpot has your back there, too. With their ability to schedule emails, you can get all of the design work out of the way and return to more pressing matters.
So, is HubSpot hard to use?
Not at all.
2. Flexibility
HubSpot is a flexible and intuitive platform, even if you are switching from a different ESP. They have a dedicated team to help you move your team and lists over to HubSpot with minimal interruption or disruption.
The best part is the flexibility to connect with other platforms to give you the best results for your marketing efforts and budget.
These tools can be found in the HubSpot App Marketplace: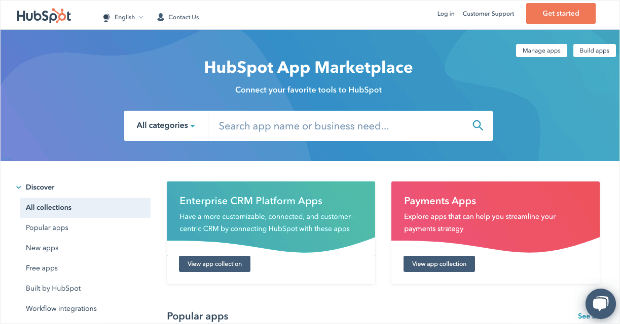 For instance, OptinMonster and HubSpot are a perfect duo that seamlessly connect and nuture your email list from visitor to lead conversion.
This is a HUGE advantage to your website and business.
Why? OptinMonster helps you grow your email lists and lets you design campaigns to convert website traffic into leads.
But what happens when you collect that email address? You don't want it just sitting there.
That's where HubSpot comes into play.
With their ability to work together, OptinMonster can send your lead directly to your HubSpot account. From there, you can start sending your leads customized and targeted emails to start boosting sales.
Plus, since HubSpot is cloud-based, you can work on your email campaigns from anywhere.
You don't need to install specialized software or worry about having a certain operating system or computer. Just launch your browser, sign in to your account, and start sending emails.
So, in terms of flexibility, HubSpot is your clear choice for an email provider.
3. Automation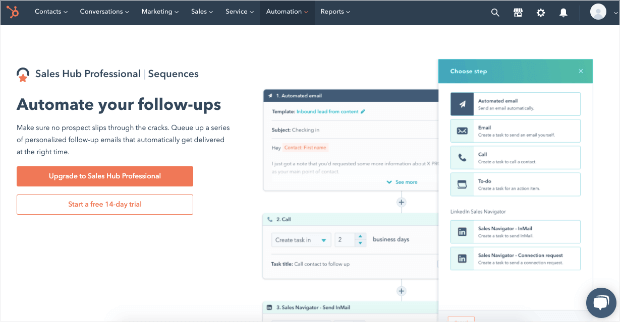 One of the glowing features of HubSpot is their follow-up automation.
When dealing with your business, automation of repetitive and mundane tasks could add precious minutes (or hours) back into your day.
With HubSpot's follow-up automation, you can ensure that no lead slips through the cracks:
You decide what kind of funnel you want your leads to go through, schedule it, and HubSpot takes care of the rest.
No matter what task you are looking to complete with your email provider and lists, chances are HubSpot has a way to automate it.
4. Lead Generation
Sure, having the capabilities to automate email tasks and create beautifully customized emails is great, but where are you getting the leads from?
Lead generation is key when looking at your overall email marketing picture.
Through HubSpot, there are lead generation options available. That said, these are mainly limited to landing pages that help generate leads from ads and other clicks.
HubSpot does offer some slide-in or popup box functionality: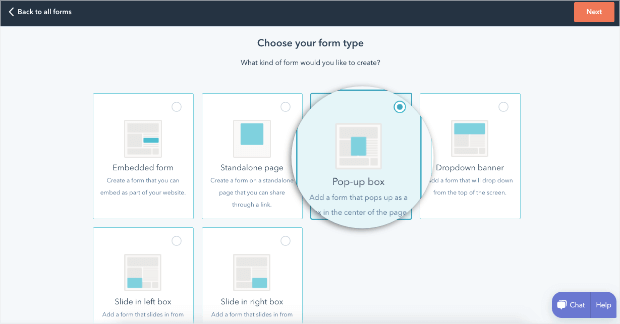 However, there are no templates within these options, meaning you have to start from scratch with every new campaign.
This takes away from the time you just gained back during the automation process.
Historically, HubSpot has thrived in the email service role and served in a secondary role as a lead generation tool.
Where you have plenty of functionality in designing and managing your email marketing tools, it is limited in generating and expanding those lists.
But paired with a service like OptinMonster that excels in lead generation, you have a strong one-two punch to convert customers all the way from website traffic to sales.
5. Pricing
For most small businesses, pricing is the most critical factor in deciding on pretty much anything.
Luckily, price isn't a factor when it comes to HubSpot.
So, how much do you pay for HubSpot?
HubSpot has free tools, but these are limited. The free plan is perfect to let you get your feet wet and start designing professional and effective email templates.
Paid plans start at $45 a month, which unlock larger lists, larger audience capacity, remove Hubspot branding, and some other valuable features.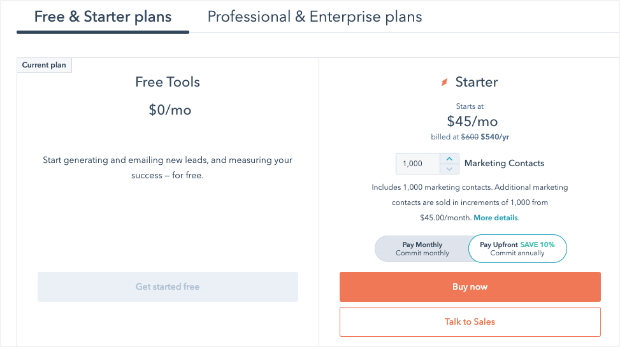 Since there are paid tiers, you may be wondering, "Is HubSpot priced per user?"
To start, no.
HubSpot is more focused on the features at each price point. However, each plan does limit the number of marketing contacts in your email lists.
They offer a la carte packages if you want to target more customers on your email lists. This is sold in increments of 1,000 starting from $45/month.
For HubSpot, a marketing contact is someone you are targeting with your emails.
They still will allow you to store up to 15 million overall contacts. To stay within their free limitations, you will need to be precise with which contacts on your list you are targeting.
HubSpot plans do get pricy as you move up the tiers. Here's a breakdown of the HubSpot pricing by month:
Starter (includes 1,000 marketing contacts): $45
Professional (includes 2,000 marketing contacts): $800
Enterprise (includes 10,000): $3,200
For many small businesses, they will find that the free or Starter plans work well for their needs. If you need additional marketing contacts added to your plan, you can buy bundles that are tailored to your marketing list size.
The best part is that you can add on additional users or team members at no additional cost.
Overall, for small businesses, HubSpot is affordable and can grow right along with your business.
Verdict: Is HubSpot Good for Email Marketing?
In this review, we've gone over a few benefits of using HubSpot for email design and automation.
But, is HubSpot the BEST tool for email marketing?
If you are looking to design and send personalized emails, automate customer email sequences, and have flexibility while doing so, we encourage you to invest in HubSpot.
With an intuitive cloud-based platform, anyone can start upping their email marketing game right away with HubSpot.
We hope that this review has been helpful. If so, you'll definitely want to check out the following resources:
These articles will have even more information on how you can improve your email marketing strategy to generate more sales with less time and energy.