Are you trying to figure out how to sell digital products with WooCommerce?
Digital products like audio files, eBooks, stock photos, and even software can be a great stream of revenue. Without the need for inventory or shipping, you can scale your digital product sales more easily than sales of a physical product.
In this article, we'll show you step by step how to sell digital products with WooCommerce, and share some pro tips for increasing your digital product sales.
Here's a table of contents to help you find your way around:
What Is a Digital Product?
A digital product is a piece of media or other asset that is sold and used on a device like a computer or smartphone.
Digital products can be educational, entertaining, or a bit of both. Some examples of digital items include:
Apps or plugins
Music files
Graphics (like stock photography or illustrations)
eBooks
PDFs
Online courses
Memberships
Content subscriptions
Digital products have several advantages over physical products.
You can sell unlimited quantities with little or no additional production and delivery costs.
There's no need to store inventory or deal with shipping.
Delivery can be instant.
There are also some disadvantages:
It can be harder to demonstrate the purpose and value of a digital product.
Digital products are perceived as lower value.
The market for digital products tends to be crowded.
Since you're reading this article, we assume that you're interested in selling digital products. Let's look at one of the best solutions to do that: WooCommerce.
What Is WooCommerce?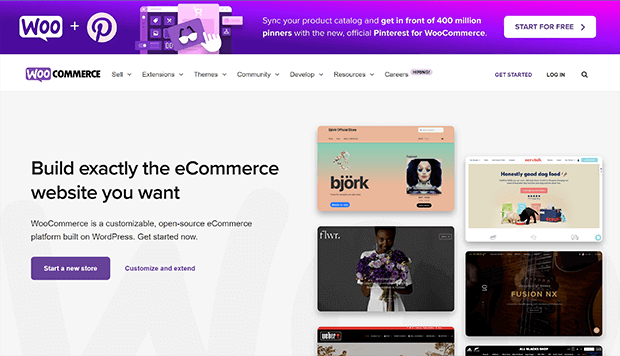 WooCommerce is an eCommerce platform for selling both physical and digital products on WordPress websites. In fact, as a WordPress plugin, WooCommerce itself can be considered a digital product!
The core WooCommerce plugin is free and open source. There are hundreds of other related plugins, extensions, and themes for customizing your digital store. Some of those plugins and extensions are free, while others are paid.
Many eCommerce businesses use WooCommerce to sell their products. The plugin is well supported and reliable. Like WordPress itself, WooCommerce is almost infinitely customizable. You can use it to create the perfect digital product store for your business.
Now let's learn how to set up a WooCommerce store to sell digital products.
How to Sell Digital Products With WooCommerce (Tutorial)
Selling digital products on WooCommerce is relatively easy. We'll walk you through the process step by step. Here's a map of what we'll be doing:
Before You Get Started
First, let's make sure we have all the necessary "ingredients." To sell digital products with WooCommerce, you will need:
A hosted WordPress website and domain name, which you can get from a hosting provider like Bluehost
The WooCommerce plugin, which you can download for free from your WordPress dashboard (we'll show you how!)
Your digital product file
A title, description, featured image, any additional product images, and price for your digital product
A payment gateway account like PayPal or Stripe (you can choose more than one)
It's good to have all the pieces ready to go before you start. That way you don't have to stop in the middle of the instructions to look for a file or try to write new copy quickly. Once you have everything you need, let's get started!
Step 1. Install WooCommerce
The first step is to install the WooCommerce plugin. From your WordPress dashboard, go to Plugins » Add New.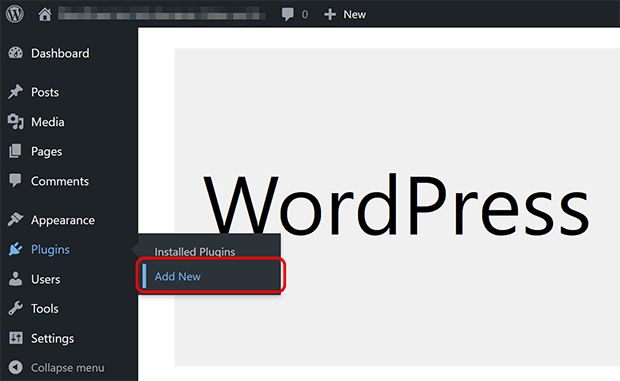 Search for WooCommerce.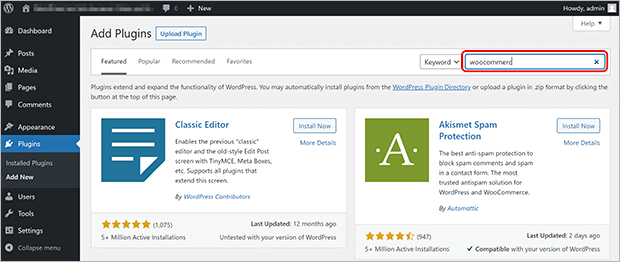 Find WooCommerce in the search results and click on the Install button.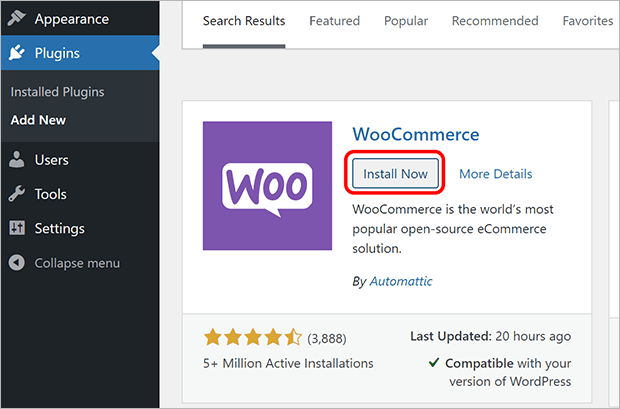 Once installation is complete, the button text will change to Activate. Click on Activate to finish installing the plugin.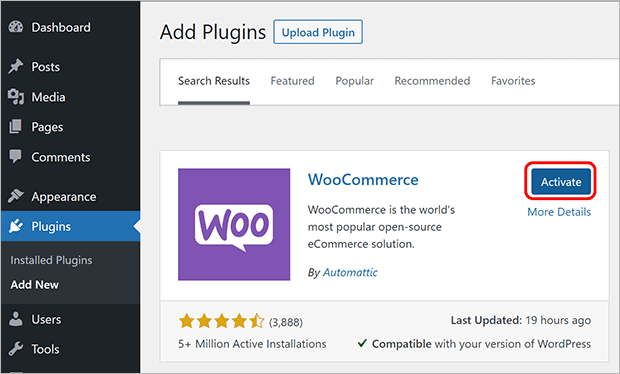 You'll see a setup wizard. You can skip this part for now if you like, since many of the questions only apply to physical products. Don't worry, we'll walk you through the exact steps for selling digital products.
After installing WooCommerce, you'll see some new pages generated automatically. Make sure you don't delete any of these accidentally or your online store won't work properly.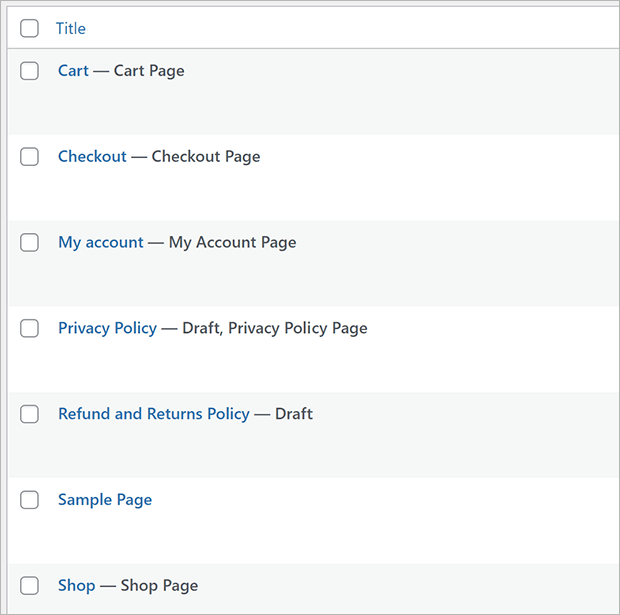 Step 2. Set Up Payments
Now, let's make sure you can get paid. Go to WooCommerce » Settings and click on the Payments tab.

Click the toggle to enable the payment processors you want to use. Follow the instructions that appear to set up your payment method.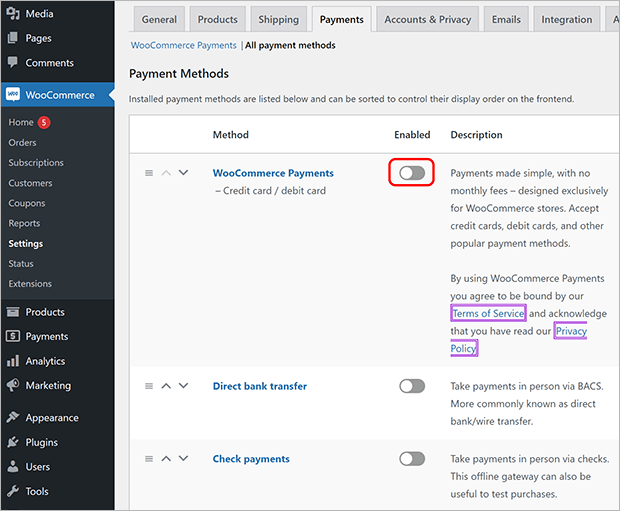 If you don't see the option you want, you can add other payment methods. Click the button to see other payment methods and follow the provided instructions.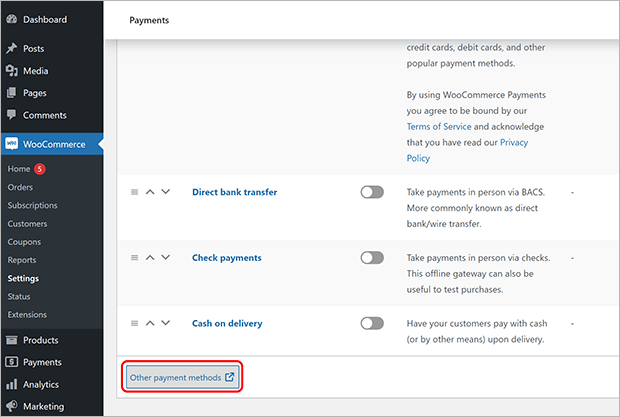 Step 3. Configure WooCommerce for Digital Products
Next, let's get WooCommerce set up to deliver your digital products properly. Go back to WooCommerce » Settings and click on the Products tab.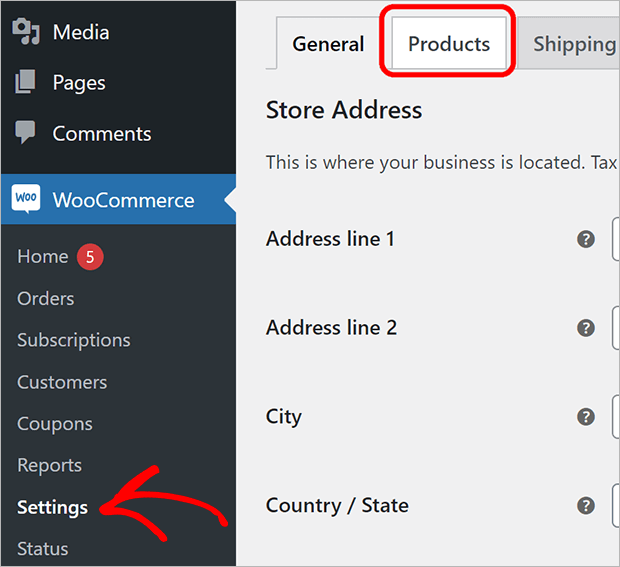 Click on Downloadable products.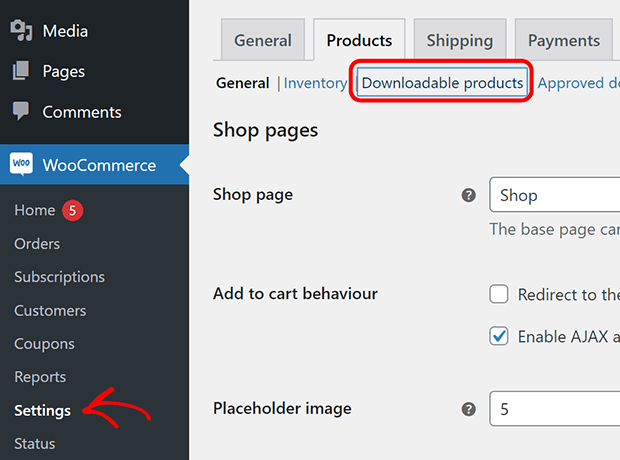 Select a File Download method from the dropdown menu. We recommend Force downloads or X-Accel-Redirect/X-Sendfile to protect your file link from unauthorized sharing. Force Download uses PHP to force the file to download without loading the file URL in the browser.

Choose a level of Access restriction. We generally recommend not requiring login and granting access after payment for fastest product delivery. Make sure you enable guest checkout if you aren't going to require login. You may need different settings if you're selling memberships or subscriptions.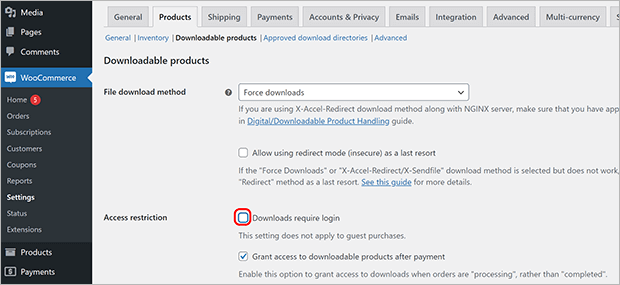 If you only sell digital products, you can also turn off stock management to remove options from your dashboard that you won't use. Go to WooCommerce » Settings » Products and click on Inventory.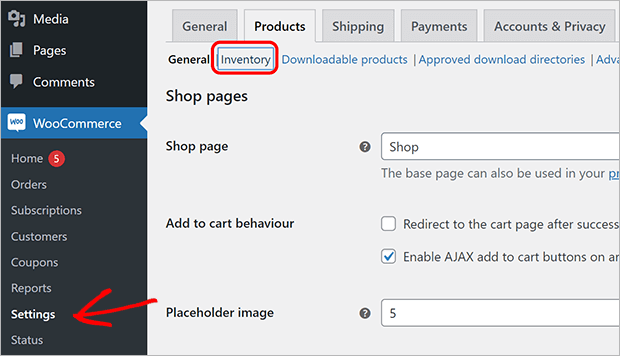 Click the checkbox to uncheck Enable stock management.
Now you're ready to create your digital product listing!
Step 4. Create a Digital Product Listing in WooCommerce
Here are all the pieces of a WooCommerce product listing and where they appear on the live page.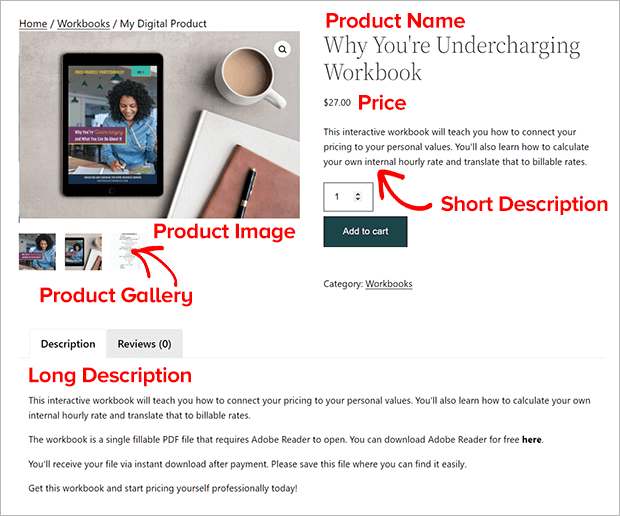 Now let's build this step by step!
From the WordPress dashboard, find Products and click Add New. Click on Create Product.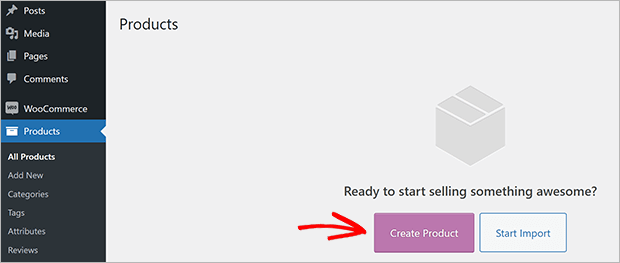 Now, add your product name.

Next, add your long description. This should include a detailed description of the product and how it will benefit the customer. You also want to clearly state which files they'll get and how it will be delivered, such as instant download or email. Finally, make sure to include a call to action that recaps the benefits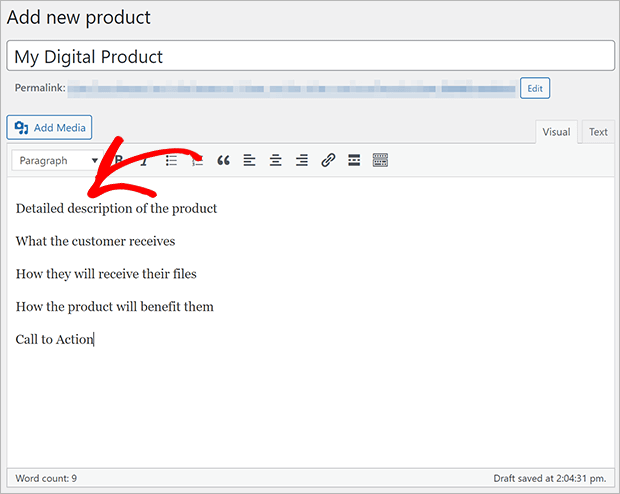 After that's done, we're going to configure this product as a digital product. In the Product data section, check the checkboxes for Virtual and Downloadable. This will remove the options for shipping, which you don't need, and add options for downloadable digital files. For now, we'll stick with creating a Simple Product.

Add the price of your digital product. You can also schedule sale prices to stop and start ahead of time.

Now it's time to add your digital product file. Click on the Add File button.

Give your file a name. This will be visible to customers, so make it informative and easy to read. The product name along with your business name should be included.
If your file is uploaded somewhere else like Dropbox or Google Drive, add the file URL. If you need to upload your file to WordPress, click the Choose file button.

When the WordPress media library pops up, click on the Upload Files tab and either drag a file into the window or click Select Files to choose one from your computer. Once it's uploaded, click Insert file URL.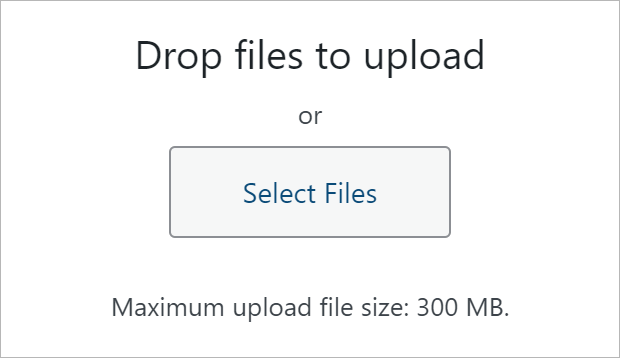 If you'd like, set the Download limit. This is how many times a customer can re-download the file after purchase. It's convenient to allow more than 1 download in case they lose the file or need to download it onto another device. You can also leave this field blank to allow unlimited re-downloads.

You can also set the Download expiry if you want. This is the number of days before a download link expires. Setting a link expiration date motivates customers to download and start using their file quickly while they are still excited about their purchase. If you do set an expiration date, make sure to note this in the product description. If you leave this blank, the link will enver expire.

Enter a short description. This shows up at the top of the product page and may also show up on product tables and archive pages, depending on your WordPress theme and other design settings.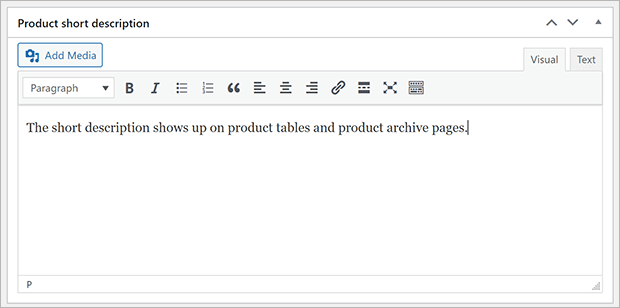 Now, let's add some product images. These are very important for digital products to give customers an idea of what they're buying. The product image is similar to the featured image on a WordPress blog post. It's the main image that represents the product, so choose wisely. Click on Set product image to upload a product image.

You can also add additional images in the product gallery. This is a good place to add a table of contents and sample pages for eBooks, watermarked versions of stock photos or illustrations, or a preview of what a plugin or app looks like when installed.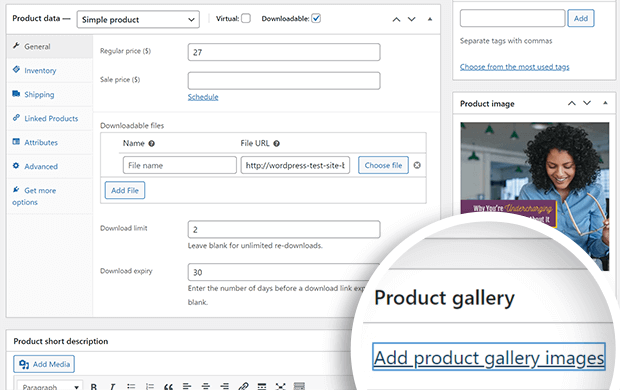 You can also add product tags or categories just as you would for a blog post. Here's a tutorial for how to add categories and tags in WordPress if you need help.
Congratulations, you just added a digital product to your WordPress site!
Next Steps: Customize Your WooCommerce Store
Now that you have a digital product ready to sell, you can repeat the process for other digital products.
You may also want to consider further customizing your WooCommerce store to match your branding and workflow. There are hundreds of extensions and themes for WooCommerce to help you do that.
A full tutorial on customizing your WooCommerce store is too much to include in this article, but here are some articles on building a custom product page, creating a checkout page popup, and choosing the best WooCommerce theme.
How to Sell More Digital Products
Selling digital products is just another form of eCommerce. Many of the eCommerce optimization strategies originally meant for physical goods apply to digital products as well. Here are some of our favorite tips for boosting your conversion rates and digital product sales.
1. Capture Abandoning Visitors
One of the biggest challenges facing online business owners is cart and site abandonment. This is when visitors leave their shopping cart or your entire website without taking any action.
The good news is that both problems have an easy solution: exit-intent popups.
An exit-intent popup is a campaign that appears as users are navigating out of your website.
Imagine a visitor reaching your digital download product page. They spend a few seconds looking at it but start to leave the page. This triggers a popup to grab their attention and contact information for follow-up emails.
Here's an example of what an exit-intent popup might look like: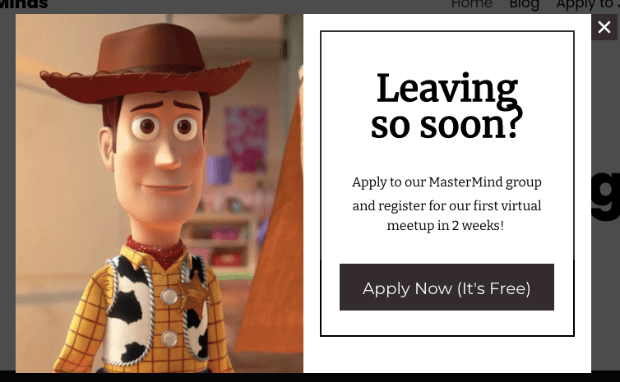 Exit-intent popups have been proven to grow email lists and drastically BOOST sales. But how can you make these campaigns if you're not very technical?
That's where OptinMonster comes in: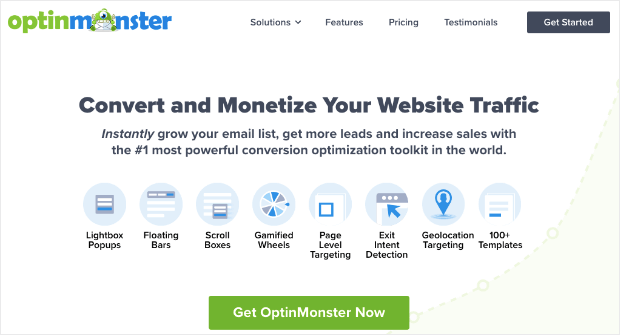 OptinMonster is the best WordPress lead generation plugin that you can use to build high-converting campaigns FAST.
You start by choosing one of OptinMonster's many campaign types. These include things like:
Popups
Floating bars
Fullscreen welcome mats
Slide-in scroll boxes
Gamified spin-to-win wheels
And more…
From there, you can select from any of OptinMonster's 50+ templates: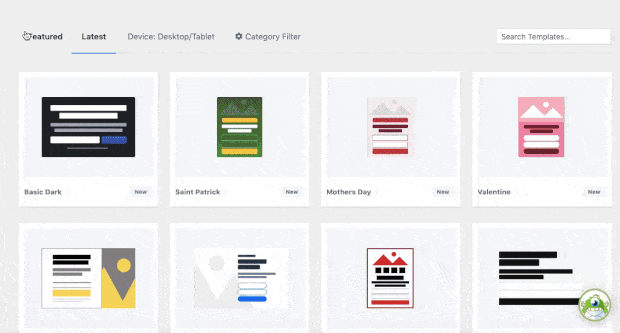 These are all mobile-friendly and 100% responsive, so you know they'll look and function great across devices.
Then, your campaign will appear in the OptinMonster editor. This is where you can add new features or change the text without any coding experience.
That's because OptinMonster has a drag and drop editor that makes modifications EASY: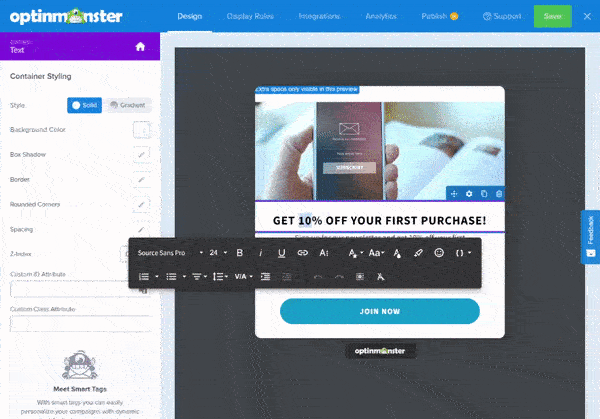 Once your popup looks the way you want it to, it's time to set your exit-intent trigger.
This is easy to do. Simply choose Exit Intent from the menu of available display rules: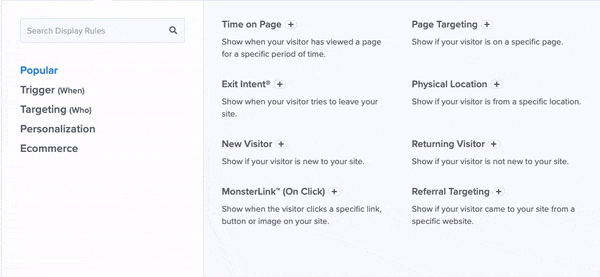 Then you can set your modifications for the exit-intent rule according to device and sensitivity:

And if your customer sees the campaign but still doesn't buy your product?
That's OK!
With this campaign, you'll still get your customer's email address. Then you can sync the campaign with your email service provider in just a few clicks.
And from there, your new lead will go through your email marketing sales funnel.
These popups are the same method that companies like Fastrack use to recover 53% of their abandoning users.
We're confident that you can see similar results by clicking below and starting your 100% risk-free OptinMonster account today:
Get Started With OptinMonster Today!
BONUS: Done-For-You Campaign Setup ($297 value)
Our conversion experts will design 1 free campaign for you to get maximum results – absolutely FREE!
Click here to get started →
2. Incentivize Your Audience
As a business owner, you have specific actions you want your customers to take. But they will only take the action if they feel like they get something out of it.
This means you need to incentivize your audience to take action. This can be done in a few ways, but the most effective is with a sale or discount on your downloadable product.
As we mentioned earlier, you can quickly create and schedule sale prices for all of your digital goods directly in WooCommerce. So an incentive could be as simple as a popup reminding them to check out the sale prices.
You can also use Advanced Coupons for WooCommerce to extend your coupon features.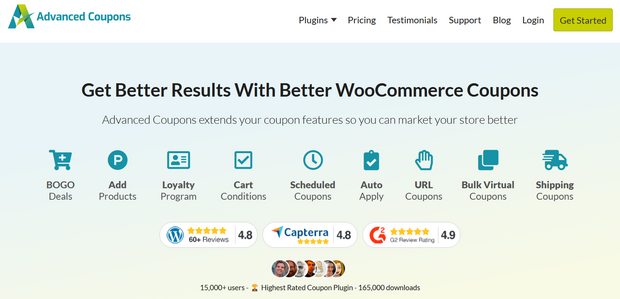 Advanced Coupons lets you give your customers more exciting offers like BOGO deals, loyalty program points, URL coupons, auto-apply coupons, and much more. There's also a free version of the plugin with limited features.
You can use OptinMonster's many campaigns to promote these incentives across your website.
Imagine, for example, showing a sale for your digital product in a floating bar on key pages across your site: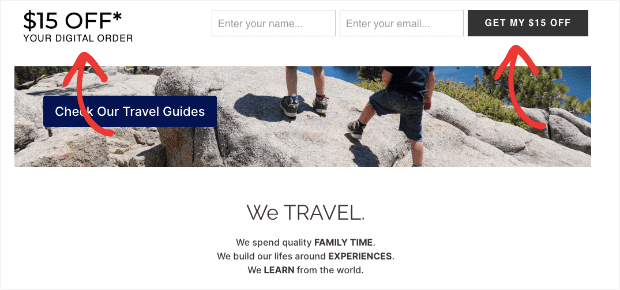 And you also have the ability to target these campaigns to any page on your website.
Or you can let your user's behavior determine whether or not the campaign will appear. You have 100% control over when, where, and to whom this incentive appears.
As a result, you'll have a more personalized customer journey and more sales for your WooCommerce digital product.
3. Add Social Proof
It's no secret that when it comes to marketing, social proof just works.
Online consumers are hardwired to look for signs of social proof to be sure others have tested (and loved) your products.
That's why you should leverage social proof across your website to increase conversions for your digital downloads.
Social proof can take many forms, including:
Reviews
Testimonials
Social media posts talking about your brand
Case studies
And much more…
But the most effective form of social proof comes in the form of a small notification.
These messages looking something like this:

The example above would be for physical products, but you can create the same type of notification for digital downloads, too.
How? You can quickly create social proof notifications with a tool like TrustPulse: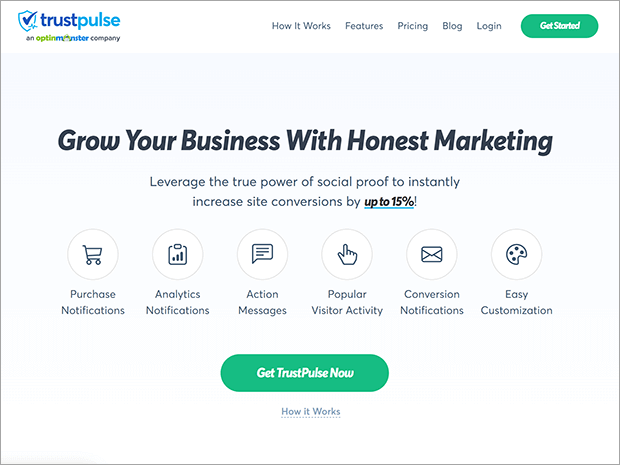 TrustPulse is hands down the best social proof software on the market. It lets anyone create highly effective social proof notifications in minutes.
Plus, there are no technical or coding skills required.
Once you download and activate the TrustPulse plugin, you'll have immediate access to 4 types of campaigns:
Recent Activity: Show a live stream of website activity like purchases, registrations, signups, and more.
On-Fire: Display the number of people taking action on your website in a given period.
Visitor Analytics: Highlight active interest in your site by showing real page visitors over time.
Action Message: Show a single static notification to drive more visitors into action.
https://optinmonster.com/wp-content/uploads/2021/05/trustpulse-campaign-types.png
It's no surprise that TrustPulse users have seen instant boosts in sales by up to 15%.
Ready to see it in action for yourself? Get started with your 100% risk-free TrustPulse account today!
4. Run an Online Contest
So far, we've looked at a few ways you can boost sales from people who are already on your website. But what about getting more people who AREN'T on your website to come visit your product page?
For that, there's no better solution than running an online contest.
In many cases, you'd want to make the prize something your target audience really wants. So it only makes sense to create a contest around your digital product. Not only will this expand your brand's presence online, but it will also educate more of your audience on what your product is and why it's the perfect solution to a problem they face.
And if you use a tool like RafflePress, you can design these contests to get TONS of traction: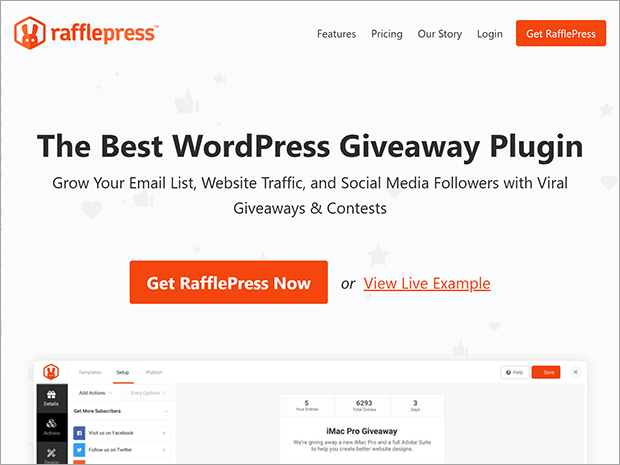 RafflePress is the best giveaway and contest builder plugin for WordPress.
RafflePress lets people enter contests with "entry tickets." But each participant can have multiple entry tickets depending on the actions they perform.
You could, for example, award 1 entry ticket for users who check out your product page. But then you can add 3 entry tickets to people who sign up to your email list.
Now a single participant can have 4 entry tickets which will increase their odds of winning. As you can imagine, this gives people an extra incentive to interact with more of your calls to action (CTAs).
After the contest is over, you'll have 1 winner. That means you'll also have:
1 solid lead for a testimonial in your hands
A long email list with warm leads who've shown direct interest in your product
From there, you just need to nurture your leads through some email marketing best practices.
Get started with your 100% risk-free RafflePress account today!
5. Leverage Push Notifications
If you aren't currently using push notifications to reach your audience, then you're missing out.
Push notifications are small messages that appear on your audience's browser. But they also stay on their browser until there's an interaction:
They either need to click to visit your product page or click to close the notification.
Either way, they need to click.
Plus, these messages are easy to subscribe to since your visitors only need to hit an Allow button to sign up. That means they never have to hand over personal details like their name or email address.
Imagine having an audience of thousands that you can instantly share your digital product with.
How can you make that happen? We highly recommend going with a software like PushEngage: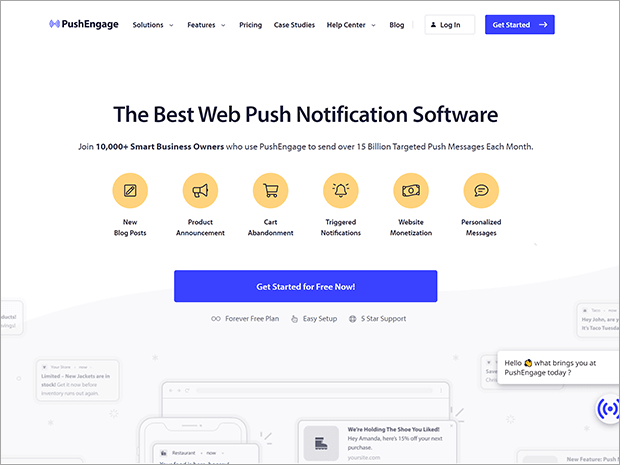 PushEngage is the leading push notification software on the market today.
It has everything you need to target your audience and send high-converting messages. Plus, it comes with all the bells and whistles you'd expect from a premium software such as segmentation, personalization, and automated drip sequences.
Other key features include A/B testing, campaign scheduling, cart abandonment sequences, and much more.
Want to see it in action for yourself? Try out PushEngage 100% risk-free today!
Now you know how to sell digital products with WooCommerce.
Digital products can be a scalable and sustainable revenue generator for your business. WooCommerce is a great solution for selling digital products, whether you also sell physical products or not.
If you're ready to launch a new digital product, check out our ultimate guide to product launches.
If you like this article, also check out: How to Market Digital Products: 11 Proven Strategies