Do you want to create a promotional popup in Squarespace to grow your email list?
Whether you're running an online store or blog, you'll find promotional popups helpful alike for growing your email list, promoting a coupon code, age verification, and more.
By the end of this tutorial, you'll learn exactly how to create a Squarespace popup that quickly boosts your email list.
Why Create a Promotional Popup in Squarespace
A promotional popup is a message that appears over your Squarespace site's content to catch your visitor's attention.
You can use Squarespace popups to:
Invite visitors to subscribe to your mailing list
Promote a limited time sale
Direct visitors to your most popular content
Squarespace does come with a built-in capability that lets you build just a basic promotional popup with limited targeting features.
That means unless you're a designer, you'll end up creating a mediocre popup with their default features. Not only will it fail to grab your visitors' attention, but it won't be targeted enough to drive conversions.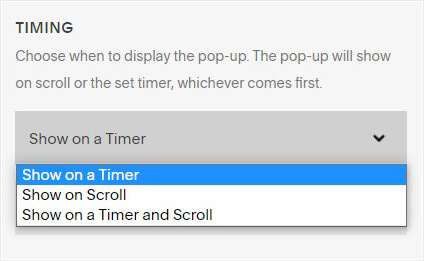 Here's where OptinMonster comes in.
OptinMonster is the best lead generation tool to build effective Squarespace popups that grows your email list. It lets you easily create eye-catching popups thanks to its drag and drop builder and 50+ built-in templates.

Businesses and publishers use OptinMonster to:
Grow their email list
Drive site traffic
Increase sales
Libratone used OptinMonster's different targeting rules to grow its email list by 400%.
You can use OptinMonster's targeting and triggers to control exactly when and where to show your promotional popup.
Are you ready to build your popup?
Let's begin.
How to Create a Promotional Popup in Squarespace
Today, we'll design this promotional popup in just a few minutes using OptinMonster.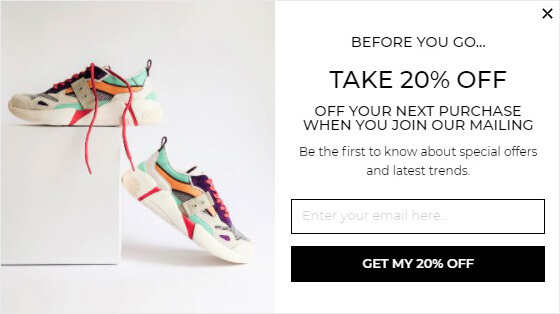 Before we start, you'll need to log into your OptinMonster account.
Don't have an account yet? Getting started is 100% risk-free with our 14-day money-back guarantee.
Get Started With a Popup Today!
Step 1: Create OptinMonster Campaign
Once you've logged into your account, click Create New Campaign.

Next, you'll need to choose your campaign type.
OptinMonster offers multiple campaign types, like floating bar, fullscreen mat, and slide-in scroll.
An inline campaign, for example, is good for attracting readers who are already engaged with your content. That's because you're presenting your optin after they've started reading your content.
And Floating bar, on the other hand, stay at the bottom or top of your web page, capturing your visitor's attention without interrupting them.
Since you're looking to create a promotional popup, let's choose Popup.

Now, you'll be able to select your template.
All templates are responsive and look great across all devices. You can filter out template options based on the device your visitors' use and other parameters, such as
Campaign goals: grow list, target abandoning visitors, redirect traffic, or time sensitive offer
Categories: professional services, marketer, or store owner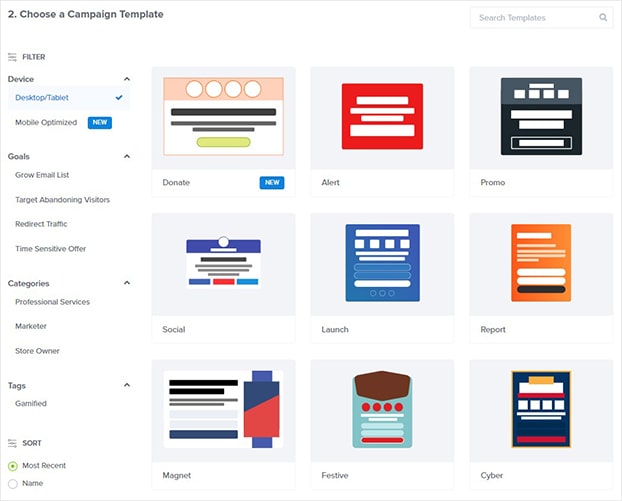 Today, we'll pick the Fashion template.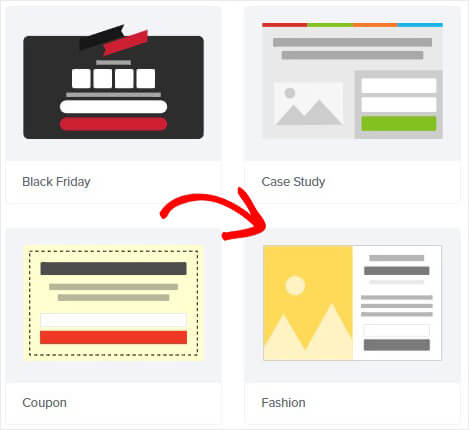 The Fashion template is perfect for our promotional popup because we'll have space for an image, headline, and additional copy.
Today, we'll be offering people a discount in exchange for their email addresses.
Incentives and special offers like these are really great at helping you add more subscribers.
Typically, there are two types of incentives:
Now you'll be prompted to name your campaign.
Click Start Building to enter the OptinMonster editor.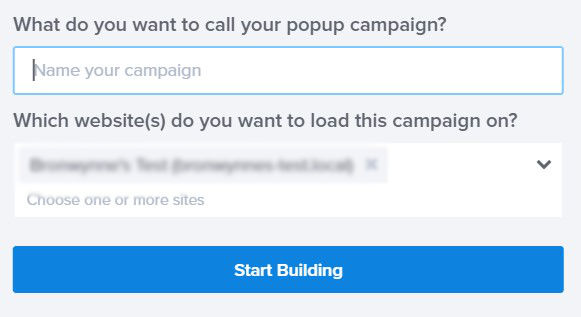 It's time to customize your promotional popup.
Step 2: Design Squarespace Popup
You can easily customize your popup to fit your brand's style and campaign goal.
With OptinMonster's drag and drop builder, you can change the message, colors, fonts, and anything else.
Just click on any part of the template to customize it.
This means you can create a stunning promotional popup within minutes, not hours.
If you've just started creating popups, you want to add a strong headline, compelling offer, and clear call to action. These are some of the email popup best practices that are proven to get you more conversions.
Let's have a closer look at how the editor works.
To change the text, simply click on it. Now, you'll be able to edit the text directly on the popup.
From the editing panel, you can adjust the font, color, alignment, and message.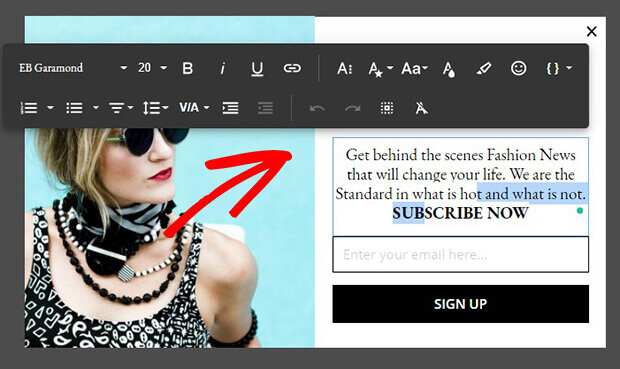 You'll want to add a visually appealing image to catch your site visitor's attention.
Again, just click on the image.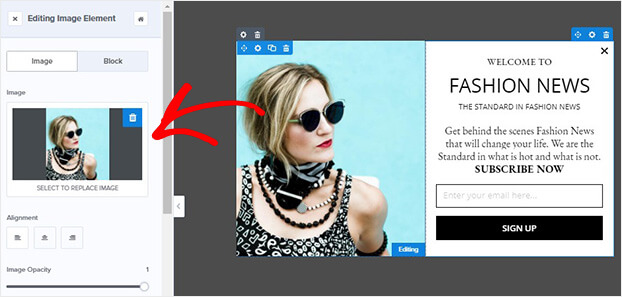 To add anything new to the popup, click Add Blocks.

Then, you can drag and drop the block onto your popup campaign.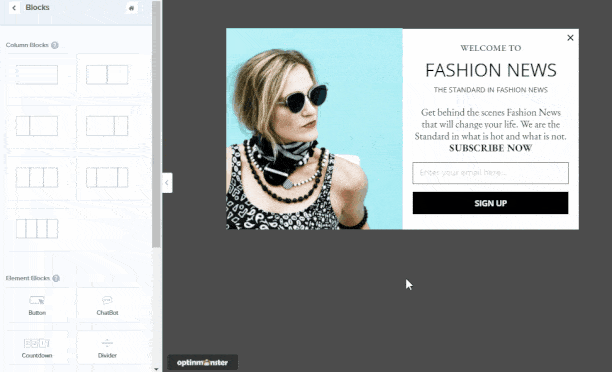 You'll also be able to customize the Success screen. This is the screen your visitor will see once they've completed your optin. It's great for letting your subscriber know they've successfully joined your list.
Click Success at the top of your editor. You'll be able to edit it in exactly the same way.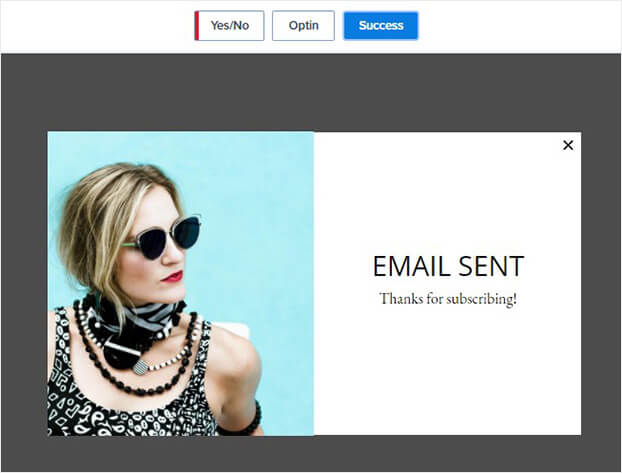 Once you're happy with the design of your popup, hit Save at the top of your editor.

Now, you'll decide when and where to show your promotional popup.
Step 3: Display Squarespace Popup
Are you worried about losing subscribers by showing your popup at the wrong time?
It's true:
Bad timing is the root cause of most of the annoying popups we see online.
OptinMonster fixes all of that with its Display Rules.
Here's a snapshot of some of OptinMonster's Display Rules: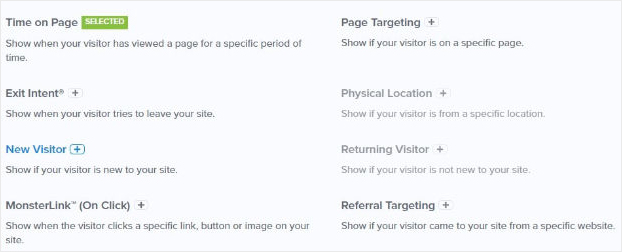 With OptinMonster, you can use triggers and targeting to control who sees your popup.
Triggers use your site visitor's behavior to display your campaigns.
You can show your popup when:
Visitors are about to leave your site
A visitor clicks on a link or image
After the visitor has scrolled a certain percentage
And more.
Targeting lets you control who sees your popup based on:
Their physical location
The device they're using
The page they're viewing
OptinMonster customers frequently combine these rules to increase conversions. For example, an online store owner might display a discount exit popup only after the visitor has scrolled 60% of the page.
Today, we'll look at two display rules, Exit Intent® and Page level targeting that can be used for 2 different cases.
Exit-intent technology triggers a popup when your visitor is about to leave your site.
It's the perfect time to show them one last offer before they're gone for good.
OptinMonster customers increase their conversions between 2 – 4 % using exit popups.
Head over to Display Rules.

Click Exit Intent®

Decide on which devices your popup will be shown.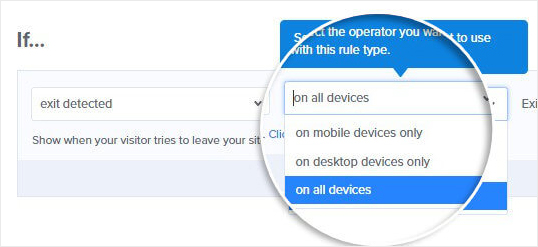 Next, you'll need to choose the sensitivity level.
On mobile, choosing the exit intent sensitivity is extremely important. Low and Medium sensitivity will trigger your popup when the visitor scrolls up. High sensitivity will create a back button trigger.
To learn more about exactly how exit intent works on mobile, check out this article: How to Create Mobile Exit-Intent Popups That Convert

Finally, decide on which page you want to display your popup.
Here you can display on any page or specific URLs. You can get very specific about where to show and hide your exit popup.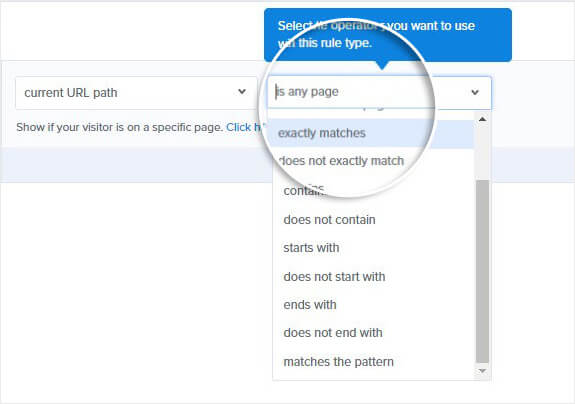 Check out this article for 40 exit popup hacks that will grow your subscribers and revenue.
Step 4: Integrate Squarespace and OptinMonster
Syncing OptinMonster with your Squarespace site is simple.
All you need to do is copy and paste one embed code.
Head over to Publish at the top of your editor.

Go ahead and copy the code at the bottom of the page.

Now, you'll need to add it to your Squarespace site.
Head over to your Squarespace site.
Select Settings.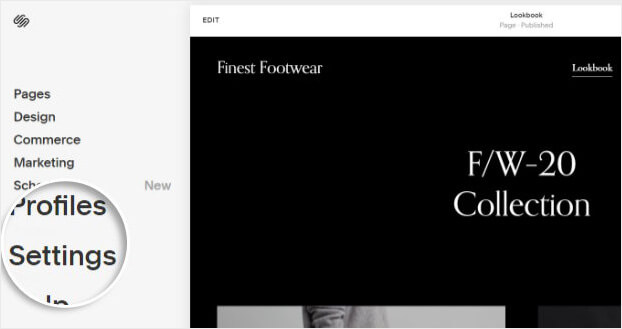 On the next screen, select Advanced.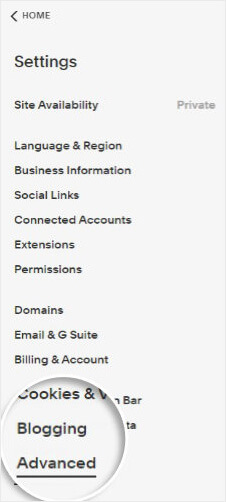 Choose Code Injection on the next page.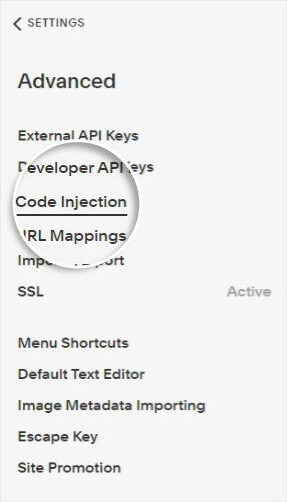 Paste the OptinMonster embed code in the footer section.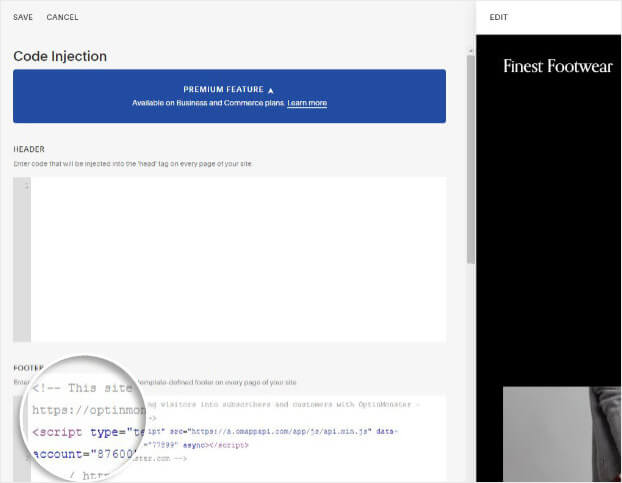 That's it.
Get Started With a Popup Today!
We hope you enjoyed reading this article on creating a popup for Squarespace.
These resources will help you turn email list into an important business asset:
Want more information on OptinMonster and how it can grow your business?
Check out this article: How Does OptinMonster Work (8 Benefits + 12 Case Studies)
Ready to turn more of your site visitors into subscribers? Sign up for OptinMonster today.