Are you trying to figure out how to create a LinkedIn landing page, but you find yourself constantly busy with other tasks?
LinkedIn is arguably the largest platform for professionals around the world. And as you might imagine, that makes it the perfect place to grow your network or search for new leads.
But how can you make your business or brand stand apart from the competition?
One of the best tools at your disposal would be a LinkedIn landing page.
That's why, in today's post, we're going to show you how to create a LinkedIn landing page in under 10 minutes.
Before we dive into the tutorial, though, let's get clear on what a LinkedIn landing page is and why it's such a valuable asset to your business.
What Is a LinkedIn Landing Page?
A LinkedIn landing page is a webpage that you build to drive traffic specifically from LinkedIn.
It allows you to personalize the customer journey on a deeper level and, as a result, get MORE conversions for your offers.
Your landing page can be used to send people who click on a LinkedIn ad, a link from your posts, or even a link in your bio.
There are tons of ways you can use a LinkedIn landing page to grow your business. Here are just 3 of the top advantages:
Set Yourself Apart: Stand out from the competition with a sleek, professional landing page to showcase your offers.
Boost UX: Personalize the user journey to keep your audience's attention and make them more confident in your brand.
Drive MORE Conversions: Transform visitors into loyal customers and brand ambassadors.
Ok, so all of this sounds great so far, right?
But you're probably the kind of person who juggles a thousand things and puts out a hundred fires on a daily basis.
How can you possibly find the time to create a custom landing page just for LinkedIn offers?
If you're using WordPress, then you're in luck. Because that's exactly what we'll be covering next.
So sit back and follow along as we build a LinkedIn landing page in under 10 minutes.
How to Create a LinkedIn Landing Page
For this tutorial, we're going to use SeedProd: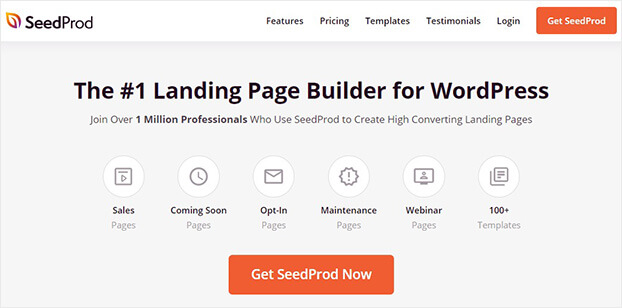 SeedProd is the world's #1 landing page builder for WordPress. It allows anyone to quickly and easily create landing pages FAST.
That's because, as you'll see, SeedProd uses a codeless drag and drop visual builder. That means you don't need any technical experience to create stunning and high-converting landing pages.
Plus, it integrates with all of your favorite 3rd-party tools.
These tools allow you to collect contact information, send automated emails, and even allow people to make payments directly from the page.
That way, you can guide your LinkedIn traffic to the landing page and focus their attention on a single call to action (CTA).
Then you can load the page with persuasive elements like:
Video demos
High-quality images
Reviews
Testimonials
Live sales notifications
Payment gateways
Email optin forms
And much more…
With these resources at your quick disposal, you'll see a jump in conversions in no time.
Here's an example of the landing page we'll build today: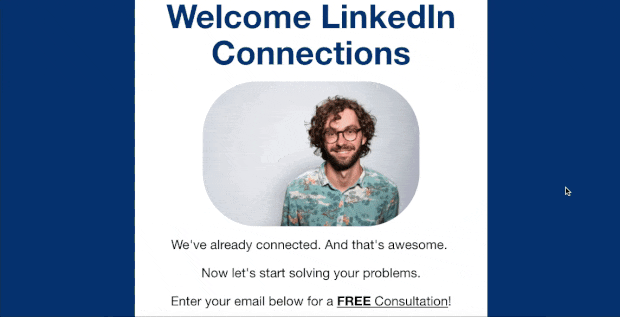 Ready to get started? Let's dive into the tutorial.
Step 1) Install and Activate SeedProd
First things first, you need to download and activate the SeedProd plugin.
We'll do this the same way that we'd install any plugin on WordPress. From your site's admin menu, click Plugins » Add New.
Type "SeedProd" into the search bar. When you see the plugin, click Install Now: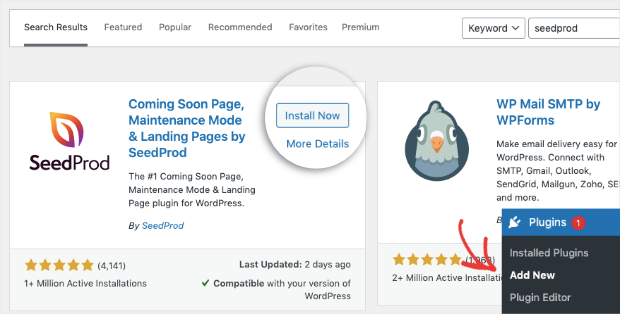 When the plugin is installed, click Activate: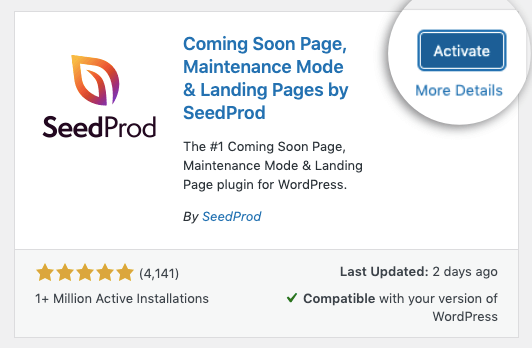 Now the plugin will be ready to use.
As of right now, you have the free version of SeedProd.
This is a good way to test the waters, but if you're serious about generating more leads, then we definitely recommend upgrading to a paid plan.
When you do, you'll get a license key, or you can download the premium plugin directly from the Downloads tab in your SeedProd account: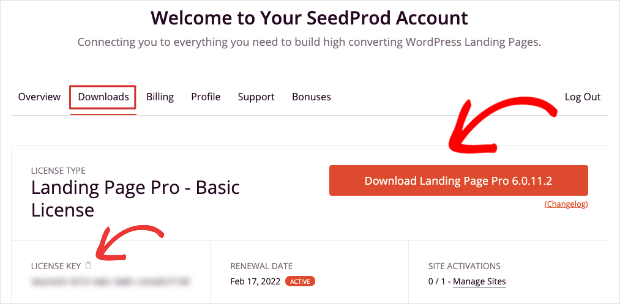 Why would you want to use the paid plan? That's easy:
Unlock 150+ pre-made templates for all your landing pages
Convert MORE with 30+ PRO page blocks
Manage your subscribers
Sync with your email service provider (ESP)
And much more…
And with a 14-day money-back guarantee (no questions asked), there's no risk involved.
Whether you stick with the free plugin or you upgraded to the paid account, you're now ready to create your first campaign: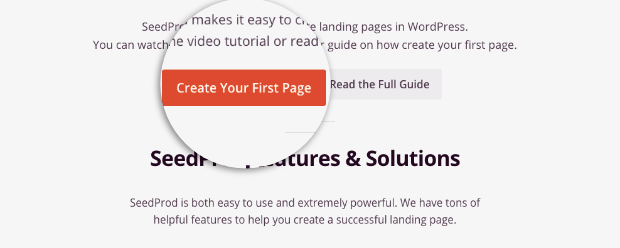 That means it's time to select your template and start designing your LinkedIn landing page.
Step 2) Select Your Template
From SeedProd's dashboard on your WordPress site, scroll down to Add New Landing Page: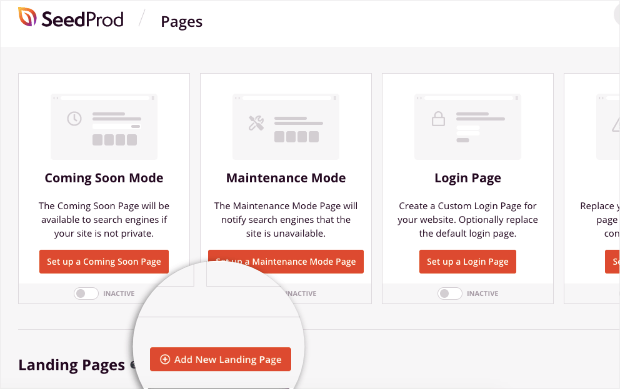 If you're using the free version of the plugin, you'll have a limited template selection.
That said, you can always enter your email at the top to unlock 10 FREE templates: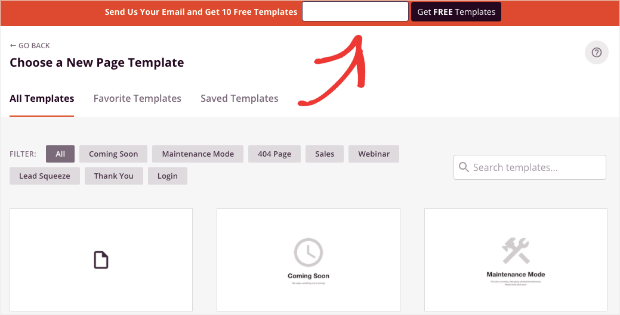 You'll now have access to the following premium templates: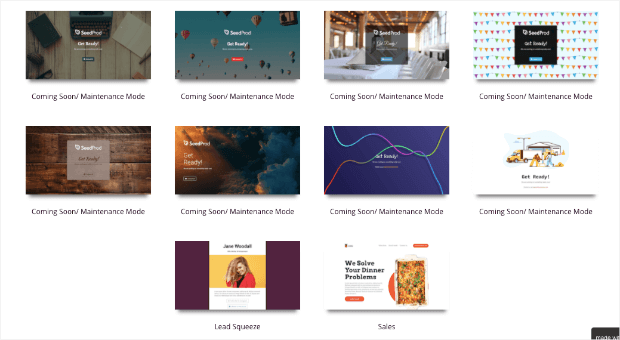 For this tutorial, we'll use the Personal Links page template: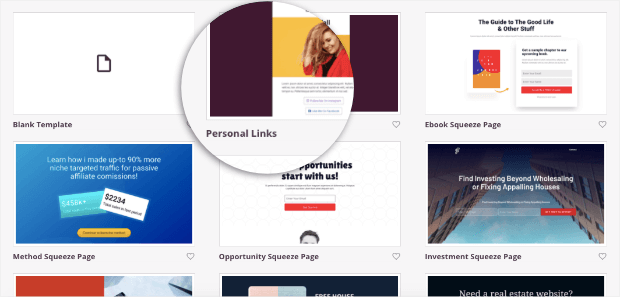 This is a great template for sending people from LinkedIn.
That said, you can use any of the templates offered by SeedProd according to your plan. They're all fully responsive, mobile-friendly, and work great out-of-the-box.
Once you've selected the right template for your brand, you'll be able to modify your LinkedIn landing page.
Step 3) Modify Your LinkedIn Landing Page
From here, you'll be able to quickly modify your landing page to suit your unique offer and audience.
That's because SeedProd has one of the most user-friendly drag and drop page builders on the market.
First, you can click any part of your page's text to modify the messaging: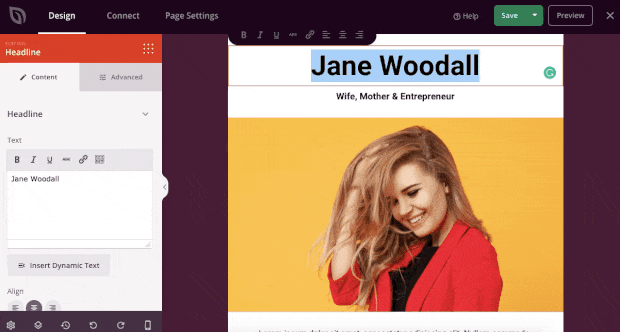 And if you want to add any new elements to the page, that's no problem. You can locate the feature you want on the side of your SeedProd menu and simply drop it where you'd like: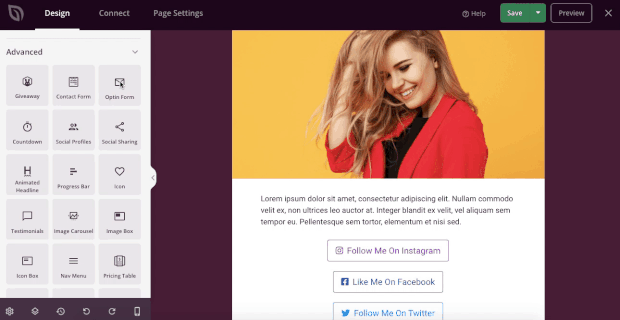 You can also make global changes to control things like font, font sizes, colors, and more: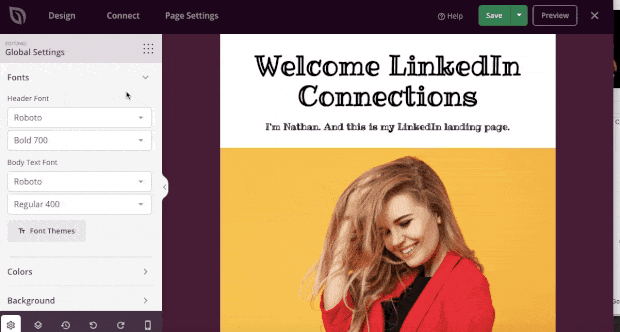 And the best part is that you don't need any coding skills or design experience to create stunning pages in a matter of minutes.
In fact, this is the page that we created for this tutorial in less than 10 minutes: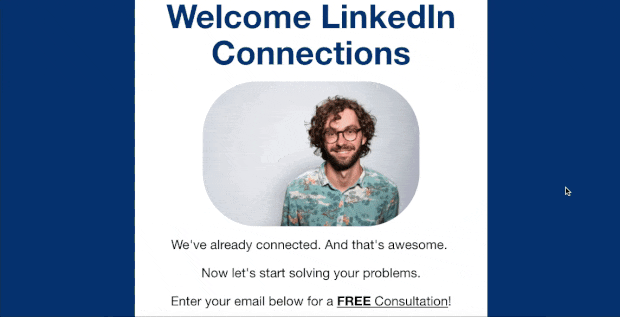 When you're done creating your page, you can simply click Publish in the top right-hand corner: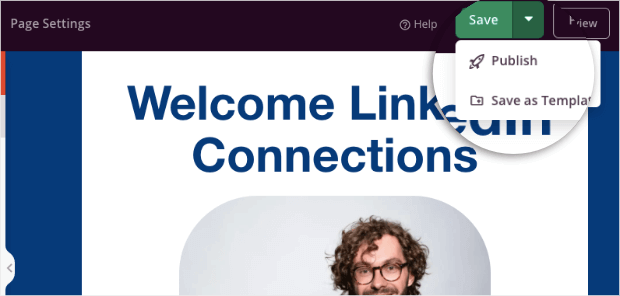 And just like that, you've learned how to create a LinkedIn landing page in no time!
Again, you can customize your page depending on WHY you're sending traffic from LinkedIn to your website.
You can build a page to redirect from:
Paid ads on LinkedIn
Organic posts
A link from your profile's bio
Each of these scenarios will (or should) have a different CTA for your audience.
But the good news is that you can create a LinkedIn landing page once, save it as a template, and modify the message depending on the source of your LinkedIn traffic.
Then you would have 3 unique LinkedIn landing pages in just minutes.
Ready to try it out for yourself?
Get started with SeedProd to build your landing page today!
And that's all for now.
We hope you enjoyed this post and, if you did, you'll definitely want to check out the following resources:
These resources will have even more information that you can use to design professional and high-converting landing pages FAST.