Are you looking for a fast way to index your content?
It's possible with IndexNow. It's an instant way to inform search engines about the recent content changes on your website.
In this article, you'll learn how to add the IndexNow feature to your website and boost your content indexing process.
What is IndexNow?
IndexNow is a simple way to ping search engines and lets them know about any content activity like adding, updating or deleting an existing page on your website.
Without IndexNow, it can take days to weeks for search engines to realize the content has changed. With IndexNow, since search engines will be updated instantly, it allows them to prioritize crawling for these updated URLs and thereby limiting organic crawling to discover new content.
IndexNow is a new initiative introduced by Microsoft, and it's supported by search engines like Bing and Yandex. A Google spokesperson has also confirmed that they'll be considering the IndexNow initiative and start testing it to see if it can improve overall sustainability.
In short, IndexNow is a ping protocol for search engines to crawl new content on your website and change rankings quickly.
Why Should You Add the IndexNow Feature?
Search engine bots continuously crawl the XML sitemaps to see if there are new links added to the website. This legacy process can take up to several days if a search bot does not visit your website, and thus, the SEO results get delayed.
With the IndexNow feature, you can speed up your content indexing process and get visitors to your website faster. Instead of having search engines crawl your entire website, IndexNow proactively pings them about the exact content update like publishing a new post or changes in the existing post.
That way search engines can prioritize those updated URLs when it comes to crawling, meaning new updates and content addition will be discovered by search engines quickly.
Let's look at how to add IndexNow to your WordPress website.
How to Add IndexNow to WordPress Website
There are two methods to add IndexNow to your website. Both methods are easy and do not require any knowledge of coding.
Let's get started with the first one.
Method 1: Add IndexNow using AIOSEO Plugin
All in One SEO is the best SEO plugin and has been used over on 3 million websites. It's easy to configure and offers advanced SEO features for optimizing your website.
Some of the most popular features of the AIOSEO plugin are:
TruSEO: With TruSEO, you can optimize your posts, pages, and products easily. Once you add the focus keyword, you'll find a complete checklist of SEO suggestions that can significantly improve your SEO score.
Local SEO: Local SEO feature helps you optimize your business information to rank in local search pack results.
Schema Markup: You can set default schema types for posts and pages and help search engines understand your content better.
WooCommerce SEO: Easily optimize your product titles and meta descriptions to maximize chances of product rankings.
And many more.
AIOSEO introduced the IndexNow feature in their recent update. It's the first SEO plugin to add the IndexNow support for WordPress.
Let's get started with the steps to add IndexNow.
Step 1: Install All in One SEO plugin
The first step is to install the AIOSEO plugin.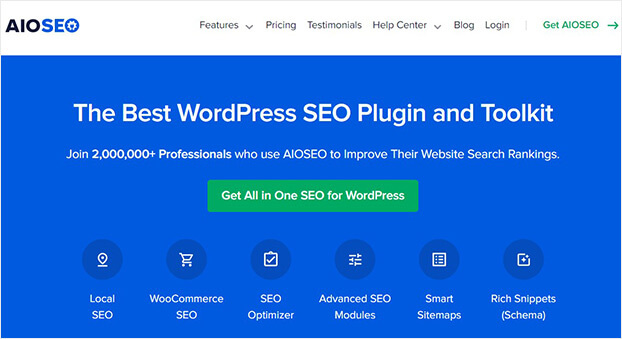 We'll be using the AIOSEO premium plugin for this tutorial since it provides access to many SEO features.
Choose your plan and complete the checkout process. Now, you can download the plugin zip and activate the plugin license key on your website.

You can also check out this detailed guide on how to install a WordPress plugin.
Step 2: Navigate to the Feature Manager
Once you activate the plugin, navigate to AIOSEO » Feature Manager from your WordPress dashboard.
You'll find the IndexNow feature.

Enable the toggle button to activate the feature.
Step 3: Verify the IndexNow API from the Settings
It's time to verify the API key.
Click on the manage button link that is available in the IndexNow description.
Now, you can click on the IndexNow box.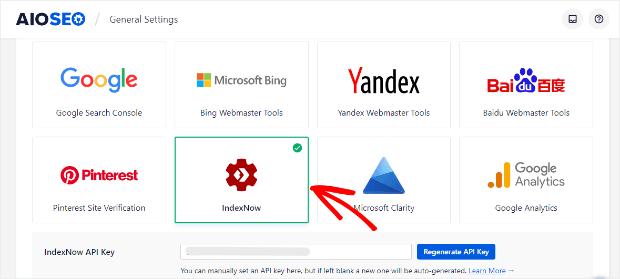 There is no need to regenerate the API key and click on the Save Changes button.
That's all you need to do.
We've successfully added the IndexNow feature for instant indexing of new content using the AIOSEO plugin.
Although this is the simplest method, we'll also check another method.
Method 2: Add IndexNow using the IndexNow Utility Plugin
AIOSEO is the most straightforward way to add the IndexNow feature to your website. If you're not switching to the AIOSEO plugin, you can use the IndexNow plugin.
The plugin is free, and you can install it from the WordPress plugin repository.
Once you activate the plugin, navigate to Settings » IndexNow from your dashboard.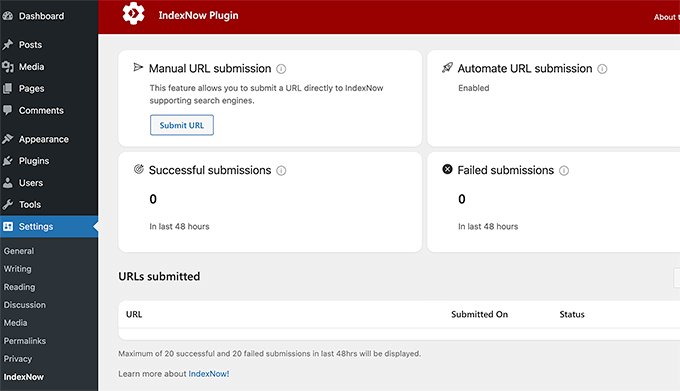 Click on the Get Started button, and the plugin will automatically generate a new API and configure it for you.
After this, you'll see the IndexNow stats for URLs like successful and failed URL submissions.
That's it.
You have successfully added the IndexNow to your WordPress website.
Best Method to Add IndexNow
Now, you know how to add IndexNow to your website using AIOSEO and IndexNow utility plugin.
It's up to you to choose from either method. But if you ask us, we would recommend the All in One SEO plugin because you'll get many important SEO features.
If you liked this post, then you may also want to check out:
Get started with OptinMonster to start converting your organic traffic into leads and customers.
If you liked this tutorial, please follow us on Facebook and Twitter for more free WordPress tutorials.