Are you looking for a comprehensive GetResponse review to see if it's the BEST email service provider (ESP) for your needs?
After all, when it comes to almost any business, email marketing is vital in driving online sales and keeping an open line of communication with customers.
That's why, in today's post, we're going to review one of the most popular email service providers on the market: GetResponse.
More specifically, this GetResponse review will look at the software in terms of:
Feel free to use the table of contents above to jump around to the sections that interest you most.
Otherwise, let's start from the top to discover if GetResponse is the right ESP for your business.
GetResponse Review: Is It the Best Email Service Provider?
GetResponse is a popular bundled marketing suite that can help your business thrive online. Though it has a robust offering of marketing features, we will purely focus on GetResponse's email service capabilities.
Let's get started:
1. Ease of Use
When we're talking about using any ESP, it's essential to look at how easy it is to do two main things:
Setup
Design a new campaign
a) Setup Ease of Use
GetRespose's setup is straightforward and only needs some basic information before you are free to start using the platform.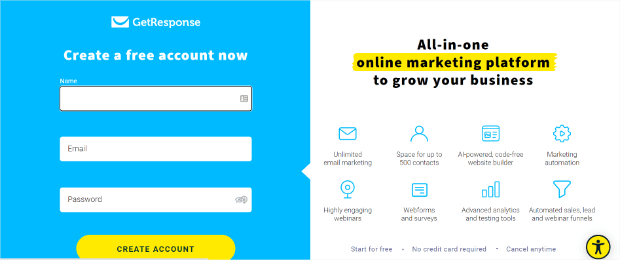 Right off the top, GetResponse sets you up for success by collecting all of the information they need to ensure you comply with the CAN-SPAM Act and international spam regulations.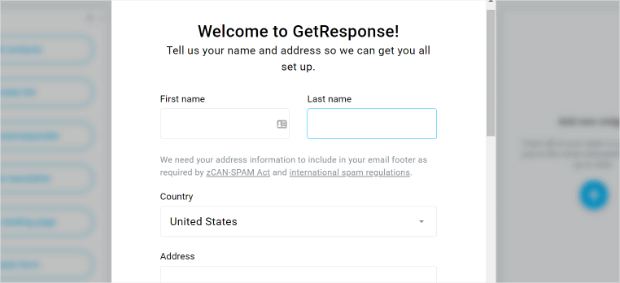 After supplying your information, GetResponse walks you through a short wizard to help understand your needs to best customize the platform for your business and goals.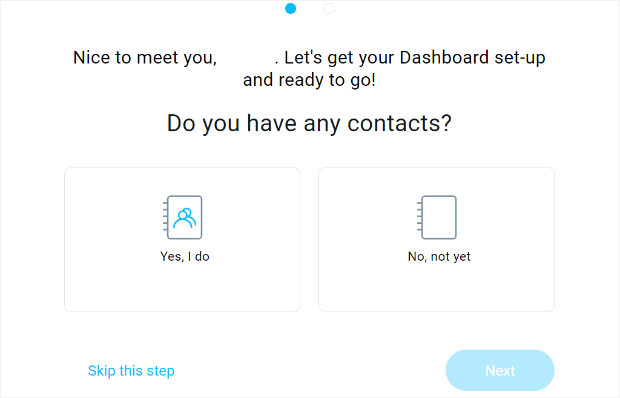 Then, GetResponse creates a dashboard for you to get started. For those that want a tour, they have that ready for you, too. If you prefer to learn on your own or take the tour later, there is an option to skip this step.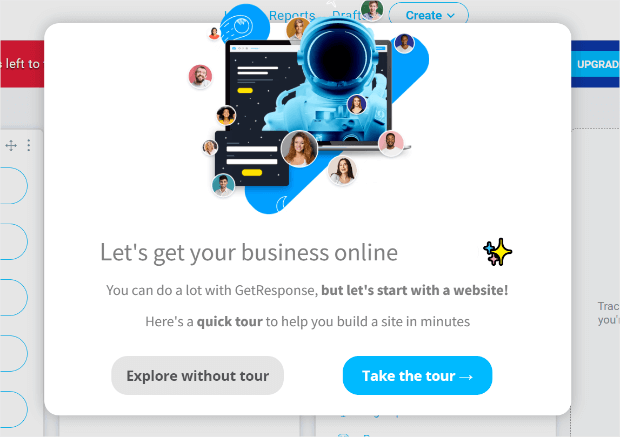 On the tour, you are immediately taken to the website builder. However, since we are purely focusing on the email side of GetResponse, we skipped this step and instead dove right into designing our first email.
Overall, it only took a couple of minutes to get signed up and through the setup phase of GetResponse.
b) Campaign Design Ease of Use
When designing a campaign, GetResponse has several themed campaign options to choose from. In this review, we will create an email welcoming new subscribers to our list.

There are several different templates under each theme to help you best customize your campaign. Each one is a little different, so take some time to look at each one to find one that best fits your business needs.
Now, a warning: this next feature can be a little complicated. But, for those that want fully immersive email campaigns, this is an important feature.
The workflow editor is the next step, which allows you to build custom funnels based on a seemingly endless possibility of triggers. For the sake of this GetResponse review, we will keep this simple and just design one welcome email.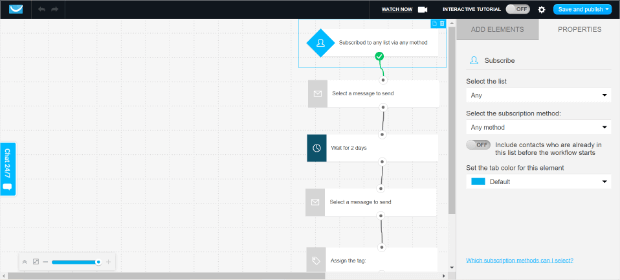 Then, you are ready to start designing your campaign. First, you'll be prompted to enter information like:
Campaign name
Email subject line
From and reply to email addresses
Once that's done, it's time to create the actual email. GetResponse provides dozens of beautifully and expertly designed emails for you to choose from. Of course, you can also build one from scratch if you'd like.
We found a welcome email template fairly quickly and were able to go straight to customizing.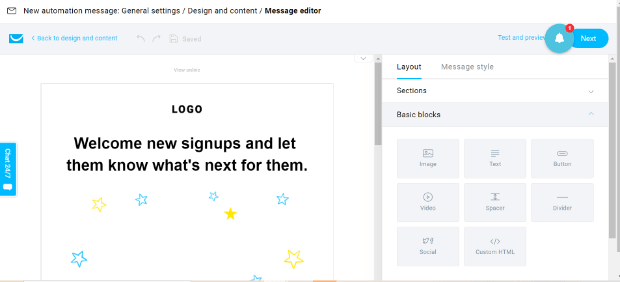 Designing and customizing emails is a breeze with GetResponse. With a drag and drop "what you see is what you get" style editor, you can create a professional and authentic email in minutes.
All in all, creating an email campaign, down to email triggers, is easy and intuitive with GetResponse.
Moving forward in our GetResponse review, let's look at some of its other functions and features.
2. Flexibility
When you're looking for any new tool, you are probably wanting it to fit in with both the tools you already use, as well as any you may add to your arsenal in the future. After all, if you have to keep switching up marketing tools because they can't work together, it can be a huge drain on your time, money, and patience.
That's why it's vital that your email provider is flexible and can integrate with many other marketing tools and software.
GetResponse integrates nicely with a lot of the top marketing and internet service tools, including OptinMonster.
GetResponse also connects with eCommerce platforms such as:
Magento
WooCommerce
Shopify
And more…
Plus, it connects with marketing tools, like:
Eventbrite
Salesforce
LiveAgent
Zapier
And many more…
With GetResponse, you'll likely have any integration you need to help transform your website into a marketing powerhouse that helps you reach your business goals.
So, when it comes to flexibility, GetResponse is a great ESP choice.
Now, let's take a look at another important feature for any email provider: automation.
3. Automation
To keep any leads from falling through the cracks and to keep your email campaign running like a well-oiled machine, automation is king when it comes to ESPs.
Automation removes a few of the more mundane tasks, helping move your leads along the conversion path towards becoming paying customers.
As you briefly saw in our section over campaign design ease of use, automation is a key feature with GetResponse.
So, after a little bit of time and elbow grease on the front end, you can create dynamic and thorough automated campaigns for your business that speaks directly to your customers.
Some of the email campaign automation triggers are:
Cart abandonment
New subscription
Link clicks
Product downloads
And more…
Thanks to GetResponse's automation workflows, you can keep talking to your customers as they interact with your site and brand.
But, how do you get leads into your email provider? In the next section of this GetResponse review, let's look at how it handles lead generation.
4. Lead Generation
Most email service providers come with some sort of lead generation capabilities.
GetResponse is no exception.
Lead generation capabilities within GetResponse are minimal. Essentially, you are limited to just:
Facebook and Instagram Ads
Landing Pages
Signup Forms
Plus, as we showed you earlier, it comes with built-in templates to get started right away with minimal work.
But is this the best way to get leads for your business?
Well, that's a little more of a complex answer. That's because GetResponse is an email service provider and marketing automation tool first and a lead generation tool is a little added function.
So, suppose you are looking to make the most of your lead generation efforts. In that case, you'll need a tool that's primary focus is to help you generate the most and best leads possible.
And that tool is OptinMonster: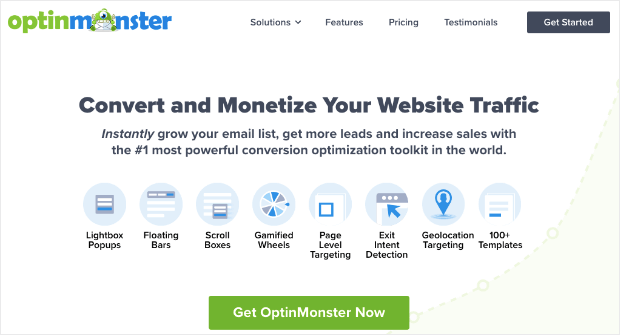 OptinMonster is, by far, the world's best lead generation toolkit. It allows you to build professional lead generation campaigns in minutes.
Lead generation campaigns, also known as "optin campaigns," are something you are likely familiar with, like:
Popups
Floating bars
Fullscreen welcome mats
Spin-to-win wheels
Slide-in scrolls boxes
Inline campaigns
And much more…
For example, here's a lightbox popup campaign created with OptinMonster. The bonus? This took less than 5 minutes to make: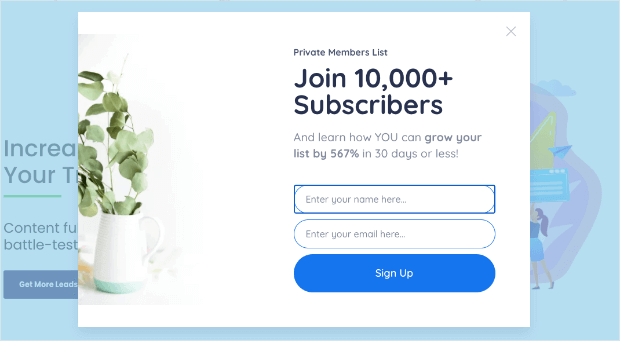 Plus, you don't need any coding or design knowledge to create eye-catching and high converting campaigns for your site.
That's because OptinMonster comes with over 50 pre-made templates that you can use to get started right away: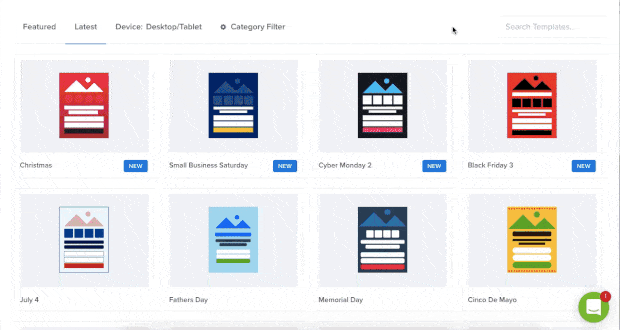 These templates will save you time, energy, and headaches as you create your campaign.
From there, customization is just as simple, thanks to OptinMonster's drag and drop visual builder. This builder lets you instantly change elements like text in just a few simple clicks: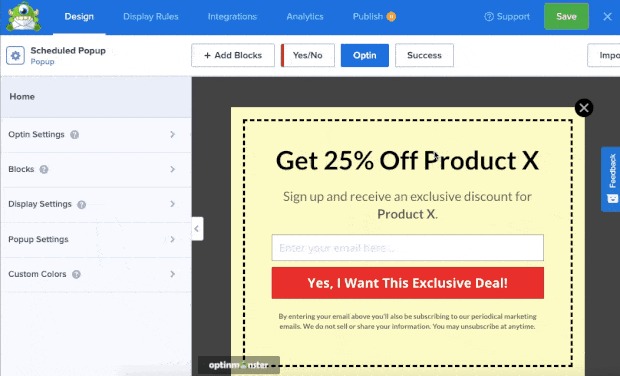 Or you can add new features, such as:
Video
Icons
Images
Custom HTML
Countdown timers
Spacers
Divider
And much more…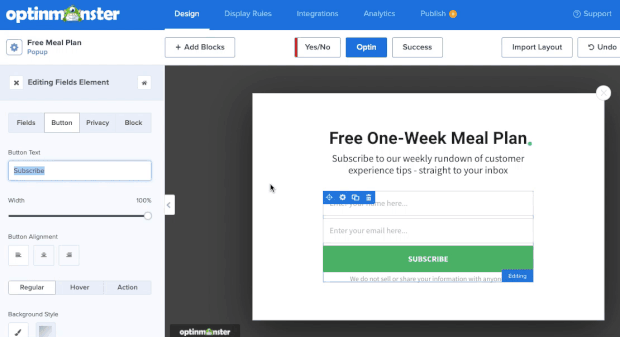 But here's why you should really consider using GetResponse as your ESP and OptinMonster as your lead generation software:
OptinMonster has advanced targeting rules that results in HIGHER conversions.
While GetReponse does have marketing automation triggers, it only impacts the marketing emails that subscribers to your list see.
But what about getting people on that list in the first place?
OptinMonster gives you tons of options to target your ideal audience. Some of the most popular campaign display rules are:
Exit-Intent® Technology: Recover abandoning visitors by triggering a campaign as people are actively leaving your site.
OnSite Retargeting®: Keep users engaged by showing a fresh campaign to returning visitors.
Geolocation: Personalize campaigns based on the visitor's physical locations.
MonsterLinks™: Boost conversion rates by making your optin campaigns clickable links in any text-based content.
These are just a few examples, though there are many more.
Finally, OptinMonster and GetResponse seamlessly integrate to give you a powerful duo of tools to both generate and nurture your leads. Even if you have already segmented your lists in GetResponse, OptinMonster makes it incredibly easy to funnel leads to the exact lists you want.
How do we know? Because we see it happen every single day.
In fact, it's how Crossrope exploded their email list by 900%.
Or how Cracku increased total conversions by 300% using OptinMonster campaigns with countdown timers..
You can get these incredible results too by clicking below and starting your 100% risk-free OptinMonster account today:
Get Started With OptinMonster Today!
BONUS: Done-For-You Campaign Setup ($297 value)
Our conversion experts will design 1 free campaign for you to get maximum results – absolutely FREE!
Click here to get started →
5. Pricing
If pricing is the biggest factor in choosing an ESP, GetResponse is definitely a platform you should consider.
With their GetResponse Free-Forever plan, you can get started in the world of email marketing. While this plan does offer features across a variety of features, we will only be looking at the email side of the platform. So, you will receive:
The ability to create and save drafts of assets like newsletters and autoresponders
Space to add up to 500 contacts during your first 30 days
Utilization of premium account features for 30 days
While the features may be limited, it will at least give you enough time to get comfortable with the platform and see how it works for you.
Once you are ready to commit, their basic plan starts at $10.50 a month for 1,000 contacts.
Verdict: Is GetResponse Right for YOU?
We've gone over quite a few benefits here in this GetResponse review. But is GetResponse the RIGHT email provider for you?
If your primary needs are for simple and intuitive design capabilities, plenty of automation functions, and an extensive library of templates, then YES, GetResponse is right for you.
Ready to see it in action for yourself? Get started with GetResponse now!
And that's all for today! We hope you found this GetResponse review helpful.
If you did, then you'll definitely want to check out the following resources:
These articles will have even more valuable information to help take your email marketing efforts to the next level, driving more leads and sales.
Want even more conversions? Get started with OptinMonster today!