Are you looking for alternatives to Leadpages?
Leadpages is an all-in-one marketing tool that lets you build and host web pages quickly and easily.
In this article, you'll find the best Leadpages alternatives that you can use to get more conversions fast.
What is Leadpages and Do You Need It?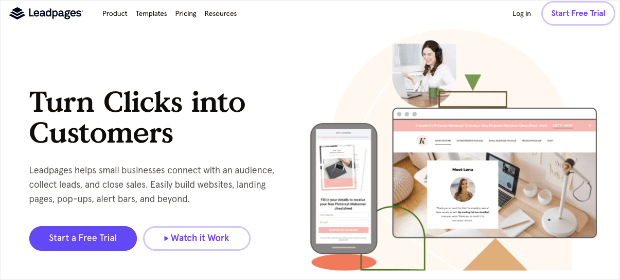 Leadpages is a standalone funnel builder tool that helps you build landing pages, collect leads and make sales from your website. You can use Leadpages to create different lead generation forms and popups to collect email addresses and convert them into customers.
It comes with a drag and drop builder that assists in creating conversion-optimized landing pages. It also offers in-built features like A/B testing, integration with email service providers, and track conversion analytics.
Although it's a viable solution to build a funnel or a small site, it's not as flexible as WordPress plugins. Moreover, you're bound to the limited number of settings available within the Leadpages builder.
Plus, if you're on WordPress and are on a limited budget, you'll just need to find the right plugins that you really need instead of an all-in-one solution like LeadPages.
With that said, let's check out the best Leadpages alternatives for a WordPress website.
Best LeadPages Alternatives
Below we have listed the best Leadpages alternatives that you can try for your business website.
Let's begin.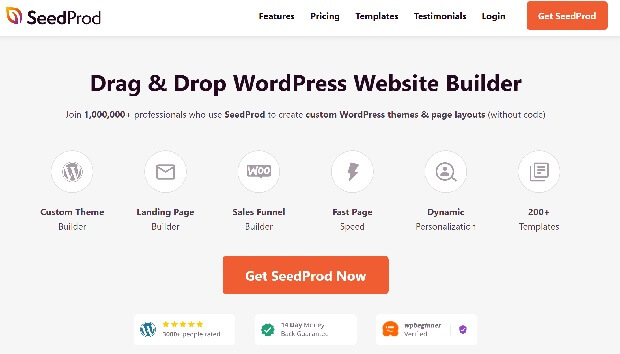 SeedProd is the perfect Leadpages alternative for creating beautiful landing pages. It's fast and unlike other landing page builders, it does not add any bloat to your landing pages.
The plugin comes with a simple drag-and-drop builder with a visual editor, so you get a live preview of your webpage design.
It also offers more than 180 templates, so you can quickly start building your responsive web pages. The templates can be used to design any page on your website, including single pages, archive pages, 404 pages, and even a coming soon page.
SeedProd seamlessly integrates with your favorite email marketing tools and plugins.
Pricing:
SeedProd is a freemium plugin. The free version includes enough features that you can use as a free Leadpages alternative.
The paid version of the plugin starts at just $39.50/year, which provides access to all the advanced features.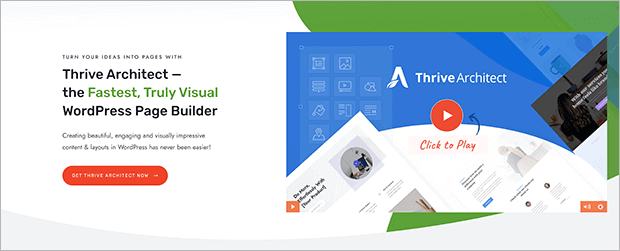 Thrive Architect is the perfect alternative to Leadpages for creating landing pages, sales pages, and other types of conversion-focused pages.
With its powerful drag-and-drop builder and pre-designed templates, Thrive Architect makes it easy for businesses and individuals to create custom pages that are tailored to their specific needs.
Thrive Architect offers a wide range of customization options, including advanced design options and the ability to add custom HTML code.
Unlike Leadpages, Thrive Architect integrates directly with WordPress, giving you complete control over your website and the ability to add custom functionality and design elements.
Pricing:
Thrive Architect is available starting at $99/year. You can also purchase product bundles including Thrive Architect starting at $199/year.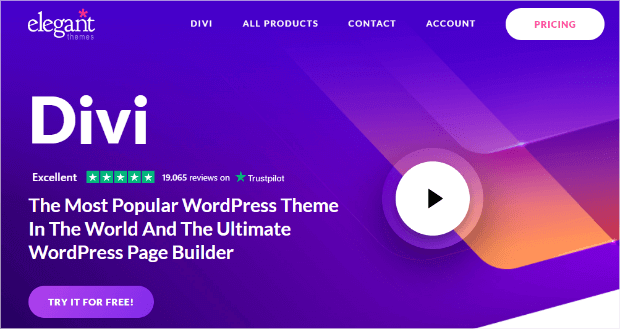 Divi Builder is a famous page builder that you can use to create beautiful and engaging landing pages. It comes bundled with other Divi products like Bloom, Monarch, and Divi WordPress themes that help you create a conversion-focused website.
Divi Builder is an excellent Leadpages alternative because it offers more than 40+ drag-and-drop elements and 100+ pre-built section designs. You can choose from over 800 readymade templates, royalty-free images, font libraries, and vector illustrations.
Since it offers theme-building features, you can edit the headers, footer, and sidebars of your website using their theme builder. If you're a small or medium business, you'll quickly find a readymade template matching your business needs.
Pricing:
The Divi builder is a premium plugin that you can purchase by paying $89 along with access to Divi theme, Bloom, Extra, and Monarch.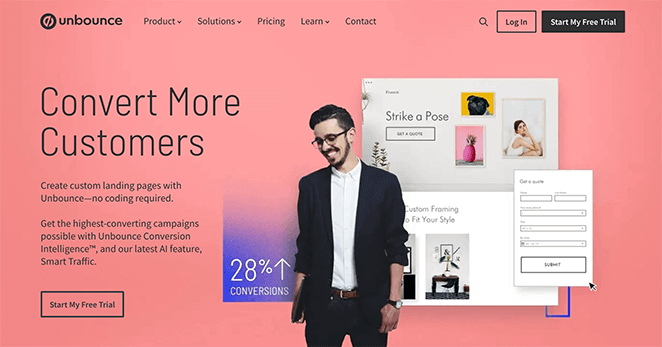 Unbounce is a landing page builder platform with innovative AI builder features. It helps you create beautiful landing pages in just a few clicks.
With Unbounce, you need to provide basic information about your campaign, and their smart builder offers ready-to-use layouts. You can easily customize the colors and typography settings to match your brand style. Besides, you get 100+ readymade landing page templates that you can edit using their drag and drop builder.
Unbounce seamlessly integrates with all the leading eCommerce platforms like Shopify, Stripe, PayPal, Unsplash, Vimeo, and many more. You can also access other Unbounce products like Smart Builder, Smart traffic, and Smart Copy.
Pricing:
The pricing for Unbounce starts at $90 per month.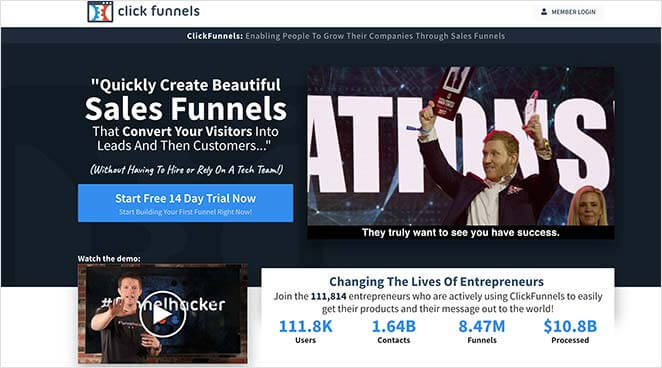 ClickFunnels is a famous sales funnel builder that helps you create landing pages, generate leads, and sell products online. You get a dedicated website hosting, drag and drop builder, and email marketing tool that sync together, making it a complete sales funnel platform.
The platform offers many ready-to-use sales funnel templates that you can easily customize using their drag and drop builder.
ClickFunnels is compatible with many webinar platforms, making it easy to conduct online webinars.
Pricing:
ClickFunnels is quite expensive as compared to other tools and the pricing starts at $97 per month.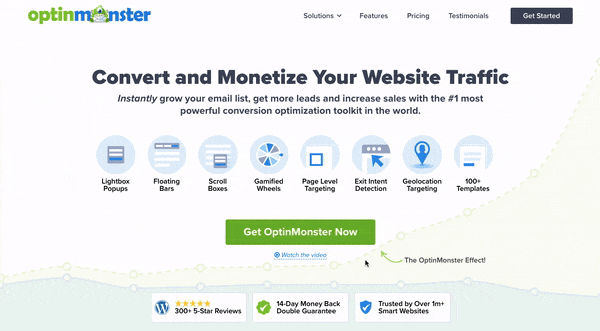 OptinMonster is the #1 premium lead generation tool for creating high converting forms and popups. You can use these campaigns to turn any page into a landing page.
You can embed an inline optin form onto a landing page, or use a fullscreen welcome mat to generate leads.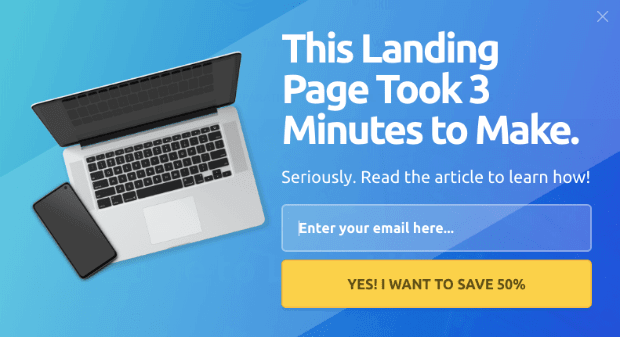 Plus you have access to OptinMonster's many other conversion-boosting features, such as:
Exit-Intent Technology
Discount spin wheel campaigns
Countdown timers
Page-level targeting
A/B testing
and much more!
Pricing:
OptinMonster is a premium plugin that you can start using at just $9/month and create unlimited lead generation campaigns.
Click below to start getting more leads and sales today.
Get More Leads and Sales Today!
Summary: Best Leadpages Alternatives
These are the best Leadpages alternatives that you can use to create a robust sales funnel on your website. We recommend SeedProd for building landing pages and sales funnel on your site. You can use it in conjunction with OptinMonster to skyrocket your email list and sales.
Before we end this article, it's time to summarize our list of Leadpage alternative plugins:
SeedProd
Thrive Architect
Divi Builder
Unbounce
ClickFunnels
OptinMonster
We hope you enjoyed this post. If you did, you might want to check out these other detailed articles as well:
Want to build effective sales funnels that convert more audiences? Get started with OptinMonster today risk-free with a 14-day money-back guarantee.
If you liked this article, please follow us on Facebook and Twitter for more free WordPress tutorials.