Do you want to maximize your email marketing results? Want to know how to increase your audience engagement and profits from your email list? Here are 10 simple rules that will help you maximize your email marketing results.
1. Have a Clear Call to Action
If you want your email recipients to take action, make it abundantly clear what you want them to do. Keep it simple and short and sweet, like this example below.
2. Offer One Thing and One Thing Only
Unless you're sending an email that segments your lists into two different buying groups, then the rule is never to offer more than one product, service, or solution in the same email.
When you offer only one thing, you don't confuse or inundate readers.
3. Personalize Your Message
Email marketing tools such as Infusionsoft and MailChimp allow you to use the recipient's name not only in the greeting, but also in the message itself.
Try inserting a name in the middle of the sentence, and your reader will engage on a deeper level.
When a reader sees their name, it slows them down, and he or she will pause for a moment to think about the email content (and hopefully clickthrough).
It looks so subtle, and yet the results are powerful.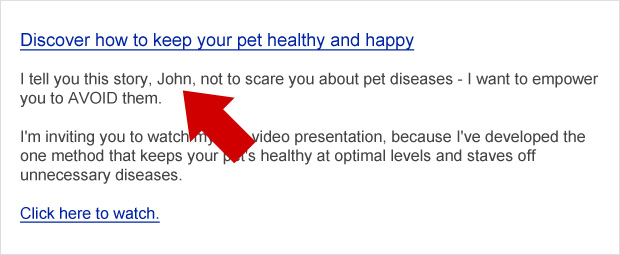 4. Link Your Images
Use a trackable URL to tag your images, so you can see how many people clicked on the image vs text links.
Data is power, especially when it comes to email marketing results.
If you find that more people click on images to take action, then you'll know whether or not to include more.
5. Give Your Links Some Room
Your marketing emails should NOT look like this: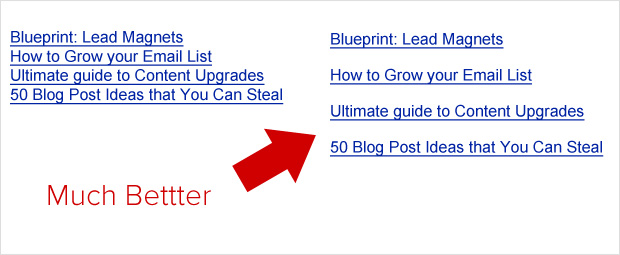 Instead, put in a little white space and your click rate will increase. Try split-testing link colors and bold font versus italics, as well.
Yes, that seems trivial, but you'd be surprised by how small tweaks can boost your email marketing results.
6. Offer Plain Text Options
People with slow connections are your audience too. If you want to sell to these people, or even people who simply prefer plain text, then give them a faster loading email.
Otherwise, you can expect your emails to be ignored or even deleted.
7. Capture Attention with Images
Our brains are wired to process images differently than text.
If you want recipients to pay attention to your content and take action, then pique their curiosity with an image in your email.
Most email marketing services makes it really easy for you to add images with just a few clicks.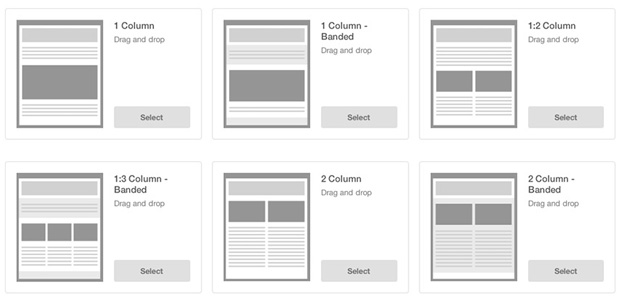 8: Have Noticeable Subject Lines
Use their first name in the subject line.
Make it relevant to your markets' needs.
Up the urgency factor.
Pique curiosity.
These are only a handful of criteria that constitute solid subject lines that get opened.
Try a few different tests to see where you get the highest open rate, so you know what works for your audience.
Here are 20 most clickable email subject lines as well as email subject line best practices to inspire you.
9. Give Gifts … Just to Be Nice
That's right. Send a new how-to guide or video tip … and ask for nothing from your list in return.
This builds the "know, like, and trust" factor and ramps up engagement, which means you're more likely to make major sales down the line.
Here's an example from DigitalMarketer team: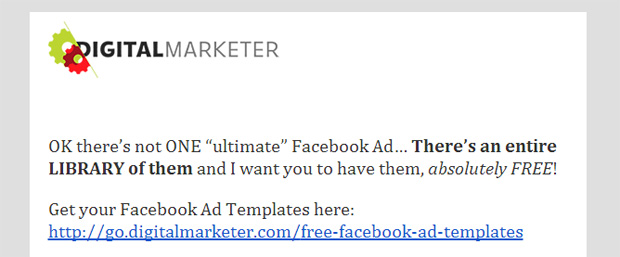 The State of Mobile Email Engagement: What You Need to Know
10. Don't Sell in Every Email
Sometimes you need to give away a little value, and ask for nothing in return.
This doesn't mean consistently giving gifts as we mentioned in the previous rule. Instead, try informing your audience about something relevant to them.
You can send them a strategy-focused email with no download or offer advice on industry trends–the choices are limitless.
As long as the focus remains on helping your audience, you'll achieve great email marketing results.
I hope this article helped you boost your email marketing results. What other tips have you seen that helped you maximize your email marketing results? Let me know in the comments below.
If you enjoyed this article, then you may want to check out these 7 email marketing myths that you shouldn't believe.
Also please consider following us on Twitter (@optinmonster) as we share tons of other awesome conversion optimization tips there.