OptinMonster offers seamless integration with Keap email marketing service. Connecting OptinMonster to your Keap email list is very easy.
In this article, you'll learn how to connect Keap with OptinMonster.
Before You Start
Here are some things to know before you begin:
Get Started With OptinMonster Today!
BONUS: Done-For-You Campaign Setup ($297 value)
Our conversion experts will design 1 free campaign for you to get maximum results – absolutely FREE!
Click here to get started →
Connect Keap
When you create a campaign in OptinMonster that you intend to collect leads with you'll want to integrate with one or more services to send those leads to.
To send leads to Keap, follow these steps:
From the Integrations screen of the campaign builder, select Add New Integration.

Search for and select Keap (InfusionSoft) from the dropdown field.

Next, select the Register with Keap (InfusionSoft) button to begin authorizing the integration.

A popup modal will appear and prompt you to log into your Keap account. Once logged-in, select the application you would like to grant access to and Allow the connection.

Returning to the OptinMonster campaign builder, add a unique label for easy identification (internal use only) and select the Connect to Keap (InfusionSoft) button.

Once connected, select the email tag you want to assign to new leads.

(Optional) You can set a Lead Source Assignment in the Lead Options section.

When you're finished, Save the campaign.
FAQs
I've connected my integration and new leads are being added to my list, but OptinMonster shows 0 conversions for my campaign. Why?
Confirm that conversion tracking is turned on for the submit button in your campaign. See our guide on How to Enable Conversion Tracking.
Do I need to add OptinMonster to the Allowed IP List?
If you are using the IP allowlist for Keap (InfusionSoft) you will need to add our IP addresses in order for lead data to be passed along.
Our IP addresses are as follows:
50.19.60.226
50.17.52.222
54.147.244.173
35.153.24.227
50.19.138.155
50.19.173.212
52.44.205.147
34.198.233.235
50.16.98.100
Can I assign a Campaign instead of a Tag?
It's not possible to assign leads to a specific Campaign from our Keap integration. Instead, you'll want to map a tag sequence within your Keap account.
Use a goal with the setting "Applies a Tag". Then select the tag(s) you want.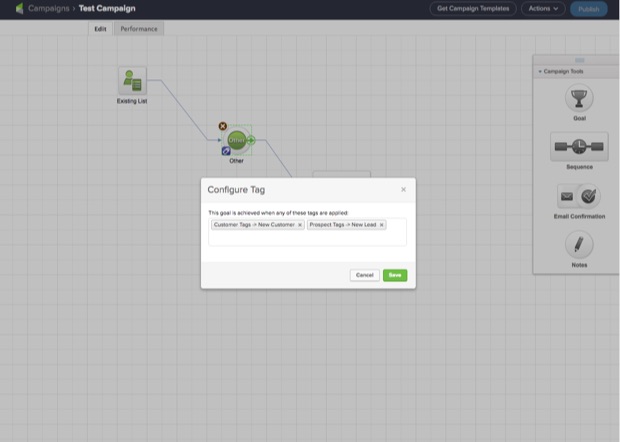 Learn more about how to configure a tag goal in Keap with this guide.
Is it possible for me to add a Phone Field to my campaign?
Yes, you can add a phone field following our guide here.
Troubleshooting
Why aren't previously unsubscribed leads being automatically resubscribed to Keap?
Keap's API does not allow automatic resubscription of emails that have previously opted-out / unsubscribed. This is a limitation of Keap and their API specifically, and cannot be overridden by OptinMonster.
One solution here is to instead create a form using Keap's form builder, and add it to your OptinMonster campaign using our Custom HTML integration option instead of the direct Keap integration.
The wrong Tags are populating for my Keap integration.
If you are having issues viewing/selecting your Tag(s) after completing the Keap (InfusionSoft) integration:
Delete the IP addresses you've added to your Keap (InfusionSoft) account.
Login to your OptinMonster account and navigate to the Account > Integrations page.
Locate the Keap (InfusionSoft) integration section and select the Configure button.

Once expanded, locate the specific Keap integration that isn't working as expected and select the Disconnect button. This will permanently remove the integration from your OptinMonster account and any campaigns it was assigned to, and cannot be undone.


Add the IP addresses again to your InfusionSoft account.
Reconnect Keap (InfusionSoft) with your OptinMonster account following the main section of this guide. Please be aware you'll need to individually configure each campaign that should send leads to the new Keap integration once it has been added.