OptinMonster offer seamless integration with InfusionSoft email marketing service. Connecting OptinMonster to your InfusionSoft account is very easy. Follow our step by step guide on how to connect OptinMonster with your InfusionSoft account.
---
Step 1 – Integrations Tab
In the Campaign Builder, select the Integrations tab to view the Integrations panel.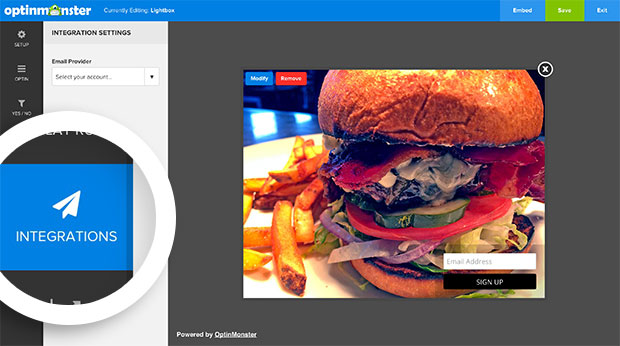 Choose InfusionSoft from the Email Provider dropdown.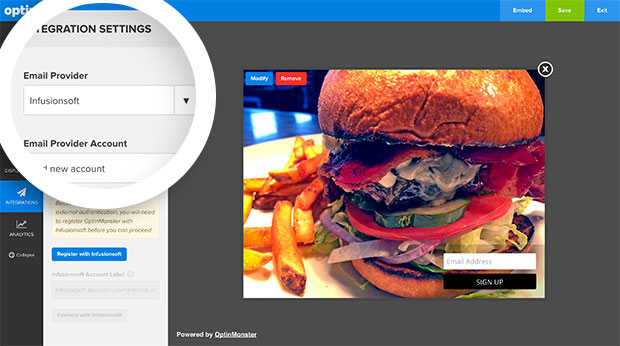 Step 2 – Register InfusionSoft
OptinMonster uses OAuth2 to securely connect with InfusionSoft. Select the Register with InfusionSoft button to start the authorization process.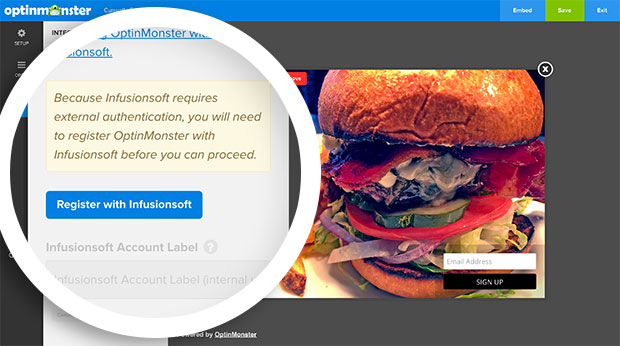 Step 3 – Log into Your InfusionSoft Account
A new window will appear for your InfusionSoft login credentials. Enter your InfusionSoft login credentials and select Log In.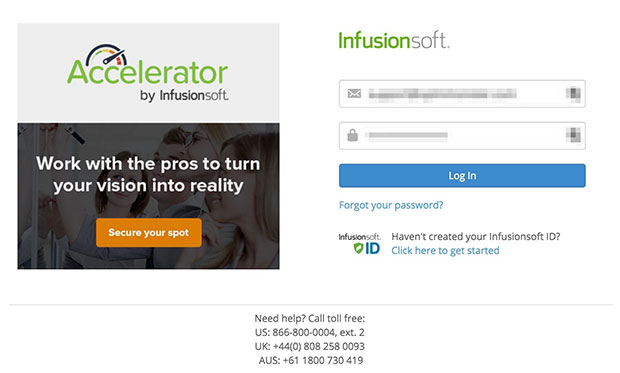 Step 4 – Allow Access
InfusionSoft will then ask you to allow OptinMonster to connect to your account. Select the Allow button to proceed.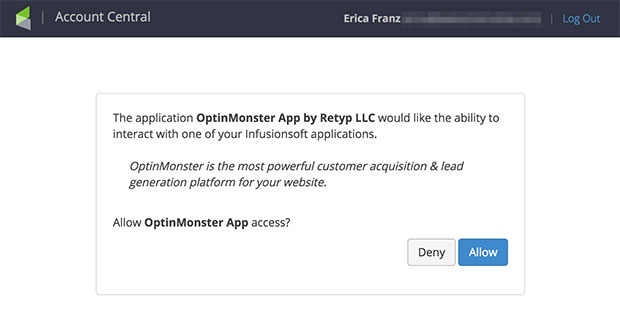 Step 5 – Add a Personal Label
When the window closes, enter a unique label for your InfusionSoft account and select the Connect with InfusionSoft button.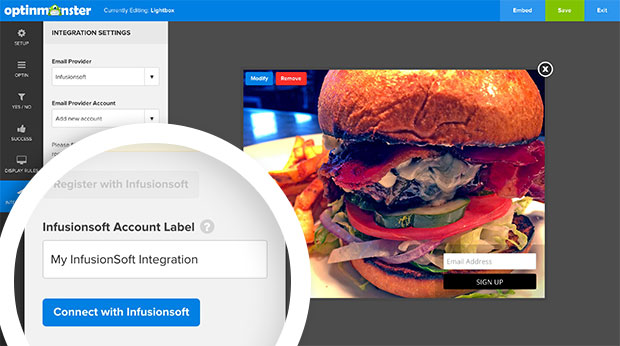 Step 6 – Select a Tag
OptinMonster will now connect to your InfusionSoft account and fetch your Tags. Select a tag you want to assign to new subscribers.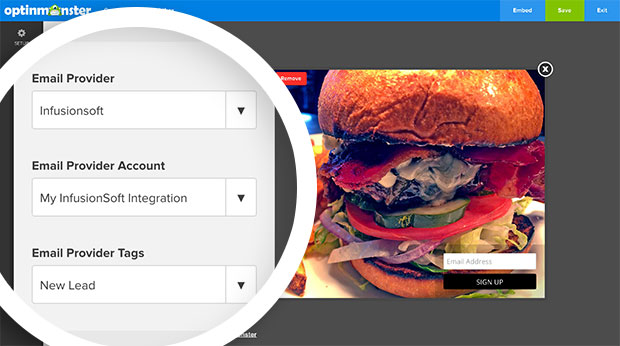 Step 7 – Configure Lead Options (optional)
You'll also have the option to choose the Lead Source Assignment for your campaign.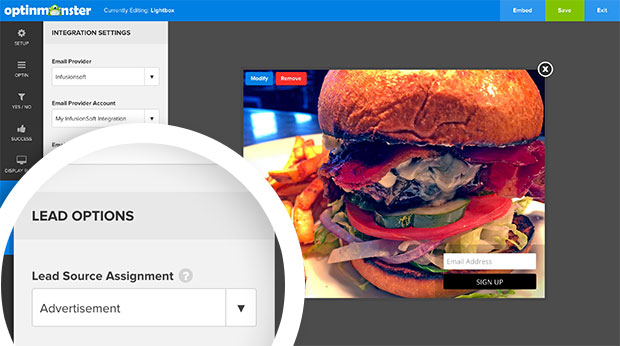 That's all, you have successfully connected OptinMonster to your InfusionSoft account!
---
FAQ
Q1: Do I need to add OptinMonster to the Allowed IP List?
A: This step is optional — if you are using the IP allowlist for Infusionsoft you will need to add our IP addresses in order for lead data to be passed along. Our IP addresses are as follows:
50.19.60.226
50.17.52.222
54.147.244.173
35.153.24.227
50.19.138.155
50.19.173.212
52.44.205.147
34.198.233.235
50.16.98.100
Q2: Why am I not seeing the correct Tags for my InfusionSoft account once integrated?
A: If you are having issues viewing/selecting your Tag(s) after completing the InfusionSoft integration:
Delete the IP addresses you've added to your InfusionSoft account
Login to your OptinMonster account and select the Integrations link from the top menu
Scroll down to the InfusionSoft panel and select it to expand its view
Select the Disconnect link for the InfusionSoft integration to remove it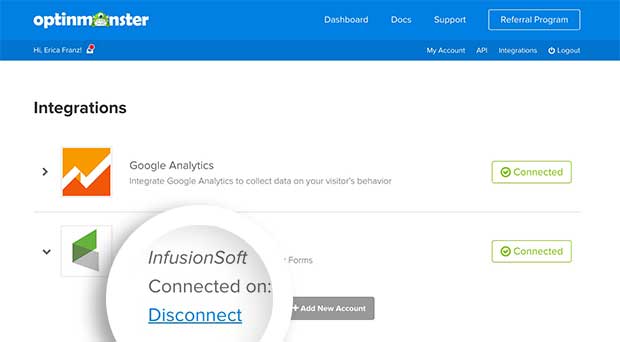 Add the IP addresses again to your InfusionSoft account
Re-connect your InfusionSoft integration in OptinMonster
Q3: I don't see Campaigns listed in this Integration. I need to see campaigns so that my sequences can fire. What am I supposed to do to get my sequence to fire as expected?
A) You will need to map a tag to a sequence. You will need to use a goal with the setting "Applies a Tag". Then select the tag(s) you want.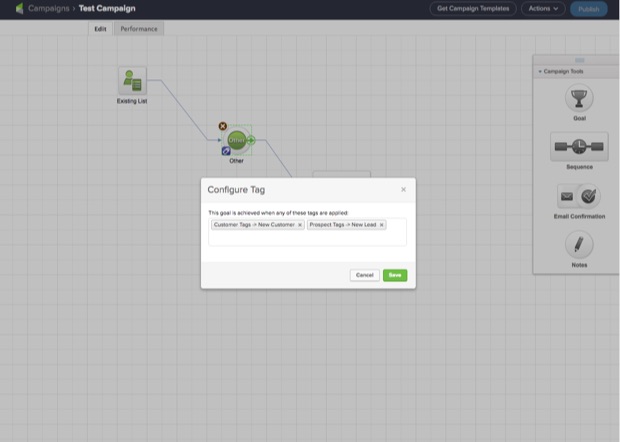 If you would like a more step-by-step guide for connecting a tag to a sequence, Infusionsoft has a walkthrough available here.
Q4: Is it possible for me to add a Phone Field to my campaign?
A: Yes! You can add a phone field. Check out How to Capture Phone Numbers with OptinMonster here.