Are you looking to get a contact form plugin on your site? Wondering if WPForms is the best choice?
WPForms is one of the most popular WordPress plugins, so we often get asked if it's really the best form builder.
So we've laid everything out for you about WPForms in this in-depth review.
What Is WPForms?
Simply put, WPForms is a WordPress plugin that lets you build contact forms on your website.
But it's got a ton of features that make these forms extra effective, and many successful websites use it to help boost their leads and revenue.
Because it works so well, we're huge fans of WPForms. We've listed just some of the biggest reasons why we think every WordPress website should use this form builder plugin. And yes, even if you're a beginner
So if you're still asking yourself do I need WPForms, the answer is yes, it's a fantastic tool to have on your website. Here's why you should be using WPForms as your form builder plugin:
WPForms Reviewed: Why It's the Best Form Builder
Here are some of the most useful features we've found from using the WPForms plugin, and why we love it. Feel free to click on one to jump ahead.
So let's go ahead and dive in and learn exactly what these features do and why they're so helpful.
1. Extremely Beginner-Friendly
Of all the form builders out there, WPForms is hands-down the simplest to use. It's built with features developers appreciate, but also is widely known as the best for beginners to use..
The form builder is a drag and drop visual builder, making it insanely simple to add and remove different form fields.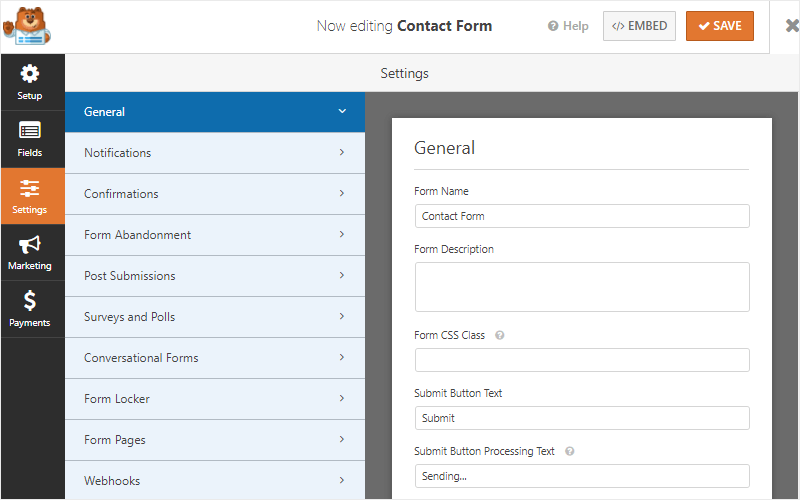 You can see a great comparison post on Gravity Forms vs Ninja Forms vs WPForms that includes details on how easy or difficult each software is to use. WPForms definitely comes out on top.
2. Collects Partial Leads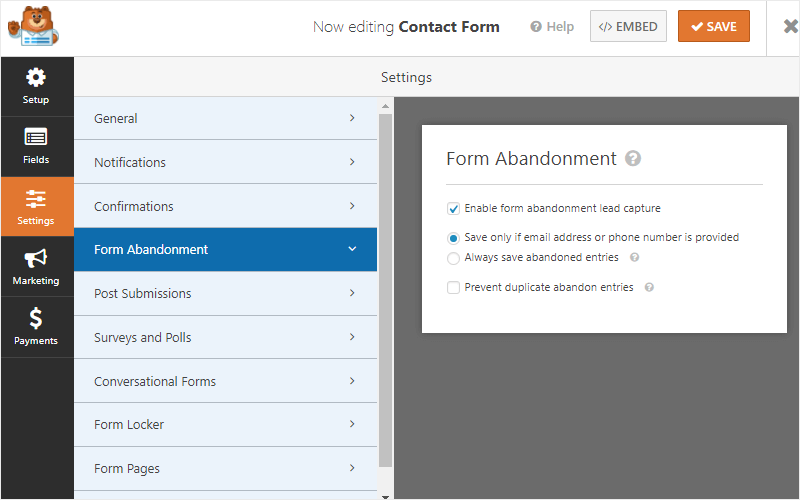 80% of people have abandoned a form at some point. That's a lot of missed opportunities and can really impact your lead generation efforts.
One of the stand-out features for WPForms is the Form Abandonment addon. It helps you save details that people start filling out on your form when they don't finish.
This form abandonment tool is a great way to follow-up with people and grow your email subscribers list. You can even connect it to a drip campaign that emails these people a specific message or campaign automatically.
3. Keeps Forms Secure
How do I secure a form? Is WPForms secure? These are some valid questions you may be wondering if you're staying on top of WordPress security.
What's so awesome about WPForms is that it's built for security. There are multiple options you can put to use depending on what you need if you want to keep things extra safe.
Some of WPForms' security features include:
GDPR Compliance
Multiple reCAPTCHA Options
Custom Captcha
Limit Specific File Upload Types
…and more.
4. Survey Builder + Reporting Tool

Quite possibly one of the most helpful tools in WPForms is the Survey and Polls addon.
Not only is the survey reporting dashboard gorgeous, but there are also different survey templates you can use, so you don't even have to build them from scratch.
As far as surveys and polls go, WPForms offers NPS Surveys, star ratings, polls, Likert scale surveys, and more.
5. Connects to Email Marketing
This might be one of the big reasons that explain why WPForms is so popular.
With this plugin, you can automatically sync your forms with all of the most popular email marketing services like:
Constant Contact
Mailchimp
AWeber
GetResponse
ActiveCampaign
Drip
…and more
These integrations mean you can automate everything with your lead collection process, easily.
And if you happen to use a service that doesn't have a direct integration with WPForms, it's super easy to connect it anyway with Zapier.
The Zapier integration lets you connect your forms to 2,000+ web apps, and makes running your business online simple and fast.
6. Includes Tons of Templates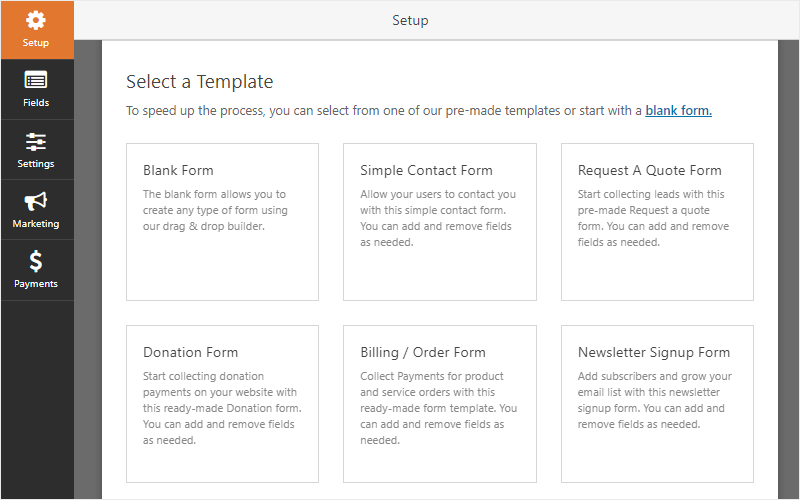 One of the reasons anyone of any skill level can make forms with WPForms is because it provides tons of pre-built templates. Meaning, you'll never have to build a form from scratch.
The WPForms Pro plan comes with tons of form templates for you to use on your website right away after you install WPForms.
7. Accepts Payments Through Forms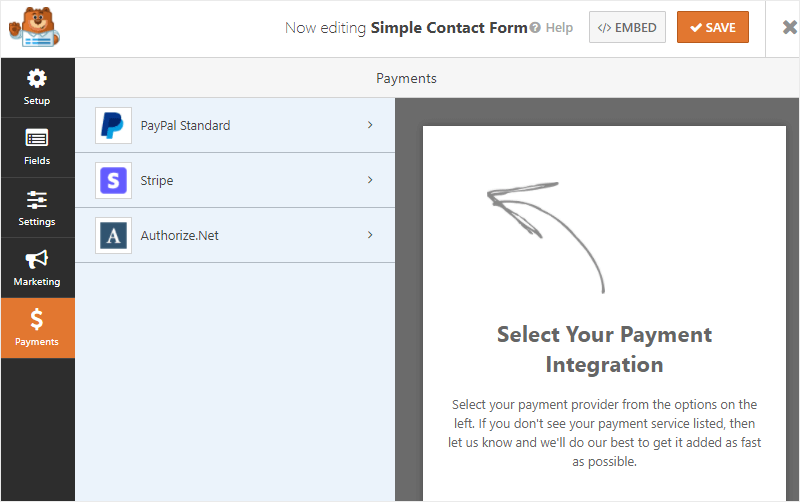 Increasing your business revenue is a lot easier to do if you accept payments online.
Taking a credit card or PayPal payment on your website is simple and organized with WPForms' payment processor integrations.
Some of the best WPForms addons include the PayPal and Stripe addons. And if you're a power user or developer building websites for people, the WPForms Elite plan comes with an Authorize.Net addon.
8. Creates an Amazing User Experience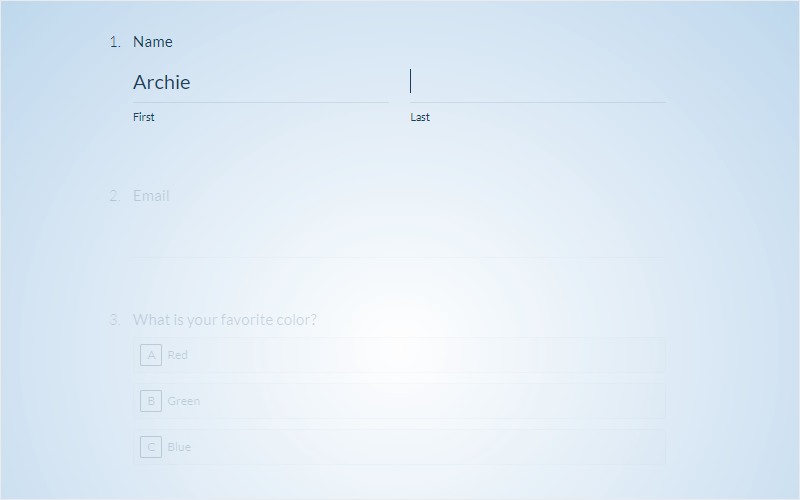 WPForms really explodes to the next level when you see what their Conversational forms tool can do.
Simply turning this feature on transforms a form into an experience not unlike a face-to-face conversation. Offering this modern and impressive type of form increases conversion rates and improves the user experience while on your site.
9. Offers Built-In Conditional Logic
Forms with conditional logic are great for a lot of reasons. They look good, they work well, and they save your user's time.
You can hide and show fields with WPForms based on a user's previous answer. This is a fantastic way to keep your form looking short, so you can boost conversions and get more people to fill those forms out.
10. User Registration
The user registration tool is another awesome feature of WPForms.
The User Registration addon lets you build a custom user registration form. And then, you can embed it anywhere on your site that you'd like.
This way, users can create an account on your WordPress site without visiting the default login page.
11. Lets You Accept Guest Post Submissions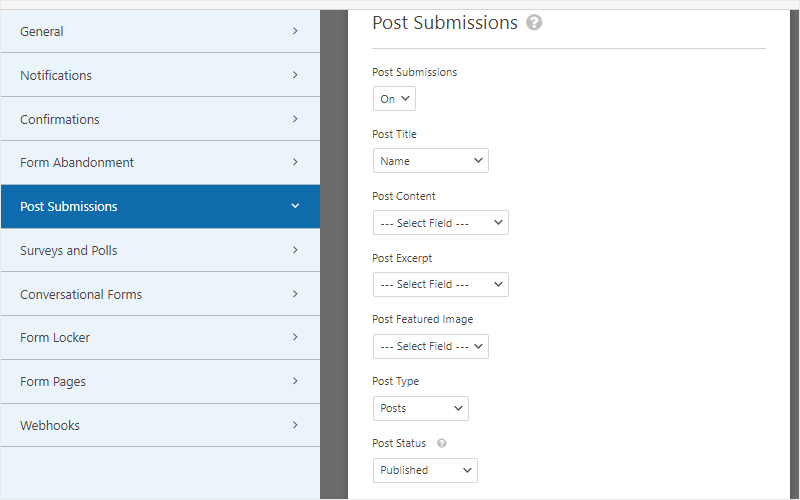 This handy feature makes it pretty obvious why WPForms is the best form builder for WordPress.
With WPForms, you can create a front-end post submissions form and start accepting user-generated content. Things like guest posts and user reviews can be submitted, and no one will need to log in to do it.
12. Notifies You When Someone Submits
When a form entry comes through, you can set WPForms up to automatically notify you (or someone else) by email.
This is especially helpful if you need to follow up with leads right away. You can also set up this form notification feature to automatically email the person who filled out the form.
Sending a form notification to a lead or customer gives them peace of mind that you've received their form entry. And, it offers you extra opportunities to present your product and brand.
13. Tracks Your User's Journey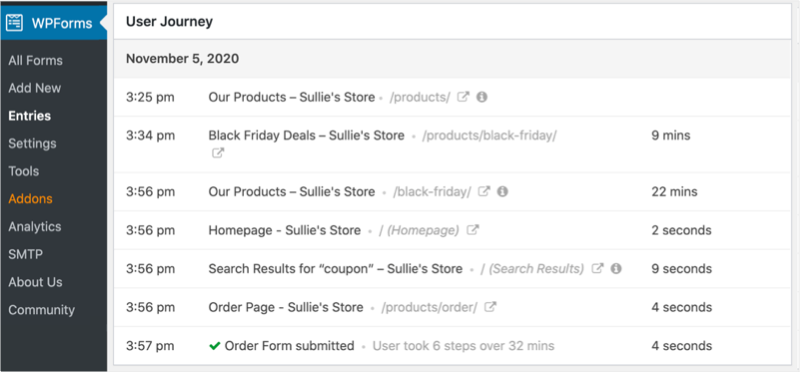 Before form submissions, your visitors are going to other places on your website.
The User Journey addon shows you where they've been, all the way up until the moment they hit submit on your form. Getting this kind of insight can help you figure out what areas of your site need your attention, good or bad.
14. Support Team Is Top Notch
WPForms support is some of the best in the business. Not only are they fast, but the team is incredibly educated on their own product. You can tell each team member cares and researches the best way to help respond to users.
The reviews of WPForms are outstanding. Users absolutely love the high-class level of support they receive. There are thousands and thousands of 5-star reviews of WPForms on WordPress.
On top of the great support team, WPForms offers extensive documentation. They cover every feature from basic to advanced with a clear, easy-to-use tutorial.
15. Includes Tons of Other Money-making Tools
WPForms offers so many awesome features, it's impossible to list them all in one post. At a glance, here are a few other notable tools you can use with WPForms:
Form Landing Pages
Geolocation
Digital Signatures
Offline Forms
Multipage Forms
Entry Management
Salesforce Integration
Webhooks
Form Locker
….and more
With all these incredible features packed into one plugin, you're probably thinking it costs an arm and a leg. But prepare to be shocked because it's actually really affordable.
Let's check out how much WPForms costs next.
How Much Does WPForms Cost?
The great thing about WPForms is that there are plans for every budget and size of business.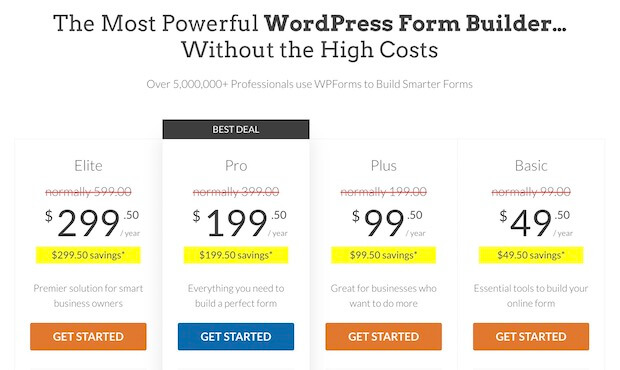 Asking yourself is WPForms free? Good news. Yes, there's a free version of WPForms called WPForms Lite. The Lite version gives you access to basic form fields.
If you don't have room in your budget for a contact form plugin right now, you can always download the Lite version of WPForms for free from the official WordPress plugin repository.
However, you'll want to get the paid versions of WPForms and access WPForms Pro to unlock all the best features for your WordPress website. Pricing starts at just $49.50 per year.
Verdict: WPForms Is The Best Form Builder Plugin
Because the features are so robust, it's so easy to use, and the support is so outstanding, it's obvious to see why WPForms really is the best form builder plugin.
We believe it's worth every single penny. They offer a 14 day money-back guarantee so you can even try it out and request a refund if you don't like it. No questions asked.
We hope you found this article helpful. And if you did, you might enjoy these resources:
Ready to take your WordPress forms to the next level? Get started with WPForms today.