When you are beginning your lead generation efforts, OptinMonster can help you capture emails and build your subscriber base. But sometimes that task is easier said than done. This guide is for the beginner's to have a great starting point for determining their needs, building their email markting, and improving their efforts.
For the beginner — or want to grow your email list from 10 subscribers to 1,000 — use these techniques, tools and tactics to jump start your site's lead generation.
Determine Your Needs
There are 3 core requirements to start generating leads from those who visit your website.
Optimize your site for SEO. Use a plugin like SEO by Yoast to ensure your site is optimized for search engines.
Decide how you'll capture emails. Create attention grabbing optin forms that convert with OptinMonster.
Your Email Service Provider
Choose an email service provider (ESP) that is easy to use, fits within your budget, provides the features you want and integrates easily with your site's plugins. Many ESPs offer a free plan or trial for beginners.
Explore all the features of your ESP. Take advantage of all the tools offered, including:
Subscriber profiles: Keep track of customer interactions and personalized information.
Multiple email lists: Segment your emails for different audiences.
Automated emails: Target users based on their behavior and preferences.
Analytics: Review how many subscribers opened your email and clicked a link.
Design options: Look for mobile-friendly templates and a straightforward user experience.
OptinMonster makes it easy to integrate your optin forms with popular ESPs. If you're just getting started with OptinMonster, check out our documentation available for all our integrations, under the tab "Integrations".
Lead Generation Through Email Marketing
Growing your email list and engaging customers with great content attracts new users, builds brand loyalty and converts customers. Think of social media engagement as a group discussion and email marketing as a way to get to know your customers on a more personal level. It builds trust.
Companies who utilize email marketing promote their products and services while educating and interacting with subscribers. Establish your authority by sharing your best advice. Showcase the value of your products by solving customers' most difficult challenges. Listen to feedback before developing new features. Once a customer believes you're the best, there's nothing to stop him or her from making a purchase.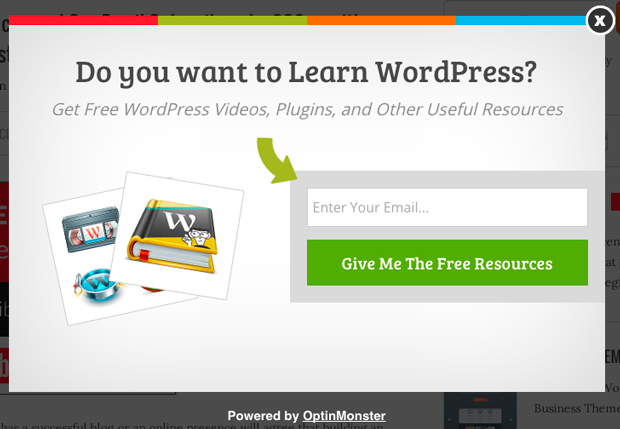 Capture Every Email
To improve your lead generation, ask everyone who visits your website to sign up for your email list. Make it easy to subscribe and ask them more than once. Use multiple types of optins to grab attention and capture emails.
Lightbox popups: OptinMonster features a lightbox popup that opens when a user shows exit intent — when he's about to leave the site. It's extremely effective because it asks every visitor. 
Sidebar widgets: A prominent sidebar optin is highly visible and will appear on every page. Because many websites have a sidebar optin, visitors who want to subscribe will likely look for an optin there.
After post widget: Automatically show an optin form at the bottom of every blog post. This is a helpful optin type for bloggers because a user may finish reading a post and desire to read more content like it.
Floating footer bar: Display a call to action at the bottom of every page. This is an unobtrusive optin that can be seen easily.
Slide-in: This optin displays an optin form in the corner of the page. This can be more noticable than a footer bar because it is not across the whole page and therefore standouts as being different.
When you provide multiple entry points to your email list, you increase the likelihood of your email list being noticed and allowing a visitor to become a subscriber. If your email service provider requires double optin, then don't forget to remind them to follow up and confirm their new subscription.
Utilize Split Testing
Split tests (also called A/B tests) provide insight into your customers' preferences and can help you boost any metric of email marketing — open rates, clickthrough rates, conversion rates and much more.
To split test, take one element of your email or optin form and change it. Segment your email subscribers into two groups and send each a different version. Every subscriber will either receive A (the original design) or B (the new version). Review the reports and analytics provided by OptinMonster or your ESP and determine which version was more successful.
Experiment with multiple elements over time to see the greatest results. Here are a few things to test for each metric you want to improve:
Color and layout
Signup incentive
Open Rates
Subject line
"From" name and email
Time and date email is sent
Clickthrough Rates
Headlines
Button placement and color
Conversion Rates
With these beginning ideas for split testing, you are well on your way to drastically improving your forms and email newsletters. The key is consistent review and willingness to improve. Don't quit and don't become complacent. Review, test, improve, and increase your conversions!
Monitor Your Metrics
Regularly review the analytics provided by your email service provider. Use the information to experiment, split test and discover what your customers are interested in. Here are a few metrics to watch:
Subscription rates: New subscribes and unsubscribes from your email list.
Open rates: Number of users who read your emails.
Clickthrough rates: Number of subscribers who follow a link to a website.
Abuse reports: Users who mark your emails as spam.
Social performance: Are subscribers sharing your content on social media?
Metrics are indicators of behavior. Therefore, it is best to review this often, but also don't become overly focused on the day-to-day statistics. Rather, review these items on a weekly and monthly basis. You can then realize trends over time. If you have any substantial changes, mark those on the same calendar and see how changes effect your overall metrics over time.
Interested in learning more? Read 8 Things Every Blogger Should Do Right Now To Increase Their Email Subscribers.