Are you looking for the best event calendar plugin for your website?
The Sugar Calendar plugin allows you to schedule events, handle bookings, and manage event activities all from your website dashboard.
In this Sugar Calendar review, we'll check out all its features and explain if it's worth buying.
Let's get started.
What Is Sugar Calendar plugin?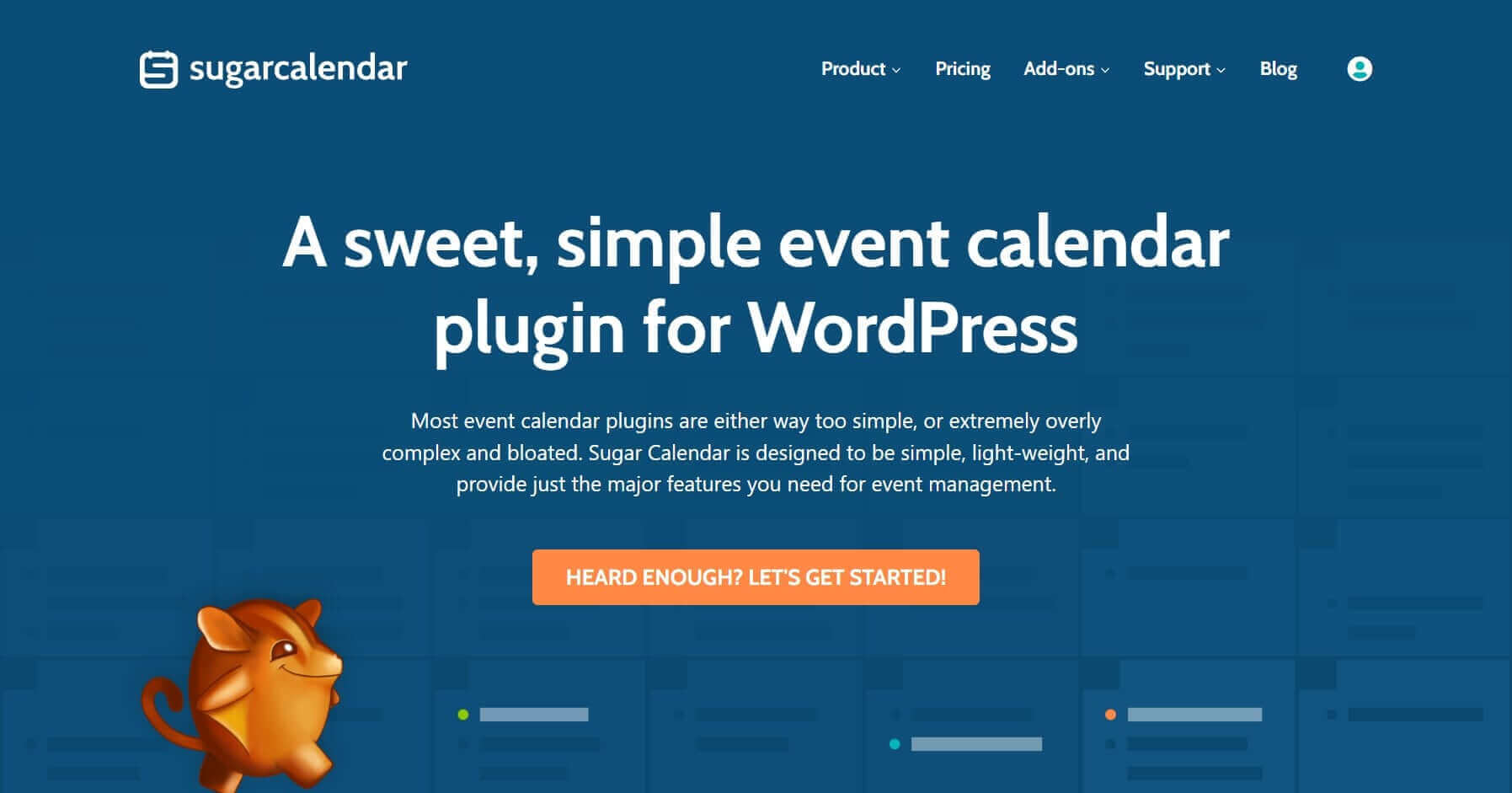 Sugar Calendar is a simple and lightweight plugin for adding event calendars to your WordPress website.
You can create a wide range of events and manage them without having to install any other event scheduling tools.
You can use Sugar Calendar to:
Create a one-time or recurring event calendar
Set up event ticketing
Scheduling webinars
Synchronization with Google calendar
And the list goes on!
The best thing about the Sugar Calendar plugin is that it comes with a clean interface and minimal settings that are easy to understand.
Getting Started With Sugar Calendar
Just as any other WordPress plugin, the first step is to install the Sugar Calendar plugin.
We recommend signing up for one of its premium pricing plan.

Activate the plugin and navigate to Calendar » Settings » License.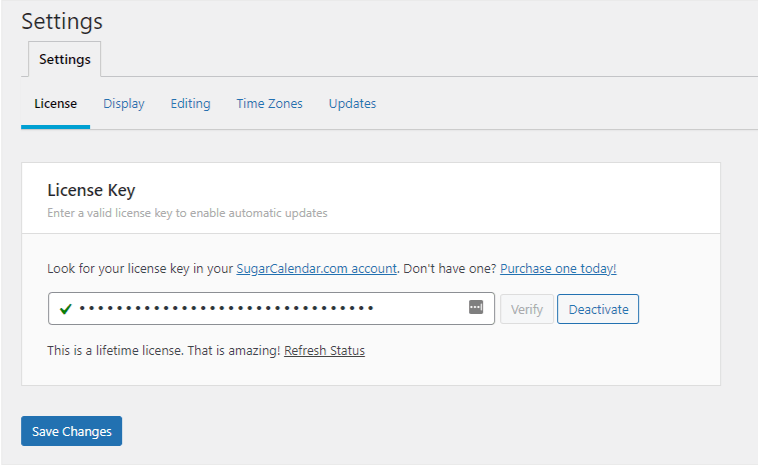 Enter your license key and click on Verify.
Don't forget to hit the Save Changes button.
Why Should You Use the Sugar Calendar Plugin?
Sugar Calendar is a freemium plugin and comes with an elegant interface. It's lightweight and simple as compared to other event calendar plugins available.
Once you activate the plugin, you can go ahead and set up events and manage them from your website without hassle.
Let's look at the other features available in the Sugar Calendar plugin.
1. Simple Interface
Sugar Calendar is built with beginners in mind. That means even if you've never set up an event on a WordPress site, you'll find it easy to do so thanks to the minimal settings it comes with.
You can view events on monthly, weekly, and daily calendars. Moreover, there are filters and search options provided for easy navigation.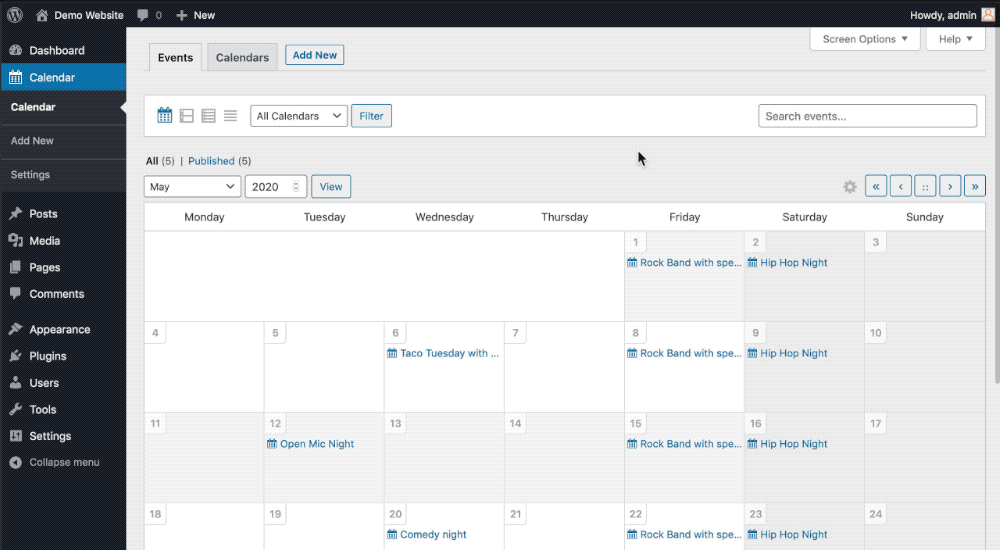 2. Creating Calendars and Events
Creating an event or a calendar is super easy with Sugar Calendar.
All you have to do is to navigate to the Calendar tab, and click on Add Calendar to add a new calendar.

You can follow similar steps for creating events.
Click on Add Event to add a new event.

Easy peasy!
3. Easy Display Options
Calendars and events look clean and elegant on the front end. Visitors can click on specific events in the calendar to get detailed information about that event.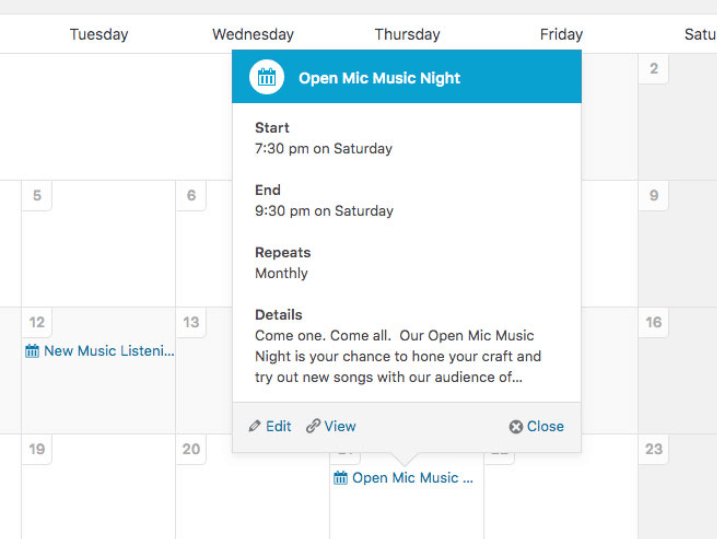 It doesn't matter if you're using the classic editor or block editor. You can add the shortcode anywhere to display event calendars.
You can also customize the shortcode with size and category parameters.
4. Instant Recurring Events
One of the most important features is the ability to create recurring events.
With the premium version, you can create recurring events that repeat on a daily, weekly, monthly, and yearly basis.
You'll see a Recurrence tab with the repeat settings while creating an event.

There's even an Advanced Recurring addon that allows you to create advanced events that don't come bundled with Standard Recurring feature.
5. Event Calendar Feeds
The Calendar Feeds addon enables you to integrate with popular calendars like Google Calendar, iCal, Gnome Calendar, and other such calendar application.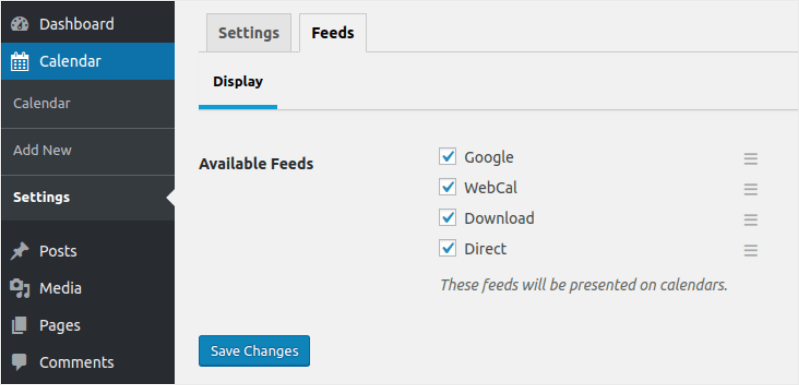 Once you add this addon, you'll see the Feeds tab with four feed options available:
Google Calendar
Webcal
.ics file download
.ics direct URL
Here .ics is a standard format for event data used by most calendar and event applications.
The Calendar Feeds addon also allows visitors to add single event to their calendar application.
6. Sell Event Tickets
Sugar Calendar offers seamless integration with Stripe payment gateway and WooCommerce.

After configuring the basic settings for Stripe and WooCommerce, you can start selling event tickets directly from your website.
You can also email tickets to the customers after they successfully purchase a ticket. This single addon can give you the ability to download tickets in CSV format as well.
7. Sugar Calendar Addons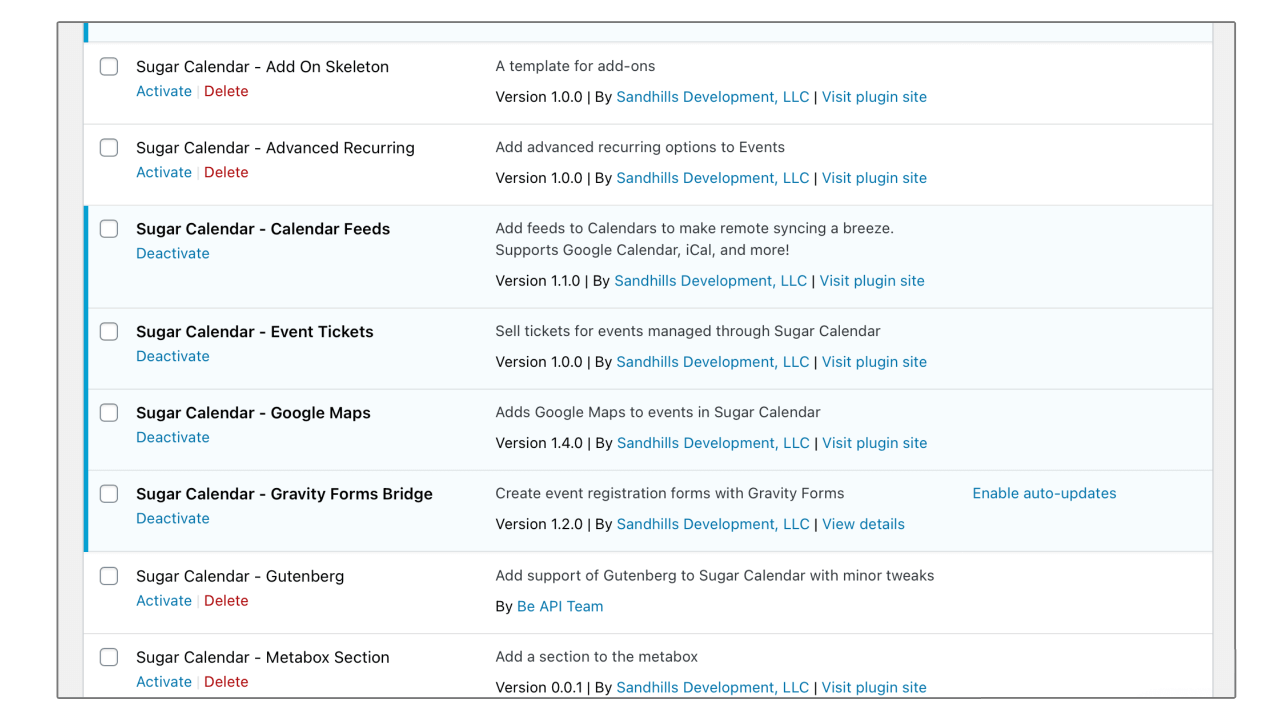 Sugar Calendar offers free and premium addons to extend the events functionality on your website.
For example, with the Advanced Recurring addon you can extend the functionality of the Sugar Calendar Recurrence feature.
Some of the popular addons are Zapier, Advanced Recurring, Calendar Feeds, Events URLs and more.
Free addons include integration with Google Maps, WP All Import, and integration with popular WordPress forms.
Sugar Calendar also extends support to 3rd party addons like Sugar Calendar Customizer and Paid Memberships Pro Events Add On.
8. Zapier Integration
Zapier is a well known tool that allows you to automate repetitive tasks. You can extend the Sugar calendar features by using the Zapier addon.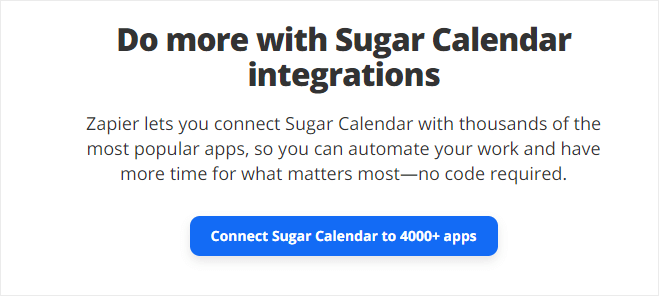 Some of the most common tasks that you can automate are:
Add new customers to a mailing list in ConvertKit, Aweber, and more
Send SMS or email notifications for new events and ticket purchases
Sync events to online calendar services, such as Google Calendar
Syncing customer order data to Google spreadsheets
Sugar Calendar Review: Is This Plugin Worth It?
We just reviewed the major features and settings after using this event calendar plugin. And it's time to share our verdict.
Is Sugar Calendar really worth it?
The answer is Yes, it is definitely worth adding to your website.
It has all the features you need to create one-time and recurring events. The plugin also offers free and pro addons to extend the core functionality that is not available in other event calendar plugins.
We hope this Sugar Calendar review helped you figure out if it's the right choice for your needs.
If you're ready to get started with Sugar Calendar, consider checking out this article on how to create an event calendar.
Get started with Sugar Calendar Today!