The lifeblood of any online business isn't website design, content creation, or even traffic: it's lead generation.
Leads (email subscribers) fuel your business. With a steady stream of them, your website will be an income-producing juggernaut. Without them, your website will be a cautionary tale for websites to come.
If you're struggling to generate leads, or if you would simply like to generate more of them, here are 11 tactics you can implement immediately.
1. Offer Value-Packed Newsletters
If you offer meaningful information, tips, and even the occasional discount in a newsletter, you are likely to find plenty of would-be customers ready to sign-up to learn more.
As examples, Be A Better Blogger and Traffic Generation Cafe offer newsletters packed with value as their primary forms of lead generation. Bells and whistles are forgone in favor of useful, practical information.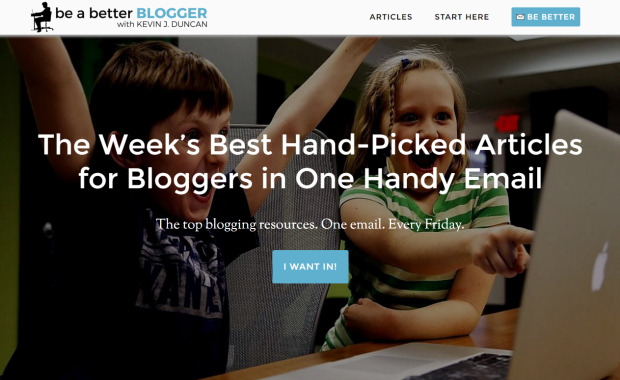 Just keep in mind that nobody wants junk in their inbox. Every email you send should offer something of value to your readers.
2. Offer Discounts in an Exit-Intent Popup
These days, people are pretty selective about who they will give their email address to. However, people often can't resist discounts!
Take advantage of this by including a coupon or a special discount in an exit-intent popup. When a visitor is about to leave, they will be presented with a compelling reason to stay and part with their contact info.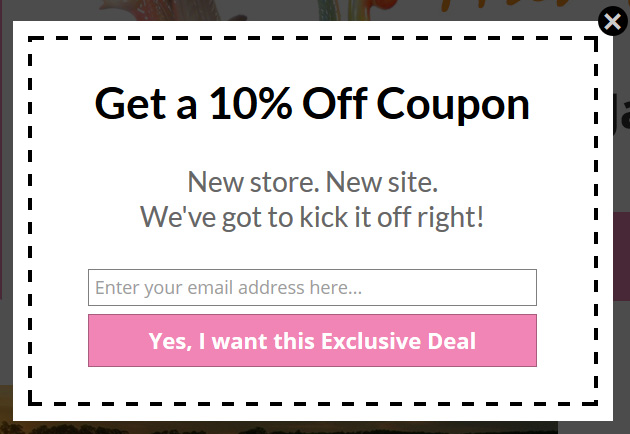 Want a similar exit pop-up for your site?
Start using OptinMonster
to convert website visitors into subscribers and customers.
3. Link Your Twitter Bio to an Opt-in Landing Page
Do you have a nice following on Twitter? Capitalize on it!
Most Twitter bios have basic, general information about the profile's owner. But what if you gave readers a quick link to a landing page where they can learn more about the attractive individual who is posting those clever tweets they adore?
John Lee Dumas includes a call-to-action to listen to his podcast in his Twitter bio: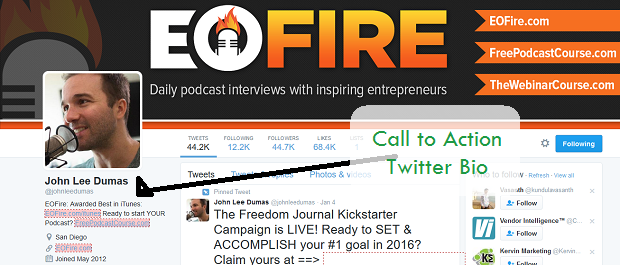 It's an easy, set-it-and-forget-it marketing hack that will pay off again and again.
4. Pin Your Freebie on Pinterest
This tip combines two customer favorites: pretty graphics and freebies.
Despite its immense popularity, for many website owners, Pinterest is a completely foreign and underutilized marketing platform. For them, this is a missed opportunity.
If you have an opt-in bribe, try promoting it on Pinterest by "pinning" it. Here's an example of a freebie pinned by The Blog Stylist: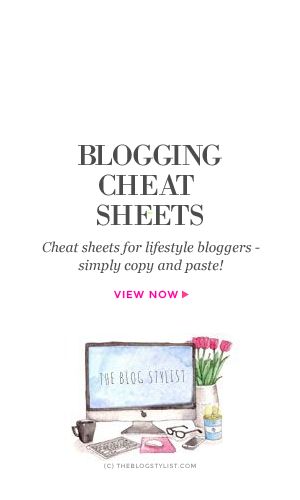 You can use a handy tool like Canva to create a Pinterest-friendly image like this one. Then, upload it to your opt-in landing page, and pin it.
5. Offer Gated Content
Add a special section of your site with "VIP" content that visitors can only access with a login. They can easily get a login by entering their email to create a free account.
Copyblogger puts their free membership area on their subdomain, my.copyblogger.com: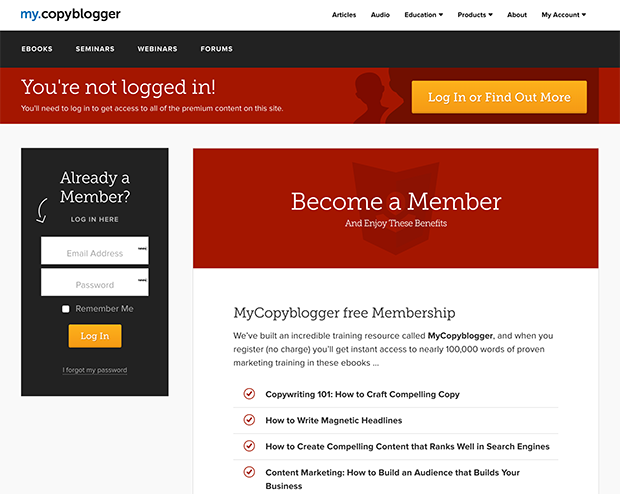 6. Start a Sweepstakes
Announce that you are giving away a prize, and all they need to do to enter is enter their email address.
After they enter with their email, offer additional entries for sharing the sweepstakes on social media or via email.
Wishpond allows you to easily run sweepstakes, photo contests, Instagram hashtag contests, essay contests, Pinterest contests, video contests, and more.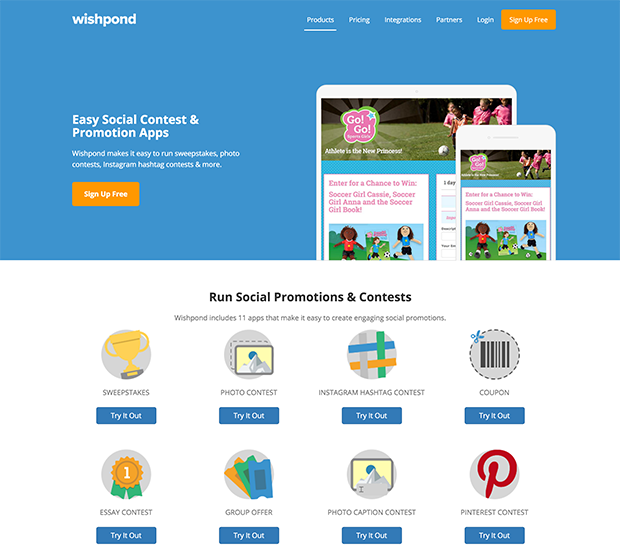 Make sure the prize you are offering is something that will be valuable only to your ideal subscribers. Offering something like an iPad will generate a lot of interest in your sweepstakes, but you'll get a lot of subscribers you don't want on your list.
7. Time Your Call-to-Action
If you are relying on a static call-to-action, you are missing out on an opportunity to grab your visitor's attention at the moment when they are the most receptive to it.
For instance, adding a slide-in scroll box allows you to capture emails from visitors who have just been reading your blog post. This is the moment when they are are already warmed up, and more likely to enter their email address.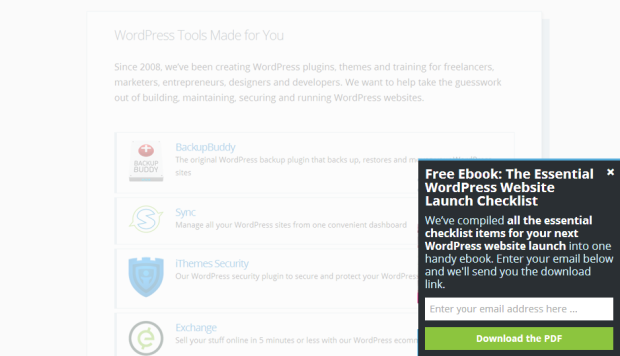 Want a similar slide-in for your website?
Start using OptinMonster
to convert website visitors into subscribers and customers.
8. Leverage Social Proof
Use testimonials, your subscriber count, a photo of a happy customer, or any form of social proof that you have, right beneath your opt-in form.
Since his opt-in is all about getting more monthly visits to your site, Neil Patel uses his own monthly visit stats as social proof, and proof that his strategies work.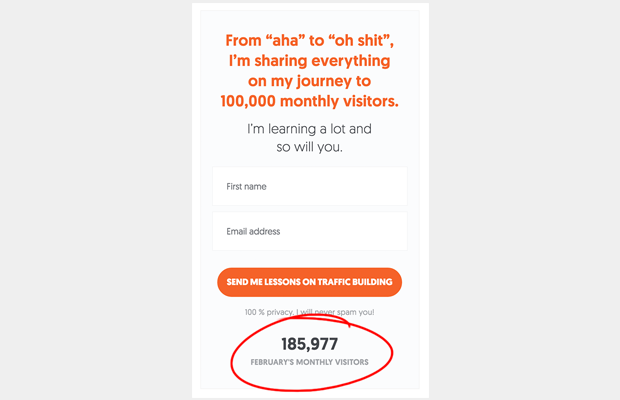 9. Start A/B Testing
Are your landing pages, opt-in boxes, and pop-ups really performing as well as they could? If you haven't tried A/B testing yet, it's a great time to get started.
Test out something simple to start, like a headline, or an image. Here are 3 more simple A/B test variables to increase your conversions.
OptinMonster makes it easy to test out different variations of your opt-in forms and popups with our easy A/B split testing feature: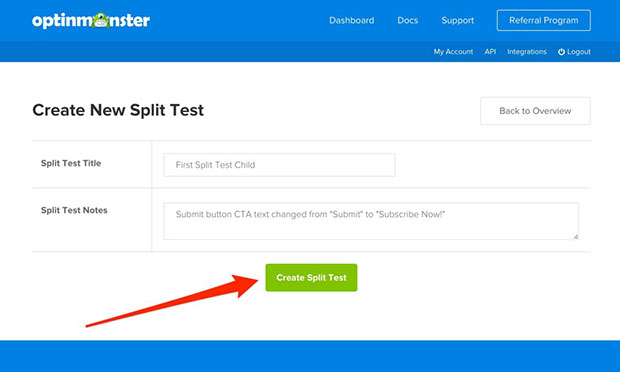 10. Eliminate Distractions
When a visitor lands on your site, it needs to be immediately clear how to get on your email list. If there are any other distractions, like advertisements or prominent links to your various social media profiles, that will only detract from your main goal.
Keep your website as clean and simple as possible, and maximize the use of white space to make your call-to-action stand out. When it's easy to figure out the action, it's much easier for visitors to take action.
For example, Chris Lema's site uses white space and light colors to make his dark opt-in box and bright yellow call-to-action buttons pop out. He doesn't even use a sidebar.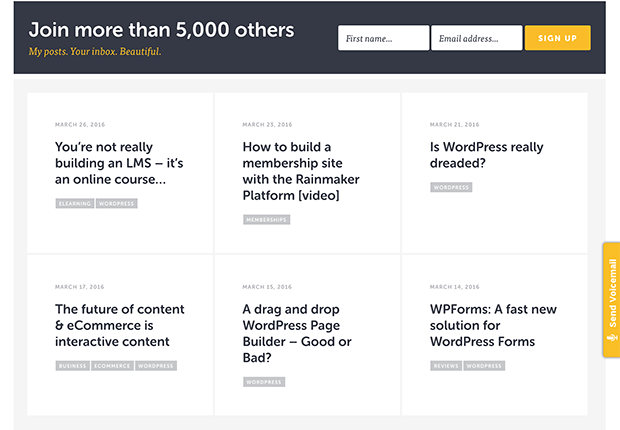 11. Consult Your Existing Leads
Sometimes the best thing to do before you make any changes is to take a step back and spend some time looking at the leads you already have.
Where are they coming from? What worked best to capture those leads?
You might even spend a day or two talking with a few of them on the phone to find out why they opted in. What problems did they hope you could solve for them?
Once you figure out what is attracting your existing leads, you have a much richer understanding of what you can do to capture more of that particular demographic.
There are many ways to convert visitors into leads, and you may need to try a bit of everything to find what works best for your specific audience. To get started, pick just one of the tips above and give it a go. Let me know which one you picked in the comments!