Do you want to learn how to generate more leads from your website?
Lead generation is a tricky (but essential concept) to learn. After all, no ONE strategy will turn your website into a lead generation powerhouse.
Instead, you'll need to use the right combination of tools and tips to get leads flowing from your site.
There are so many questions to answer when it comes to lead generation:
What do I do to generate a lot of leads?
How can I get qualified leads?
Can I generate leads quickly?
That's why, in today's article, we'll give 9 expert tips that answer all of those questions (and more).
And if you implement any of the following tips, we're confident you'll see more leads in no time.
Ready to get started? Let's jump right into the list.
How to Generate More Leads From Your Website
1. Use Optin Campaigns to Capture Leads
Our first expert tip to generate more leads from your website is to start using "optin campaigns".
The goal of an optin campaign is to capture a visitor's contact information, usually their email address or phone number.
Now, you're probably already familiar with optin campaigns and have seen them used in popups, floating bars, scroll boxes, and more.
Here's an example of an optin campaign in the form of a popup: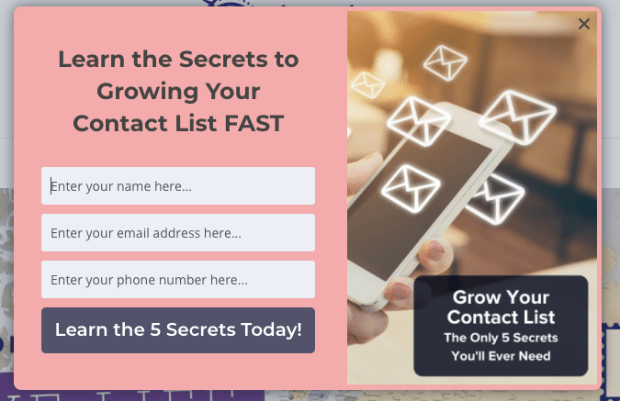 These campaigns can generate leads for eCommerce sites, SaaS products, blogs, publishers, and more.
But how do you build professional optin campaigns if you're on a tight budget and strapped for time?
For that, you need a tool like OptinMonster: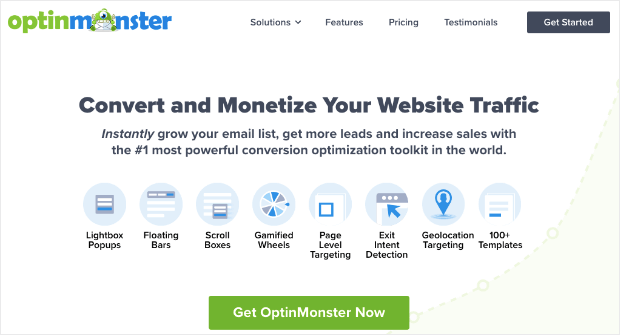 OptinMonster is the world's best lead generation software. Plus, with its drag and drop editor, OptinMonster allows anyone to easily create optin campaigns that quickly build their list of leads.
To get started, you'll select one of the 50+ pre-built and beautifully designed templates for the campaign you want to run.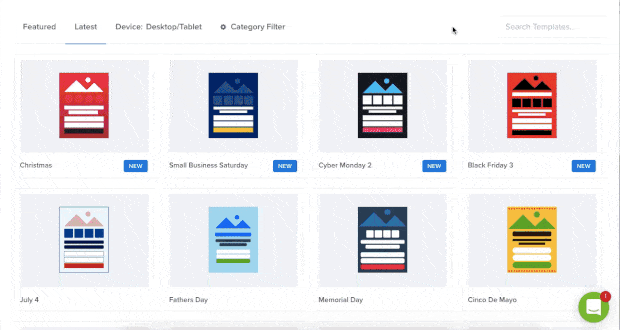 Once you find the perfect template for your site, you'll move into the editor, where you can make a few minor modifications depending on your target audience.
The nice thing is that you don't need to be a coding or design guru to make these edits.
Just look at how simple adding a countdown clock is with OptinMonster: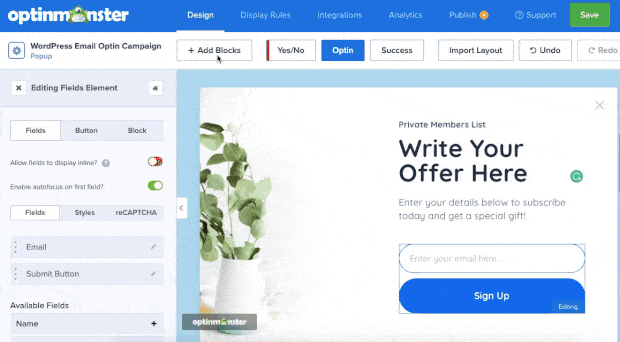 This block editor lets you add many different functions to your optin campaigns like:
Videos
Images
Chatbots
Custom Text
And more…
Also, changing text is just as easy. Simply highlight the text you want to make and type your edits directly on the template: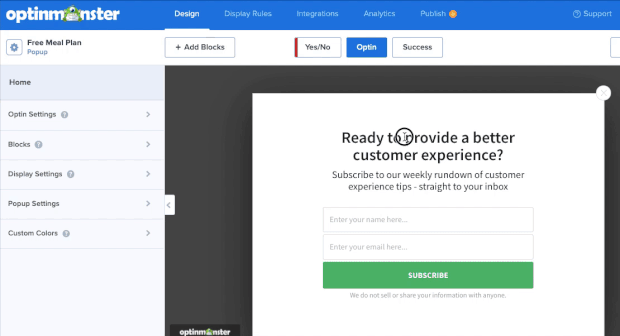 The inline editor gives you total control over things like:
Font family
Font size
Alignment
Spacing
Color
And much more…
Though, what really makes OptinMonster shine is its powerful display rules.
These rules will ensure your campaign targets the right people, at the right place, and at just the right time in their customer journey.
Some of the most popular rules include:
Exit Intent® Technology: Display campaigns as users are actively leaving your website.
OnSite Follow-Up Campaigns®: Show new campaigns to returning visitors.
Geolocation: Present offers to your site's traffic depending on their physical location.
These are just a few examples, and we will be going a little more in-depth on targeting and switching out your messages a little later.
But now you may be wondering, "This all sounds great, but do these targeting rules actually work?
Absolutely.
OptinMonster is the list-building tool that allowed Crossrope to explode its list by over 900%.
It's also how ShotKit was able to start adding 40+ NEW leads every single day.
You can see for yourself by clicking below and starting your 100% risk-free trial today:
Get Started With OptinMonster Today!
BONUS: Done-For-You Campaign Setup ($297 value)
Our conversion experts will design 1 free campaign for you to get maximum results – absolutely FREE!
Click here to get started →
2. Make Your Call-to-Action Visible and Valuable
A visible and valuable call-to-action (CTA) is next up on our list of how to generate leads from your website.
CTAs are essentially what you want the visitor to do. Whether that's signing up for a newsletter, downloading an eBook, leaving a comment, or clicking through to another blog post, they are all CTAs.
CTAs come in many forms:
Buttons
Links
Forms
And others…
The big thing to remember is that the best call-to-action stands out and is enticing for your reader. After all, unless something is in it for them, they are unlikely to part with their time, email address, or other information.
So, how do you make it enticing? Depending on what your website is, you can offer things like free downloads or discounts like this: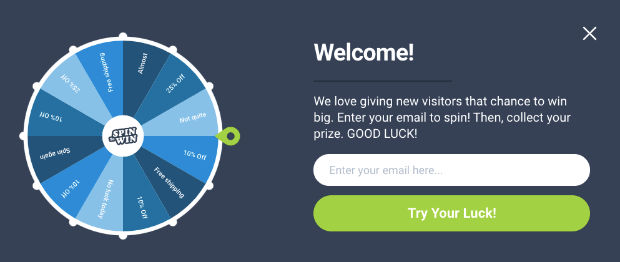 Plus, CTAs that generate leads help to qualify your leads. If your site visitors interact with the CTA, that means they have an active interest in your product or service.
But, it isn't enough to just write "click here for a free ebook."
Calls-to-action are a common and widely used technique to generate leads. So how do you make yours stand out?
OptinMonster can help you out there too.
Whether it's a gamified spin wheel for discount codes or using MonsterLinks™ for a two-step optin, OptinMonster has this and more to help you create engaging CTAs.
In fact, Sportique converted 79% of users by using MonsterLinks™.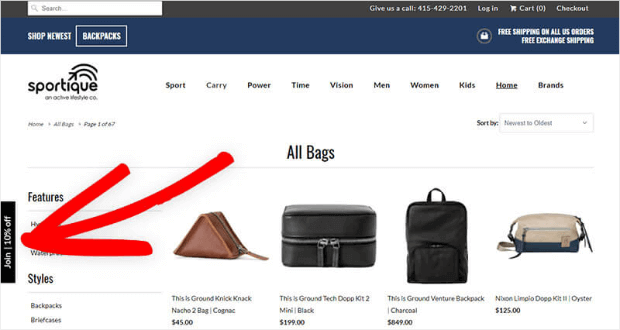 Then when visitors clicked the Monsterlink, this lightbox optin appeared: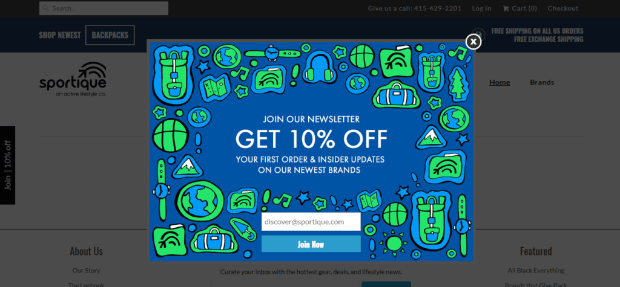 But let's be honest: you don't want to use the same messages all the time for your users.
With that in mind, let's look into how we can use OptinMonster to keep your campaign delivery fresh and unique.
3. Keep Your Message Fresh
Imagine for a second how frustrated you were the last time you visited a site that didn't cater to your needs.
We bet you didn't spend much time there, let alone share your information with them. In fact, the majority of online shoppers feel this same way.
When they are unhappy, that spells fewer leads.
So, how can you cater your campaigns to help you solve this problem?
OptinMonster's powerful targeting rules solve this problem by letting you customize your optin campaigns based on things like the page visitors are on, their physical location, how they found your site, and whether or not they've visited your site before.
These targeting rules will help you create things like:
Customized welcome mats
Highlights of new blog posts or products
Targeted product recommendations
And more…
You can even go as far as targeting your users based on their geographical location to deliver specialized offers and translated popups.
Check out how Skates.co.uk increased their daily sales by £2000 by using OptinMonster and geotargeting. They used this simple campaign to target their French audience: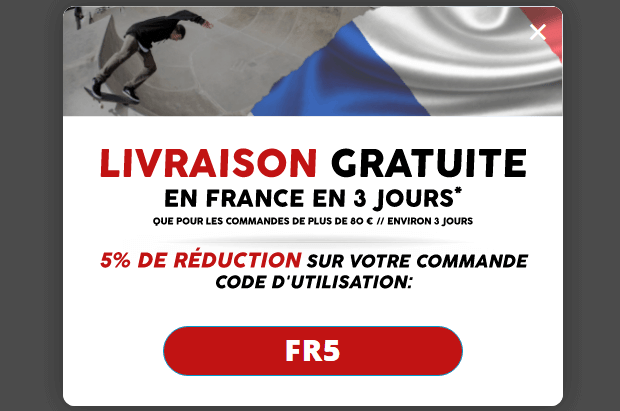 Are you ready to give it a try? Click below and start your 100% risk-free trial today:
Get Started With OptinMonster Today!
BONUS: Done-For-You Campaign Setup ($297 value)
Our conversion experts will design 1 free campaign for you to get maximum results – absolutely FREE!
Click here to get started →
4. Build a Solid Foundation of Trust
Trust is perhaps the most important thing to build if you want your website to generate leads. After all, if your visitors don't feel that they can trust you, you will never have them as a lead.
And did you know 92% of people trust recommendations from their peers?
How can you leverage that and start using recommendations to build trust and generate leads?
The answer is social proof.
Social proof brings visual credibility as more people engage with your site.
When visitors see people are looking at and buying from you, that helps build a solid foundation of trust.
Once that trust is built, visitors will be more willing to interact with your optin campaigns, helping you generate more leads.
You can show social proof in many ways:
Testimonials
Reviews
Live sales notifications
And much more…
But how can you add social proof to your website and make sure it is more than just eye candy and showcasing actual proof?
TrustPulse is the best option for displaying social proof to help your website generate more leads.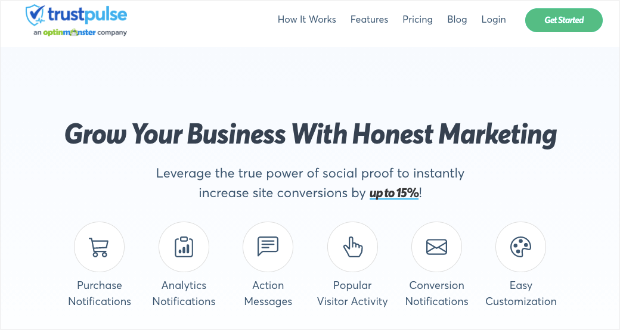 With TrustPulse, you can create social proof notifications like:
Recent Activity: Show a live stream of website activities like purchases, registrations, signups, and more.
On-Fire: Display the number of people taking action on your website in a given period.
Visitor Analytics: Highlight active interest by showing actual page visits over time.
Action Message: Display a single static notification to help drive visitors to take action OR highlight valuable information.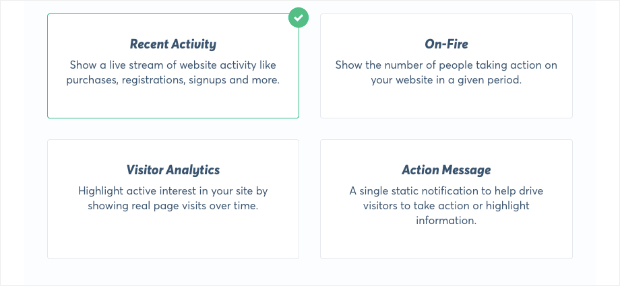 With a simple and easy-to-use editor, TrustPulse lets you have full control over the look, style, and message of your site's social proof notifications.
For example, here's a live sales message using TrustPulse designed to boost trust and drive sales.

But what if you don't have a lot of sales or activity to show off just yet?
TrustPulse's Visitor Analytics highlights the active interest in your website and shows actual page visits over time.
Plus, you can focus on showing activities like registrations, signups, and more.
Visitor analytics are useful if you are just getting started but want to increase the number of leads you generate FAST.
Just like OptinMonster, you don't need any technical know-how to get started.
Plus, TrustPulse is proven to boost sales by up to 15%.
Want to try it out for yourself? Sign up for your 100% risk-free TrustPulse account today!
5. Add Push Alerts
How can you generate leads and stay in contact with your visitors even when they aren't on your site?
Push alerts.
Now, this isn't a new technology, but it's still a popular marketing strategy.
After all, push alerts give you instant access to your customers, even when they're actively on your site.
Push alerts usually have a higher engagement rate since visitors don't have to provide personal information to subscribe.
All they have to do is click "Allow," and they are all set up to receive alerts from you.

Sounds simple, right? But how do you get this kind of access to your customer base?
PushEngage is the best tool to help you generate leads by using push alerts for your site.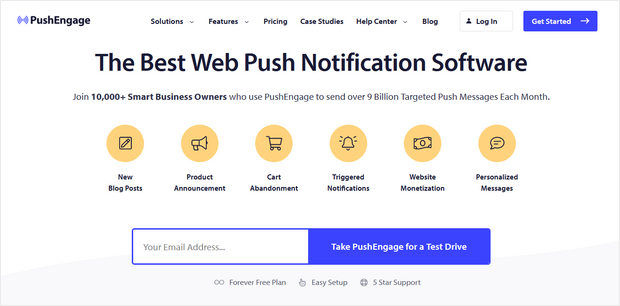 PushEngage makes creating push alerts super easy. Plus, with just a few clicks, you can:
Schedule notifications
Segment your audience for more personalized messaging
Create cart abandonment "drip" series
Automate a subscriber's customer journey
And much more…
Another plus?
Push alerts are instantly delivered right to the browser of your subscribers. So if they happen to be offline, they will see it once they reconnect.
Check out just how easy it is by starting your 100% risk-free PushEngage account today!
6. Run a Giveaway Contest
We talked earlier about making things enticing and that visitors would only engage if there were something in it for them.
How more enticing can you get than a giveaway? After all, people love prizes and are usually willing to exchange their email for a chance to win.
Running a giveaway contest for lead generation is super easy. Here's a breakdown of the steps:
Select a prize for the target audience
Determine how they enter the giveaway
Run the contest
Announce the winner
Follow up with a special offer for all participants
It's a simple strategy, and if you require that visitors give you an email address to enter the giveaway, your number of leads will explode.
If you want to go a little more in-depth on this process, check out: How to Run an Online Contest to Grow Your Traffic & Generate Leads.
How do you create stunning and effective online giveaway contest?
If you are using WordPress, try RafflePress: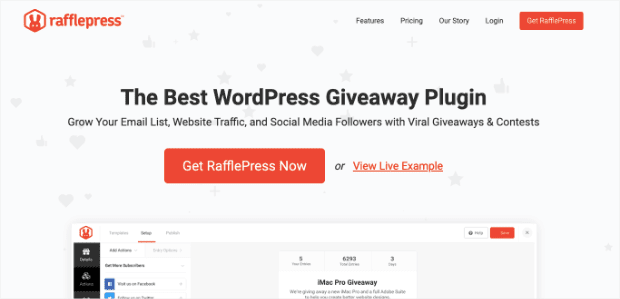 RafflePress is the world's most powerful WordPress contest builder and giveaway plugin.
The best part about it is how easy it is to create fully customized contests that will skyrocket your conversion rates.
With beautiful pre-made templates that can be changed to fit your brand, you can be sure to capture the eyes (and emails) of your website visitors.
For example, take a look at this contest built with RafflePress: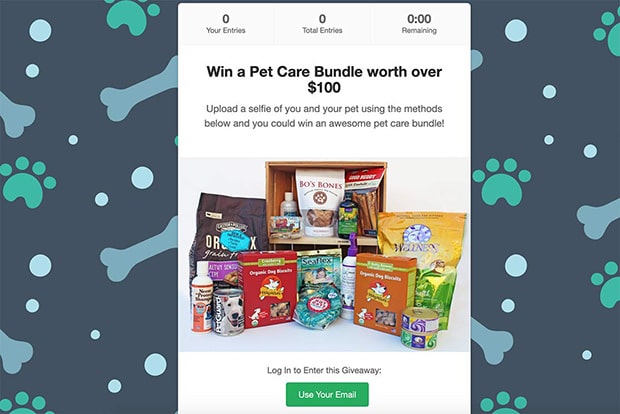 Within a few minutes, you can add giveaways to your website with no special coding required.
Ready to run your own website giveaway contest? Get started with RafflePress today!
7. Increase Your Social Media Presence
No surprise here… the world is on social media.
More specifically, over 4.48 billion people worldwide use some form of it. If your potential customers and competition are there, why aren't you?
And if you are already on social media, how do you take those efforts to the next level?
Social media feeds on your site help to generate leads, increase your social following, boost the time spent on your site, and give people more ways to interact with your brand.
How can you get this on your website?
If you're using WordPress, we recommend trying a tool like Smash Balloon: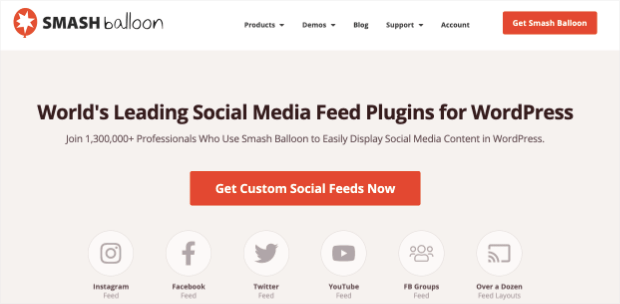 Smash Balloon is the world's leading social media feed plugin for WordPress.
With Smash Balloon, you can easily display social media feeds from the most popular sites like:
Instagram
Facebook
Twitter
YouTube
Smash Balloon is user-friendly and lets you display social media likes, shares, comments, reactions, and more. It also lets your visitors engage with your social media profiles directly from your website.
With that, you are generating more leads by having more followers that you can reach through social media channels.
And like the other tools we've talked about today, Smash Balloon is customizable and easy to use.
If you want to see how a social media feed would help you, give Smash Balloon a try today!
8. Make Conversation Easy
People like talking to people.
But how can you let people talk on a website? Live chat lets you do just that.
Not only is live chat fantastic customer service, but it's also a great lead generation tool. It all goes back to that building trust point we talked about earlier in this article.
Visitors want to easily chat with you throughout all stages of the customer lifetime, from the initial visit to lead conversion to purchase. If they can't do that, there's a good chance that they will move to a competitor that does.
The beauty of live chat is that you don't even need to handle it 24/7 to see the benefit. Chatbots can step in to offer automated, predetermined responses to your visitors so they can still get help.
There are many different tools to help you get live chat on your site, like ManyChat, LiveChat and Sendinblue.
And don't forget, if you're working with ManyChat, you can add live chat functionality to your popups with OptinMonster.
For more information on that, check out this helpful resource: How to Connect OptinMonster to ManyChat.
9. Test Everything Out
Let's face it; even if you use every single one of these tips, not every campaign will resonate with your visitors.
Maybe the message is wrong. Perhaps it's the font or image size. Or maybe you're just not speaking with the right vocabulary to connect with your audience.
But, at the end of the day, how are you supposed to know what works and what doesn't?
A/B testing helps you figure it out and gives you the data you need to make smart choices about how you approach your audience.
It's very tempting just to create a few generic campaigns and contests and run with it. But you are losing leads that way.
A/B testing lets you play around with your campaigns to see which one will generate more leads. Then, you can use that data to make better decisions moving forward.
These changes can be as simple as adding a logo to your call-to-action:

Or maybe you completely change your call-to-action:

The bottom line is, A/B testing is a non-negotiable tip here. It may be our last tip on this list, but it certainly isn't the least.
For plenty of ideas on running A/B testing on your site to generate more leads, check out: 60 A/B Testing Examples to Get You More Conversions.
And that's it for today. We hope you found the tips you need to know how to generate more leads from your website.
Do you want to learn more about generating more leads? Check out these articles:
These posts have even more information and tips to help you turn your website into a lead generation machine.