In this article, we're sharing the best Bluehost alternatives for your eCommerce business.
The typical "I might need a website" process goes like this:
You have a great idea for an eCommerce business. Perhaps you download WordPress because of its powerful, easy-to-use design. Now, it's time to decide which web hosting company you want to use.
And you have no idea where to even begin.
Many site owners go with Bluehost for their WordPress hosting. After all, it's reliable and has been serving the online community for a couple of decades without any major problems, and they have a great referral program. Plus, it's really easy to set up and comes with a free Bluehost domain, making it an excellent choice for anyone launching their first website.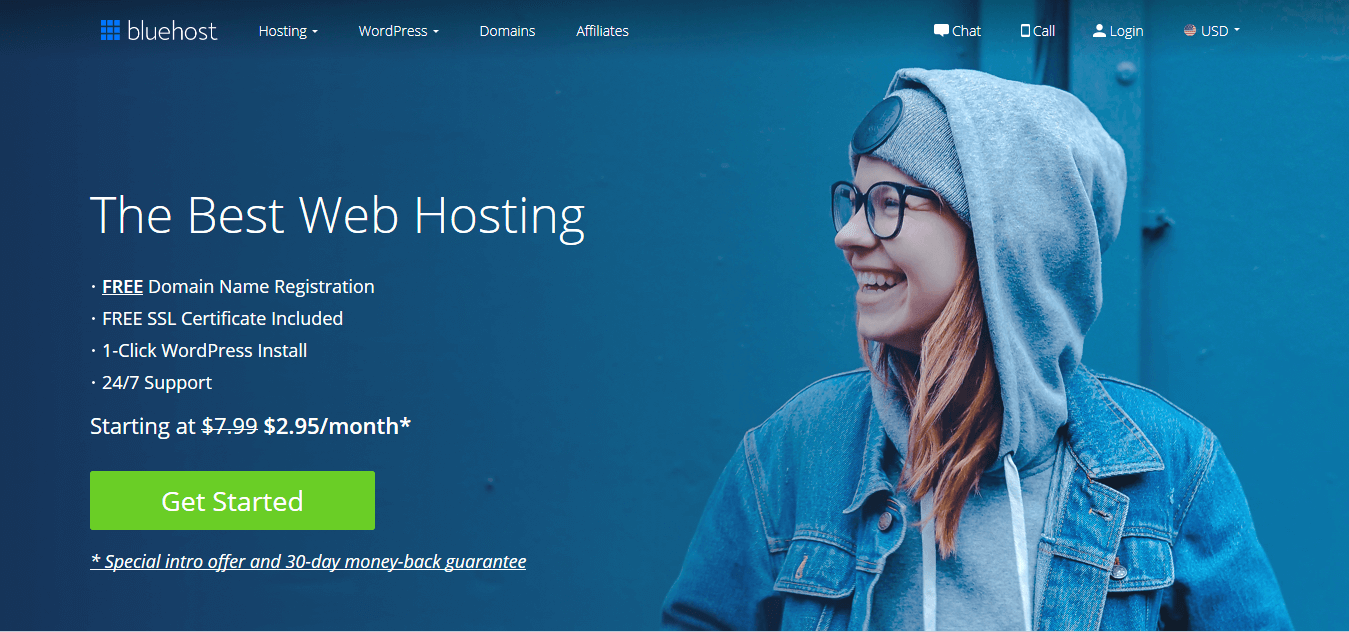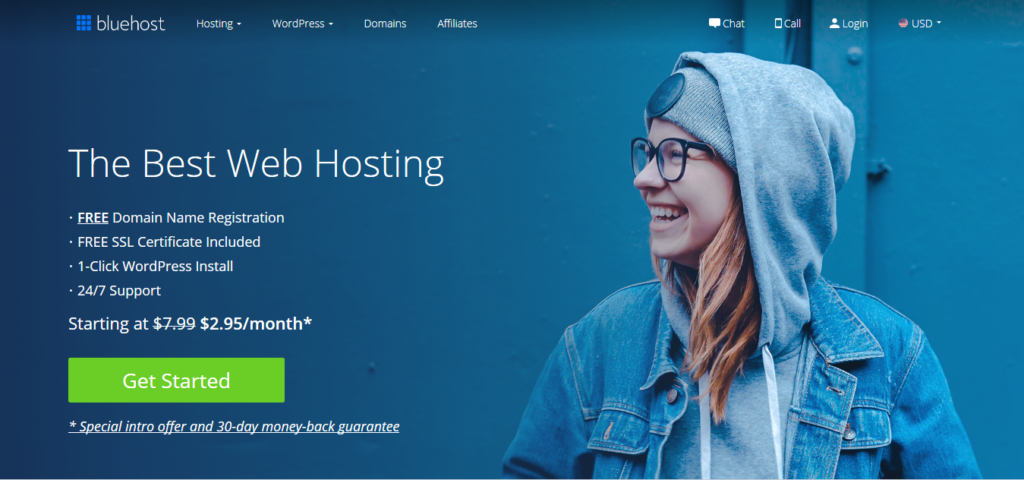 Make no mistake, we highly recommend Bluehost and consistently rank it among our list of best WordPress hosting companies. But sometimes you want a little bit more, like monthly billing options and a comprehensive website builder, for when you want to create those beautifully designed landing pages.
And if you aren't using WordPress, you will definitely want a builder that makes it easier to create and modify your website.
Of course, that's not to say that Bluehost throws you to the sharks. It does let you use WordPress as a site builder, as well as a limited (free) version of Weebly.
There are options for people looking for more variety than Bluehost has to offer, and you don't have to spend an arm and a leg for it. Here are our favorite Bluehost alternatives for your eCommerce site.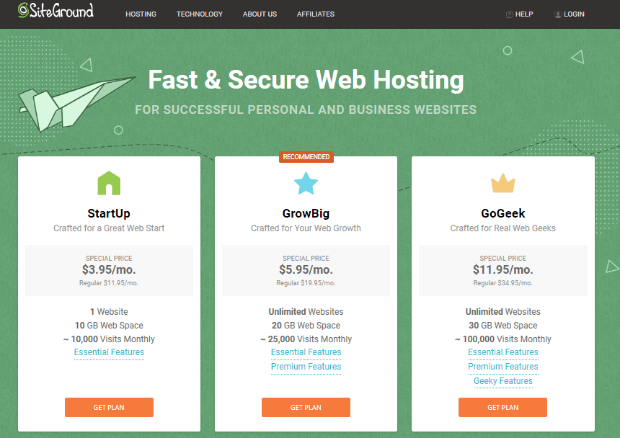 SiteGround is one of the most popular Bluehost alternatives, and for good reasons. It offers flexible subscription packages, great security features, and it works especially well with WordPress and WooCommerce.
But what really makes SiteGround special isn't its pricing tiers, it's the loading times. Thanks to an advanced caching feature known as SuperCacher, SiteGround is one of the fastest WordPress hosting platforms available.
But if it's SiteGround vs Bluehost, who wins?
Good question! When doing a WordPress hosting comparison, you'll see that both provide excellent managed WordPress hosting services, but SiteGround takes it a step further by giving around-the-clock multichannel support. What's more, they even guarantee that your website will have 99.9% uptime. Talk about unmatched dependability.
Since SiteGround will migrate your website for free, making the switch from Bluehost has never been easier. For these reasons, we recommend SiteGround to anyone who's not happy with loading speeds and downtime associated with their current host, regardless of which host that is.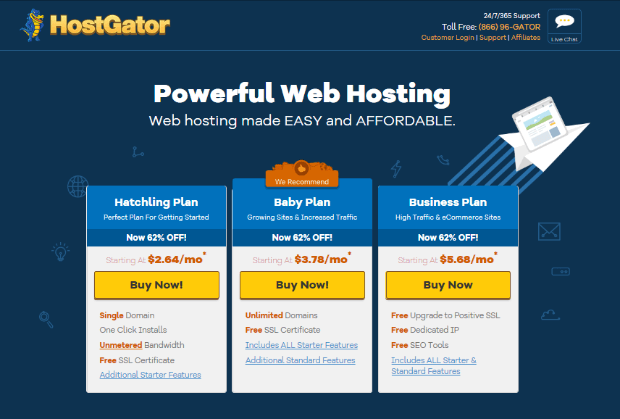 HostGator is one of the best Bluehost alternatives because it offers a lot of the same services and pricing options as Bluehost, but with a bit more flexibility. They have a number of different membership packages, SEO tools for eCommerce companies, and a drag and drop builder that lets you create mobile-responsive websites in a matter of minutes.
But that's not all. HostGator's migrations team makes it easy to transfer content from your existing site onto their server, taking special care to ensure that all the files, scripts, and databases integrate smoothly after the migration. This is especially useful if you already have a Bluehost site and are considering changing hosts.
Overall, we're more than pleased with HostGator's services.
Between its compatibility with WordPress and its around-the-clock support, HostGator is one of the best companies for WordPress hosting in 2020 for eCommerce and personal usage.
DreamHost is one of the few independently owned hosting providers left on the web. That means when you support DreamHost, you're empowering entrepreneurs rather than big business. What's more, DreamHost's privately owned and operated nature ensures that you get a more personable experience when corresponding with support staff.
But what else does DreamHost have to offer besides supporting private businesses?
For starters, they have competitive services and are upfront with their pricing structures, so you know what you're getting at all times. Their services support WordPress hosting, free setup, and even a free domain. Other benefits include:
Around-the-clock customer support through email and live chat, 365 days of the year.
One-click WordPress installed and site builder, similar to the one offered by Bluehost.
Unlimited disk space.
An intuitive web-based control panel designed specifically for DreamHost clients.
DreamHost even offers new subscribers a 3-month, money-back guarantee, which speaks for itself about how confident they are in their services.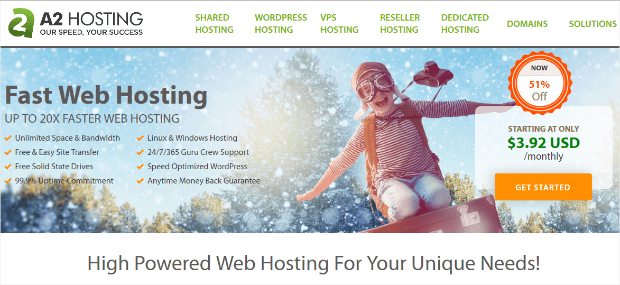 A2 Hosting makes it onto our list of Bluehost alternatives as one of the few companies that are truly developer-friendly. Clients using A2 are able to use a number of different tools and developer-friendly services, in addition to giving clients the option of Linux or Windows hosting.
A2 also provides top-quality support which users can access every second of the day, lightning-fast servers, and a 30-day, money-back guarantee. Moreover, if you're unhappy with A2's services after the 30 days are up, they'll give you a prorated refund for the time you didn't use.
As for the final answer, A2 is more than capable of hosting a small company or a growing eCommerce giant. Its services can be scaled to meet the unique needs of the individual, but its real appeal is empowering developers wanting to build a site tailored specifically for their personal or business needs.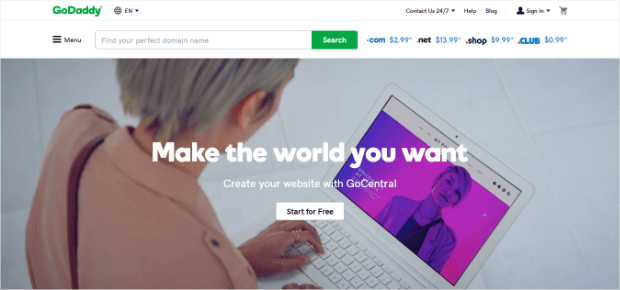 There's a good chance you've already heard of GoDaddy thanks to all the Danica Patrick commercials and the fact that the platform makes web hosting easy for everyone, even those who aren't tech-savvy.
Truthfully, GoDaddy's services are pretty basic. Don't expect to have access to comprehensive customizability options. But if you're running a basic website, like a blog, portfolio, or small-to-medium online business, GoDaddy has everything you need to get started.
Its biggest selling point is simplicity. It doesn't matter how good you are at building websites, GoDaddy makes it easy to build a fully-functioning site within a matter of minutes. While not as comprehensive as platforms like A2 Hosting, GoDaddy's website builder tools are designed to be easy to use, even if you've never built a website before.
Are you looking for a reliable company that offers WordPress hosting? GoDaddy is a competitive option to Bluehost, as long as you're building a relatively simple site. For this reason, GoDaddy is great for beginners interested in claiming their first piece of virtual real estate. But if you're creating a largescale online business, try Bluehost or one of the other services instead.
Taking the Next Step
Once you've secured a host and launched your site, it's time to build those email lists.
Don't worry, getting your website off the ground was the hardest part of the journey! Innovative tools like OptinMonster make it easy to engage visitors in real-time, which increases your chances of turning visitors into paying customers. And isn't that what running an eCommerce site is all about?