Are you looking for the best way to redirect visitors on your website?
With WordPress redirect plugins, you can easily create redirects from your WordPress dashboard without any coding knowledge. Redirecting keeps visitors and search engines from getting lost on your site.
In this article, we'll show you some of the best WordPress redirect plugins to use on your website.
Best WordPress Redirect Plugins
This list contains both free and premium plugins. Some are complete SEO solutions while others just handle redirection. Take a look and see which plugin best fits your needs.
Here we go!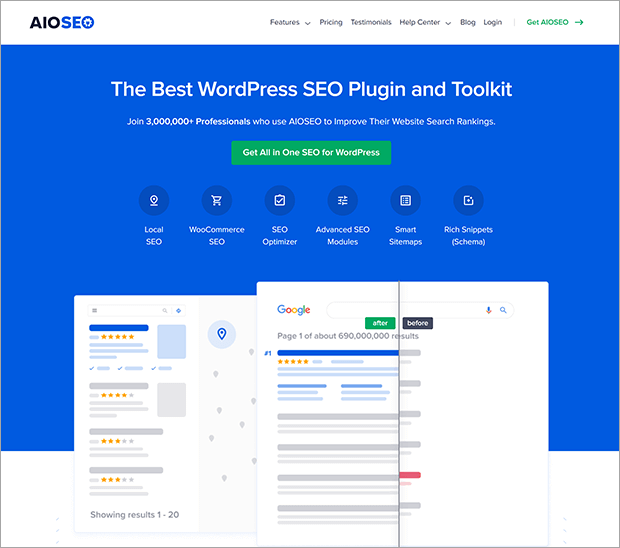 All In One SEO (AIOSEO) is the best WordPress SEO plugin available.
Redirection is an important part of maintaining SEO on your WordPress website. If you change URLs or delete content on your website, you need to redirect old links. Otherwise, visitors and search engines will see a 404 Page not found error. If there are too many 404s on your website, search engines will lower your site's search ranking.
AIOSEO is a complete WordPress SEO solution. The plugin offers on-page SEO optimization, an SEO audit checklist, internal link manager, and other features.
You do not need any coding skills to use AIOSEO. The plugin has a setup wizard that can help you get the foundations of SEO on your website in less than 10 minutes. AIOSEO is built to run fast on any WordPress website.
If you're wondering, "How do I create a 301 redirect in WordPress?" the Redirection Manager in AIOSEO makes it easy. Let's take a closer look.
Features:
Automatic redirection
Multiple redirect types (301, 307, 302 and more)
Redirect usage tracking
404 logging
In-post redirect management
Custom rules
Pricing:
AIOSEO has four different license tiers: Basic, Plus, Pro, and Elite. Redirection Manager is available on the Pro and Elite license. The Pro license starts at $399/year.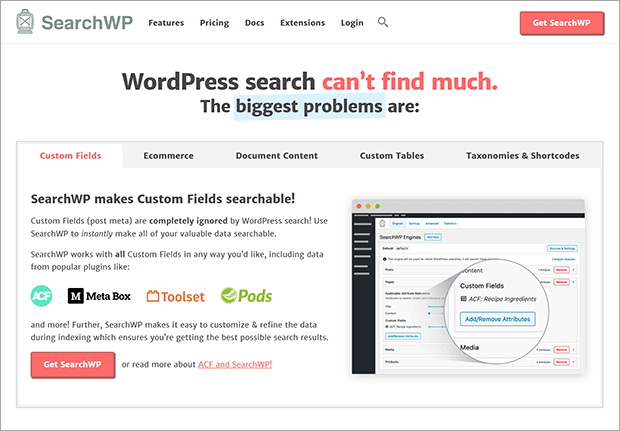 SearchWP is the best WordPress search plugin that provides a bonus SEO boost.
You can use SearchWP to redirect users to specific pages when certain searches are performed. Doing this saves visitors a click and gets them what they want faster.
For example, you could redirect the term "sale" to an evergreen sale page that collects all sale items in one place. This is easier for your customer to browse than dozens of individual sale item pages.
You could also redirect a search term like "hours" or "location" directly to your website's About page. Again, this saves your visitor the hassle of sorting through many search results.
SearchWP is a great way to "read your customer's mind" and serve the information they need even if they're not sure how to ask for it.
SearchWP also has many other important features. The plugin can search product details, custom fields content, and more.
Features:
Standalone plugin
Customizable redirect rules
Partial matches
Unlimited redirects
Pricing:
The Redirects extension requires a Pro license of SearchWP. The Pro license starts at $399/year.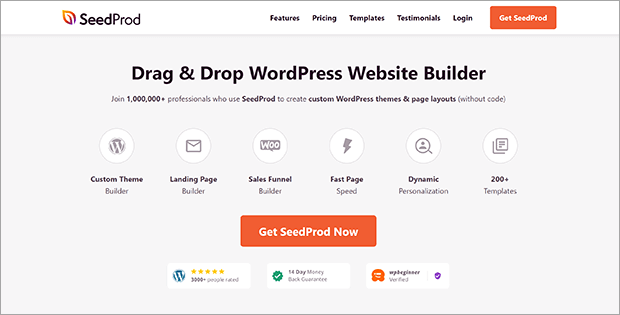 SeedProd is the most popular drag & drop WordPress website builder.
You can use SeedProd to create beautiful Coming Soon and other landing pages. SeedProd can also create custom 404 pages.
As you can see, the default WordPress 404 is not very informative. Visitors are likely to bounce if they reach this page after clicking a broken link. This hurts your website's SEO.

With a custom 404 page, you have another chance to convince visitors to stay on your website. In this example, there is a prominent search bar to help visitors find the content they need. There are also direct links to the home page and contact page. Finally, there is a free lead magnet that visitors can download. This makes the error page into an optin page.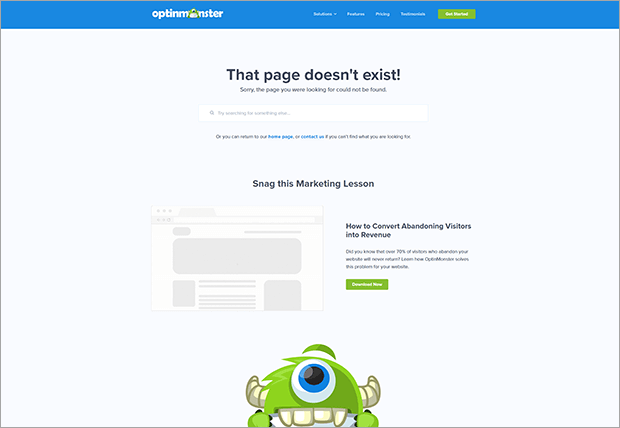 If you move your website, you may want to redirect all pages on your WordPress website. You can easily do this by using SeedProd's Domain Manager to point your existing domain to your landing page.
Features:
Drag & drop page builder
Live previews
Responsive page and block templates
Custom 404 pages
Domain mapping
Pricing:
You can create custom 404 pages on any SeedProd plan. Plans start at $79/month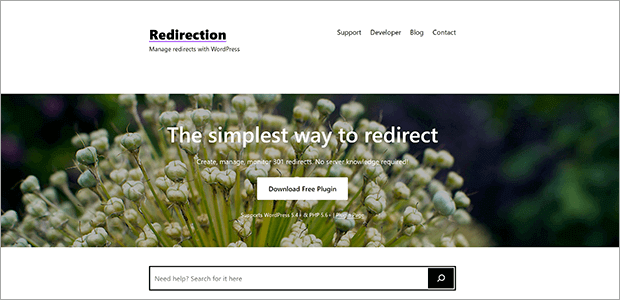 Redirection is a simple redirect manager plugin that has been around for over 10 years.
It does not have any other SEO features but is great for creating and managing redirects.
You do not need any coding knowledge to use Redirection. The plugin can monitor when URLs change and automatically set up redirects.
Features:
301 redirects
404 error tracking
Conditional redirects
Permalink migration
Pricing:
The plugin is free to use.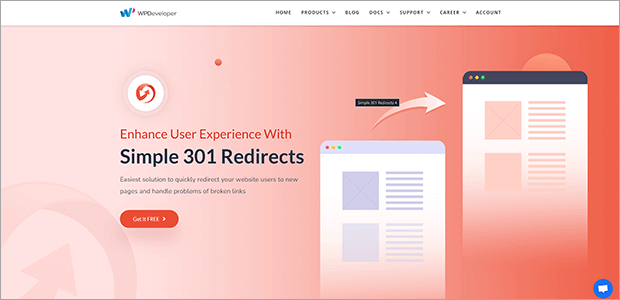 Simple 301 Redirects is a popular WordPress redirect plugin with over 1 million downloads.
There are no other SEO optimization tools included in Simple 301 Redirects, but it's easy to install and configure the plugin.
You can use Simple 301 Redirects to fix broken URLs, migrate to a new website, redirect to affiliate links, and boost SEO on new blogs.
Features:
301 redirects
Bulk redirects
Import/export redirects
Wildcard directory redirect
Advanced analytics
Pricing:
The plugin is free to use.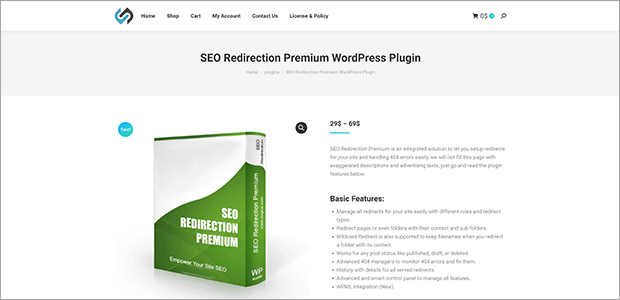 SEO Redirection Plugin is a free WordPress redirect plugin that allows you to manually or automatically add redirects to your website. There are also premium licenses available for use on multiple websites.
While it is called SEO Redirection Plugin, it doesn't have any keyword or other optimization features. However, you can easily use SEO Redirection Plugin to migrate pages from an old website or change the directory of your WordPress website.
This WordPress redirect plugin works on all post statuses, such as Published, Draft, or Deleted. The premium version tracks trashed or drafted posts and suggests redirection to avoid 404 errors.
Features:
Manual 301, 302, 307 redirects
Automatic URL change detection and redirection
Redirect group organization
Pricing:
There is a free version of this plugin as well as premium licenses.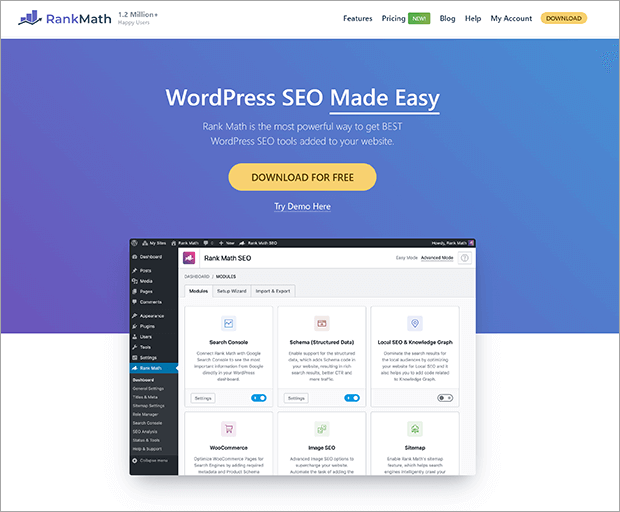 Rank Math is another SEO plugin for WordPress that offers redirection functionality.
Rank Math's much-lauded Content AI feature can recommend keywords, content length, headings, and other ways to optimize your SEO. But you have to pay extra for credits in order to use Content AI. Some plans come with credits, but if you want to research additional keywords, you'll need to buy more credits.
You can use Rank Math to measure and track keyword rankings. Rank Math can also run a detailed SEO analysis on your WordPress website to identify any issues.
The Advanced Redirection Manager in Rank Math makes it easy to manage redirects on your website.
Features:
Bulk redirect
Affiliate link cloaking
Google Analytics integration
404 monitor
Import/Export redirect data
301, 302, 307, 410, 451 redirection
Pricing:
Rank Math has a limited free plan. Full features, including Content AI, are available on all premium plans. The PRO plan starts at $129.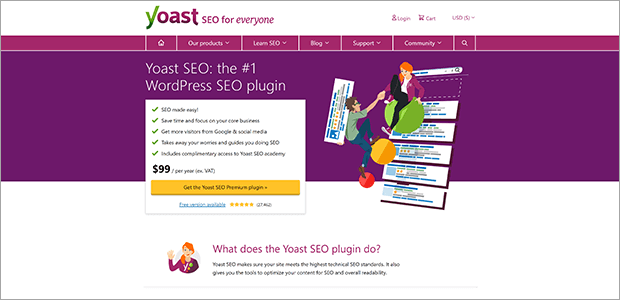 Redirect Manager is part of Yoast SEO Premium. Yoast SEO is a popular SEO WordPress plugin that can also manage redirects on your website. It doesn't have quite as many customization features as AIOSEO, but is still a great plugin.
Yoast SEO Redirect Manager can automatically redirect users when content is moved or deleted.
Depending on your situation, it may be better to use a 301 or 302 redirect. Yoast SEO Redirect Manager can handle many different redirect types.
Features:
Automatic redirects when content is moved or deleted
Different redirect types and HTTP statuses
REGEX redirects
Import/Export
Pricing:
Yoast SEO Premium starts at $99/year.
Which of These WordPress Redirect Plugins is Best for You?
We have seen a lot of different WordPress redirect plugins today.
The best plugin for you depends on your needs. If you want a full SEO solution with powerful redirects, AIOSEO is the top choice.
Want to learn more about redirecting visitors and improving your SEO? Check out these blog posts:
If you like this article, please follow us on Facebook and Twitter for more free WordPress and SEO tutorials.