Are you looking for a WordPress notification bar plugin to increase your subscribers, site traffic, and sales?
A WordPress notification bar, or floating bar, is the perfect way to share important news and special offers with your site visitors.
It commands attention without annoying them. That's why so many site owners use announcement bars to boost their engagement and conversions.
The best thing is it's incredibly easy to create one yourself.
In this post, we'll cover the best WordPress notification bar plugins.
Why Add a WordPress Notification Bar Plugin
Announcement bars sit in a sweet spot where they are displayed prominently across your site, but they don't interrupt your visitors. So you get the best of both worlds.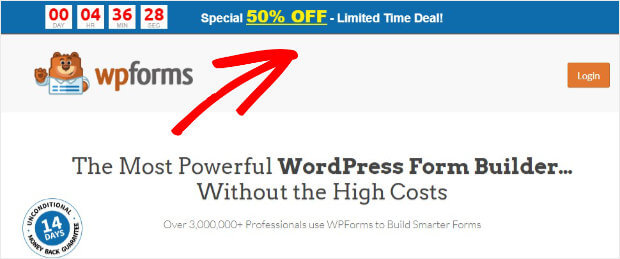 This is why so many online businesses use notification bars to:
Increase subscribers with a call to action to join a mailing list
Drive traffic to popular web pages
Boost sales by creating urgency and highlighting limited time promotions
But you might be wondering, "How do I add an announcement bar in WordPress?"
By using a WordPress plugin, you can easily add a notification bar to your site.
Now, there are tons of notification bars on the market today. That's not a bad thing, but it means it can be overwhelming to find the right one for your website.
Don't worry. You can keep a few factors in mind when you're making your evaluation, and these include:
Design options: You want to be able to customize the plugin so it matches your site and brand
Testing: A good notification plugin will come with analytics so you can monitor which messages perform best
Email integrations: If you want to use your alert plugin to grow your email list, you want to be able to integrate easily with different email service providers
Support: Reliable, responsive support is key because issues with your notification bar could result in fewer conversions
Responsive: Make sure your notification bar will work on all devices
Ready to find the right notification bar plugin for your site?
Let's jump right in!
Best Notification Bar WordPress Plugins
Here are some of the top WordPress notification bar plugins we've found to help you engage and convert your site visitors.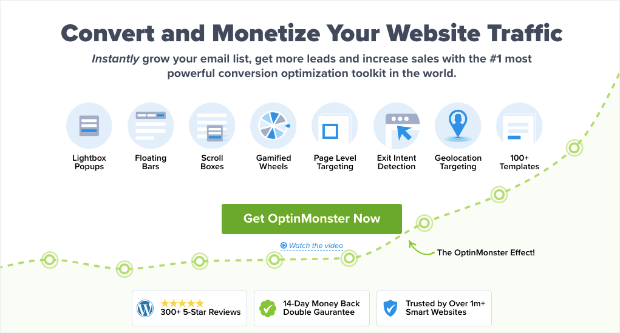 OptinMonster is the most powerful lead generation tool for WordPress. It lets you build stunning notification bars in only a few minutes using a drag and drop builder.
OptinMonster comes with beautiful readymade templates that can be customized to match your branding and theme.
With OptinMonster, you'll get access to:
Fully customizable templates: Choose from a range of stunning templates
Powerful features Add elements like countdown timers and sign up forms
Testing and analytics: Use data to uncover the offers that connect most with your visitors
Easy integration: Connect to any email service provider in minutes
One of the biggest advantages OptinMonster has over other WordPress notification bar plugins is its advanced targeting and personalization features.
You have the ability to control exactly where, when, and to whom you show your announcement bar.
Here are some examples:
Show on specific product pages, collections, or tags
Display based on site visitor's behavior, like whether they opt in or close another popup
Show only after the site visitor has scrolled down a certain percentage of the page
Show only if a customer is new or returning
In short, OptinMonster lets you create notification bars that are more likely to get clicks!
OptinMonster's notification bars are so effective that Cosmetic Capital increased leads by 300%.

What's more is you can show multiple notification bars easily across your site, changing the message according to the pages and products.
Here are some ways you can use your OptinMonster notification bar:
Free shipping notification
Limited time sale
Redirect traffic to a landing page
Increase signups for trials
Get Started With a Notification Bar!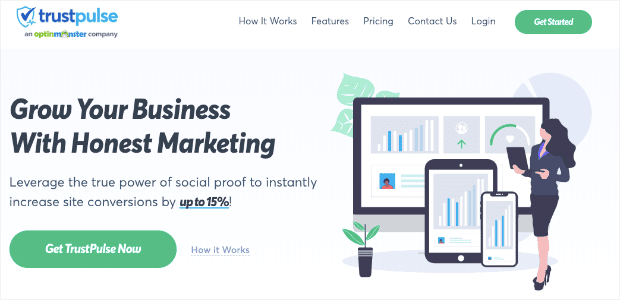 TrustPulse is different from the rest of the WordPress notification bar plugins on this list. It's mainly a social proof tool that lets you display recent activity on your site, like purchases or signups.
That said, you can easily display sitewide announcements such as important updates, free shipping notifications, or low stock alerts.

It's easy to set up and use. Plus, TrustPulse lets you control how often and for how long the notifications appear. You can create multiple campaigns to target different pages.
The notifications are small and non-intrusive so they won't disturb your visitor's browsing experience. At the same time, they're hard to miss and can draw the visitor's focus to what you want to highlight.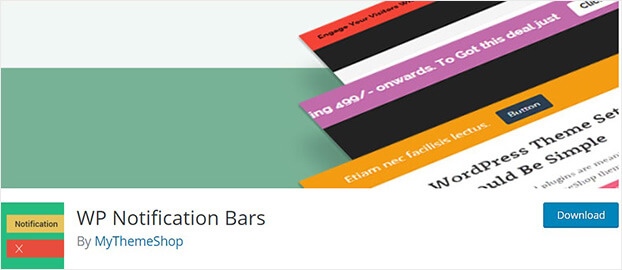 WP Notification Bars is a good option if you're looking for free WordPress notification bars.
You can share important alerts and direct traffic to other pages. Added to that, it lets you customize colors and fonts.
You also get to control who sees your notification bar. So for instance, you can display it only to visitors who come from social media or Google search.
The downside to this plugin is that the targeting options are fairly limited.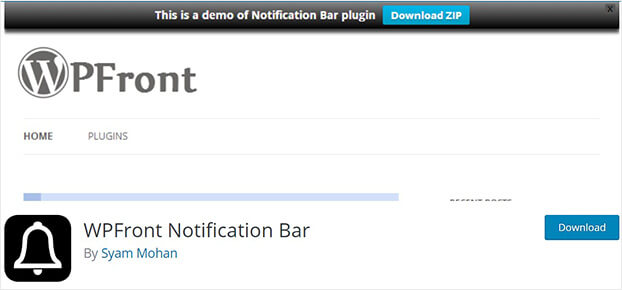 WPFront Notification Bar is an easy to use WordPress notification bar plugin.
You can display the bar at the top or bottom of the screen. You can also create a sticky bar, so it's fixed at a certain position on your site.
WPFront Notification Bar lets you control the number of seconds before the bar is displayed. And you can choose to show it only on certain posts and pages.
One thing to keep in mind is that this notification bar only displays messages and can't collect any data. So you won't be able to tell what works and what doesn't.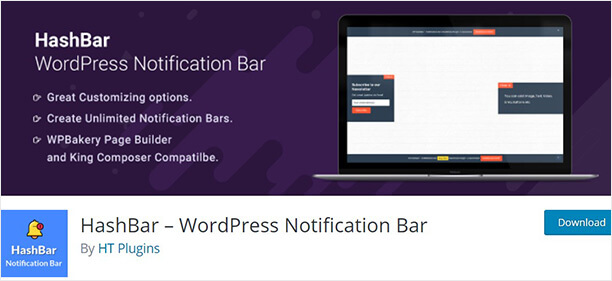 With HashBar, you can add unlimited notification bars across your site.
It has free and paid versions. The free plugin lets you do basic customizations.
For example, you can change the colors of the background and add images to your notification bar. You'll be able to decide whether or not you want to show the notification on mobile.
And you can decide to position the bar on the sides, top, or bottom of the screen. Then, you can choose where you want to show the notification, like on all pages or only the home page.
The free version lacks advanced features like only showing on a specific post or product.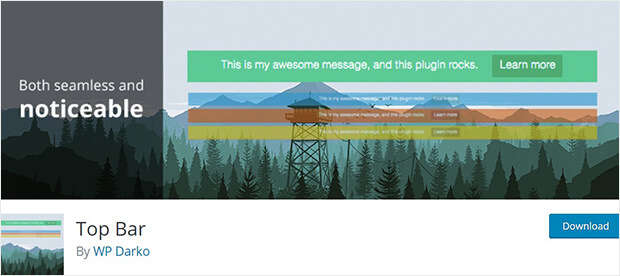 Top Bar is another WordPress notification bar plugin with free and paid plans.
If you want to show a basic alert, you can use Top Bar's free plugin. You can easily show your visitors a message, add a link, and change the color of the bar.
Other features like setting a timer before the notification bar appears and changing the font size are included in the paid version. You will only be able to add the notification bar to the top of your site.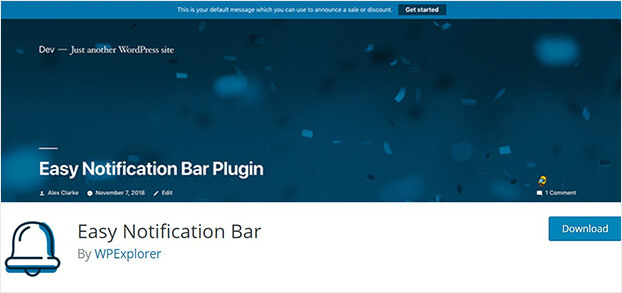 Easy Notification Bar is a simple, free way to add a notification bar to your WordPress site.
With this WordPress notification plugin, you can customize your text and background. Plus, since it's fully responsive, your notification will display across all devices.
Keep in mind that it's static so when your site visitor scrolls down the bar will disappear.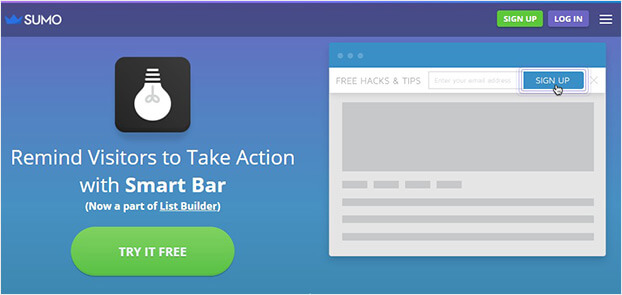 For a few more design and targeting options, you'll want to consider something like Sumo's Smart Bar.
Choose to show the notification bar when a visitor scrolls up, stays at the top, or moves when a visitor scrolls.
Sumo comes with fewer templates than some of the other notification bar plugins. But it's more than enough if you're just starting out or running a small campaign.
So, what's the best WordPress notification bar plugin for your site?
OptinMonster comes out on top! It has several templates that are easy to customize. And you can target your audience, showing the right message to the right person.
Get Started With a Notification Bar!
Notification bars are a great way to boost your conversions. And if you're looking for more practical strategies to attract leads and increase conversions, check out these articles:
Want to increase your leads using notification bars that convert? Sign up for OptinMonster today.