Looking for a way to sell digital products with your WordPress website?
If you're a content creator, you know how hard it's to sell your digital products online.
While there are tons of online marketplaces and platforms available for selling your products, you'll end up giving a huge chunk of profit in the form of platform commissions.
In this article, we'll show you some of the best WordPress digital download plugins for selling downloadable content like ebooks, plugins, online courses, and applications with WordPress.
What to Look for in a WordPress Digital Download Plugin?
Before installing a digital download plugin, you might want to check out some essential features that will save you time.
We have compiled a list of basic features after using many plugins. Here are key points to consider:
Ability to create a customer account page and maintain a record for each customer.
Ability to offer personalized discount coupons.
Simple interface for managing the files with easy adding, removing, and editing features.
Integration with widely used payment gateways like PayPal, Stripe, Authorize.net, and many more.
Considering these above features, let's start with our top digital download plugins list.
Easy Digital Downloads is a popular digital download plugin for selling online products like ebooks, PDF files, images, videos, and any other form of digital content. You can even sell WordPress themes and plugins from your WordPress dashboard using this free plugin.
You can easily protect your files with a password, prevent spamming with reCaptcha, and track stats like IP, date, and time of the files purchased. There is a dedicated customer management dashboard for tracking customer purchase history.
The plugin is quite easy to use and offers unmatched features for selling digital products. It's integrated with popular payment gateways like PayPal, and Stripe to ensure a hassle-free buying experience for your customers.
Easy Digital Downloads works seamlessly with popular mailing tools and integrates with popular themes.
Features:
Advanced file protection features.
You get a variety of options for discount codes.
Advanced analytics and data reporting dashboard.
You will find integrations with almost every payment gateway.
Integrations with top mailing tools like AWeber, ConvertKit, and so on.
Pricing:
Easy Digital Downloads plugin is available for free. The premium version starts at $99 per year with access to email marketing tools and premium support.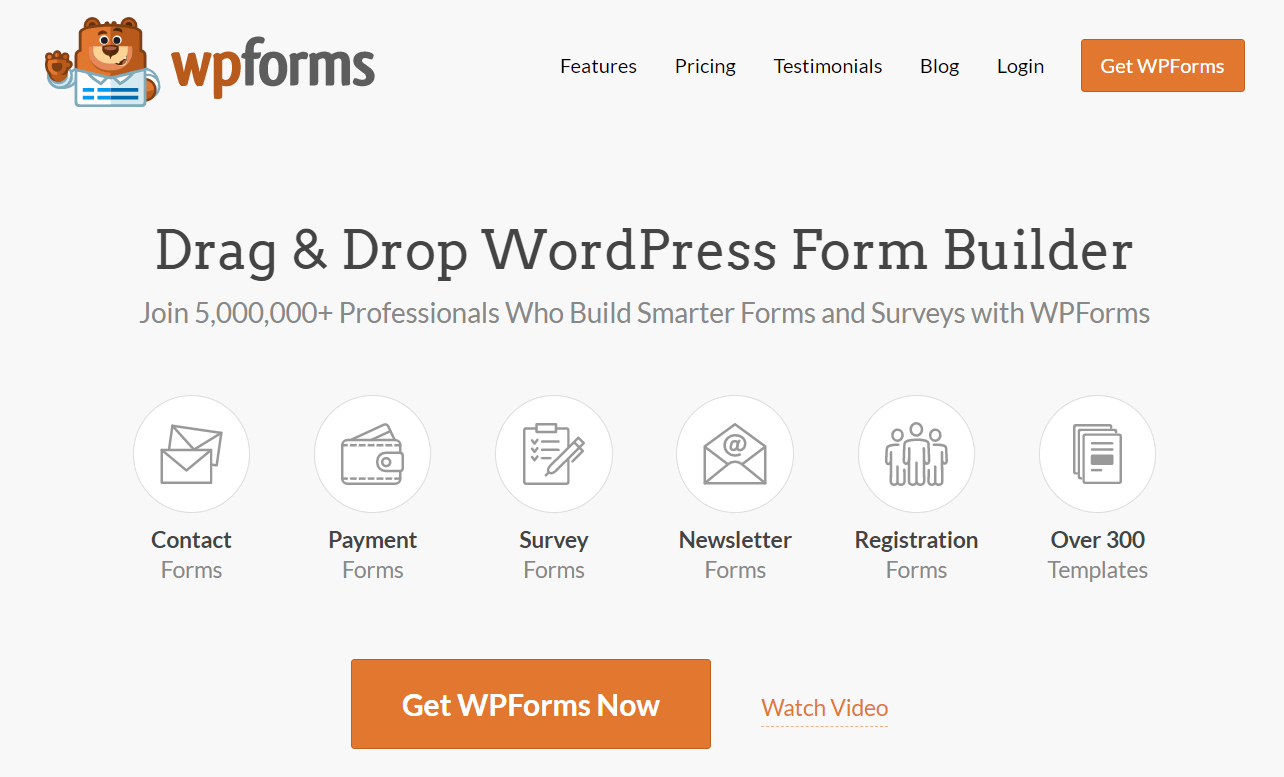 WPForms is a beginner friendly WordPress form plugin that lets you easily create any type of forms, including a payment form or order form on your site. It also lets you integrate your WordPress forms with payment processors like PayPal, Stripe, and more.
If you're only selling a few digital products on your site and don't want to deal with a heavy digital download plugin, then you might want to give WPForms a try. Using the content download form template, you can even collect the contact information and provide a downloadable file to the user.
Features:
Ability to create any type of forms, including contact form, donation form, user registration form, and more.
Access to over 300 form templates.
WPForms comes with a drag and drop interface making it easy to use.
A clean user interface for managing the form entries.
Spam protection using reCAPTCHA options.
Pricing:
WPForms offers a free version of the plugin and has been installed on 5 million websites worldwide. You can get access to the premium features along with standard support, starting at $49.50/year.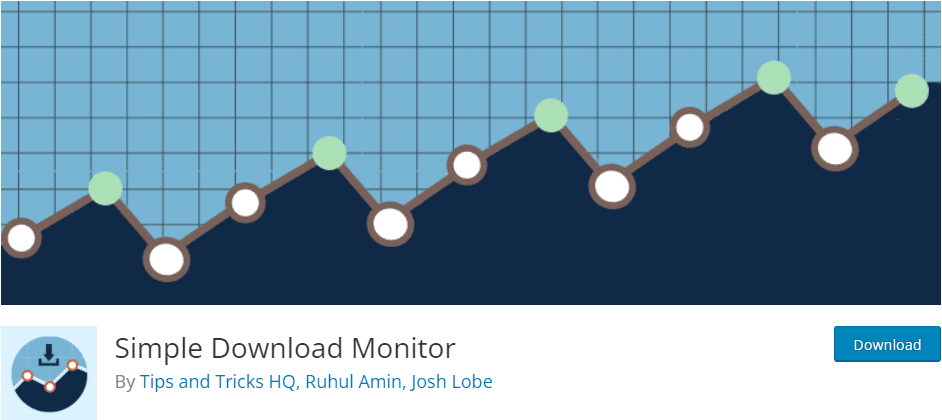 Simple Download Monitor is a free digital download plugin to keep track of the file downloads. It has a clean user interface for managing the file actions like uploading, editing, and monitoring the files in the dashboard.
With this plugin, you get access to customizable download buttons that can be used on posts, pages, and sidebars. There is a statistics menu to show the download reports like the number of times a file has been downloaded, browser, and IP address of the users.
Besides, some advanced options like password protection for files and reCAPTCHA to avoid spam bot activities.
Features:
Simple setup and easy-to-use plugin.
Drag and drop interface.
Options to set display rules for download buttons.
Supports upload for all common file types.
Option to add terms and conditions for buttons.
Pricing:
The plugin is available for free on the WordPress repository.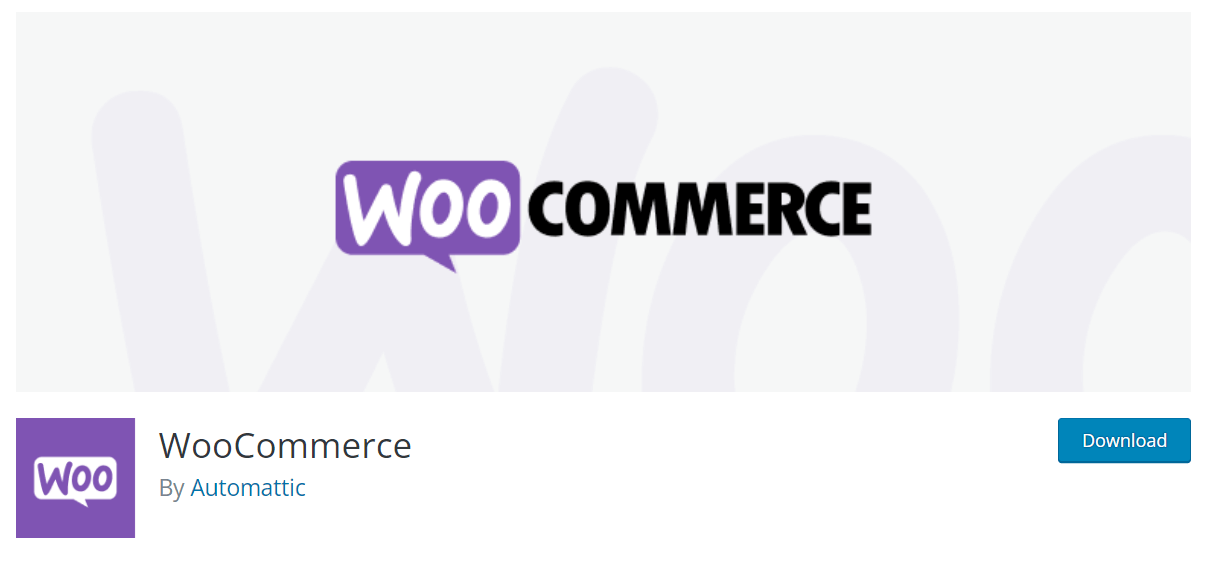 WooCommerce is an eCommerce plugin, which means you can use it to sell almost anything from your WordPress store. Though it's famous for selling physical products, you can configure its settings for selling digitally downloadable products like ebooks, photo albums, plugin zip files, and whatnot.
Many addons are available for adding features like discount coupons, preventing spam, and members-only downloadable content.
Although it's a free plugin, new users get easily distracted by all of the settings available, which might seem overwhelming at first. We recommend reading this beginner's guide on WooCommerce before making new upgrades or features before diving right in.
Features:
Plenty of extensions are available.
Customizable with your favorite WordPress theme.
Easy integration with payment gateways.
Optimized for selling physical and online products.
You can find beautiful ready-made WsooCommerce templates.
Pricing:
WooCommerce is a free plugin. However, there are many paid addons available for extending the free features.

As the name suggests, the Document Library Pro plugin adds a document section to your website. The plugin offers an option to bulk-upload the documents, and there are no limits to the number of documents that can be uploaded.
Although it's a document plugin, the frontend view is similar to a media library. You can create a searchable and filterable grid layout with a downloadable button that supports images, docs, and other standard content file formats. You can also extend the fields with the help of a custom field plugin.
Features:
Integrates well with popular WordPress themes.
The plugin supports multi-lingual websites.
Different layout structures are available.
Supports various file formats and 3rd party URLs
Customizable download buttons, links, and icons
Pricing:
They don't offer a free version. Document Library Pro is a premium plugin with packages starting from $99 for a single year.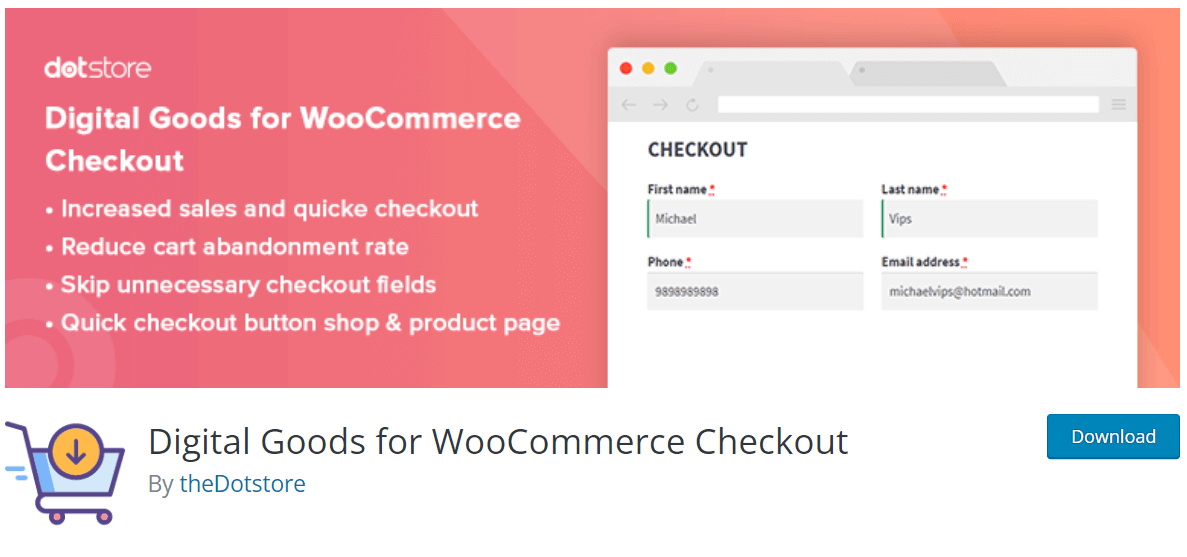 Digital Goods is a WooCommerce checkout extension plugin explicitly designed for selling virtual products. It's ideal for selling ebooks, PDFs, audio, video clips, and online courses.
The plugin lets you remove checkout fields that are not necessary for digital products like shipping address and customers billing address.
Digital Goods makes the checkout process faster, reduces cart abandonment rate, and increases product sales.
Features:
Quick checkout for downloadable products.
Option to exclude multiple fields.
You can set checkout directly from the product page
Pricing:
It's a free plugin. The only limitation is that the plugin is not suited for multilingual websites because it's not compatible with WPML.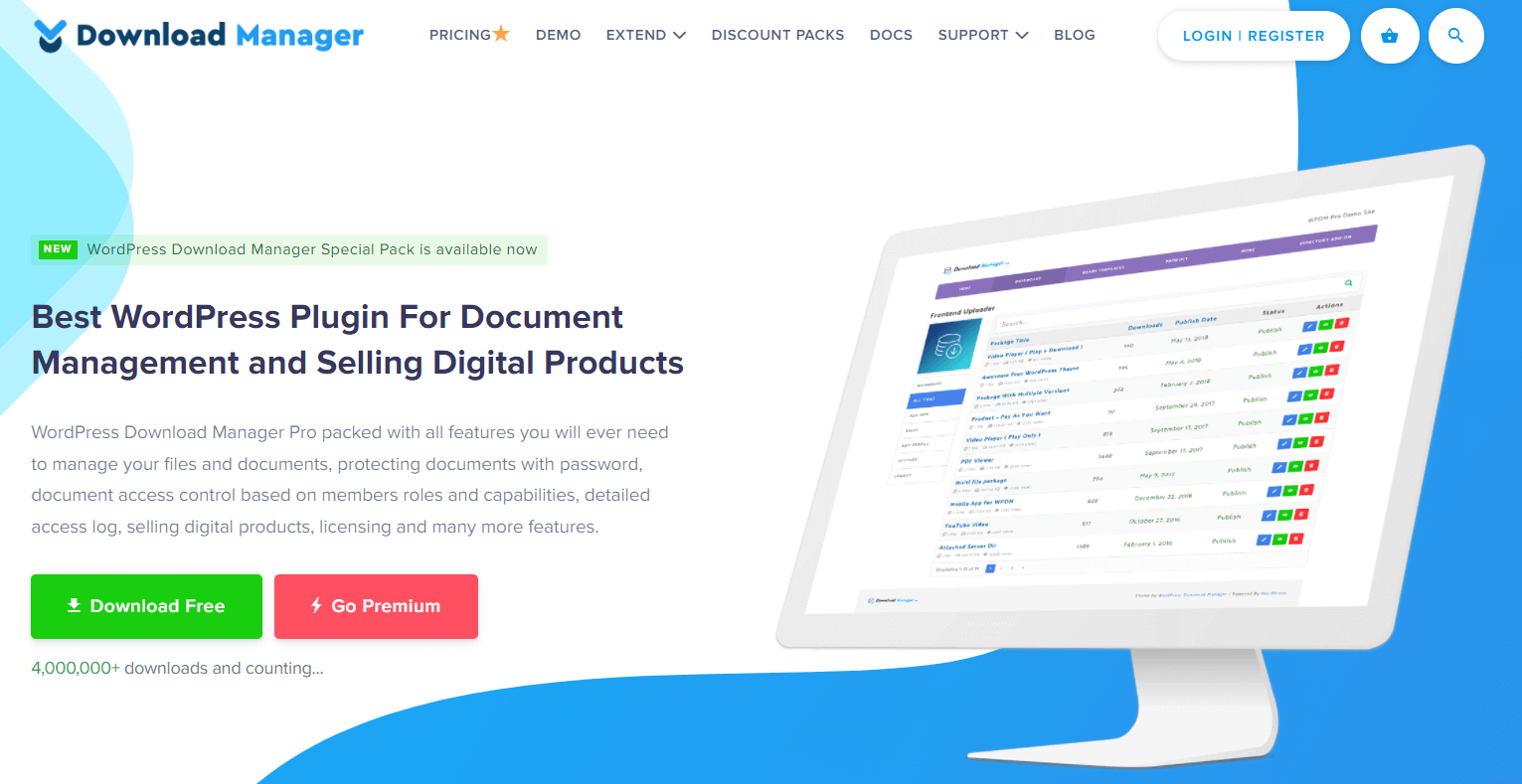 Download Manager is a file management plugin that allows you to manage the files on your website. You can control access to the files depending on the user roles and even set passwords to protect the files.
You can add a price tag to the files and convert the plugin to a complete digital download solution. Users can directly download the files or complete the checkout process to receive files on their email.
The plugin provides reCAPTCHA support for preventing files from spambots, and you can even block specific IP addresses. You can check the pro version for features like licensing, price variations depending on the user roles, and detailed access logs.
Features:
Drag and drop interface
Password control features
Support majority of file formats
ReCaptcha and IP blocking settings.
Up to 15GB Google Drive storage space
Pricing:
The plugin is available in the free and paid version. If you want to track the downloads, you can try the Pro plugin starting at $59 for a single year.
What Is the Best Plugin for Digital Downloads?
All the plugins mentioned above are widely used digital download plugins. You'll need to choose the right plugin based on your requirements.
While there are many features available in the paid plugins, we recommend starting with Easy Digital Downloads. The plugin is quite popular in the WordPress community and is used by many WordPress product companies. You can read our full Easy Digital Downloads review if you'd like to learn more.
We hope this article helped you find the best digital download plugin for your eCommerce website. After installing the plugin, we recommend going through the eCommerce optimization guide that will help you increase product sales.
If you liked this article, consider subscribing to our YouTube Channel for WordPress video tutorials. You can also find us on Twitter and Facebook.