Do you want to find the best lightbox plugin for your WordPress site?
Lightbox adds a modern touch to your site as it lets you fade out the background and draw attention to what you want the visitor to see. You can use lightbox for displaying videos, signups, discounts and sale alerts, and contact forms.
In this article, we've compared some of the best WordPress lightbox plugins so you can choose the right one for your site.
What is a Lightbox?
A lightbox is an overlay window that appears on your site while the rest of the page is usually darkened. The main use of a lightbox is to draw focus to the window which usually plays a video, or displays a form or image.
You can use the lightbox effect anywhere on your site and it can appear in the center, as a banner, or as slide-in at the side of the page.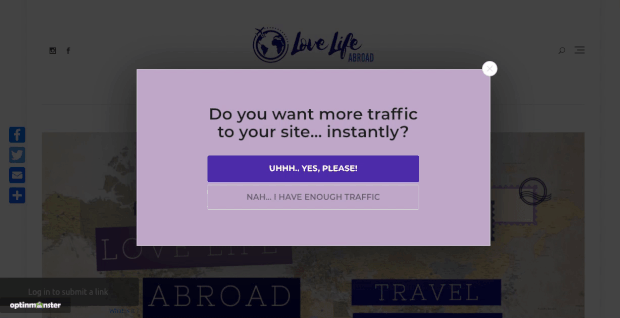 It's a great tool to grow your leads and increase conversions by getting people to sign up for newsletters and informing them about sales and promotions.
It can also be used for videos and images so that the user can focus on them without any distractions. And in more recent times, you'll also see lightbox popups being used to inform visitors about their cookie policy as well.
Now that you know what lightbox is and what it can be used for, you can easily add it to your site by using a plugin.
Let's take a look at the best lightbox plugins on the market that let you add this cool effect to your site in different ways.
Best WordPress Lightbox Plugins
We checked out lightbox options on the market and here are some of the best lightbox plugins that are great for WordPress.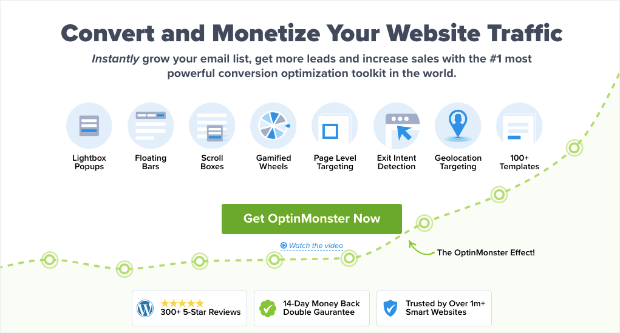 OptinMonster is the most powerful lead generation tool on the market that you can use to increase subscribers, leads, and sales. It lets you create beautiful lightbox popups for just about anything.
You can create lightboxes to display signup prompts, contact forms, videos, images, and other messages.
Plus, it has 100+ readymade templates that you can use to create well-designed responsive lightboxes so you don't have to start from scratch.
Highlights
Beginner-friendly and user-friendly drag and drop builder to create visually stunning lightboxes in under 5 minutes.
Test and adjust the design of your lightbox in real-time with a visual builder.
Advanced lightbox options like popups, gamified wheels, scroll boxes, banners, and floating bars.
Grow your subscribers list with 'yes/no' optin popups.
Reduce bounce rates and cart abandonment with Exit-Intent® Technology that detects when users are leaving your site and triggers a popup.
Gives you complete control over when and where the lightbox is displayed with InactivitySensor™, scroll trigger, and timed display options.
Find what works best for your campaigns using A/B testing and data analytics.
Optimize your results with targeted campaigns for specific users and locations.
Lock on-demand content and give subscribers an irresistible incentive to sign up.
Cost
Plans start at $9 a month (billed annually).
Create a Lightbox Popup Now!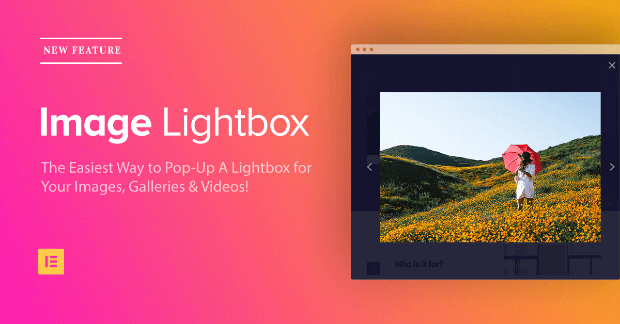 Elementor is a page builder that comes with an in-built lightbox feature that makes it easy to convert images, videos, and galleries into lightbox popups. So if you're using Elementor on your site, this feature is really handy.
There's no set up required. You can simply enable the feature for images as you build your page or post. However, if you're using any other page builder, you'll need to use a separate plugin to get the lightbox effect.
Highlights
Mobile responsive lightbox that works on any device
No set up required
Supports image, slider, gallery, and video
Gives you control over the lightbox background
Cost
There's a free version. Premium plans start at $49 per year.
Envira Gallery is the best drag and drop photo gallery plugin that lets you create beautiful lightbox galleries.
It's easy to use and comes with powerful features like social media integration, deeplinking, and eCommerce support.
It has a number of gallery templates and layouts as well to set up your gallery in a few clicks. That said, the free version is very limited. You'll need to pay to get enough features to build an attractive gallery.
Highlights
Share and sell photos easily with watermarking, image proofing and social media and WooCommerce integration.
Works with Gutenberg blocks
Beautiful responsive templates
Supports supersized images, password protection, image and tags
Plenty of video tutorials and documentation to learn from
Import photos from NextGEN, Dropbox, and .zip files
Cost
Free version with very limited features. The pro version costs $39.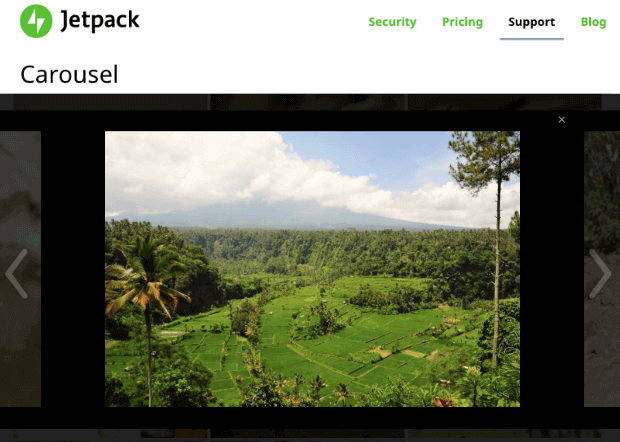 Carousel by Jetpack is a feature of the JetPack plugin that lets you add a lightbox to images and galleries to create a fullscreen visual experience.
It has 6 gallery templates to choose from so that it looks good on your website. Plus, it's simple to set up and comes with customization options but it limits you to a black or white background.
Highlights
Easy to use and can be enabled from JetPack's settings
Preview and adjust the gallery as you build it
Add comments and image metadata
Different types of galleries to choose from
Cost
Carousel is a part of JetPack's suite that starts at $7 per month.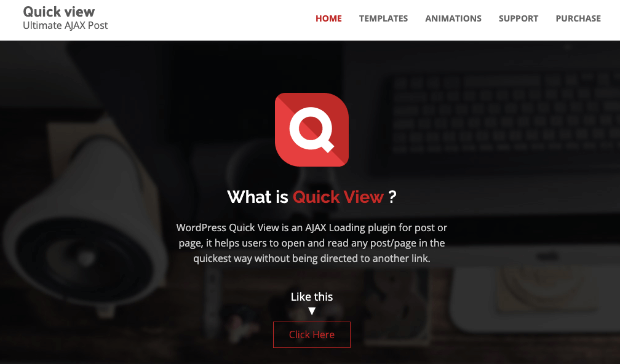 Quick View lets users open up WordPress pages and posts in lightbox style giving them the option to read the posts without being redirected to a new page.
This is a great feature to add to your blog post. It has the potential to improve user experience as it lets users browse through your content faster.
Highlights
Comes with 11 templates and 7 animation effects
Live demo and online documentation to help you
Responsive popups that work on any device
Good support team that responds within 24 hours
Options to close the lightbox on background click or escape key
Easy to add a 'back to top' button
Cost
It costs $15.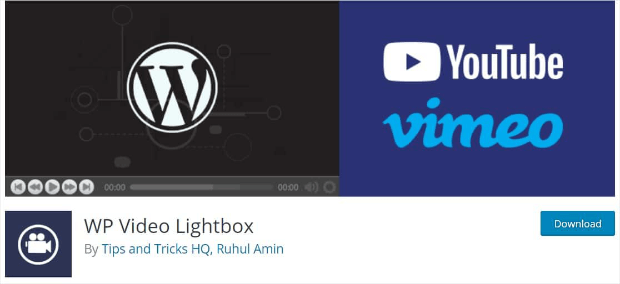 WP Video Lightbox can be used to display images and videos in a lightbox overlay. It lets you customize the lightbox to match your website but it uses an embed method which makes it slightly technical to use.
On the plus side, it lets you easily load YouTube videos, fetch thumbnails, and disable suggested videos. You can also set it to autoplay videos in a lightbox.
Highlights
Load Flash, TouTube and Vimeo videos
Very easy to install
Gives you more control over the opacity of the lightbox and animation speed
Uses shortcodes and HTML to embed the lightbox
Cost
Free.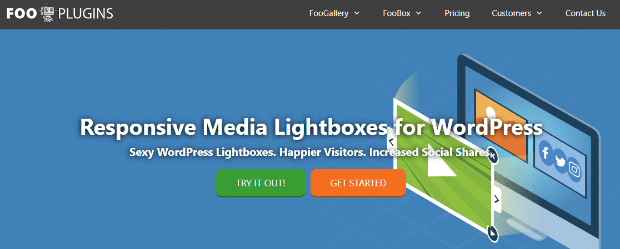 Foobox is a responsive WordPress lightbox plugin that lets you add a lightbox effect to images, videos, and HTML. It comes with an in-built social sharing feature for visitors to easily share your lightbox content.
The plugin's ratings aren't the best but they have a super-responsive support team.
Highlights
No setup or configuration required
Add videos from popular hosting sites like YouTube and Vimeo
Built-in slideshow for galleries
Fomoto integration that lets you sell digital images on your site
WooCommerce integration to display lightbox images for products
Cost
It has a free version. The pro plan starts at $29 per year.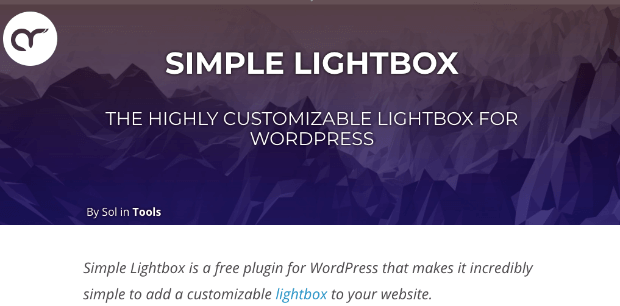 Simple Lightbox, as the name suggests, is a very simple tool to create lightboxes in WordPress. It lets you display images and slideshows with customized lightbox animations.
It's popular for being a free plugin that's so easy to use, however, while setting up the plugin, you may need to check a few technicalities in your WordPress theme to ensure the plugin will work.
Highlights
Reponsive lightboxes that are mobile friendly
Customization options to match theme and branding
No coding knowledge needed
Lots of add ons available
Cost
Free.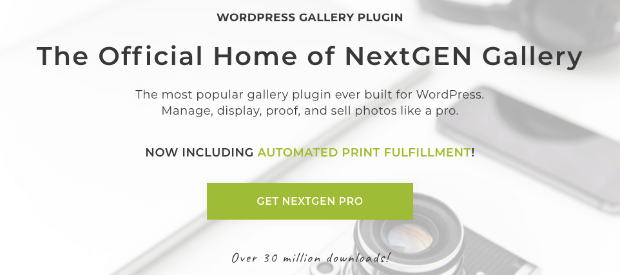 NextGEN Gallery is another popular gallery plugin that allows you to display images in a full-scale lightbox when opened.
This plugin is great for photographers and anyone who wants to showcase their work in stunning views. It's loaded with features but its price is on the higher side.
Highlights
Highly customizable lightboxes for images and galleries
Add social share and comment options
Turn your gallery into a lightbox slideshow
Create your own auto-play and slideshow speed settings
Cost
Starts at $79.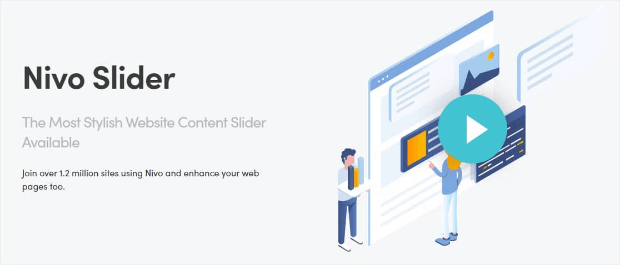 Nivo Slider is another great plugin that lets you turn your website content, blog posts, and galleries into sliders. You can then enable the lightbox slideshow effect on any slider you've created.
Nivo Slider used to have a pro version which is now retired. The free version is great too, but if you need help with the plugin, you'll have to rely on the WordPress support forum.
Highlights
Easy to use with no setup required
Works with all themes
Automatically crops images to make images look great on all devices
Ready-made themes available
Cost
Free.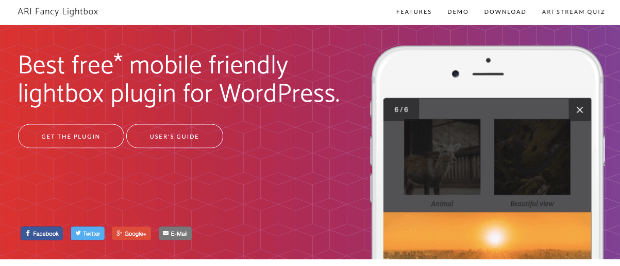 ARI Fancy Lightbox plugin is popular for its social share and viral features. It supports all types of content and media so you can add the lightbox effect to just about anything on your site.
Keep in mind when you buy this plugin, you'll get support for 6 months after which you'll need to renew it to receive future support.
Highlights
Easy to use without any coding knowledge needed
Attaches lightbox to any media item
Supports images, videos, webpages, inline content, GoogleMaps, and webpages
Compatible with YouTube, Vimeo, and DailyMotion
Mobile-friendly and responsive
Cost
It costs $12.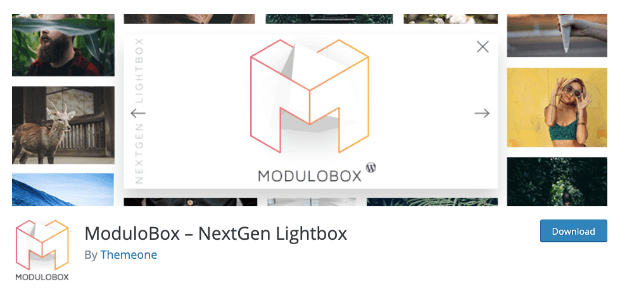 ModuloBox is an incredible lightbox plugin to display slideshows in a popup.
It offers advanced features and supports WooCommerce galleries. And it comes with multi-touch gestures which means you can swipe, drag, and pinch content on your smartphone.
It's a highly-rated premium plugin but there's no demo to try it out first.
Highlights
Compatible with images, videos, and HTML content
Finetune with extended features and settings
Keeps users engaged with infinite scrolling
Social share options to grow your following
Switch between slideshow and fullscreen mode
Cost
It costs $20.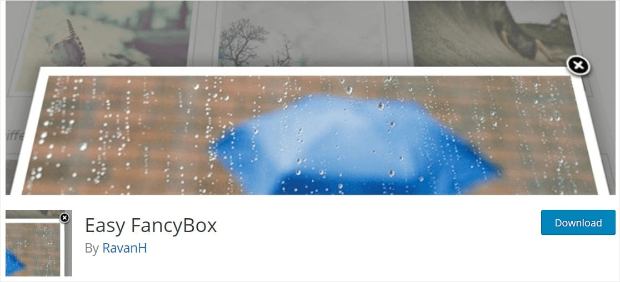 Easy FancyBox is a flexible solution to add lightbox popups to your site. It works with any media link and you can manage the lightbox options from your WordPress dashboard settings.
Easy FancyBox has a free version that lets you create and style a lightbox but if you want more advanced features, you'll need the Pro version.
Highlights
Supports all common image formats, HTML, and PDF files
Compatible with YouTube, Dailymotion, and Vimeo
Works with external web pages
Add effects like fade or elastic spring
Tons of styling options for color, opacity, and border
Cost
There's a free version. Pro plans start at $19.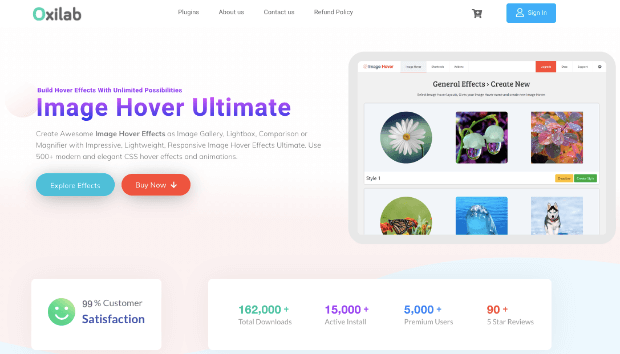 Image Hover Ultimate is another lightbox WordPress great plugin that adds hover effects and animations to your images. It comes with 500+ elegant effects like lightbox and magnifier that work with all modern page builders.
It's a lightweight plugin that can bring your images to life and make your site more attractive.
Highlights
Creates mobile responsive lightbox
Supports popular page builders like Divi, Elementor and WPBakery
Clone image settings to apply to other images
User friendly and developer friendly composer
Auto-resize and customization options for fonts
Cost
There is a free version but most features are in the pro version which starts at $13.99.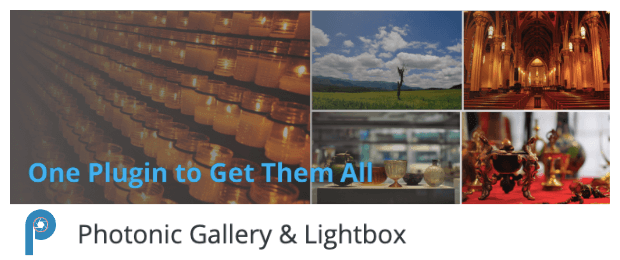 Photonic Gallery and Lightbox gives you the power to makes your WordPress site more interesting with different types of lightbox effects. By far, it has the most number of lightbox types that you can choose from.
The plugin works great with images and videos. Plus, it lets you showcase photos from popular sites like Flickr, Google Photos, Zenfolio, SmugMug, and Instagram.
Highlights
Supports shortcodes and Gutenberg blocks
Highest number of built-in lightbox scripts
Customize the look and feel of your lightbox
Set up password-protection and authentication
Cost
Free.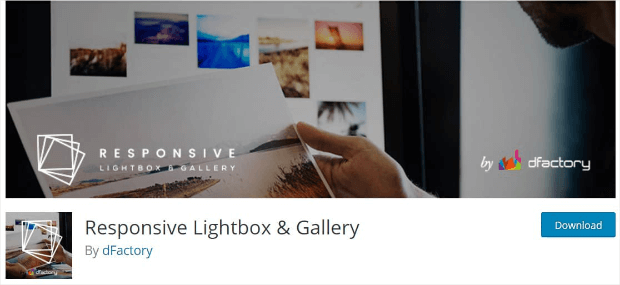 Responsive Lightbox and Gallery lets you create beautiful lightboxes that are responsive so your lightbox will look good on any device.
You can customize the lightbox to suit your website's theme and branding. Plus, you can trigger the lightbox on custom events and triggers.
Overall, this plugin has great reviews from its users but if you run into issues, it might take a while to get help from the support staff.
Highlights
Easy drag and drop builder
Lightweight and performs well making it SEO-friendly
Loaded with customization options to change style and format
Responsive so you don't have to redesign it for different devices
Cost
Free with paid extension options.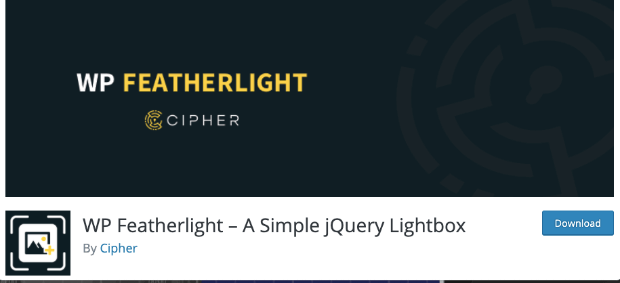 WP Featherlight is a great plugin to create a simple and minimalistic lightbox design.
A standout feature of this plugin is that it's lightweight so it doesn't affect your site's performance.
When installed, the plugin applies the lightbox effect to any standard image or gallery on your site.
This makes it a great option if you want every image to open in a lightbox. However, there's no option to choose specific images or galleries.
Highlights
Super simple set up
Applies lightbox effect across the site
Easy disable lightbox option
Responsive support to resolve issues
Cost
Free.
There you have it! That's our top 17 picks for the best WordPress lightbox plugins.
Create a Lightbox Popup Now!
To sum up, lightbox is a great way to add a professional look to your site and improve user experience.
When combined with lead generation forms, it can grow your subscriber list, increase engagement, and improve conversions.
If you'd like to know more about growing your business, check out our list of the Best Lead Generation Tools and Best WordPress Plugins for your site.
If you want to get started right away, get OptinMonster to grow your leads now!