Chances are you've heard a lot about your personal credit score. Did you know that businesses also have credit scores to monitor?
The best way to do this is by using a small business credit monitoring service!
This article talks about small business credit monitoring services and why you need one. We also go into a few of our favorites and factors to consider when choosing the right service for you.
What's a Small Business Credit Score?
Small business credit scores are like personal credit scores for businesses. They help people decide whether to give money to a company.
Just as personal credit scores have a "big three" when it comes to credit reporting agencies (TransUnion, Equifax, and Experian, all of which inform FICO), business credit scores have a "big three." These are Dun & Bradstreet (D&B), Equifax, and Experian. To get a full idea of your business credit score, you should monitor all three.
Other business credit score services exist, but they're used far less often. If you're considering getting a loan, talk to your lender about what they use before applying.
A few differences between personal and business credit scores are:
| | | |
| --- | --- | --- |
| | Business Credit Score | Personal Credit Score |
| Score Range | Usually 0-100 | 350-850 |
| Typical "Good" Score | 75+ | 670+ |
| Factors | Credit age, payment history, debt and reasons for debt, company size and age, industry risk | Credit age, payment history, debt, credit mix, recent credit score pulls |
| Who Can Check | Public information | Only users with permission |
| Identifier | Employer Identification Number (EIN) | Social Security number (SSN) |
| Common Credit Reporting Companies | D&B, Equifax, Experian | FICO, informed by Equifax, Experian, TransUnion |
Note: This information applies to US-based businesses working within the States. Business credit score needs and availability may vary by country. One resource for companies that need to monitor international partners is Experian's International Business Reports and Resources. Be sure to research your business' credit monitoring needs if you go global.
All small business credit monitoring companies' reports look different. However, here is an example from Equifax to give you an idea of what to expect: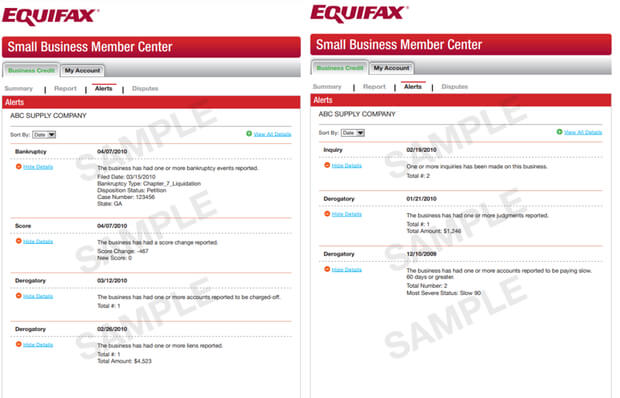 Do I Need Small Business Credit Monitoring?
A small business credit monitoring service lets you know when your business credit report changes.
You need a small business credit monitoring service to watch your score and stop problems. If you don't use a business credit monitoring service, you won't receive alerts when things go sideways.
The best credit monitoring services for small businesses alert you to many issues. But, almost all can stop two major problems:
1. Incorrect Small Business Credit Score Information
Credit agencies use information from third parties to create your business credit score. This information may be outdated or wrong. Small business credit monitoring services can help you fix hiccups like these.
2. Small Business Fraud and Identity Theft
The news reports on hackers stealing people's identities or using their money. But did you know companies can also face fraud and business identity theft?
After another company's emails were hacked, Syed Balkhi, OptinMonster's co-founder, lost nearly $1.4 million. It took weeks and the help of the Department of Homeland Security to fix the issue.
He says, "most people aren't this lucky," as he got most of his money back. Ensuring you and any companies you work with have good, secure credit can help keep you safe.
Small business credit monitoring services look for fraud and help fix the problem. Many services offer this as part of their packages, but some have fraud protection as an add-on.
Top 7 Small Business Credit Monitoring Services
There are dozens of small business credit monitoring services. These 7 are our favorites because of their customer reviews, cost, customer service, or a combination of those. They're in no particular order.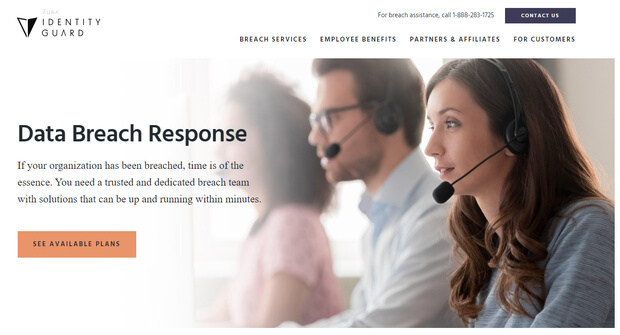 Identity Guard offers individual and business identity theft protection. They offer two business credit monitoring services:
Breach Response Value: $1 million in identity theft insurance, breach alerts, dark web monitoring, and more; $36 per code per year
Breach Response Total: Same as above, plus monitoring of bank accounts and major business credit bureaus; $120 per code per year
Identity Guard's employee benefits program makes them stand out. They partnered with Aura to provide identity theft protection to employees. This partnership could be valuable, as worker identity theft can cost companies up to approximately $1.6 million.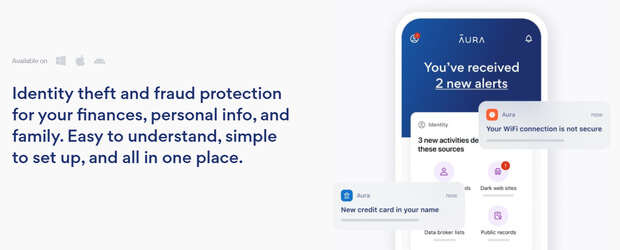 Speaking of Aura, in addition to their business partnership program, the company offers individual and family fraud and identity theft protection. If your employer can't provide identity theft protection as a benefit, it's worth looking into yourself.
With Aura, you can choose between three different plans:
Basic: Online account, personal information, SSN, and identity monitoring, $1 million insurance, lost wallet remediation, and device and network protection; $10 individual or $17 family per month, billed annually
Total: Basic plus financial fraud protection (including credit monitoring); $20 individual or $29 family per month, billed annually
Ultimate: Total plus home title, address, criminal, court, 401k, and investment monitoring, one annual credit report, and white-glove resolution; $30 individual or $39 family per month, billed annually
Approximately one-third of Americans have their identities stolen at some point, and it can take weeks, months, or years to resolve–if it ever resolves at all.

Nav offers personal and small business credit score monitoring with 24/7 alerts.
They watch the D&B PAYDEX, Intelliscore Plus from Experian, FICO® LiquidCredit® Small Business Scoring Service, and Equifax Delinquency Risk Score.
They can also help you figure out financing options you may qualify for.
In other words, they're very thorough.
You can get a free business credit report, but you need to pay if you want monitoring and not just a report.

Credit Suite takes small business credit monitoring a step further. Not only do they track your credit as other companies do, but they also support you and your business credit in other ways.
Do you need help establishing credit, finding money, or understanding finances? Credit Suite's program has all this and more.
Their core program runs $2,997 for a single payment or $597 per month over seven months.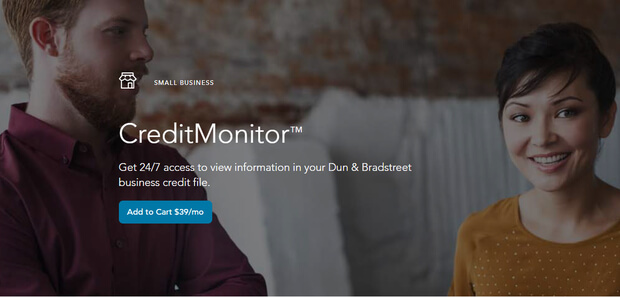 D&B's business credit monitoring service may be a wise choice, as this is one of the "big three" business credit score companies. It only monitors D&B scores.
You may select from three D&B business credit monitoring services:
Credit Signal ®: Four scores and ratings for two weeks; shows business credit inquiries and changes to scores and ratings; free
CreditSignal® Plus: Shows five scores and ratings as many times as you want; includes credit inquiries, changes, and events; $15/month
CreditMonitor™: Unlimited ratings and scores; has the above plus dark web monitoring and industry comparisons; $39/month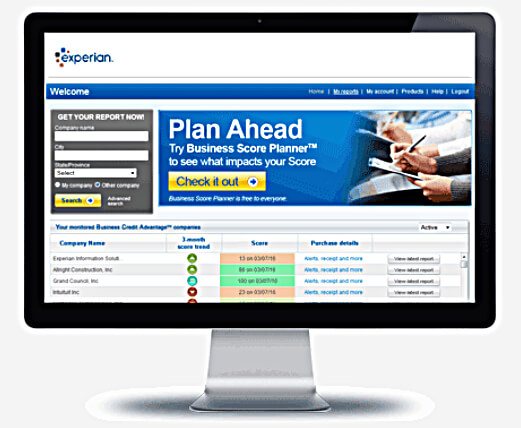 Experian is another "big three" small business credit reporting group. Like D&B, it only tracks its own credit scores.
You can choose from four options:
CreditScore Report: A basic summary, score, and risk rating; charges per report
ProfilePlus Report: Detailed credit report and history; charges per report
Valuation Report: Determines your business value and performance indicators; charges per report
Business Credit Advantage: All the above plus lets you dispute issues; has an annual fee
You may choose to run a report on other businesses as an add-on.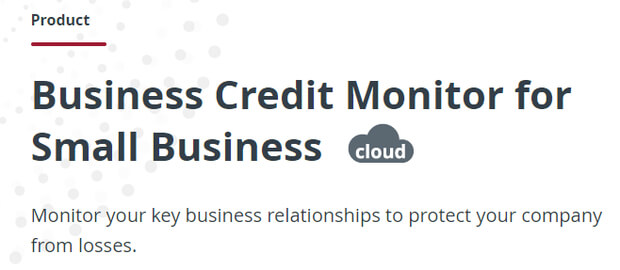 Equifax Business Credit Monitor for Small Business tracks customers', partners', and vendors' Equifax scores. This is the last of the "big three" companies.
By "customers," we mean other businesses you work with. You would use this to make sure this customer is a safe bet for your company. For example, you could see if they have a solid history of paying their debts before working with them, or watch out for red flags as your partnership continues.
This service provides detailed messages about credit activity and as many credit reports as you want.
You could also add bankruptcy, derogatory marks (e.g., late payments), new inquiry, and Equifax score drop alerts.
Which Business Credit Monitoring Service Is Best for My Small Company?
There isn't a single best small business credit monitoring service for every company. But, you can ask yourself some questions while deciding:
Why do I want to watch my small business credit?
How many bureaus do I want to watch?
Do I need perks beyond monitoring, like online workshops?
How much can I afford to spend?
Small Business Credit Monitoring FAQs
How do I check my small business credit score?
You can buy reports from Experian, D&B, and Equifax if you don't use small business credit monitoring.
Why is my small business credit score important?
An excellent small business credit score can help you get business loans, credit cards, and other funding. A poor or nonexistent credit score may mean using your personal money on your business.
Why should I use small business credit monitoring?
Monitoring your small business credit score lets you know what potential lenders see. It also lets you handle problems as they arise rather than trying to do damage control.
Small Business Credit Monitoring: A Must-Have
You need the best small business credit monitoring service to stay safe.
Knowing about fraud immediately is essential. But, things aren't always so dramatic. A mistake on a small business credit score report can also cause headaches.
Above, we suggested six of the best small business credit monitoring services. However, it's important to research options to see what fits your company's needs.
If you're visiting our site, you probably want to learn how to improve your business. That's what OptinMonster is all about–we want to help you convert your site's visitors into customers! Stay awhile, explore our site, and see how we can help you achieve your goals.