OptinMonster 5.0 has a true Drag-and-Drop Builder to make it super simple to create beautiful campaigns for your website without the need of a web developer.
In this overview, we'll cover each of the major tabs, the important sub-menus, and everything you'll need to get started.
FYI:
For pre-existing customers of OptinMonster, you will also benefit from checking out our
"What's changed?"
question in the
FAQ
.
---
Design Tab
OptinMonster's Design Area has been created with ease-of-use and customization in mind. The Design area has true Drag and Drop functionality as well as a live preview.
Under the Design tab then, you will notice the screen is separated into 2 major sections: Live preview and your selections of views on the right, and your view-related menu and settings on the left.
Live Preview (center and right side of the Builder)
Menu and Settings (left side of the Builder)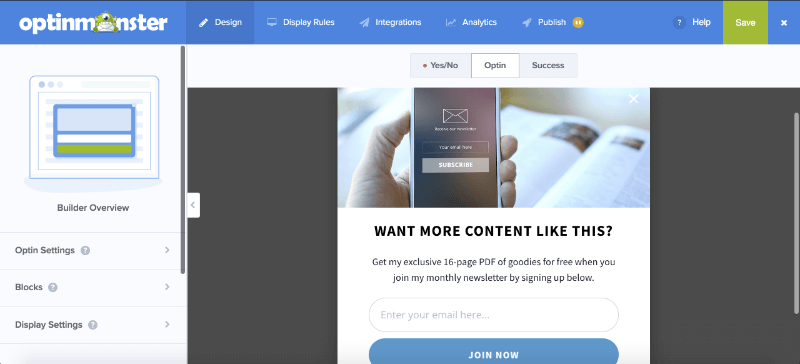 Live Preview
In the Live Preview Area, you can point-and-click any area you've added blocks (more on that below) so that you can edit the wording (aka: "copy") of your campaigns. This can mean changing an image, a tagline, the placeholder value for the fields, and more. When you click on the block, the menu on the left will update so that you can make your changes.
Views
In the Live Preview area, you will notice three options about the preview. These are the three views that you can edit and customize.
The 3 Views and their Descriptions are:
Yes/No – The Yes/No view is also commonly called a 2-Step Campaign. These can be used to show a Yes Button, which when clicked shows a Optin Form (i.e.: the "Optin View" below) or it could have another functionality like redirecting a user to another page. Learn more about Yes/No campaigns here.
Optin – The Optin view is normally used to show your optin form, collecting at least an Email Address. This view can also be used with Custom HTML integration instead where you can include specialized forms or other content.
Success – This view can be shown after someone successfully signs up on your Optin Form when connected via OptinMonster's Native Integrations.
Looking for Success Scripts?
They moved. Check out some of the updates in our
FAQ Section
.
Types of Settings
On the left hand side of the page, you will find 3 options in the top menu
View Settings – From here you can customize:  (1) "Yes/No", Optin, or Success main settings, (2) Close Button on that selected view, and (3) have access to Custom CSS (this is the same container in every view).
Blocks – shows the layout and design elements for that view. Within this menu, you can add additional Columns or Elements. You can add multiple Columns containers to essentially create "Rows". Additionally you have Elements such as: Optin Fields, Video Element, Text, Buttons, and more!
Display Settings – this menu is the same on any view and allows you to edit the campaign's title, set cookie length (days), access to the Custom CSS window, and more!
With OptinMonster's new blocks, you can easily add a variety of elements from Video to Countdown Timers straight in your campaign.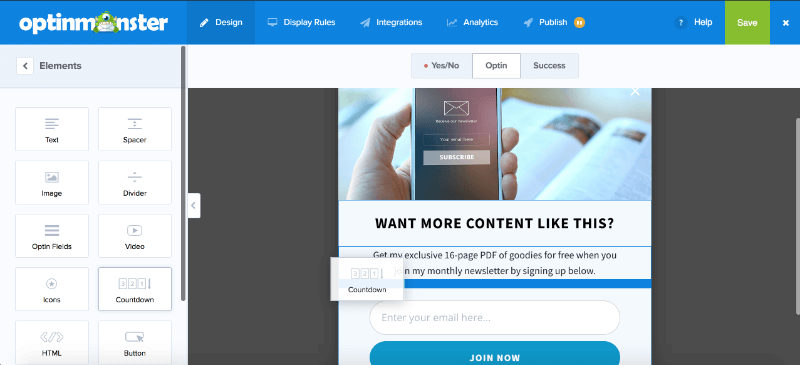 ---
Display Rules Tab
A Campaign has "Rulesets" and "Rules". Additionally, a single Ruleset can receive both "AND" rules and "OR" rules.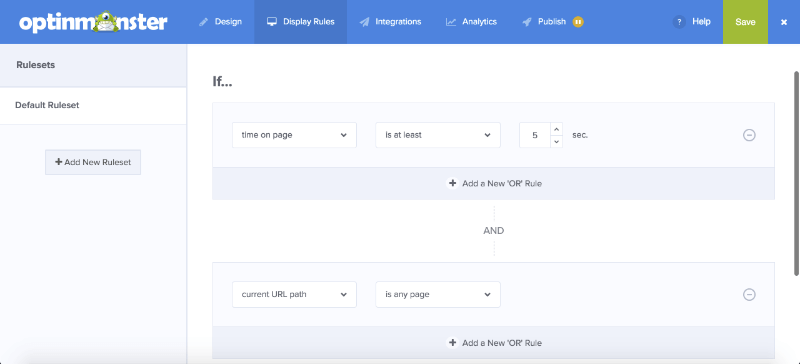 Under the Display Rules Tab, there are two main sections:
Rulesets
These are a collection of "AND / OR" Rules that must pass for a campaign to show. You can create multiple Rulesets or have just one. Whenever the rules within a single Ruleset pass (are valid / true), then the campaign will show.
Rules
Rules exist inside of a Ruleset. These are the conditions that must pass when one is on your website before a campaign can appear to a web visitor. This can be a time delay, exit-intent, the web visitor is on a specific page, or more!  The Rules here are described in full detail in our display rules guide.
---
Integrations Tab
OptinMonster offers two types of integrations, our Native Integrations and Custom HTML.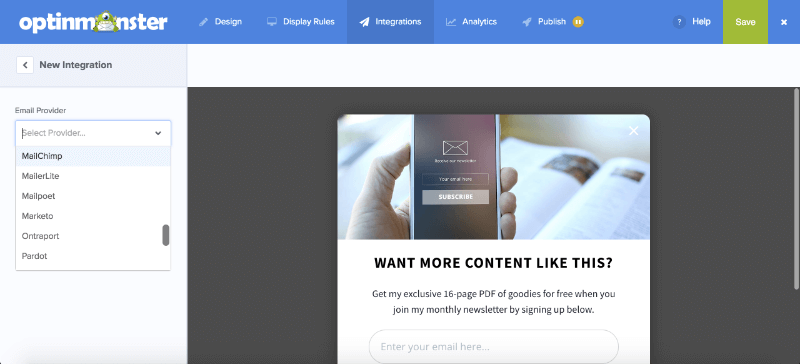 Native Integrations
Native integrations are the integrations where OptinMonster has used the APIs of specific Email Service Providers (ESPs) or Customer Relationship Management (CRM) systems to allow a more fluid, list-building experience.
Native integrations allow users to collect up to Name, Email, and Phone Number. Some integrations' APIs offer some additional lead options.
Custom HTML
Custom HTML is an option where the user can either create a form within their ESP or CRM, including extra fields, hidden fields, and other CSS or JavaScript, and they can paste that into our Custom HTML container. This will allow the user to have a highly customized field that fits all of their business requirements.
Additionally, Custom HTML can be utilized to show content other than a form, whether its a button, image, or something else.
---
Analytics Tab
OptinMonster is handled exclusively via Google Analytics. OptinMonster does not offer any in-house analytics.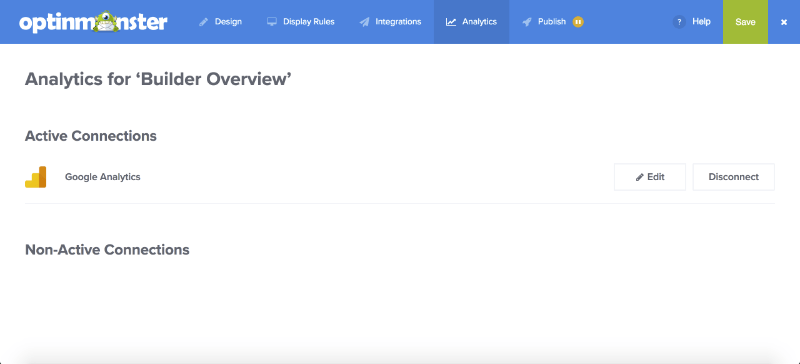 To track your campaign's success and for split-tests, you ned to have your analytics data be submitted to Google Analytics. This is also beneficial when you would like to see your conversions as part of a larger Google Analytics Goal Tracking.
---
Publish Tab
The Publish tab contains a lot of helpful information for getting your campaign live.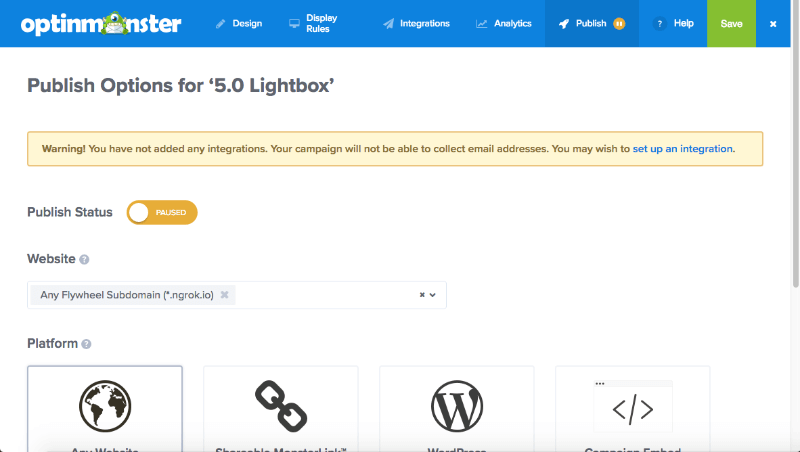 Status
Campaigns have two statuses, Paused or Live. Paused campaigns will not show anywhere. Live campaigns can show on websites if the embed code is present, and the Display Rules pass.
Website(s)
You will need at least one website in this field if you would like to use your campaign. However, you can add multiple websites where a campaign has permission to load.
It is common for developer / testing sites to be sub-domains of the main domain. Therefore, if you have a test site, you would want to have your test site and your live site both added for your campaign.
Platforms
Some platforms, such as WordPress or Shopify have customized solutions for adding the embed code to one's website. However, we have a general, account-wide embed code that you can use to permit your campaigns to show on your website(s).
Copiable Embed Code
Any copiable embed code will show in this area.
---
Help, Save, and Exit
There are 3 Buttons on the top right of the Builder Area.
Help – This button will show a popup listing common walkthrough guides for functionality in OptinMonster. Additionally, you can even click to submit a support ticket.
Save – As the name implies, this button must be pressed to ensure any modifications are saved for future use.
Exit – This allows you to leave the builder. If you leave without saving, no changes made previously will be applied.
---
Frequently Asked Questions
Q: What's changed between the latest version and the previous version of the Builder?
You will find a list changes below:
Before: you had to create a specific rule.
Now: While you can still have just a specific rule, you can also use MonsterLinks without a special rule if you're using the campaign for things like Exit-Intent, etc. You need only to add the trigger on your page.
Display Rules – And / Or Conditions
Before: OR Conditions could only occur by creating a different ruleset
Now: Both AND and OR Conditions can be within a ruleset now, as well as creating different Rulesets
Popup Campaign Types (Desktop and Mobile)
Before: You had a Lightbox campaign type to only show for Desktop visitors and a Mobile campaign type to only show to Mobile visitors.
Now: The new Popup campaign type can now show to both desktop and mobile viewers alike, by default.
Before: a template that required Custom HTML, CSS, and JavaScript, and it was only available to Pro users or higher.
Now: an easy drag-and-drop campaign builder that is available for Plus users and higher.
Before: Success Actions and Success Scripts were tied to the Success View
Now: All buttons now have actions. Therefore, the "Success Action" would be tied to the Form's Button Action (or if "Yes/No" campaign, to those Yes Button's actions). Learn how to implement Success Actions in the 5.0 Builder here.