Are you looking to connect OptinMonster to a software with which we don't have a native integration? Our Zapier integration allows you to connect OptinMonster to Zapier's 500+ apps! Here we'll show you how to setup OptinMonster as a trigger in Zapier to start connecting.
NOTE:
 Please be aware that
Zapier
 has a free tier, but certain usage limits and integrations may require the paid version. They do provide a trial if you wish to try out their services to determine if they're a good fit for your needs.
---
Step 1 – Create a Zapier Trigger
Make A Zap
Once you've logged into your Zapier account, you'll want to create a new Zap to get started connecting Zapier to OptinMonster. Select the Make A Zap button at the top of your account.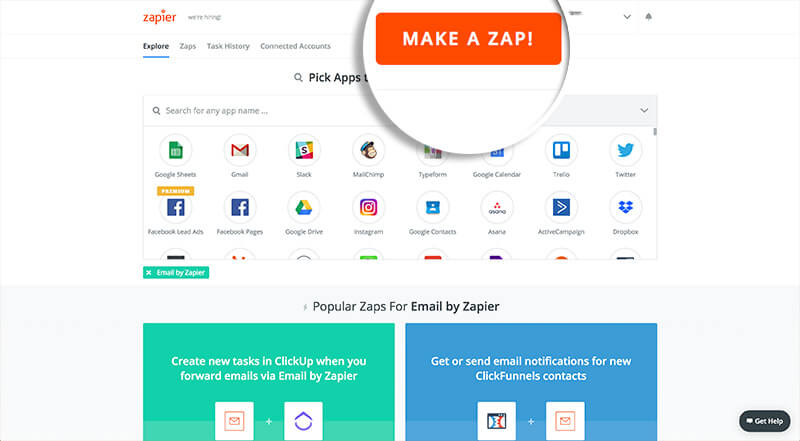 Create Webhook Trigger
Next, Zapier will ask you what type of Trigger you want to create. We'll be creating a Webhook Trigger, which we can connect directly to OptinMonster later.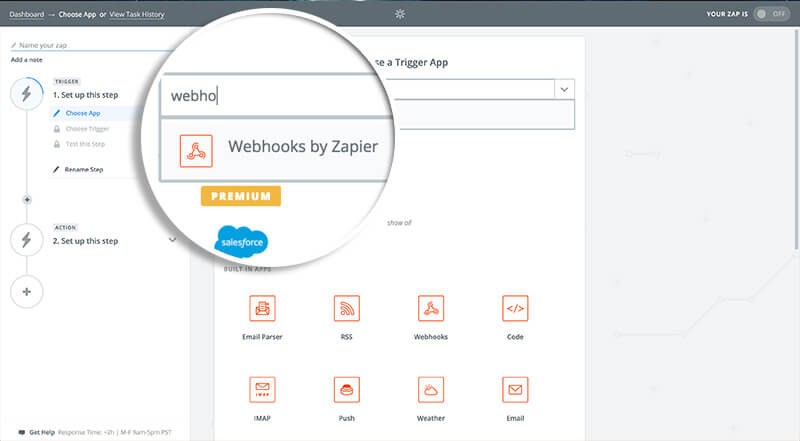 Configure Webhook Trigger
Zapier will then provide a few configuration options for your Webhook Trigger. The first is whether you want your Webhook to behave as a Retrieve Poll or Catch Hook. Choose Catch Hook.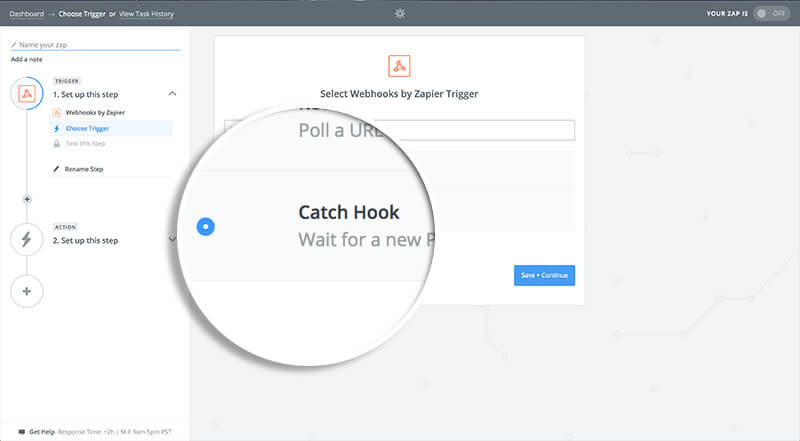 Then click Save + Continue:
Next, Zapier will provide you the option to Pick off a Child Key. This option is completely optional, and allows you to grab specific data passed by OptinMonster by it's child key.
Leaving this option empty will allow you to grab all the data that OptinMonster passes for each campaign submission. If you want to grab only specific data, see our Webhook documentation for more information about the available child keys.
In this setup we're going to leave this field empty and select the Continue button to proceed.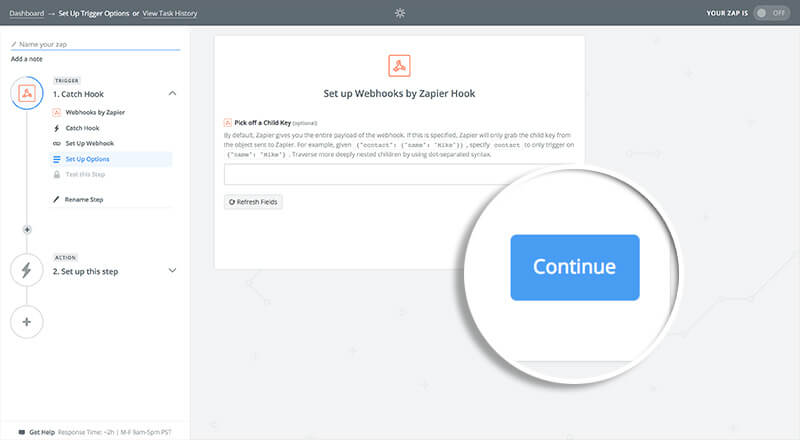 Webhook URL
Finally, Zapier will provide you with a Webhook URL. This will be used in the next steps to connect your Webhook to OptinMonster.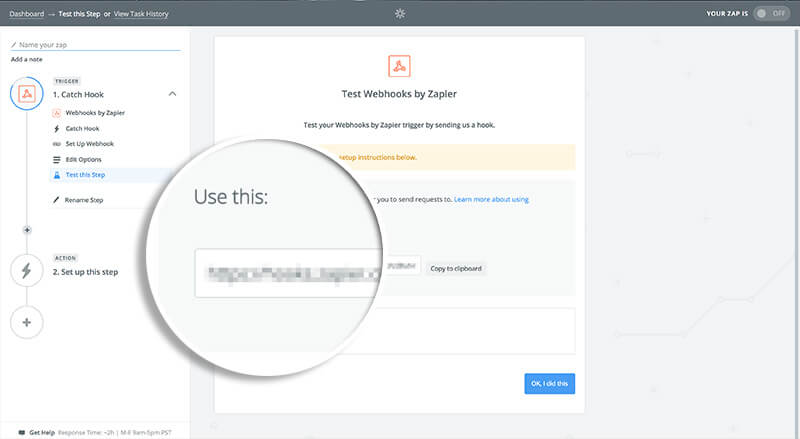 Step 2 – Connect Your Webhook to OptinMonster
It's now time to connect your new Zapier Webhook to OptinMonster.
Create a Campaign
Check out this document on creating your first campaign if you haven't created a campaign yet.
Choose Webhook Integration
If you're uncertain how to add your integration, you can follow our guide for connecting to Email Service Providers and CRMs.
Next, select Webhook from the Email Provider dropdown.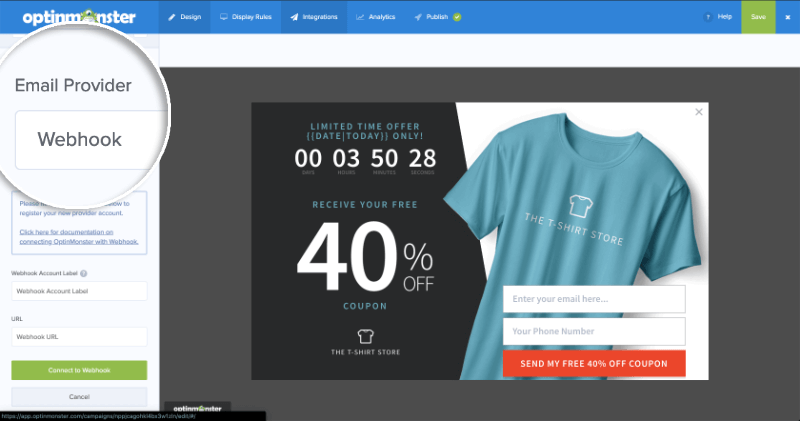 Enter the Webhook URL
Next, paste the Webhook URL provided by Zapier into the corresponding field. You also want to add a unique Account Label for easy identification!
IMPORTANT: The account label is for your internal use only, to easily identify specific integrations. You might find a naming convention like "Zapier Webhook to Gmail", replacing 'Gmail' with your Zap's Action App, useful.
Then select the Connect to Webhook button.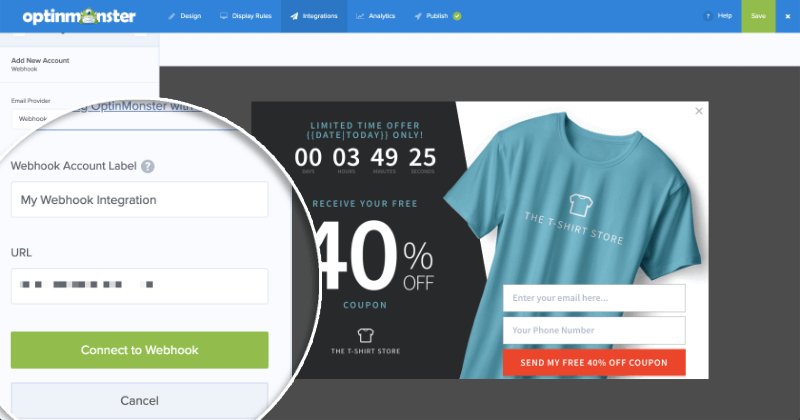 Once connected, you'll see the following message in the Integrations panel: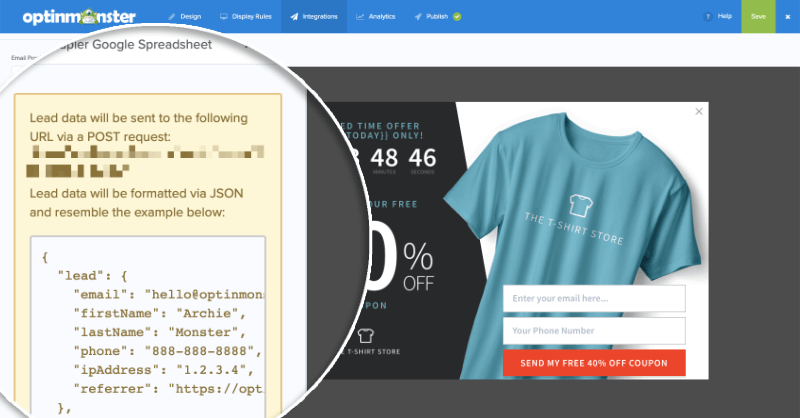 Test Webhook in Zapier
The final step is to test your Webhook in Zapier to ensure it's properly connected. Return to the Zap setup screen in your Zapier account and select the OK, I did this button to test.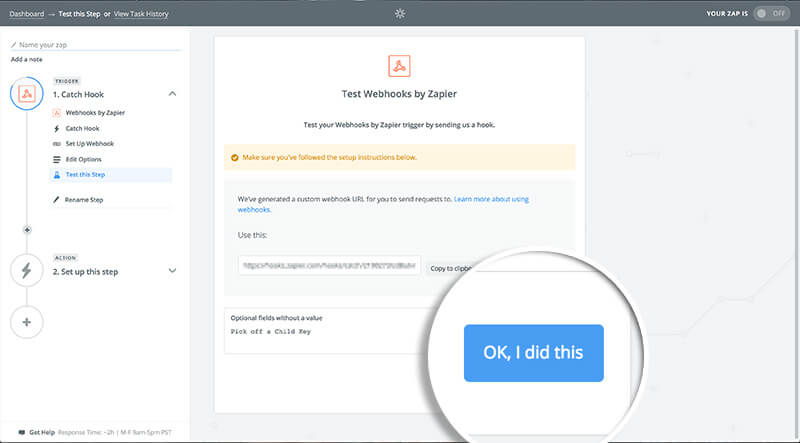 If successful you'll see a success message in Zapier: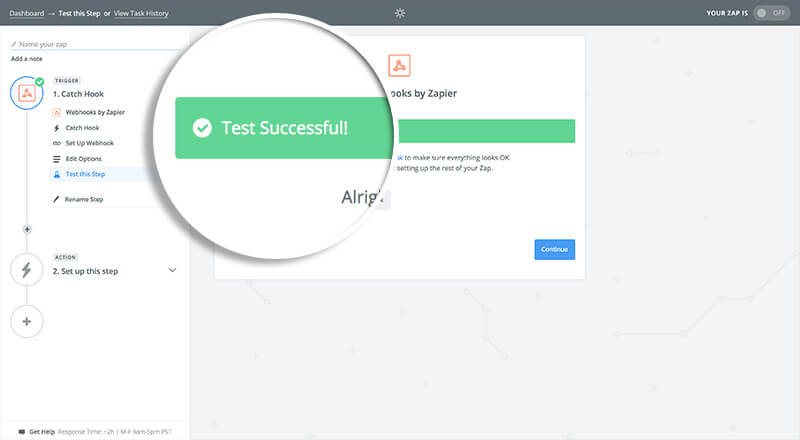 Step 3 – Configure Your Zapier Action
Now that you've successfully connected your Zapier Webhook to OptinMonster, you're ready to configure what Zapier should do with the data OptinMonster sends for each campaign submission.
Select the Continue button in the Zap setup screen to proceed.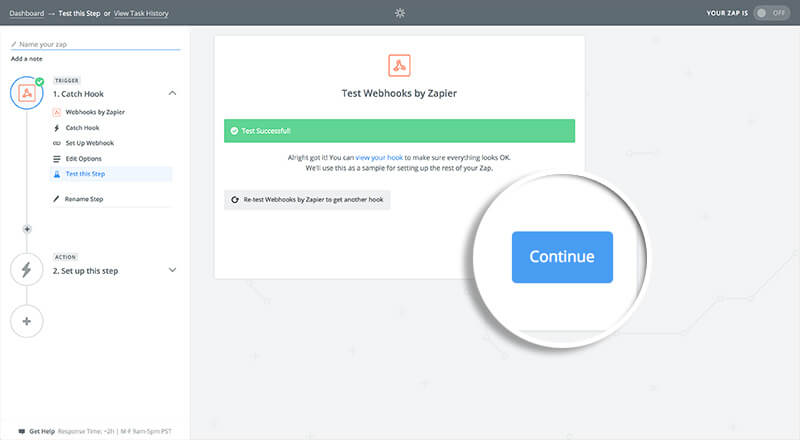 Zapier offers 500+ apps you can connect to. To get started connecting your Webhook Trigger with a specific Action App checkout Zapier's playbook for webhooks.
Looking for an action to get started? See our guide on how to add subscribers to a Google Spreadsheet with Zapier for a good way to keep a backup of your lead submissions.
---
FAQs
Q: Is there any limit to the number of Webhook integrations I can add to OptinMonster?
A: No, you can add an unlimited number of Webhook integrations to your OptinMonster account. You can also send data to multiple webhooks from the same campaign.
---
Q: Where can I learn more about the data passed by OptinMonster to Webhooks?
A: Check out our Webhook Integration Guide.