WordPress and eCommerce go together like avocado and toast.
WordPress' intuitive design and fully-customizable layout make it easy to create the perfect eCommerce shop in a matter of minutes, without any coding experience needed.
Plus, there's an ever-growing library of WordPress plugins that can help you do anything from boosting conversion rates to enhancing customer experience, and everything in between.
In other words, WordPress appeals to beginners building their first eCommerce store, as well as established veterans in the industry looking to optimize every element of their online storefront.
And while both types of professionals have very different needs and expectations, they both can maximize conversion rates and build comprehensive email lists with one of the top WordPress lead generation plugins that we're covering today.
If you're looking to grow your mailing list without trying to reinvent the wheel, this post is for you. Read on to see our favorite WordPress lead generation plugins and how they can be incorporated into your eCommerce site.
Top 5 WordPress Lead Generation Plugins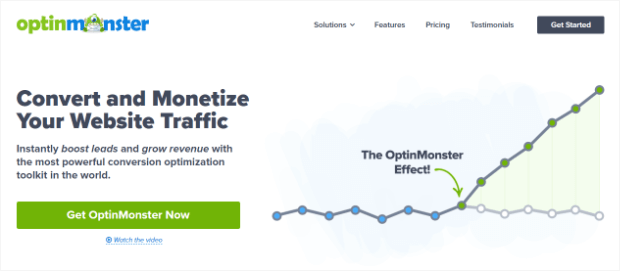 Are you looking for a way to create gorgeous, eye-catching optins that visitors actually want to engage with? If so, OptinMonster is the perfect tool for you.
But OptinMonster offers more than simple optin forms. Its state-of-the-art smart tools make it easy to track and predict visitor behavior, create retargeting campaigns, and engage with visitors that are likely to abandon their carts.
Its key features include:
Smart Abandonment Recovery: OptinMonster's Exit-Intent® technology can boost conversions as much as 4% by engaging visitors at the precise moment they plan to leave your website.
Page-Level Targeting: Want to create targeted email campaigns that appeal to specific segments of your visitors? Page-level targeting does just that by showing those visitors customized optins based on how they respond to your website.
A/B Testing: Tired of trying to guess which of your optins are working and which are driving away potential customers? OptinMonster's A/B testing allows you to make informed decisions about your lead generation efforts by testing the performance of two campaigns side by side.
Best of all, this WordPress lead magnet plugin is powerful, easy to use, and integrates with all the email marketing tools like Constant Contact, Mailchimp, Drip, and SendinBlue to name a few. This makes OptinMonster the ideal solution for growing email lists and turning visitors into loyal customers.
Plus, with OptinMonster you can store and export your leads right in your OptinMonster dashboard or email individual subscribers with Monster Leads.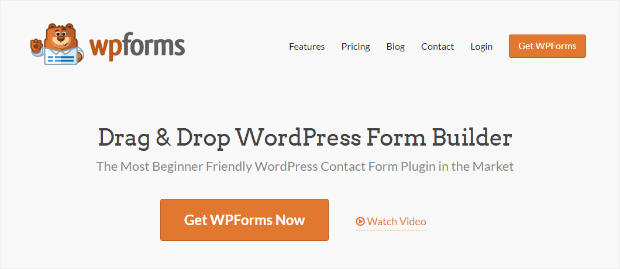 WPForms is a powerful tool that lets you optimize your lead capture page on WordPress sites. Perfect for the tech-savvy eCommerce professional and beginners working on their very first virtual storefront, WPForms allows users to choose from a number of beautiful pre-made contact forms, email subscription forms, payment gateways, and any other type of form you may need on your WordPress site.
Stand-out features of WPForms include:
Protection against spam: Powered by CAPTCHA and Honeypot methods, WPForms keeps your site protected against spammers and people trying to abuse your registration process.
Integration with email tools: WPForms can be used to create optin forms for Mailchimp and AWeber users, making it easier and more convenient for people using these platforms to build their email lists.
Smart Conditional Logic: Certain elements of your forms can be shown (or hidden) from visitors depending on how they interact with your website.
With WPForms, you can build a visually stunning, mobile-responsive WordPress form with a few clicks of a mouse, no coding necessary. Thanks to its extensive templates and drag and drop features, designing a contact or subscription form that meets the unique needs of your business has never been easier.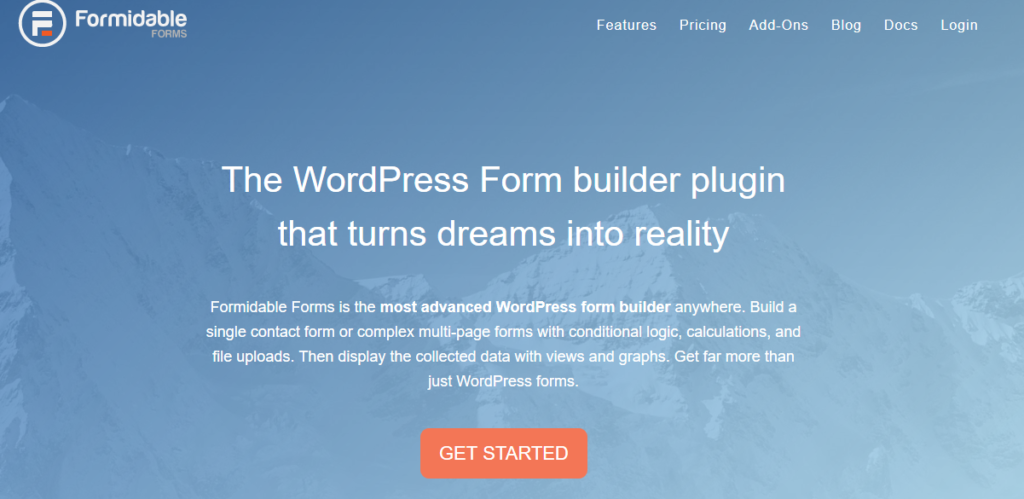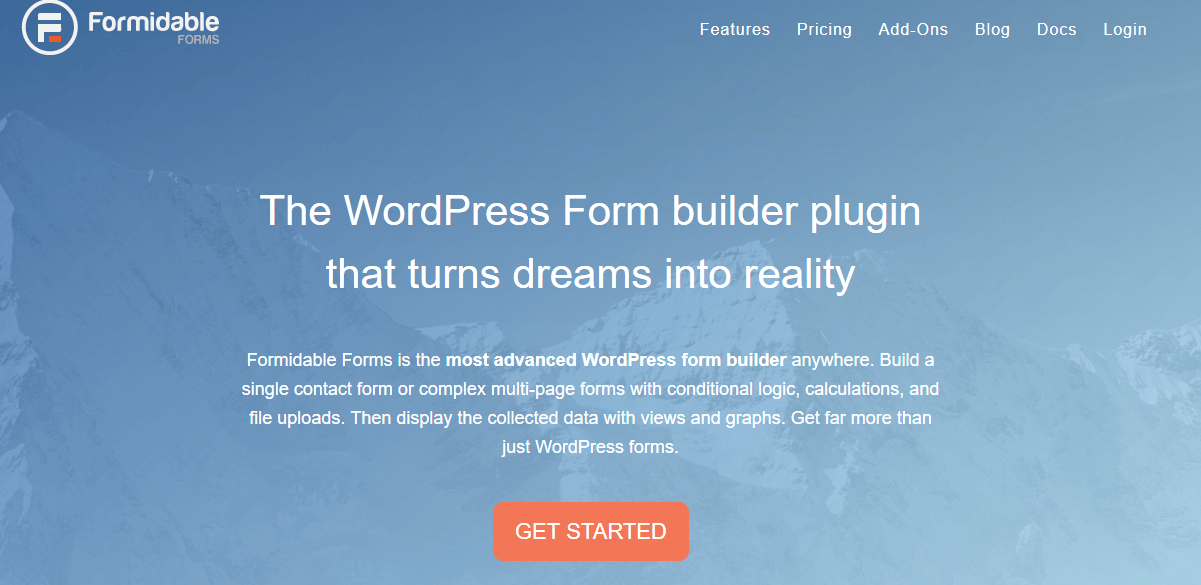 Formidable Forms may look like a contact form plugin on the surface, but it actually offers so much more than simple WordPress forms.
For example, Formidable Forms makes it easy to collect and analyze data, which can be viewed in the form of charts, tables, and graphs. As such, you can access the performance of your opt-in forms more easily, giving you the ability to adopt a data-driven approach towards mailing list optimization.
And, Formidable lets you build interactive forms able to calculate problems in real time. For example, if you're a health company, you can add a BMI calculator into your mailing opt-in form. This gets the visitor to actually engage with your form, increasing the likelihood that they'll join your mailing list.
But that's not all. Formidable Forms even integrates with the WordPress eCommerce plugin WooCommerce where it can be used to collect customer information, calculate prices based on add-ons and shipping options, and many other exciting features to drive sales and enhance the customer experience.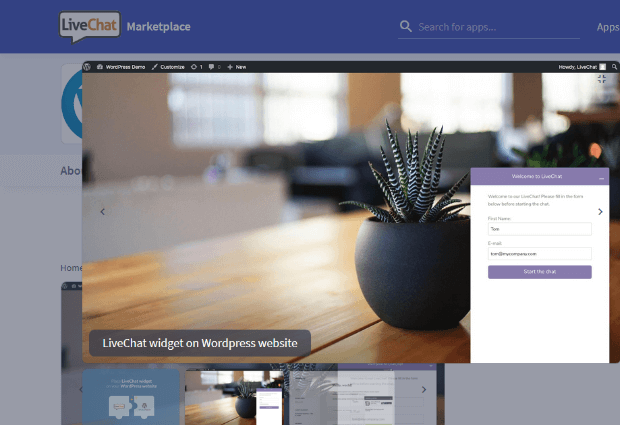 Customer experience is the new brand and what better way to give unparalleled customer experience than through live chat?
Research suggests that companies with response times shorter than five minutes are 10x more likely to make contact with leads than their slower-responding competitors. That's where LiveChat comes in.
LiveChat is a lead gen pro WordPress plugin that engages with visitors in real time as they browse your eCommerce site. Perfect for collecting customer data, LiveChat also seamlessly integrates with a number of popular email marketing tools, including Mailchimp, Constant Contact, and Campaign Monitor.
Growing your email list has never been easier. Simply use LiveChat to engage with prospective customers, share their contact details and customer information with your email marketing platform, and then add potential leads to any relevant mailing campaigns you're working on.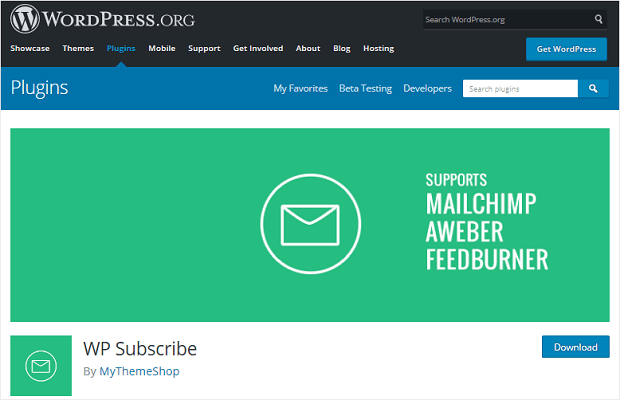 Arguably the best free email opt-in plugin for WordPress, WP Subscribe lets users embed a lightweight, easy-to-use opt-in form directly into their blog or eCommerce store.
While it's designed to be intuitive and simplistic, don't let WP Subscribe's minimalistic design fool you. The plugin might not be loaded with powerful marketing tools, but it gives you everything you need to grow your email lists. This makes it perfect for mom-and-pop eCommerce businesses looking to build email campaigns without spending a lot of money.
Plus, setup is quick and easy: install the plugin, activate it, and add its widget to your WordPress pages. Those three steps are all it takes to include a fully-responsive opt-in form on your website.
For only $27, you can buy the WP Subscribe pro and customize your opt-in widget so that it matches your WordPress lead generation theme.
We Aren't Done Yet!
Those are our top 5 WordPress lead generation plugins for hacking your email marketing skills and if you're trying to grow your email list, we recommend starting there.
But if you're looking for something a little different or want to sample a few more WordPress plugins so you're sure to choose the right one for you, we've got you covered. Here are 15 more tried-and-tested lead generation tools for your WordPress site.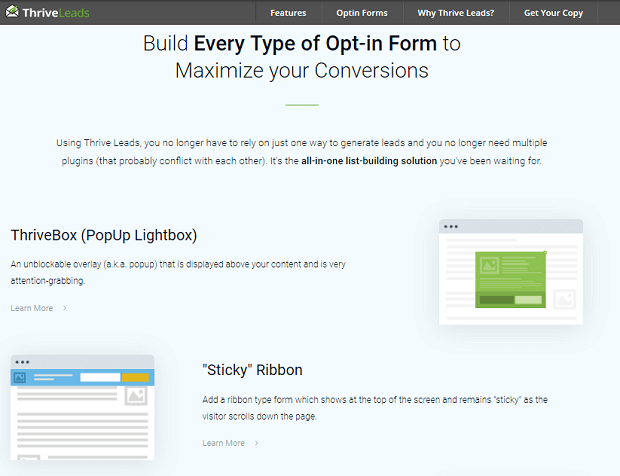 Thrive Leads is a lightweight WordPress plugin for creating email optins. It comes loaded with a number of cool features, including:
A/B testing
In-depth analytics
Drag and drop builder
What really makes Thrive Leads special is its low-cost pricing. It's one of the most affordable lead generating platforms around. A license starts at $67 for one site and goes all the way up to $147 for 15 sites.
This makes it a great option for budget professionals, or people exploring various lead management solutions.

OptimizePress is a WordPress plugin for creating conversion-optimized landing pages. Use it to build landing pages with 1 and 2-step optins, or hide away content with exclusive membership portals.
Even better, OptimizePress comes with:
A simple drag and drop editor
Over 30 customizable templates
40 page elements to choose from
OptimizePress makes tweaking your sales funnel pretty easy.

Want to create customized alerts and notifications for your eCommerce site? If you're running WordPress, you can with a few clicks of a button. All you need is the WP Notification Bar plugin.
Once you install the plugin, you can choose from 14 ready-made templates or create your own custom template. From there, it only takes a few seconds to add your personalized floating bar. There are a number of types of bars you can choose from, including:
Email optins
Countdown timer
Social media follows and more
You can also create an unlimited number of bars and it only costs $19 to add WP Notification Bar to your website.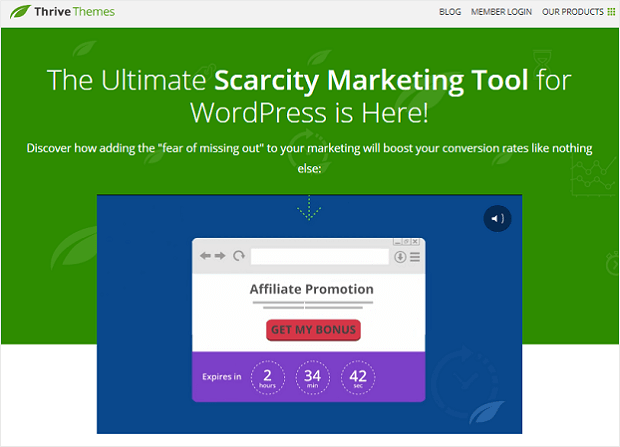 We're back with another plugin from Thrive. But this time, Thrive is going for a specific marketing tactic: scarcity.
Thrive Ultimatum lets you create countdown timers using a simple drag and drop builder. Moreover, it comes with various smart tools for configuring who sees your timers and when. You can use Ultimatum for capturing leads or making sales.
Regardless of how you use it, one thing's for certain: Your mailing list is going to grow.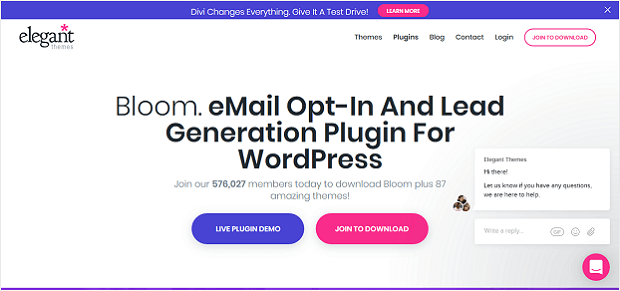 Bloom is a WordPress lead generation plugin created by Elegant Themes. Great for building stunning optins, Bloom offers more than 100 built-in templates for engaging visitors.
Use it to create beautiful, attention-grabbing optins that your visitors will love. But if you're looking for a broad range of smart tools, like OptinMonster's Exit-Intent®, you're not going to find them here. Still, Bloom's an effective lead generation plugin for businesses of all sizes. It's certainly capable of getting the job done.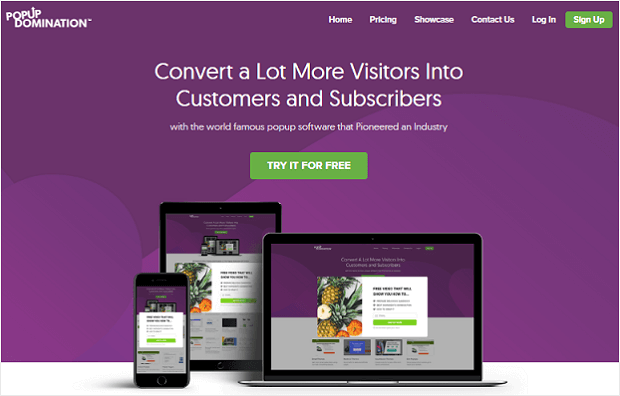 Looking for a simple, lightweight lead generation plugin? If so, check out Popup Domination.
Just like the name suggests, Popup Domination creates optin popups and that's about it. With that said, this plugin is perfect if popups are all you're looking for. It comes with a handful of marketing tools, like:
A/B testing
Page-specific popups
Geo-targeting
It also lets you make exit popups, so you can capture that lead before they bounce. Not bad for such a low-cost plugin starting at $54 a year.
However, there is one thing to keep in mind. Popup Domination's subscription tiers are based on popup views, not features. For $54, you get a monthly allowance of 10,000 views. And your price jumps significantly after that. The most expensive package costs $174 a year and gives you 100,000 monthly views.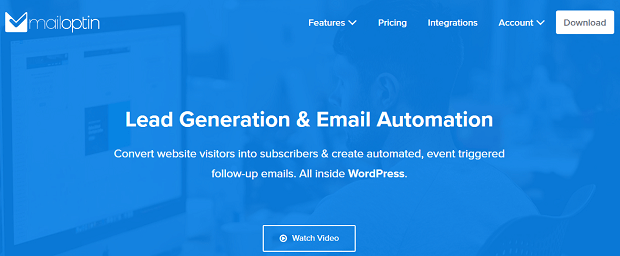 MailOptin is a WordPress plugin that combines email automation with lead generation. In other words, it's good at fattening up your mailing list.
Like other lead generation plugins, MailOptin lets you create brilliant optins for your WordPress site. And due to its lightweight nature, you can have those optins up and running in minutes.
But what really makes MailOptin cool is its ability to send automated emails.
Yes, you read that right. Its autoresponder feature lets you send automated emails to your subscribers, depending on their actions.

Yes, it's another popup tool for WordPress.
Or is it?
Calling Elementor a simple popup tool is actually doing this plugin a major disservice. Yes, you use it to make popup optins. Or, more accurately, you can use it to make really awesome popups. Just look at how colorful the landing page is. That should give you a good indication of Elementor's stance on aesthetics. They're all about creativity.
But that's not all. Elementor doesn't just create pretty popups for WordPress. It also lets you add any of your WordPress content inside your popup. Posts, images, even products from your WooCommerce store. They all can be added to your popups with the push of a button.
Doesn't look like your run-of-the-mill lead generation plugin anymore, does it?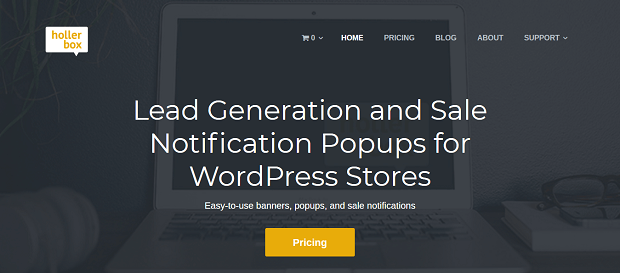 Holler Box is one of the "lightest" lightweight WordPress plugins for generating leads. It comes with a simplified interface that makes it easy to create popups for your eCommerce store. You can display everything from email optins to sales notifications in these popups. Plus, you can tweak your campaign with tools like time delay, scroll triggers, and exit detection.
Think it sounds like every other lightweight popup maker? Not really. Holler Box is free. Well, most of it is free—sales notifications and the advanced tools are going to cost you. But Holler Box premium only costs $80 for the year, and it works with 5 sites and offers unlimited views.
That means you get affordability and scalability. Talk about a great marketing tool on a budget!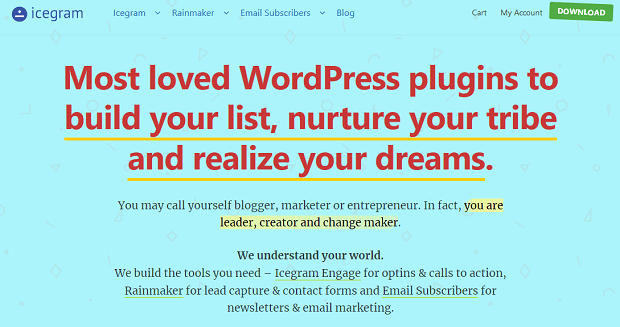 Icegram is a free lead generation tool that lets you create optins in the form of action bars, popups, slide-in messages, and more. Did we mention it's free? Because that's a pretty great selling point. Especially if you're a small company looking for inexpensive ways to build your mailing list.
Icegram also offers premium features starting at $97 a year. These come with similar perks you find with other lead generation platforms. Perks like advanced analytics, detailed conversion reports, and behavior targeting tools.
Another cool feature of Icegram's premium subscription is the addition of badges, ribbons, and other gamification elements. Check it out if you want to tinker around with a lead generation campaign, free of charge.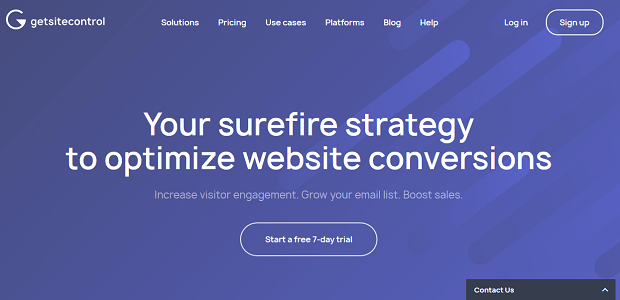 GetSiteControl is a lead generating plugin for creating widgets on your WordPress eCommerce site. The plugin comes with a number of different optin templates, including:
Popups for collecting visitor feedback
Promotions
Contact forms, and more
What's more, most widgets serve a secondary purpose as well: to collect contact information. Every time a customer interacts with your widget, they're asked to provide an email address. That way, you grow your mailing list while addressing their questions or concerns.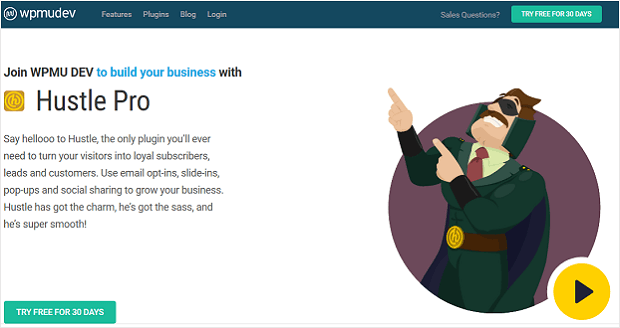 Hustle markets itself as the only WordPress plugin you'll need to convert visitors into subscribers. While we can't vouch for that, we can confirm Hustle is good at what it does: creating optins.
But what makes Hustle different than the other lead generating plugins we've covered? Well, it's not completely different. It comes with the tools for popups, embedded optins, and all the other forms for capturing email addresses. But Hustle isn't a standalone product. It's part of a comprehensive membership offered by WPMU DEV.
For $49 a month, you gain access to a library of plugins for:
Optimizing SEO
Improving your marketing strategies
Beefing up security
Backing up content, and more
We're talking about roughly 100 plugins. So, if you're looking for a one-stop solution for all your eCommerce needs, check it out.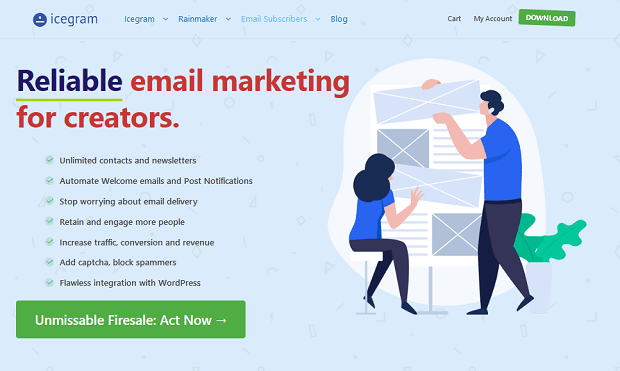 Remember Icegram, the lead generation plugin we mentioned a couple of numbers up? Well, they're back again with a new plugin for generating leads: Email Subscribers.
Lead generation tools like OptinMonster and Icegram do the capturing for you. Their primary job is to collect the visitor's information. What you choose to do with that information is up to you.
And with Email Subscribers, turning customer information into conversion-boosting action is easier than ever. Use it to send automated emails, create custom-tailored newsletters, and more. Basically, it's the email in email marketing. Plus, it's incredibly easy to use.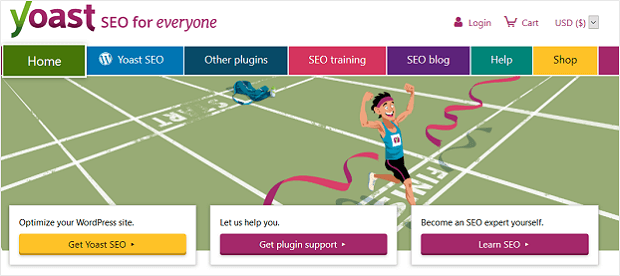 Yoast isn't your traditional lead generation plugin. It doesn't capture emails or create engaging optins. Still, it's one of the most effective tools for growing email lists.
Yoast is a powerful SEO tool for optimizing your traffic. You can use it to research keywords and improve your Google performance. And more importantly, you can use Yoast to ensure you get the right traffic going to your eCommerce site.
In short, Yoast helps you organically connect with visitors that are more likely to convert.

There are two types of visitors who bounce from your website. The first type is people just passing through. They're the ones who aren't always sure how they ended up on your website, but they did. They have no real intention on converting, so they leave.
The next type of bouncing visitor is someone who's interested in your content. They like what you have to say, and might even consider buying your product. Just not right now. This is the type of visitor you don't want to lose. And thanks to OneSignal, you don't have to.
That's because OneSignal lets visitors subscribe to your site with the push of a button. That way, they get notifications when you publish new content. This reminds them to return to your site, where they can convert in their own time. No pressure!
Growing Your Email List
There you have it! With the help of these WordPress lead generation plugins and a solid email marketing strategy, you'll be on your way to building a colossal email list of customers who look forward to hearing from you.
Did you know that it only takes 60 seconds to sign up for OptinMonster and build a fully-customizable lead generation campaign from the ground up? That means you can spend less time worrying about collecting leads and get back to what really matters: your awesome products. 😎