Do you want to create an online store? Not sure which is the best platform to use?
Shopify and WooCommerce are the leading eCommerce platforms powering around 40% of all online stores in the world.
When you're just getting started, it's important to choose the right platform so that you'll get all the features and benefits you need.
This guide will give you a detailed comparison of Shopify vs. WooComerce so you'll know exactly what each platform has to offer. We'll also give you a list of tools you'll want to use to get started on both platforms.
Since this is a detailed comparison of Shopify vs WooCommerce, here's a quick table of contents you can use to find the section that interests you the most:
Before we dive into the comparison, let's first cover the basics of what Shopify and WooCommerce are.
Overview: Shopify vs. WooCommerce
WooCommerce and Shopify are both eCommerce platforms, but they are very different in terms of how they operate and what they offer.
What Is Shopify?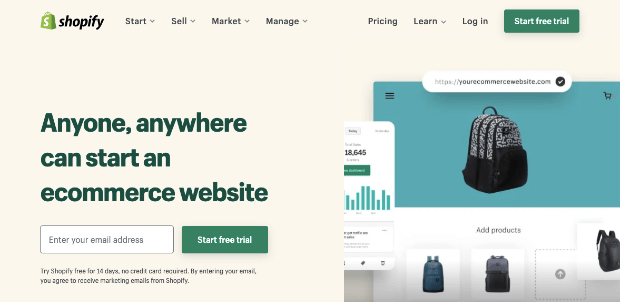 Shopify serves as an all-in-one platform to create an online store with ease. It lets you set up a store instantly without worrying about hosting, security, SSL certificates, and other technical aspects of websites.
You can create your website, manage products, receive payments, and more. The features included with your online store will depend on the plan you purchase from Shopify.
While you have fewer things to manage, you'll need to give up a certain amount of customization and flexibility with your site.
What Is WooCommerce?

WooCommerce is an eCommerce platform built for WordPress. It gives you more control over hosting, security, and backend files to manage your store.
WooCommerce also has plenty of extensions, plugins, and addons. This means you can customize your online store without any limits to adding features to your eCommerce site.
Having said that, let's see how the 2 platforms perform in terms of usability, payment gateways, integrations, addons, and affordability.
1. Ease of Use
When creating an online store, you'll have multiple things to manage at the same time – product listings, inventory, orders, and more.
That means you'll want a solution that makes it easy to manage it all through integrations, automations, and smooth workflows.
Ease of Use – WooCommerce
To use WooCommerce, you first need to create a WordPress site and then install the WooCommerce plugin.
WordPress is easy to use and it comes with tons of free and paid themes to create stunning eCommerce websites.
Then using the WooCommerce plugin, you can create product listings and manage inventory.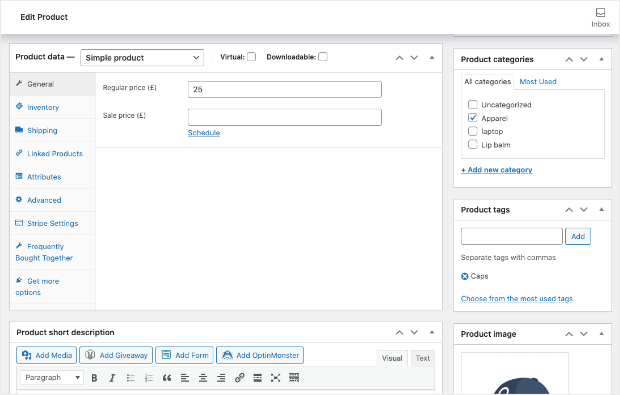 With WooCommerce, you'll get full control of your site but this also means you need to manage updates, backups, and security on your own.
Thankfully, there are plenty of free and paid WordPress plugins that can automate these tasks for you.
The upside to WooCommerce is that it's incredibly flexible and can be customized 100% to suit your needs. You can add any feature you want to your site to extend the functionality of your store.
The only thing to keep in mind is that there's a learning curve. If you're new to creating websites, you may want to follow tutorials to help you get started.
We recommend this guide from WPBeginner: How to Make a Website in 2021 – Step by Step Guide (Free).
Ease of Use – Shopify
Shopify is designed for anyone to use without any technical knowledge whatsoever. It's a fully hosted platform which means you don't need to buy your own hosting plan or install any software to use it.
You can sign up for an account and set up your store, add products, and manage it all from the front end. This means you only need to point and click to get things done.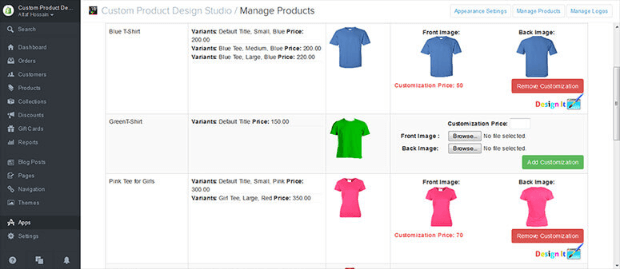 You also don't need to worry about security, performance, backups, and compatibility issues.
The downside here is that you get limited control over what features and functions you can add to your store. You can only design the store with tools by Shopify or the apps available in their app store.
For many stores, the collection of themes and addons available in Shopify is more than enough, especially if you're new to website development.
2. Payment Gateways
If you want to sell products, you'll need to accept payments online and the best way to do that is through secure payment gateways.
Payment Gateways – WooCommerce
WooCommerce offers PayPal and Stripe payments by default. It also supports all other popular payment service providers through addons.

A big plus for WooCommerce is that you have the flexibility to add regional and less popular payment options.
And the best part is you are only charged transaction fees by your payment gateway or your bank. WooCommerce never charges you a percentage fee on your store transactions.
Payment Gateways – Shopify
Shopify has a native payments option that is powered by Stripe. Plus, it supports quite a few third-party payment gateways that include PayPal, Authorize.net, 2Checkout, First Data, and Amazon Payments.

If you choose to use a third-party service, Shopify charges between 0.5% to 2% extra fees on each transaction over and above the payment gateway percentage fee. The charge depends on the plan you choose with Shopify.
3. Addons and Extensions
Addons let you grow your store in different ways through lead generation, SEO, analytics, customer support, and more.
It's very rare that a store functions solely on the features offered by the native platform. In most cases, site owners rely heavily on addons and third-party tools to improve user experience (UX), market their product, and boost sales.
Addons and Integrations – WooCommerce
WordPress has 50,000+ free and premium plugins that easily integrate with your store. If you want to add a feature to your site, chances are you'll find an existing plugin that can do it for you.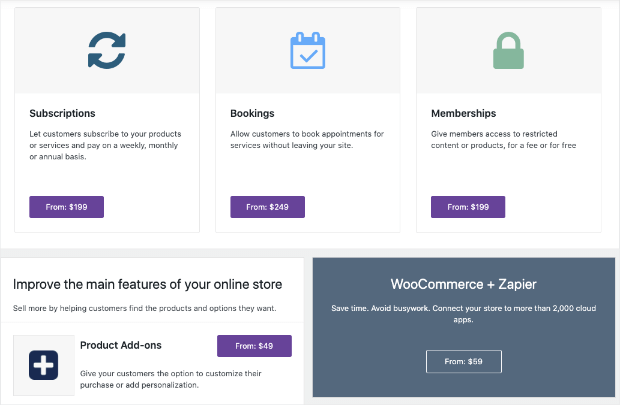 These plugins can help you:
automate product reviews
back up and secure your site
create membership plans
give you insights into SEO and analytics
generate relevant content
integrate more payment solutions
optimize website speed
…and much more.
Plus, almost all third-party tools and service providers have their own WordPress plugins to seamlessly integrate with your WooCommerce store.
And if you don't find a plugin that does what you want, you can hire a developer to create a unique plugin just for your website.
That's how incredibly flexible WooCommerce is!
Addons and Integrations– Shopify
Shopify has an app store where you can download 3200+ free and paid apps. It also allows you to use the API key of any addon to integrate it with Shopify.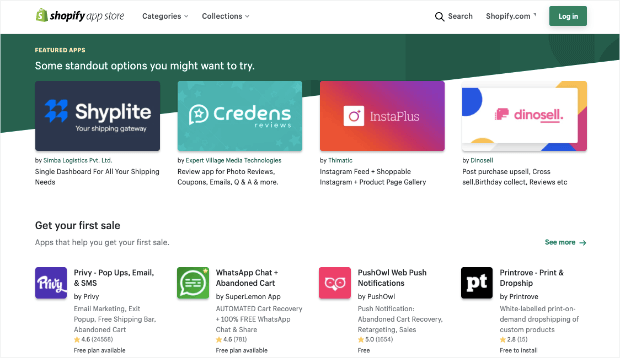 These apps help you grow your business, improve your marketing strategy, and boost sales. Some WordPress plugins like OptinMonster also have Shopify apps.
But at the end of the day, most Shopify apps aren't as extensive, flexible, or affordable as WordPress plugins are.
While both platforms give you lots of third-party tools to grow your business, WooCommerce definitely has more options to get started with.
4. Affordability
A big factor that plays a role in choosing between the 2 platforms is your budget. In the initial stages, most store owners may want to set up at low cost and then grow.
Let's take a look at how much an eCommerce store would really cost using Shopify and WooCommerce.
Cost – WooCommerce
WordPress is a free open source platform and WooCommerce is a free WordPress plugin. You won't need to pay anything to use both platforms.
However, there are a few things you'll need to host a WooCommerce site and that includes a domain name, SSL certificate, and a web hosting account.
Normally, a domain name, an SSL certificate, and web hosting costs $29.99 / month. That can be a bit expensive if you're just starting out.
Thankfully, since WooCommerce is the most popular platform in the world, several hosting companies offer specialized WooCommerce hosting plans that are much cheaper.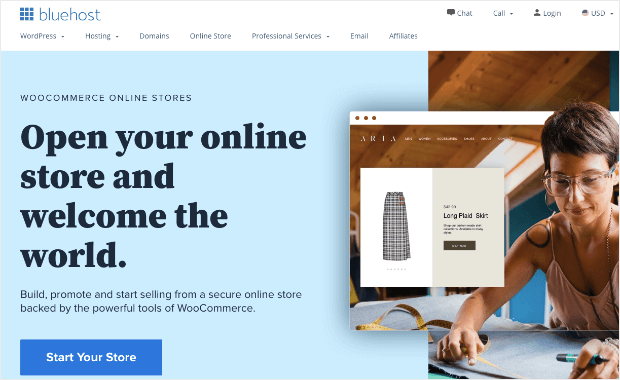 Bluehost is the official WordPress and WooCommerce recommended hosting provider. They have a hosting plan designed specifically for WooCommerce sites that's loaded with freebies.
You can get a hosting plan along with a free domain name and SSL certificate for as low as $12.95 / month. Plus, you'll get 1 year of basic backups and Office 365 for 30 days for free.
It also comes preinstalled with WooCommerce, Jetpack, and a store-front theme.
Cost – Shopify
Shopify has 3 pricing plans for individuals and businesses.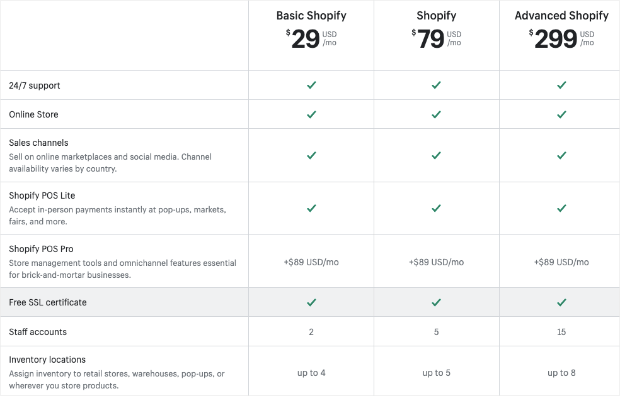 The Basic Shopify plan costs $29 per month and is designed for beginners and new businesses. It lets you create a website and blog, host unlimited products, and create 2 staff accounts.
Aside from that, you'll also get these features:
Assign 4 inventory locations to retail stores, warehouses, pop-ups, or wherever you store products
Add discount codes and gift cards
Sell on online marketplaces and social media
24/7 support
You get a free SSL certificate but the transaction fees are high at 2% per transaction.
If you opt for the Shopify plan, the transaction fee drops to 1%, but the storefront costs $79 per month.
And on the highest plan Advanced Shopify, you'll get access to 15 staff accounts, more inventory locations, and website reports, along with a 0.5% transaction fee. It costs a whopping $299 per month.
Verdict: Shopify or WooCommerce?
From our detailed comparison, you can see that both platforms offer something completely different.
The right platform for you depends on what features you want, your technical ability, and the flexibility you desire.
Shopify is user-friendly and a good option for beginners. It takes care of technical aspects and offers plenty of features and apps. As your business grows, you can upgrade your plan and scale easily.
The downside to Shopify is that it costs a lot more in terms of monthly subscriptions and transaction fees. Plus, you won't have as much control and flexibility over your website.
WooCommerce has a learning curve, but it gives you complete control over your tools, themes, cost, and website features.
This also means you have to manage backups, security, and updates on your own.
But there are plenty of plugins to help you do that. You can even hire a WordPress maintenance service to take care of regular admin tasks for you.
That's why we're confident that while both platforms are great for running an eCommerce store, WooCommerce definitely comes out the winner.
WooCommerce is inexpensive, highly customizable, and you can easily expand the store as your business grows.
That's our comparison of WooCommerce and Shopify. If you're curious about other eCommerce platforms, you may want to check out our comparison of Magento vs Shopify vs BigCommerce: Which eCommerce Platform is Right for You?
Once you choose your platform, you'll need tools and apps to get you started. We've handpicked the best tools on the market to create and grow your site on Shopify and WooCommerce.
Best Tools to Build Your Online Store
The tools below will help you grow your subscriber list, build trust and confidence in customers, increase sales, and track performance.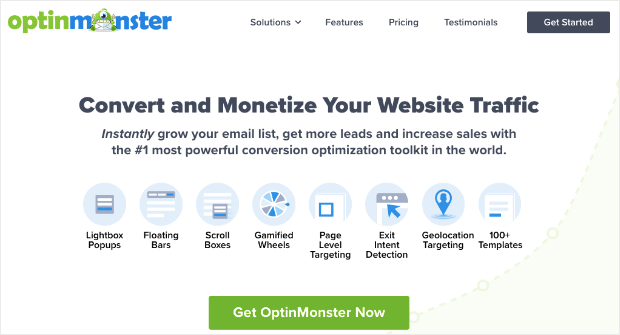 OptinMonster is hands down the most powerful lead generation and conversion optimization tool in the world. It works on both WooCommerce and Shopify stores.
If you're monetizing your WordPress website in any way, whether it be lead generation, display ads, affiliate marketing, or product sales, you'll need OptinMonster.
As a conversion optimization toolkit, OptinMonster helps you streamline your monetization strategy. Here's how:
OptinMonster can help you achieve all this with eye-catching marketing campaigns like popups, floating bars, slide-ins, and more.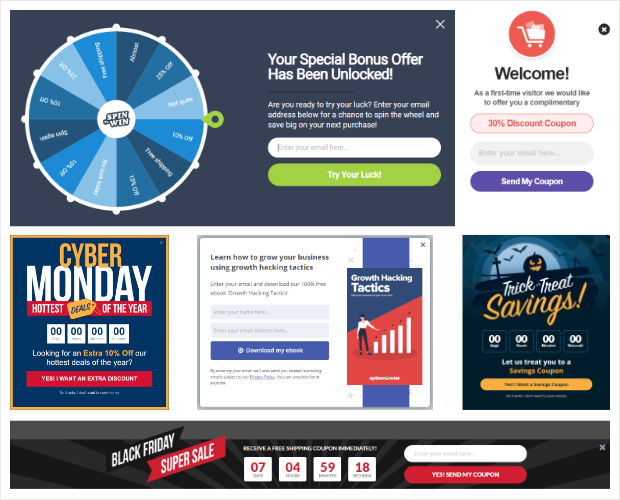 Plus, our drag and drop campaign builder makes it super easy to create beautiful, effective, high-converting optins that are mobile-friendly.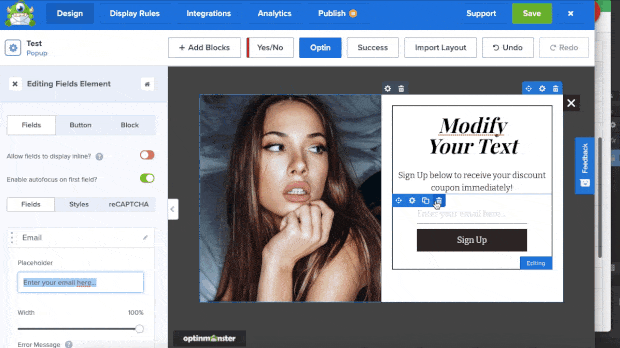 We also offer seamless integrations with all popular email marketing services so you can easily personalize, segment, and target campaigns with excellent results.
The best part is that OptinMonster comes with eCommerce-specific targeting rules to show campaigns to the right people at the right time when they're more likely to be converted into leads and customers.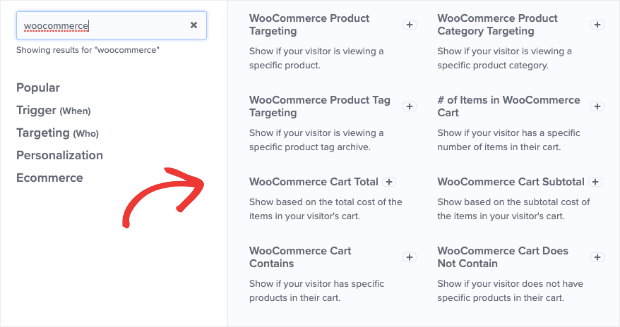 Highlights
Easy-to-use drag and drop builder to build a stunning optin campaign without hiring a designer
50+ optin campaign templates that designed to suit all kinds of marketing goals
6 different optin campaign types including popup, floating bar, slide-ins, inline, fullscreen, and gamified wheels
Powerful campaign triggers and targeting rules like Exit-Intent®, referrer detection, location, and timed display
Actionable insights and A/B testing to optimize results
World-class support including live chat, email ticket submission, YouTube video tutorials, blogs, documentation, and more!
OptinMonster is powerful and proven to work. In fact, ShockByte more than doubled its sales with OptinMonster campaigns.
Ready to get started? Click below to start your risk-free OptinMonster account!
Get Started With OptinMonster Today!
BONUS: Done-For-You Campaign Setup ($297 value)
Our conversion experts will design 1 free campaign for you to get maximum results – absolutely FREE!
Click here to get started →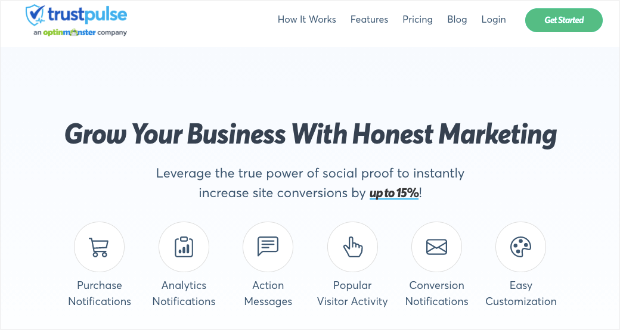 TrustPulse is the best social proof app for both Shopify and WooCommerce. It helps you build trust and confidence in shoppers by displaying real-time user activity on your site.
You can capture sales, sign-ups, registrations, and more to show customers that your site is busy. This helps a new customer see that others love and trust your brand, so they'll be more likely to do the same.
TrustPulse also creates a sense of FOMO (fear of missing out) on your site so customers will be more encouraged to take action and buy!
Highlights
Track real-time stats and group activity
Automated creation of social proof notifications
Flexible design with advanced targeting rules
Track social proof campaign performance
Get started with TrustPulse today!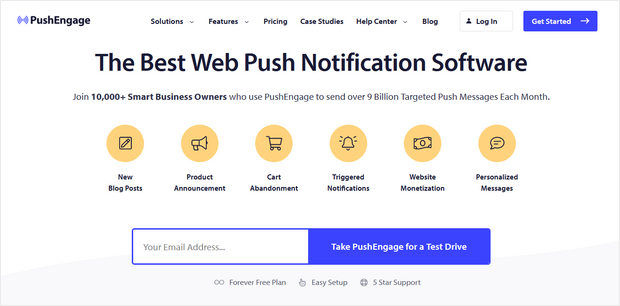 PushEngage is the best web push notification tool that you can use for both Shopify and WooCommerce. It lets you send browser notifications to update subscribers on sales, price drops, abandoned carts, or even new blog posts.
Highlights
Triggered and targeted notifications
Actionable data and insights to grow traffic and sales
Deep eCommerce integration for online stores
Scheduled notifications according to visitors timezone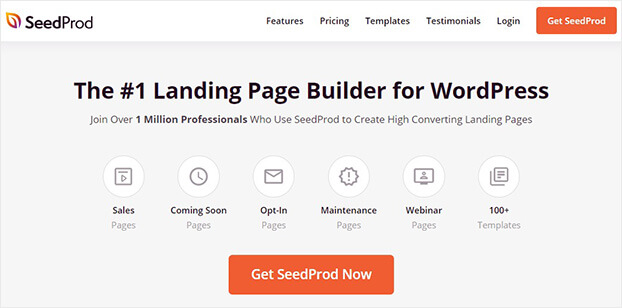 SeedProd is the best page builder for WordPress. It lets you create beautiful landing pages and use custom WooCommerce landing page blocks to promote products and increase sales.
Highlights
Drag and drop builder to add new features
Built-in email autoresponder
Search engine optimized
Prebuilt landing page templates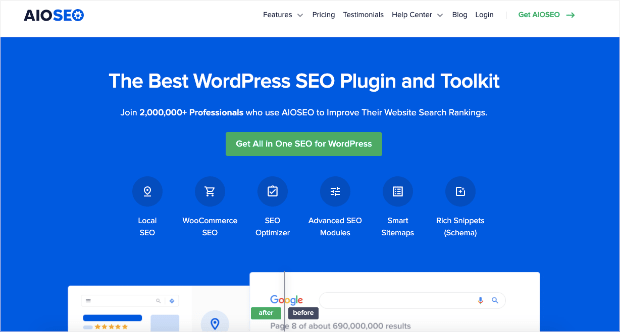 All in One SEO is the #1 search engine optimization and analytics plugin for WordPress. It let you optimize every page and post of your site for search engines including your product pages and categories.
Highlights
Easy-to-use dashboard
Site audit and suggested steps to optimize site
1-click process to enable/disable recommended SEO measures
Technical, Local, and WooCommerce SEO features
Get started with All in One SEO!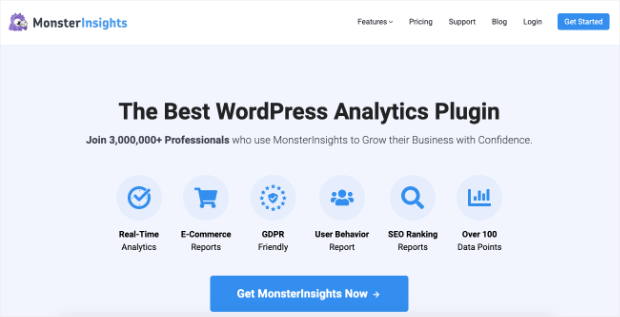 MonsterInsights is the most powerful Google Analytics plugin for WordPress. It lets you track your WooCommerce analytics like transactions and average order value right from your WordPress dashboard.
Highlights
Connect to Goole Analytics in a few clicks
Easy-to-use to read eCommerce performance report
Real-time statistics
Track marketing campaign performance
Get started with MonsterInsights!
And with that, you now know the difference between Shopify vs. WooCommerce so you can make an informed decision.
Plus, you have the top tools to grow your business on both platforms.
Once you start building your store, you may need more apps depending on what features you want for your site and what processes you want to focus on or automate.
We hope you found this article helpful in choosing the right platform for your online store along with the necessary tools to get started.
We also have these helpful resources for anyone starting an eCommerce store:
We've added lots of tips and tricks you can use to collect subscribers, improve sales, and grow your store.