We're so excited for you to begin publishing your OptinMonster campaigns! Use the checklist below to guide you through creating a campaign when you're using the OptinMonster for WordPress plugin.
If you haven't yet integrated OptinMonster with your WordPress website, we recommend using the OptinMonster for WordPress plugin to do that. Learn how to install the OptinMonster for WordPress plugin now.
Create an OptinMonster campaign by following these steps:
1. Create A Campaign
— Plan The Success Action
— Design Your Campaign
— Customize The Optin Fields
— Set Up the Display Rules
— Select A Marketing Integration
— Connect Google Analytics (Optional)
2. Review the Campaign
3. Configure Output Settings
4. Publish the Campaign
Let's get started…
Create A Campaign
To get started creating a new campaign, choose one of the six Campaign Types and click Create New.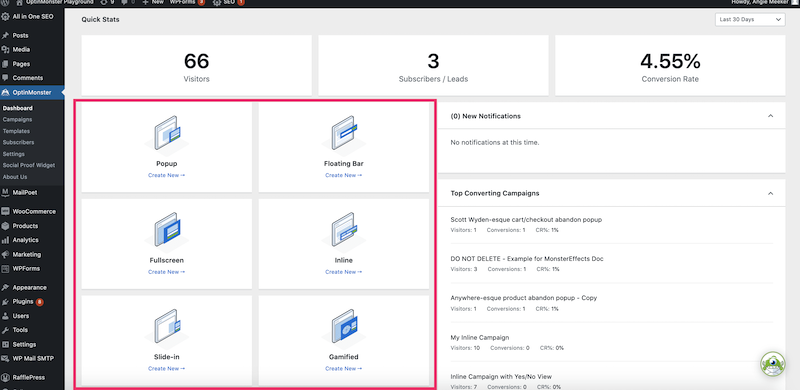 Not sure which one to choose? Learn more about each campaign type: Popup, Floating Bar, Fullscreen, Inline, Slide-in, and Gamified Fullscreens (available only with a Growth subscription).
Next, browse the Templates available for that Campaign Type.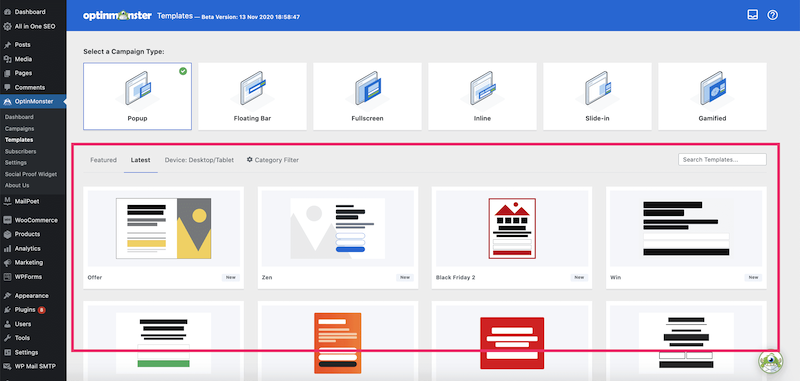 All OptinMonster templates appear on all devices and look great on every device. With a Pro or Growth subscription, you can also choose templates designed specifically for mobile devices by adjusting the Device Targeting filter.
You can preview any template by hovering over it and clicking Preview.
When you've found a template you like, select Use Template.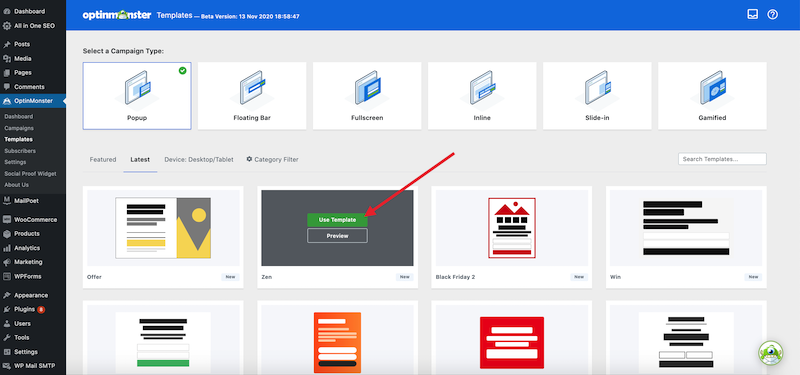 Name your campaign and click Start Building.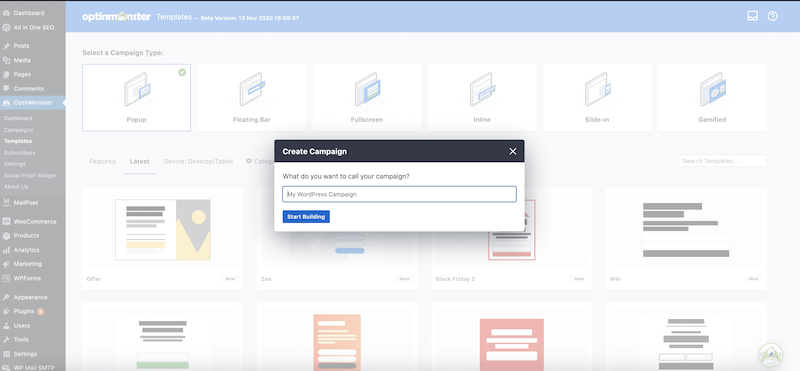 Plan The Success Action
Before you start designing your campaign, it's important to keep in mind the overall goal of your campaign. What action do you want visitors to take when they see your campaign? Subscribe to your email list? Visit a page on your website? Download a file? Your goals determine the content of your campaign.
What happens after a visitor clicks a button in your campaign, or converts an optin form, is controlled by the Success Action of the buttons or forms in your campaign.
Success Actions can be adjusted by clicking on any button or form within your campaign.
You can choose from the following Success Actions:
Show a View (Yes/No, Optin or Success View)
Close the campaign
Close campaign and refresh the page
Redirect to a URL
Open in a new Window (buttons elements only)
In this example, we're going to assume you want to show your visitor an optin form, then a thank you message after they complete that form. Learn more about Success Actions here.
Design Your Campaign
When you first enter the builder to edit your new campaign, you'll see the drag and drop editor in the Design tab. This is where you'll edit the text, images, buttons and forms in your campaign.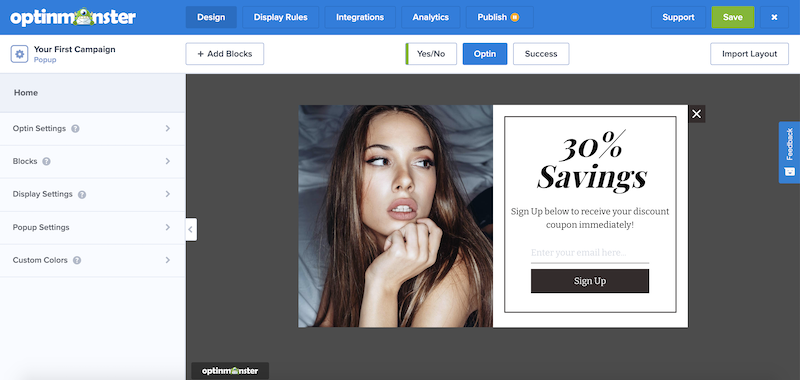 Each campaign has three Views: the Yes/No View, the Optin View and the Success View.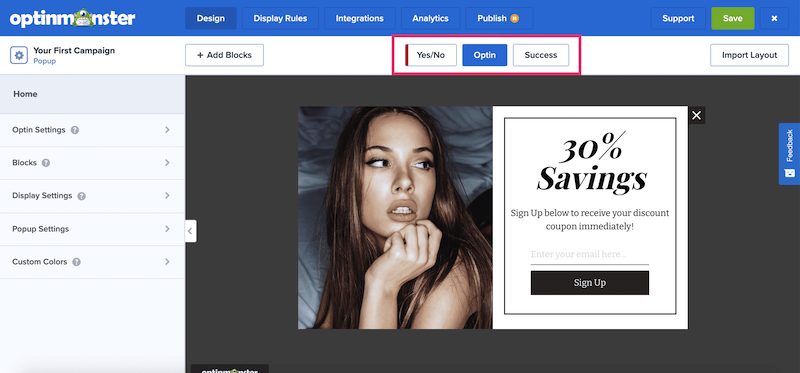 Many templates show the Optin View to website visitors when the campaign first appears on your site. Then, if the form within the campaign is completed, the visitor is taken to the Success View. In the Success View, you can thank your visitor and deliver any instructions for what to do next.
If you have a Pro or Growth subscription, you also have access to the Yes/No View.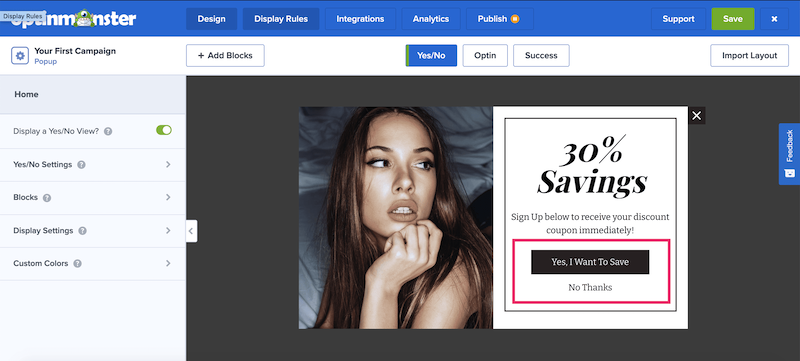 The Yes/No View shows your visitor two buttons. When your visitor clicks the Yes button, they are directed to the Optin View to complete your optin form. After they complete the optin form, they are directed to the Success View.
If they click the No button, the campaign is simply closed.
You can choose whether to start your visitor at the Yes/No or Optin View in your Display Rules, which we will cover later in this tutorial.
And, whether you start your visitor at the Yes/No or the Optin View, the process of editing the content with each view is the same.
Edit The Content of Your Campaign
Click on any element in the campaign to access its settings and make changes.
Text in your campaign can be edited directly in the preview by clicking on it. Text element's styles appear when you highlight the text.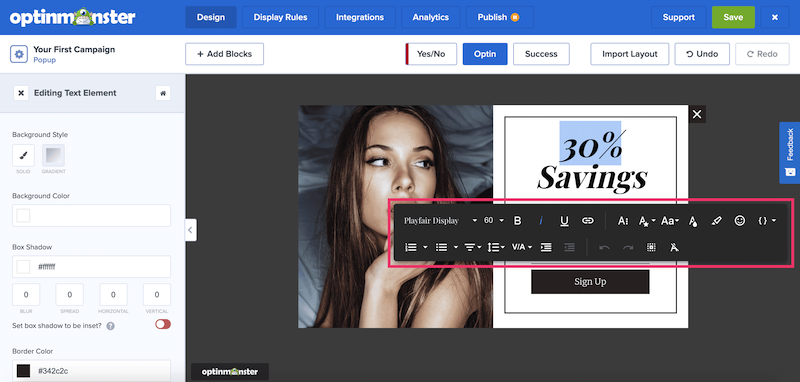 Settings for images, forms, and other elements will appear to the left when you click on the element in the preview.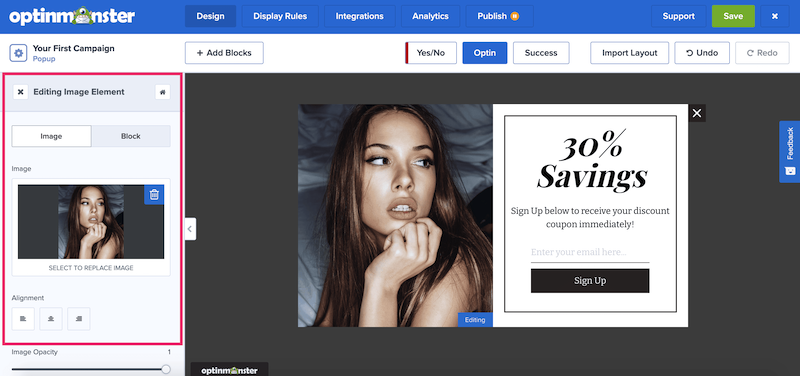 Add new elements like buttons, images, countdown timers, videos and more by clicking Add Blocks.
You can add new columns or add new elements to existing columns. Then, drag and drop them where you'd like them to be.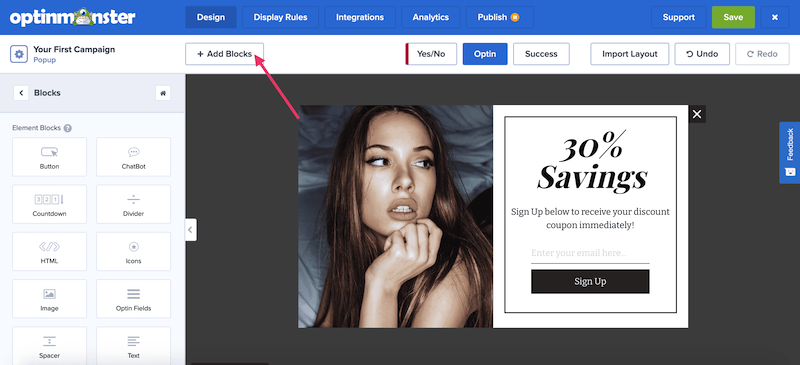 Delete an element by hovering over it and clicking the Trash icon.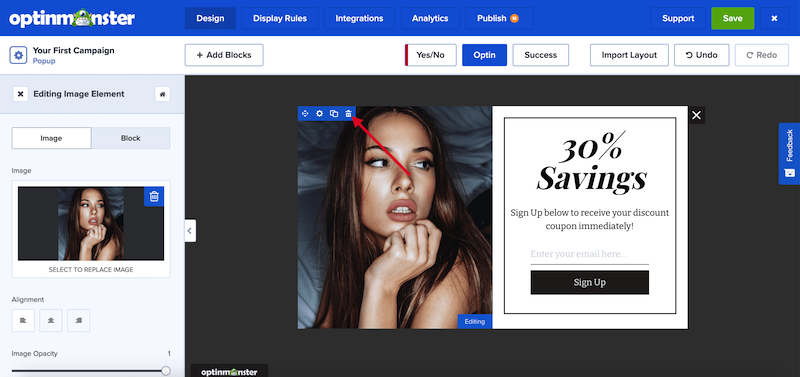 Check out our Builder Overview guide to discover all of the elements available to be used in your campaigns.
Customize The Optin Fields
One of the most common uses of OptinMonster is to grow an email list. You'll find many of our templates include the Optin Fields element in the Optin view to make that as easy as possible.
The Optin Fields element allows you to collect Name, Email Address, and Phone Number. You can also add a Privacy Statement and checkbox.
Click anywhere on the Optin Fields element in your campaign to open its settings in the left sidebar.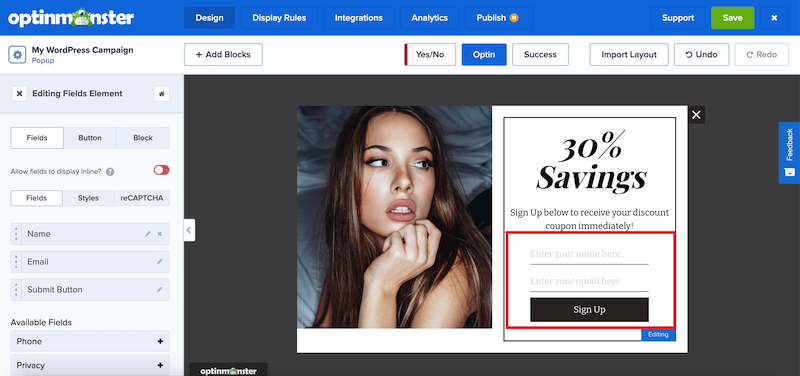 In the left sidebar, click the pencil icon next to any field to edit the placeholder text, and styles.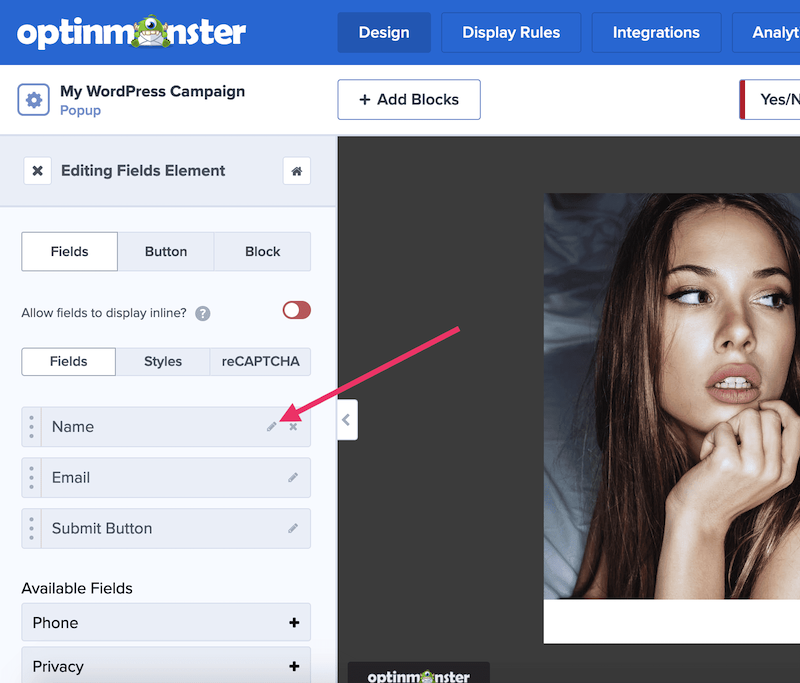 If you want to add a field that is not already part of the campaign, click the + next to it to add it to the list. Then, drag it into the order you want.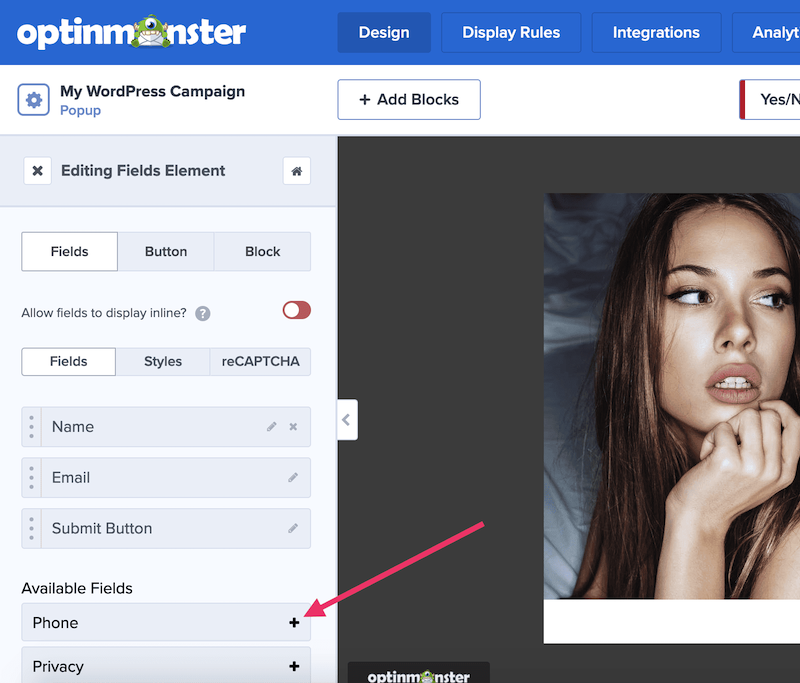 To delete a field, click the X next to it in the left sidebar. The only required fields are Email, and the Submit Button.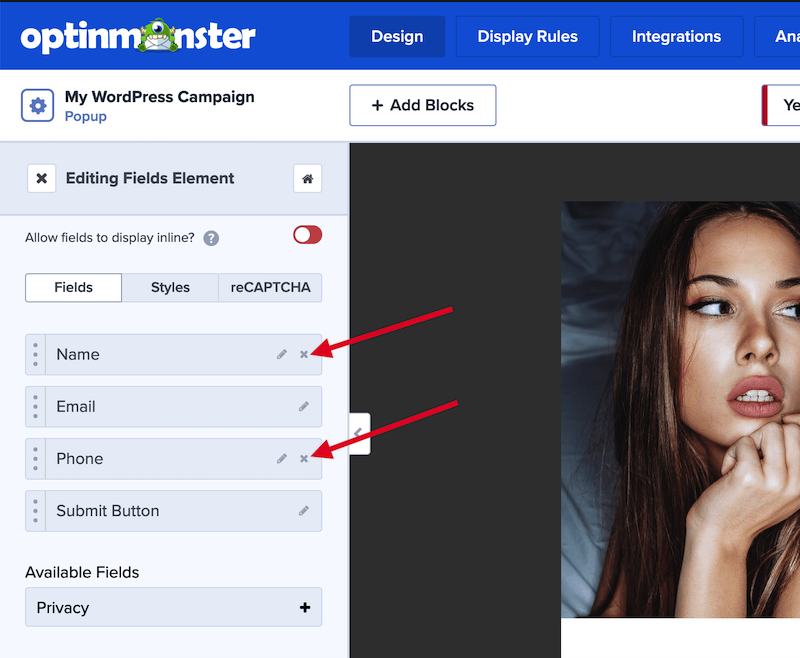 Click Styles to adjust the background colors, fonts, and padding of every field.
Click on Button to adjust the text and styles of your Submit button.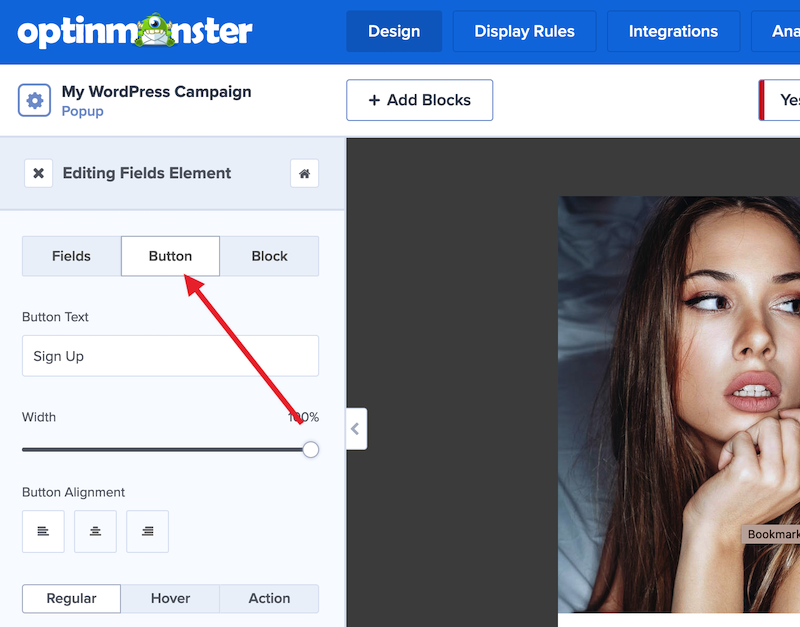 From the Button settings, click Action. This is where you'll set the Success Action that determines what happens after the optin form is completed.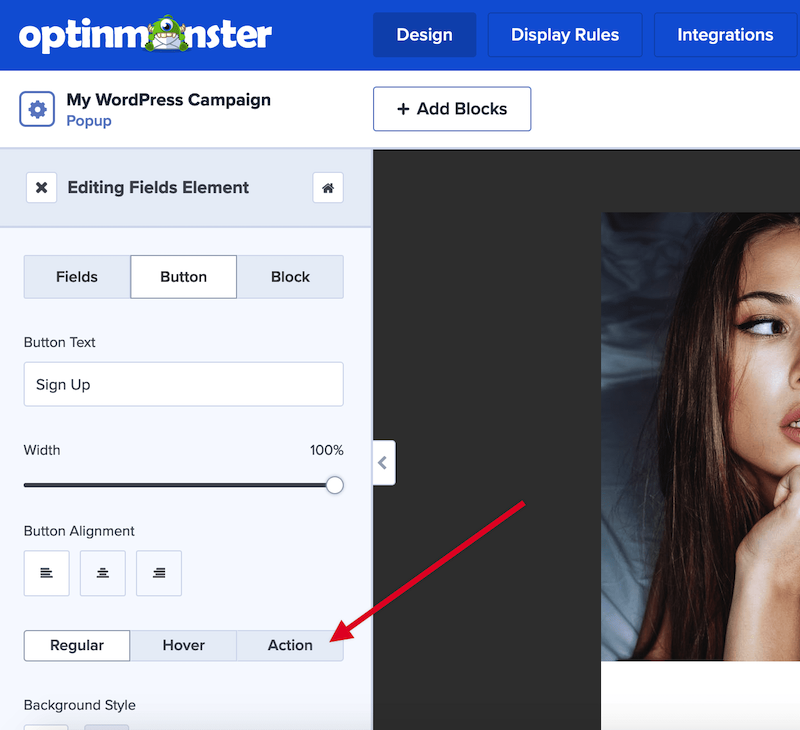 Remember, in this example, we want visitors to see the Optin View, complete the optin form, then see the Success View. So, we'll set the Success Action to Go to a View>The Success View.
Confirm that Conversion Tracking is turned ON. This is what allows OptinMonster to track how many times your form is completed.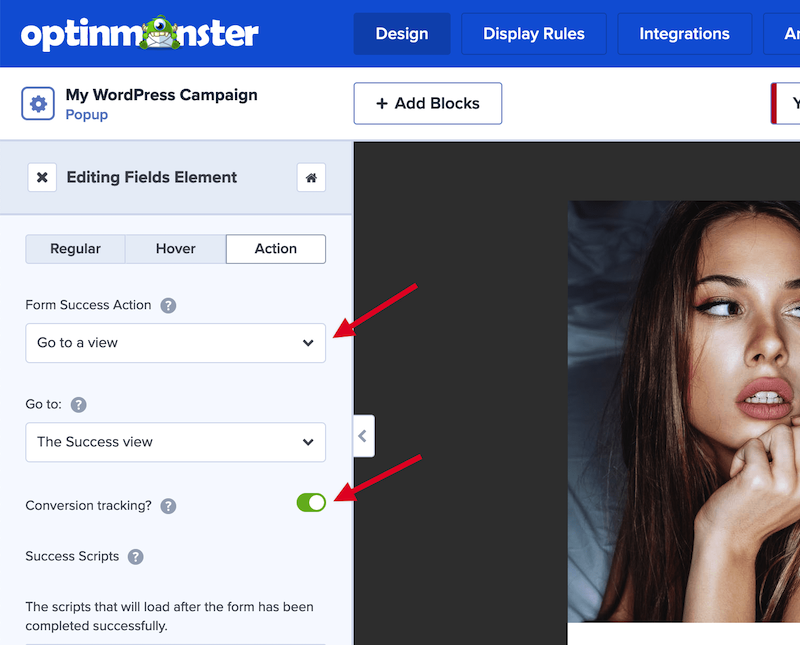 After editing the Optin View, click on Success above your campaign to edit the Success View. This is what your visitors will see after they opt in to your campaign. You can use the Success View to tell them what to do or expect next.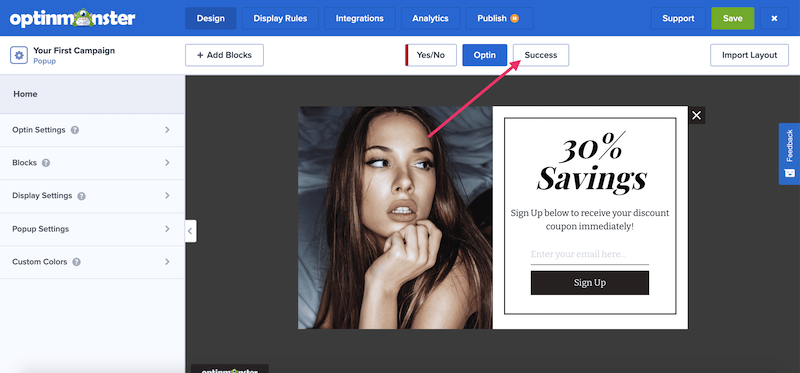 If you significantly changed the styles on your Optin View and would like to bring those changes to the Success View, click Import Layout.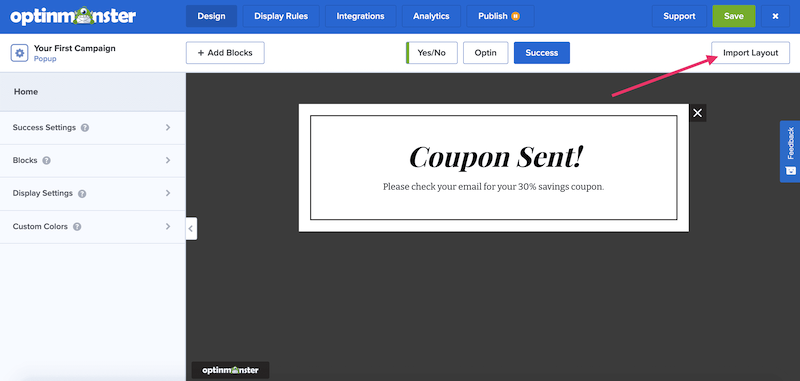 Select the view you'd like to import, and all of the content and styles from that view will be copied to the Success View.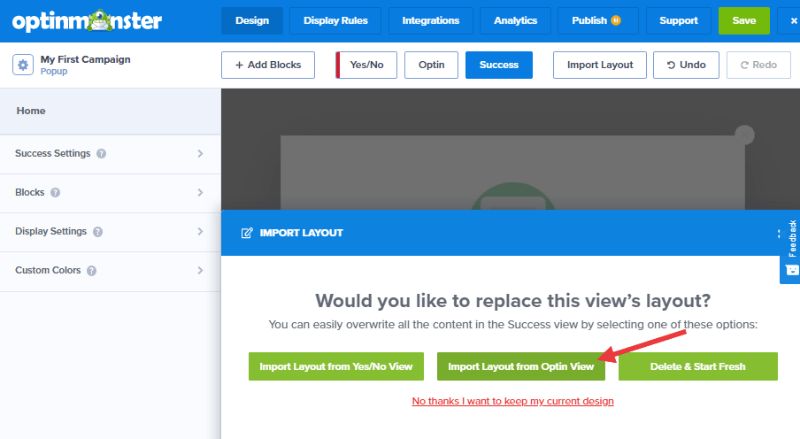 You've now edited the essential elements for your campaign's design!  Let's move on to deciding when and where your campaign can appear.
Set Up the Display Rules
Next, you'll use Display Rules to decide where, when, and for whom your campaigns can appear. Learn more about our powerful Display Rules here.
Select the Display Rules View from the top menu of the campaign builder.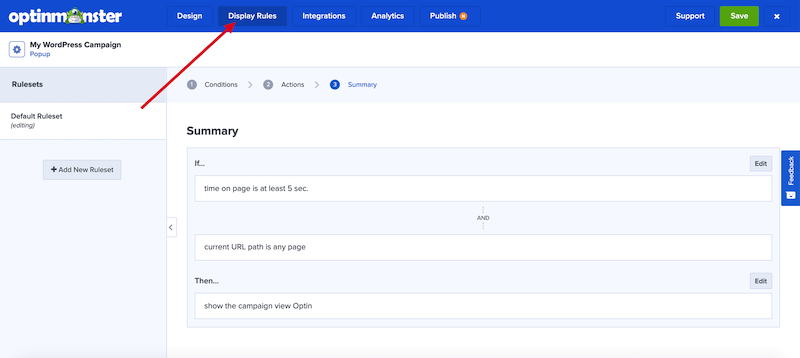 You can edit the default Display Rules by clicking on Conditions, then each rule to open the Display Rules menu.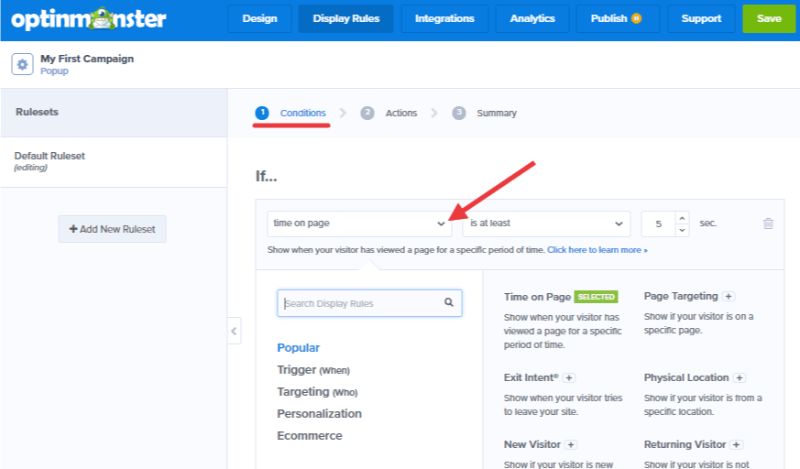 Click on any individual Display Rule to select it, then configure the options for that rule to match your goals.
Within each Ruleset, you can combine OR conditions as well as AND conditions to create the targeting for your campaign.
Conditions meant to exclude, like "does NOT contain" or "does NOT exactly match," should be added as AND conditions.
Conditions meant to include, like "contains" or "exactly matches", should be added as OR conditions.

After setting the Display Rules to match your goals, click Save.
Next, let's connect your OptinMonster campaign to a Marketing Integration.
Select A Marketing Integration
Integrations is where you will connect OptinMonster to a Marketing Integration, like your email service provider or CRM. If you're using an optin form in your campaign, any leads submitted through that form will automatically pass through to the Integration you select here. This is how you grow your email list using OptinMonster!
Click Integrations in the top menu of the OptinMonster Dashboard.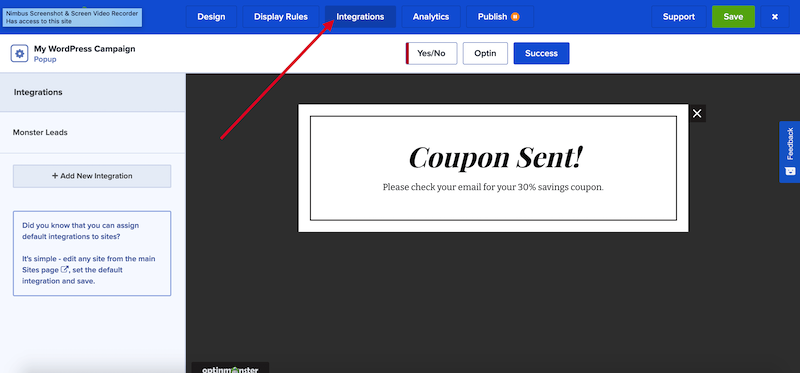 Every new campaign has Monster Leads selected as a default integration, but it's totally optional and you can simply remove it if you'd prefer not to use it.
Monster Leads store your leads directly in OptinMonster so you can export them and use them in your own email client later. It can even be used as a backup with any of our other marketing integrations.
To connect to your email marketing service or CRM, click Add New Integration.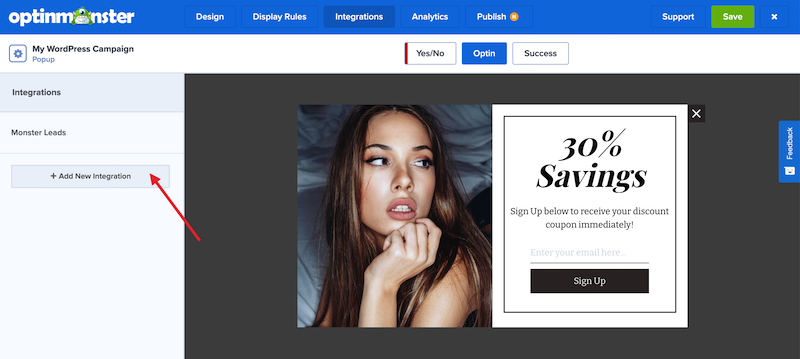 Select your provider from the dropdown list of our marketing integrations and follow the directions for connecting it to OptinMonster. If your marketing integration is not listed, use our Zapier integration or the Custom HTML integration to add any HTML form to your campaign.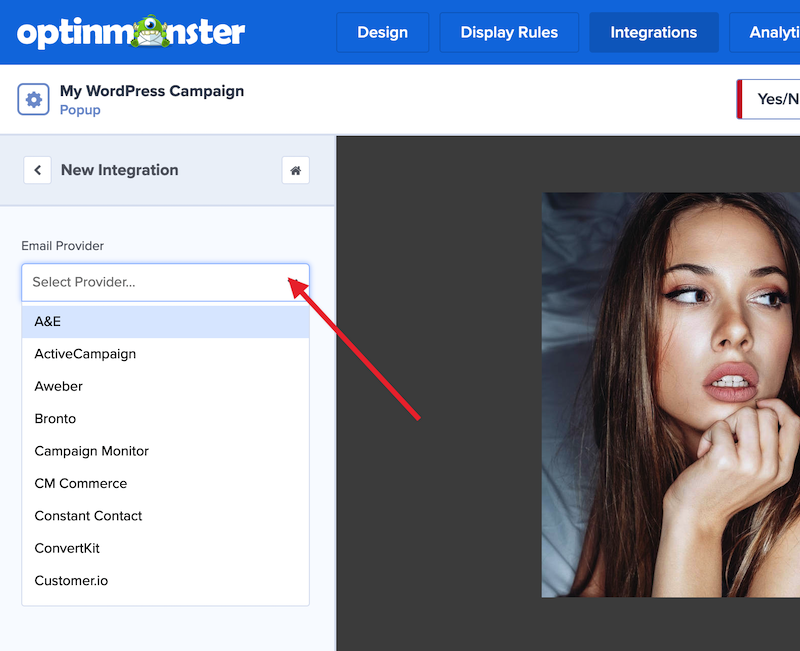 After connecting your integration for the first time, you'll be able to quickly select your account and list from the dropdown menus in future campaigns.
When you've finished connecting to your marketing integration, click Save.
Connect Google Analytics (Optional)
Within your OptinMonster dashboard, you'll always be able to see the number of times a campaign appeared to visitors (impressions) and the number of times the campaign was converted (conversions).
You can also connect your campaign to your Google Analytics account. If you do, OptinMonster will send campaign impressions and conversions as events to Google Analytics. This can be helpful for determining the effect of your campaigns on your overall goals and user behavior.
To connect Google Analytics to your campaign, click Analytics in the top navigation.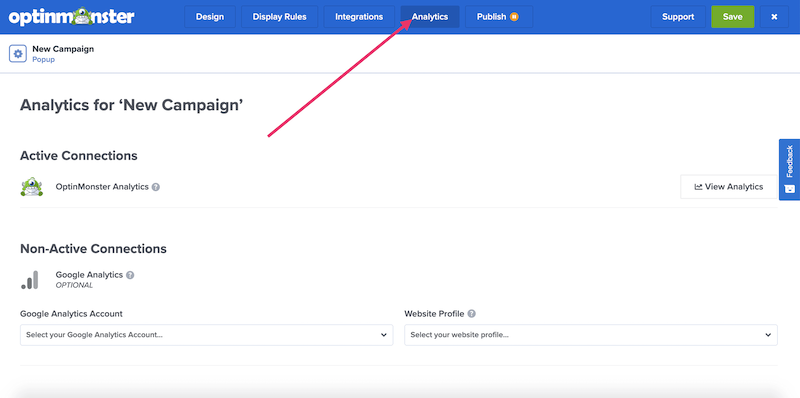 Select the option "Add a New Google Connection" from the Google Analytics Account dropdown, and follow the prompts to authorize access to your Google Analytics account.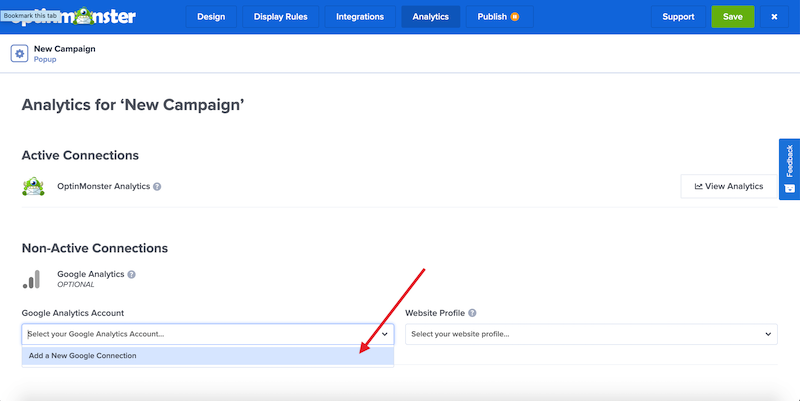 Review The Campaign
Once you're done editing the content and settings of your campaign, click the Publish tab in the top navigation to review your campaign.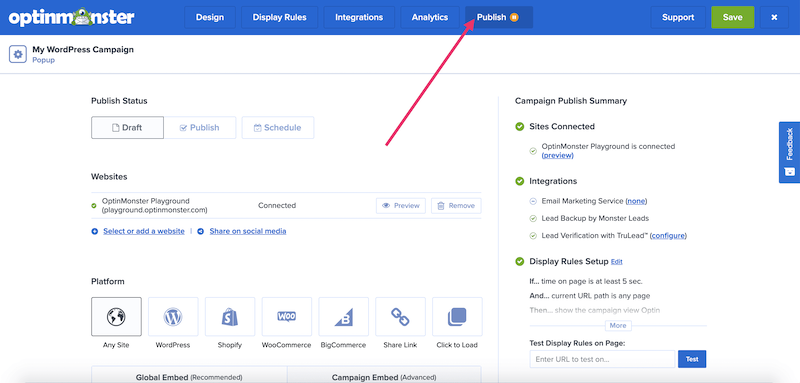 Change the Publish Status from Draft to Publish by clicking on Publish. Then click the green Save button in the upper right corner.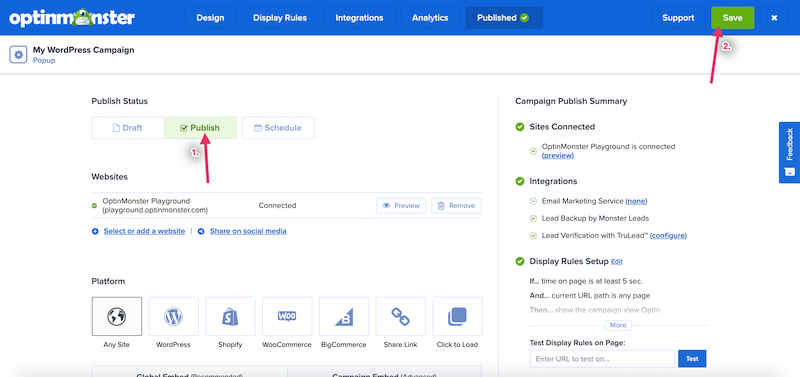 You're almost done!
Next, we'll close the campaign to return to your WordPress website so you can review the Output Settings for this campaign, and finally publish it on your site.
Click the X next to the green Save button to close the campaign.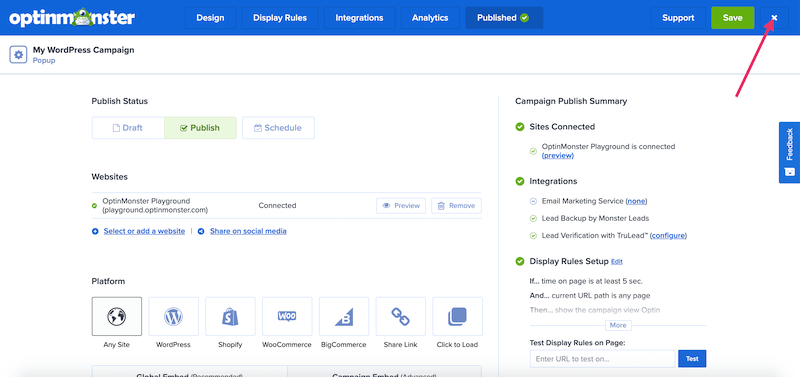 Configure Output Settings
After you close the campaign, you'll be directed to the Output Settings for this campaign in your OptinMonster for WordPress plugin. You can further target where your campaigns appear using the Advanced Settings.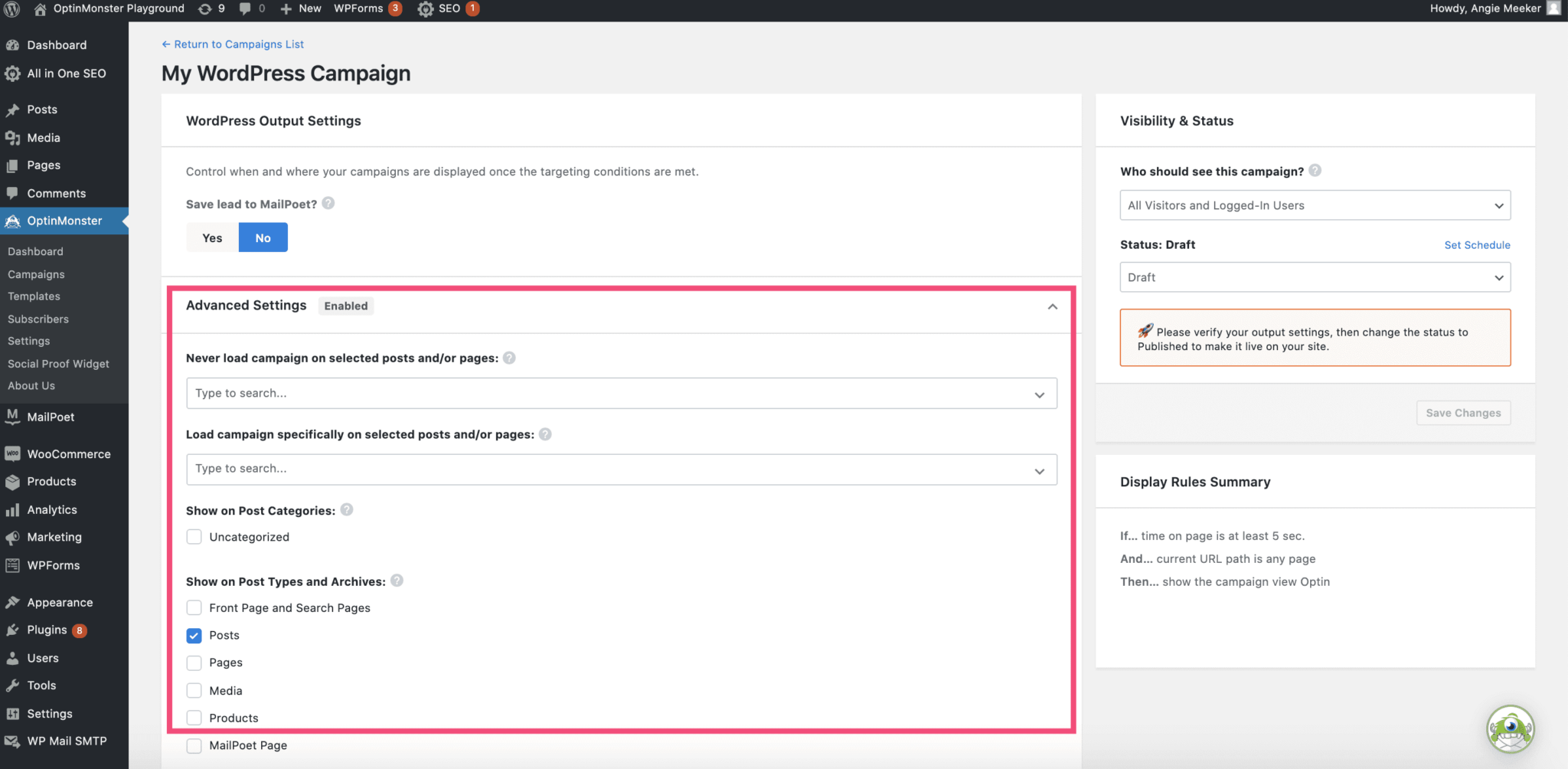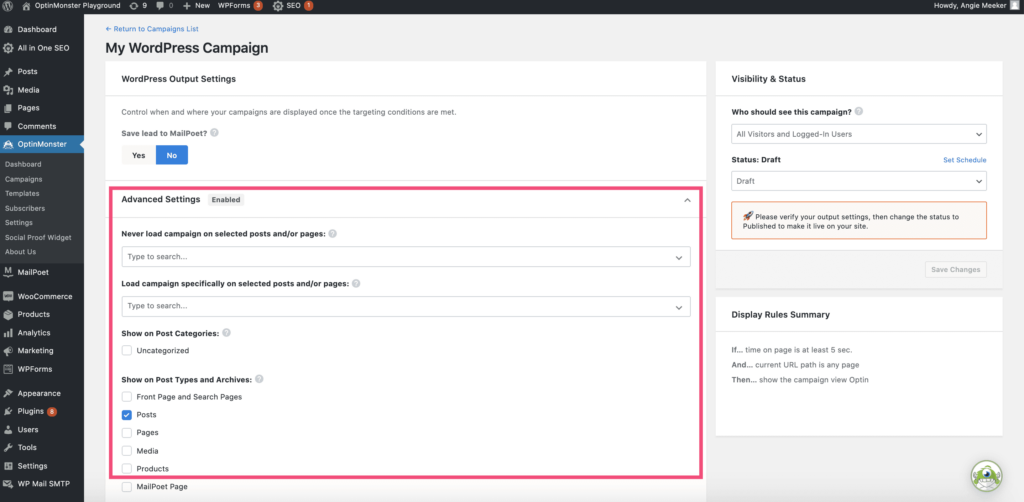 Remember that your campaign must meet all of the conditions in your Display Rules, as well as the conditions you select in the Output Settings before it can appear.
In the screenshot above, the Display Rules allow the campaign to appear on any page of the site after 5 seconds. However, within the Output Settings, it is set to display only on Posts, so the campaign can appear on any page of the site that is a Post.
Publish The Campaign
When you're done configuring your Output Settings, you're ready to publish your campaign live to your site.
Under Visibility and Status, select who should see the campaign (all visitors, or only logged in visitors).
Then, change the status from Draft to Published, and click the green Save Changes button.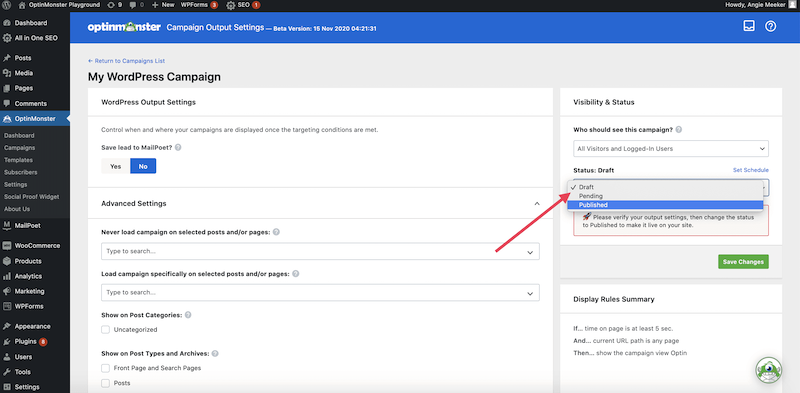 Congratulations! Your campaign is now live on your site!
What Next?
Your campaign is now appearing on your site. Visitors are either seeing it and converting it (YAY!) or seeing it and closing it without taking an action.
How often the campaign appears again after it has been seen or converted is controlled by the campaign's Cookies. By default, all campaigns display again after 30 days if closed, but not converted. They appear again after 365 days if the campaign is converted.
You may want to adjust those cookies to better suit your goals.
Learn how to adjust the Cookies that determine how often a campaign can show to visitors.
When you're ready to take your campaign to the next level consider implementing some of these features:
Split Testing
Split testing your campaign helps you improve conversions by testing different colors, copy, configuration settings and more.
MonsterLinks
You can show your campaign with the click of a link or button on your site with MonsterLinks!
Deliver Downloadable Files
Learn more about how to deliver downloadable content to subscribers when using OptinMonster.
Yes / No Campaigns
Use our Yes / No feature to add a two-step option to your campaign, or in place of collecting email addresses.