There are several methods you can use to deliver downloadable files to your new subscribers when using OptinMonster. In this document we'll cover the possible campaigns and some tips to help get you started with the solution that best fits your needs.
Before we jump into the available options, be sure you've uploaded the file you wish to provide to a remote server since OptinMonster does not host files for you to provide to subscribers.
Depending on your setup with OptinMonster, you have a couple different options:
---
Email the Downloadable File
You can easily email your new subscriber the link to your downloadable file. You'll set this option up through your Email Service Provider.
You can provide the file in your first email to new subscribers, or make it part of a campaign sequence if your Email Service Provider allows you to create sequences.
Pro: The benefits of this method is that it ensures that only legitimate email addresses receive your lead magnet.
Con: You don't have the benefit of offering an "instant download" which is more attractive for web visitors. In addition, you have an additional step to set up within your Email Service Provider.
Native Integrations
If you are using one of our Native Integrations, then you have access to our Success Actions.
Therefore, you have 2 options:
Option 1 – Add Link/Button to the Success Message
If you show the success view when the form submits, you can allow the user to download the file there.
Add a button element to the view.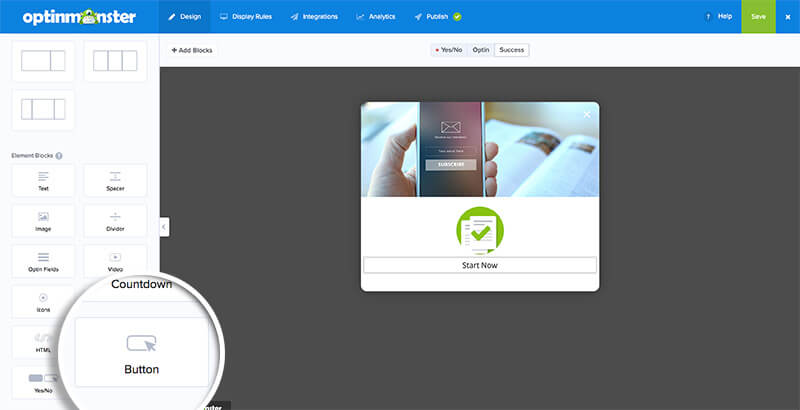 Edit the button's Action.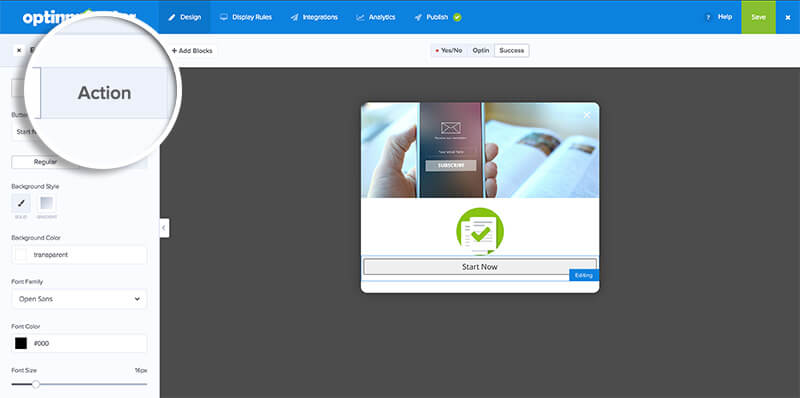 Set the Button Click Action to Open in a New Window.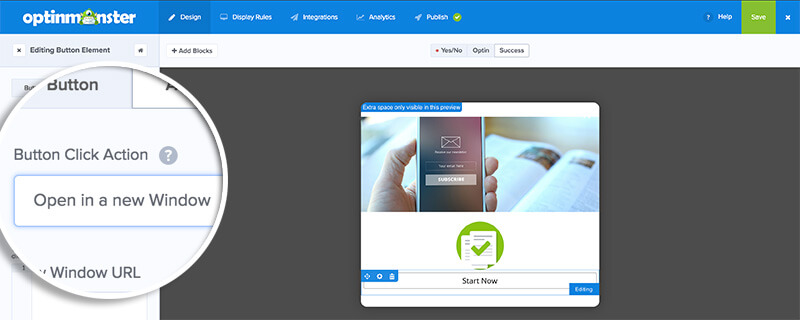 Add the URL to the file to the New Window URL field and style the button as you wish. Then, when people click the button, the file will either download or open in a new tab for them depending on their browser settings.
NOTE: Alternatively, instead of a button element you can use a text element and then add a link to the file to some or all of the text
Option 2 – Redirect to Page Containing the Download Link
If you're using one of our native Email Service Provider integrations you can set the form's Action to Redirect to a URL. From there, you can set the Redirect URL to the page you want to use.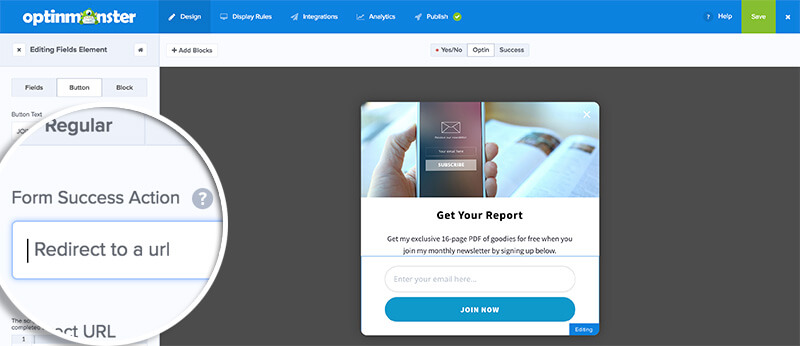 If you are using the Custom HTML integration option you can setup the redirect URL through your Email Service Provider.
Once you've set the Redirect URL, add your download link to the page you're directing new subscribers to.
Custom HTML
For non-native integrations, you can use the Custom HTML integration.
For Custom HTML integrations, you can use the JavaScript Events API to automate the download process. A prerequisite for this to work is that your Custom HTML campaign must register a conversion.
See our example on how to trigger a file download with the JavaScript Events API.
You can then place the code in the Custom HTML box on your campaign or directly on your site.
Not sure what to offer your visitors? See our blog post detailing highly effective lead magnet ideas!