Do you want to receive email notifications whenever someone subscribes to your optin? This is easy with OptinMonster's Zapier integration. This guide will show you how to set up automatic email notifications with Zapier.
NOTE:
 Please be aware that 
Zapier
has a free tier, but certain usage limits and integrations may require the paid version. The do provide a trial if you wish to try out their services to determine if they're a good fit for your needs.
---
Step 1 – Configure Webhook Integration
Create a Webhook Trigger by connecting OptinMonster to Zapier using our integration guide.
Step 2 – Create Zapier Action
Once you've configured a Webhook Trigger in Zapier following our Zapier integration guide, you'll be ready to create an Action for your Zap. Select the Continue button to begin configuring your Action.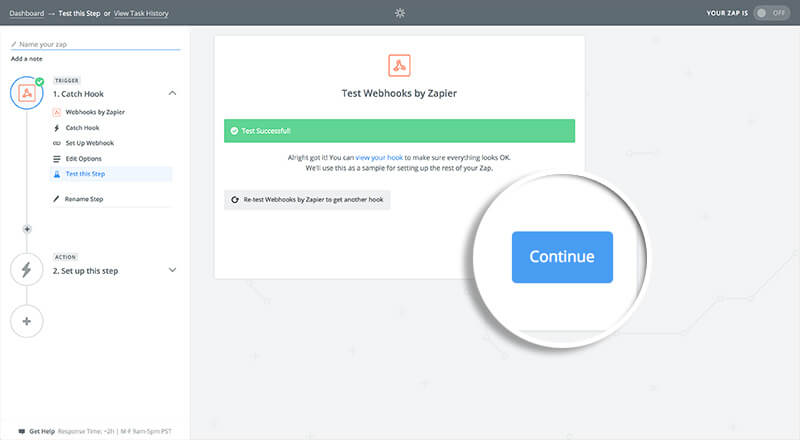 Step 3 – Configure Email Action
From the Choose an Action App screen, select Email by Zapier.
Note: you may need to search for this app if you haven't previously used it in a Zap.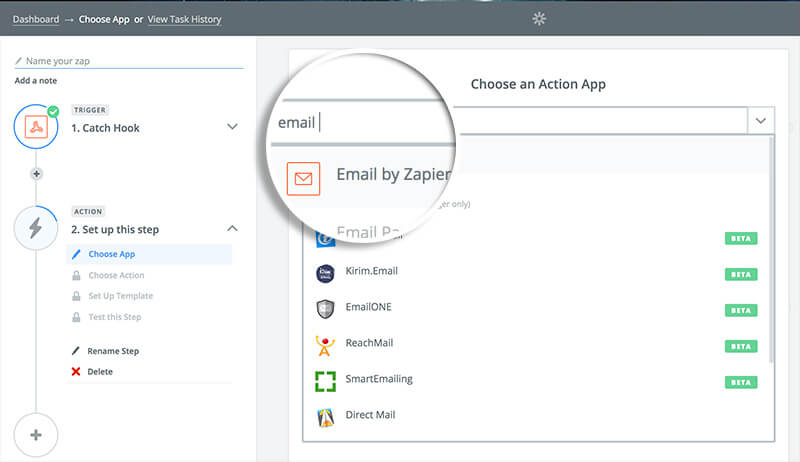 Next you'll be prompted to specify what Action should happen within Email. Choose Send Outbound Email from the options, followed by the Save + Continue button.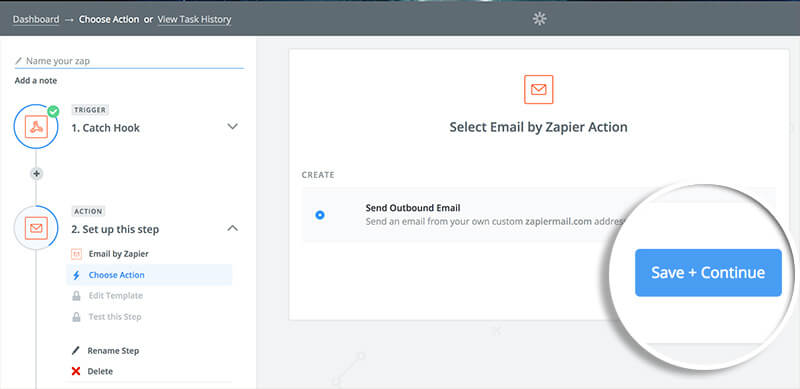 Step 4 – Setup Email Template
On the next screen you'll be asked to create a template for the emails this Action will send you.
For To recipient, type your email or the email you would like notifications to be sent to.
Subject will be the subject of the email you receive. Your subject can be anything you want it to be. To get you started, we suggest using the Subject Line: New Website Subscriber Notification.
Clicking the icon on the right of the field will provide options for selecting the lead data from your optin when appropriate.
Body will be the main content of the email you receive. You can use the icon at the top right to insert fields from the optin in your notification such as the email registered and the campaign they registered through.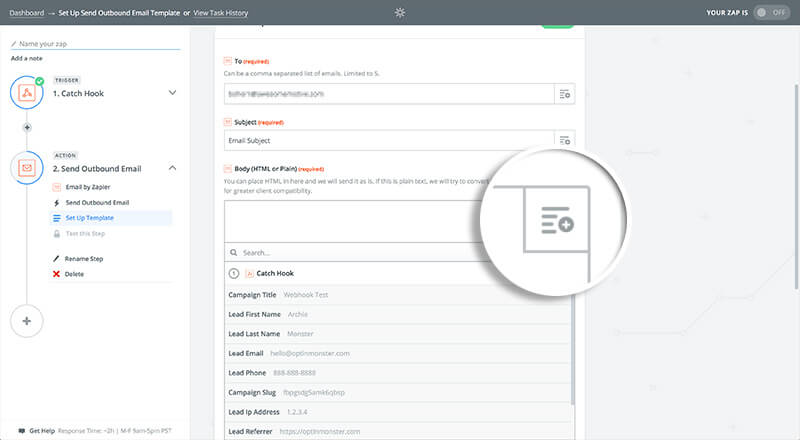 For From Name, you can type Zapier or, if your form requires that the subscriber fill in a name, you can use the icon on the right and choose Lead First Name.
Click Continue.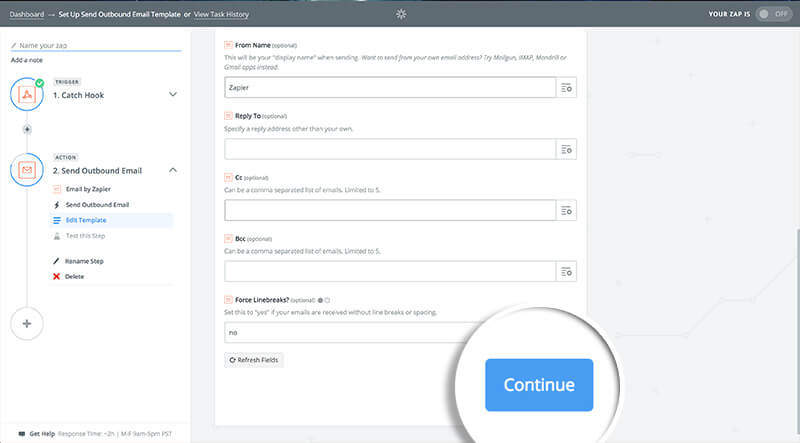 Step 5 – Test Action
Review the layout of your email. If you need to make additional changes, you can click the Edit Template link in the left sidebar to return to the previous screen. If you're happy with your email, click Send Test to Email by Zapier to send a test email to yourself.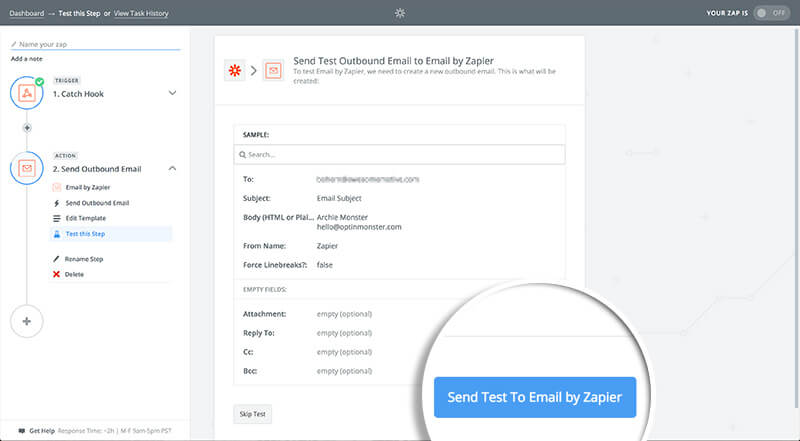 If your test was successful, you will receive an email at the email you specified. Click Finish.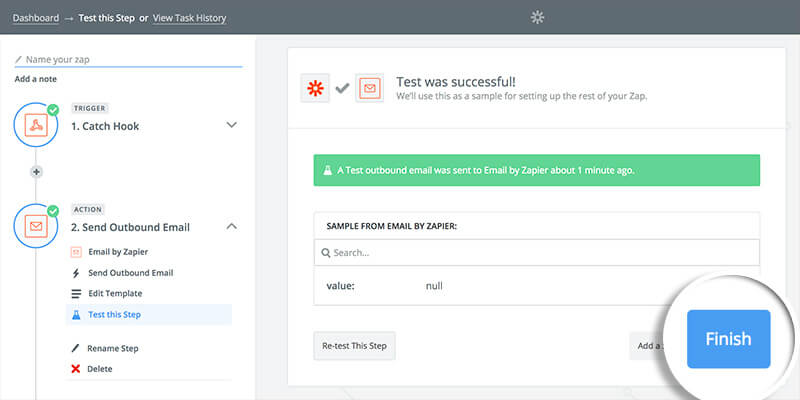 Step 6 – Turn on Your Zap
The final step is to turn your new Zap on!
Give your Zap a name which will help you identify it in your Zapier account and toggle the switch Your Zap Is… to ON.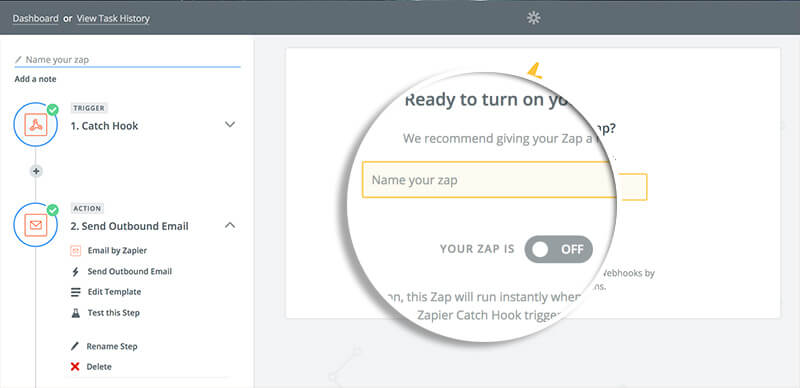 Congratulations! You've now created a Zap which will send you an email whenever someone subscribes through your optin!
Want to use Zapier to email new subscribers? Check out our guide on how to send subscribers an email from Gmail with Zapier and OptinMonster.