Do you want to capture your subscriber's phone numbers in addition to their email address? When using any of OptinMonster's native Email Service Provider integrations, you can easily add a phone field to your campaigns. Follow this guide to capture phone numbers with OptinMonster.
---
Step 1 – Navigate to Optin Panel
When you first open the campaign Builder, select the Optin tab to open the Optin panel.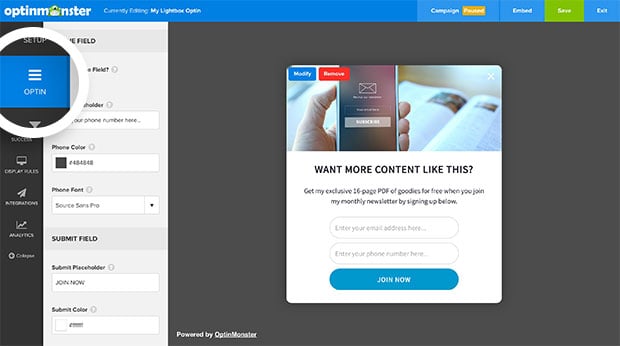 Step 2 – Enable Phone Field
Within the Optin panel, enable the Display Phone Field? option.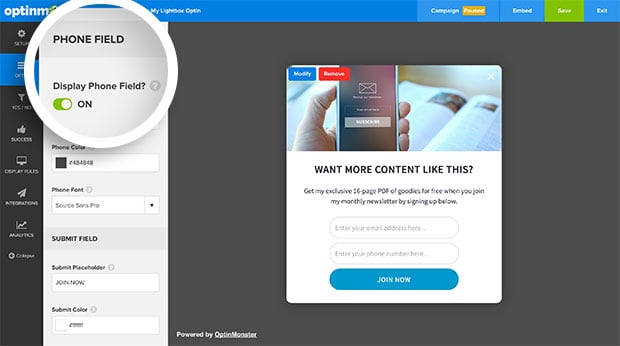 Step 3 – Configure Phone Field
Once enabled, you can configure the phone field's placeholder text, color and font family.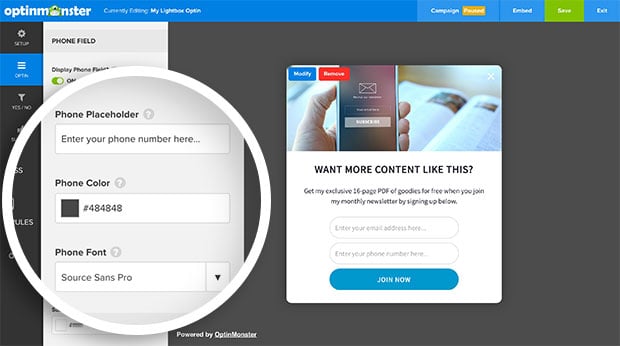 Congratulations, your campaign will now capture the phone number of new subscribers!
Ready to make your campaigns as effective as possible? See our beginner's guide to conversion rate optimization.
---
FAQ
Q: Which campaign types support the phone field?
A: All campaign types support the phone field!
---
Q: Which campaign templates support the phone field?
A: For the best possible display, the phone field currently works on all templates that have the form fields stacked vertically (this is majority of our templates).
We're working now on redesigning the few horizontal templates, so that the phone field can be included with those too.
---
Q: Can I reposition the phone field relative to other fields?
A: No. If you need to reposition the phone field you will need to use our Custom HTML integration option and add your own custom form code with the desired field order.