OptinMonster makes it easy to send your leads to multiple Email Service Providers from a single campaign.
In this article, you'll learn how to send lead data to multiple providers using OptinMonster's Lead Sharing feature.
Before you start, as a best practice we recommend you also connect your campaigns to Monster Leads as a backup.
Before You Start
Here are some things to know before you begin:
It is a good idea to have a backup of your leads in case one system fails, or temporarily goes down.  As a best practice, we recommend you connect your campaigns to Monster Leads as a backup to your main integration.
Many businesses use a separate database for organizing their sales leads and their newsletter subscribers. Both platforms are connected as separate integrations so that each new lead can be sent to both lists at the same time.
Another reason one might use multiple integrations for a campaign is to add leads to multiple segments within a main list. Many publications like to segment their leads based on interests, to receive targeted offers or updates.
Connect Multiple Integrations
Follow the steps below to send the leads you gather with an OptinMonster campaign to multiple integrations:
From the Integrations view of the campaign builder, search for and configure the first Email Service Provider integration you would like to send leads to. We provide detailed guides for all marketing platforms we integrate with.

Once you've configured your first integration, select the Add a New Integration button in the left sidebar to add another integration.

When you're finished, Save the campaign.
FAQs
How can I delete an integration from my campaign?
From the Integrations view, select the trash icon next to the integration you would like to delete.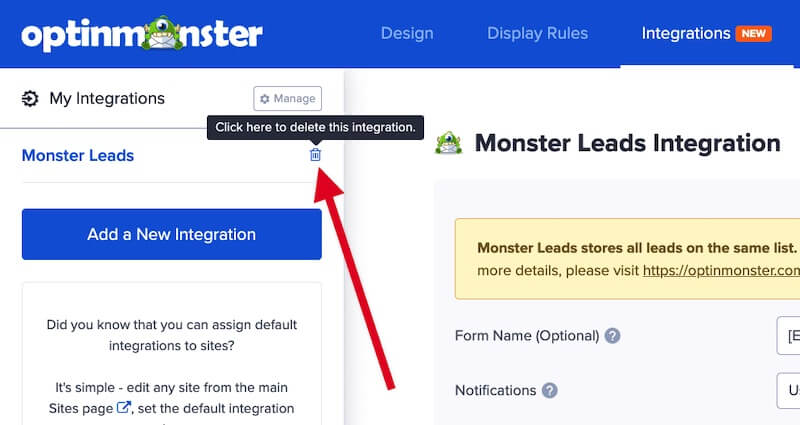 Please note that this only removes the integration from the individual campaign but does not delete it from your OptinMonster account.
You can edit or fully delete an integration from your OptinMonster account through your Account > Integrations page.
Is there a limit to the number of integrations I can add to a single campaign?
No, you can add as many integrations to a single campaign as you need.
Troubleshooting
The campaign is capturing leads but shows 0 conversions in analytics.
Confirm that conversion tracking is turned on for the submit button in your campaign. See our guide on How to Enable Conversion Tracking.
Why can't I select the Custom HTML integration option when adding another integration to my campaign?
Custom forms are now added using the Form Embed Block in the Design view of the campaign builder!
Follow our guide to add a custom form to your OptinMonster campaign.