Do you want to receive a text message every time someone signs up on your form? It's easy with OptinMonster's Zapier integration. Here we'll show you how to automatically receive a text message when you get new subscribers.
NOTE: 
Please be aware that
Zapier
has a free tier, but certain usage limits and integrations may require the paid version. The do provide a trial if you wish to try out their services to determine if they're a good fit for your needs.
---
Step 1 – Configure Webhook Integration
Create a Webhook Trigger by connecting OptinMonster to Zapier using our integration guide.
Step 2 – Create Zapier Action
Once you've configured a Webhook Trigger in Zapier following our Zapier integration guide, you'll be ready to create an Action for your Zap. Select the Continue button to begin configuring your Action.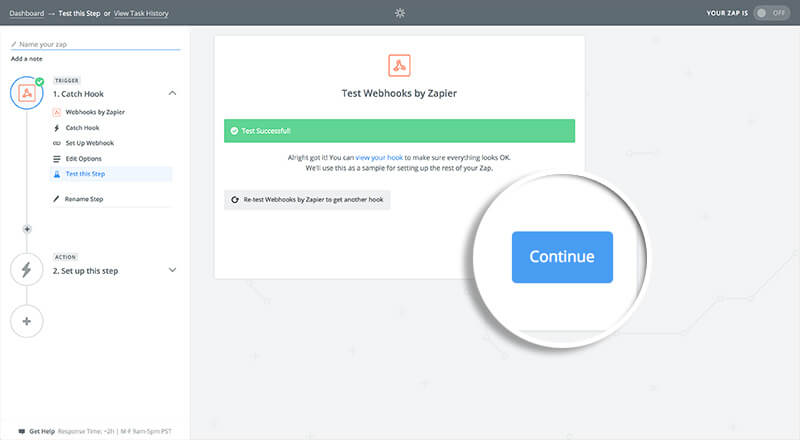 Step 3 – Configure SMS by Zapier Action
From the Choose an Action App screen, select SMS by Zapier.
Note: you may need to search for this app if you haven't previously used it in a Zap.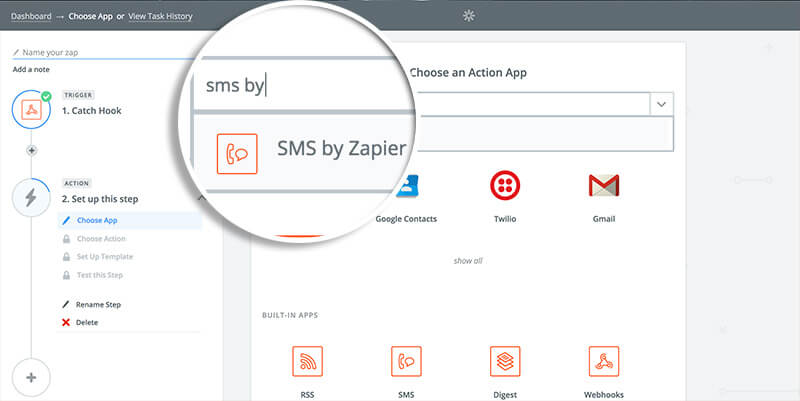 Next you'll be prompted to specify what Action should happen within SMS by Zapier. Choose Send SMS from the options, followed by the Save + Continue button on the bottom right.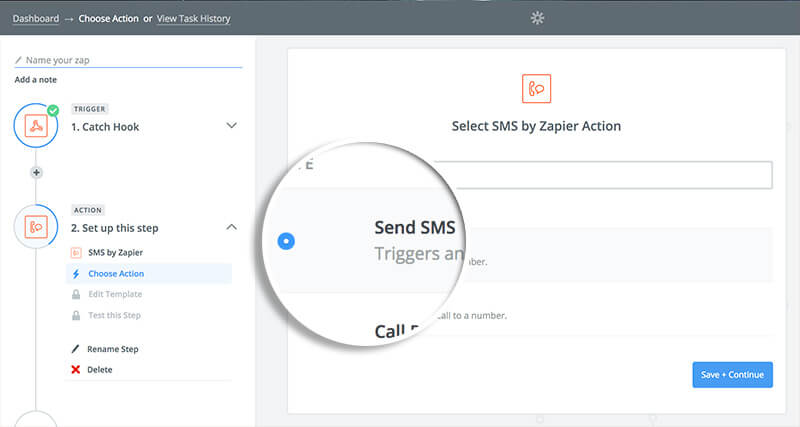 Zapier will now ask you to choose or connect your specific SMS by Zapier account. If you haven't already connected your SMS by Zapier account to Zapier, select the Connect an Account.

If connecting your SMS by Zapier account for the first time, a new window will open prompting you to enter your To Number. This is the number which will receive a text of the new subscriber information. For Confirm via SMS or Call, choose SMS. Then you will need to enter a PIN to confirm the account. To get this, click the Send PIN button.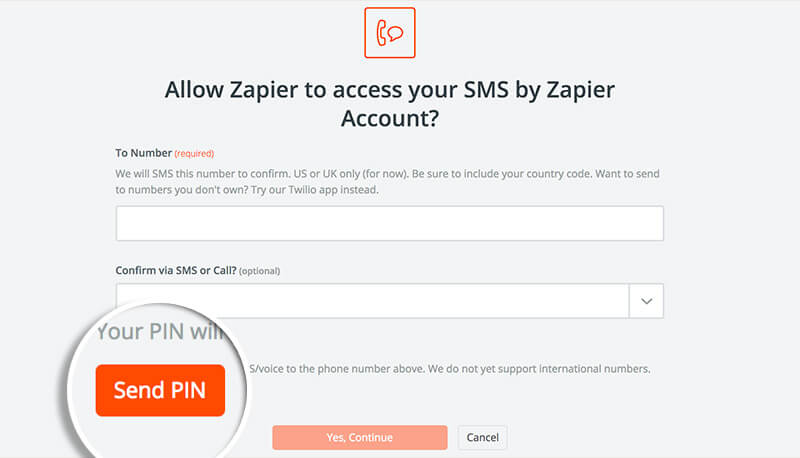 After you get the PIN sent as a text message to your phone, type that PIN into the appropriate field. When you're finished, click Yes, continue, to be returned to the Action setup.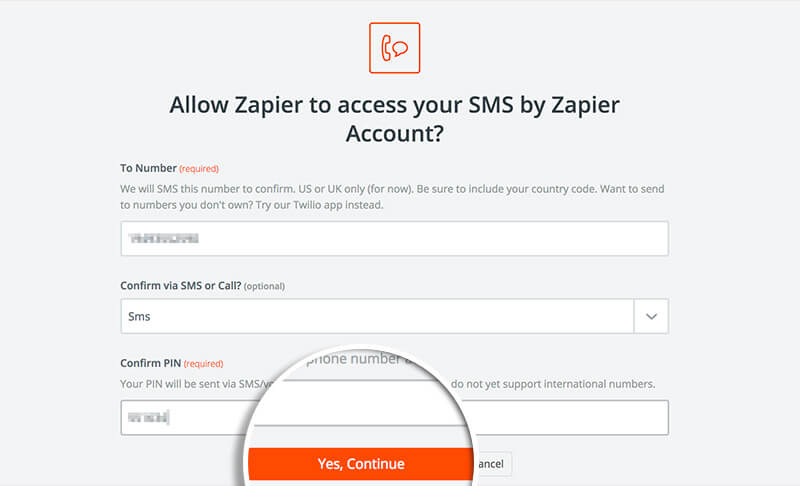 You'll see your SMS by Zapier account available to select now. Go ahead and press the Test button to confirm the connection to your SMS by Zapier account.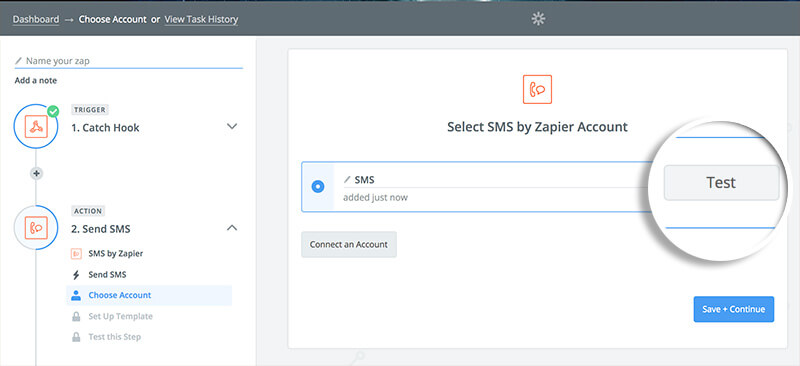 NOTE: Clicking the pencil icon next to your account's name will allow you to rename the account. This can be helpful if you need to connect more than one SMS by Zapier account to your Zapier account.
With the green
Success
message from SMS by Zapier, you are good to proceed to the next step. Once you select the account you want to connect for this Action, select the
Save + Continue
button.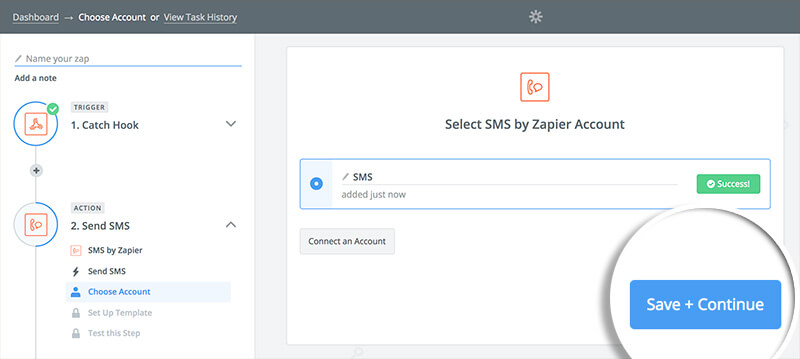 Step 4 – Determine What Information is Sent to SMS By Zapier
On the next screen you'll be asked to link which webhook fields are linked to which SMS by Zapier fields.
Clicking the icon at the top right of the field will provide options for selecting the lead data from your campaign when appropriate.
The first thing you will need to do is determine the From Number. This is the number which will be the "From" number on the SMS messages. In this case, you need to select Use a Custom Value.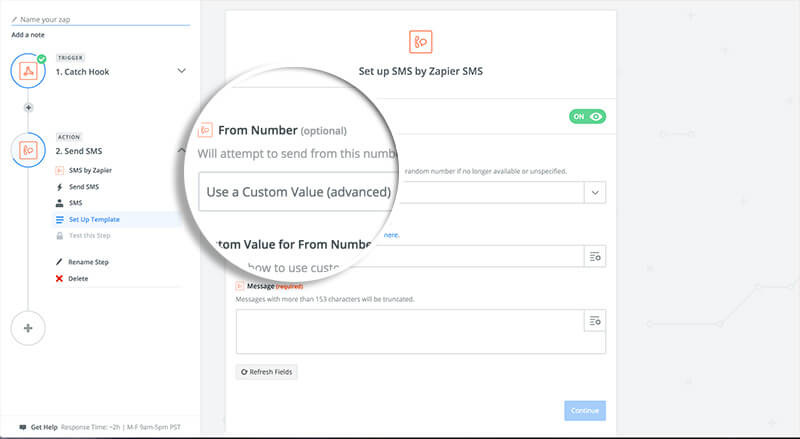 Next, for the Custom Value for From Number.  From the dropdown, select Lead Phone.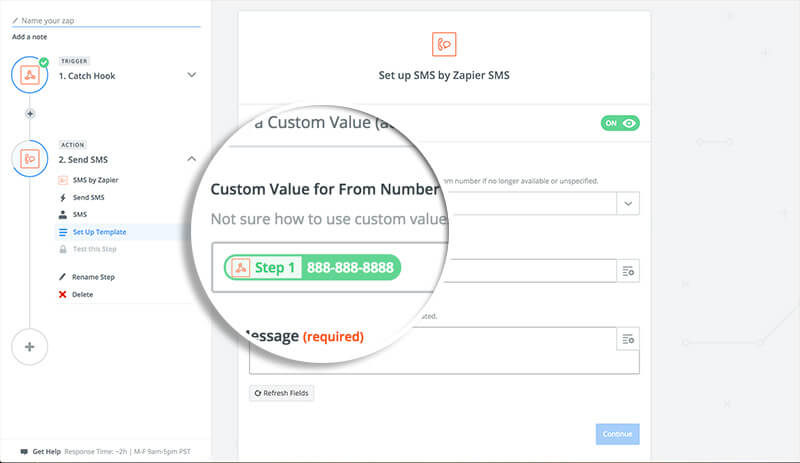 Next, you need to write a message in the Message field that will be sent as the SMS (Text) Message. This should be a mix of text and the fields received from the webhook. Like the example below, you could have something like this:
New Lead from [Field: Campaign Title]

Name: [Field: Lead First Name] [Field: Lead Last Name]

Email: [Field: Lead Email]

Phone Number: [Field: Lead Phone]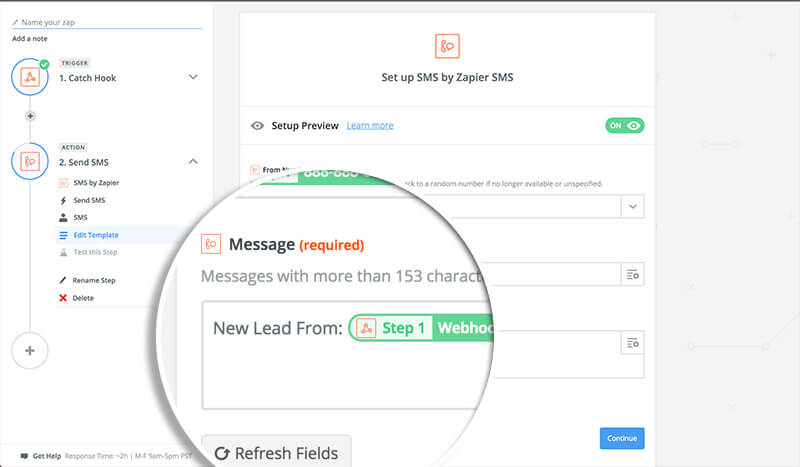 When you're finished connecting fields, click Continue.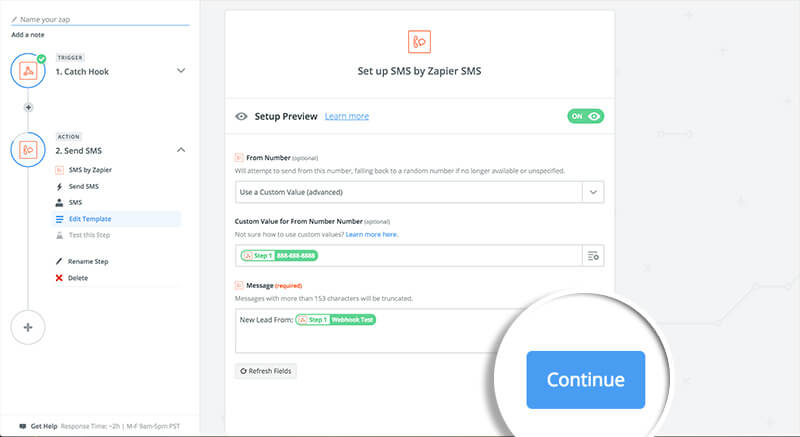 Step 5 – Test Action
Review the fields used to send the SMS message via SMS by Zapier. If you need to make additional changes, you can click the "Edit Template" link in the left sidebar to return to the previous screen. If you're happy with your fields, click Sent Test To SMS by Zapier to send a test SMS Text to yourself.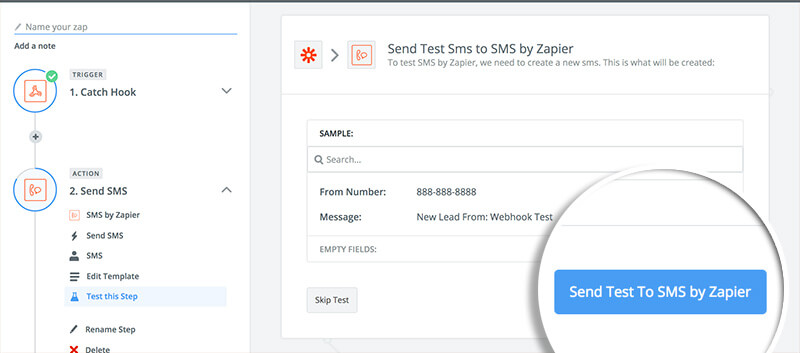 If your test was successful, you will see a green Test Successful message and also receive a text message to your phone. Click Finish.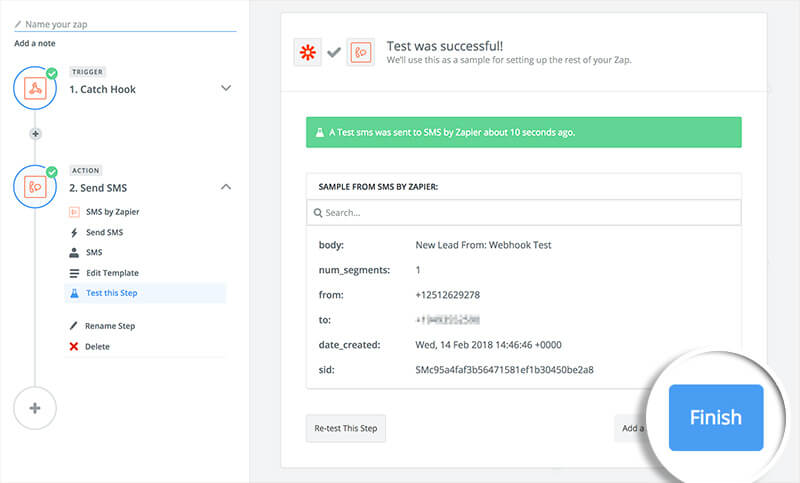 Step 6 – Turn on Your Zap
The final step is to turn your new Zap on! You can also name your zap for easy identification.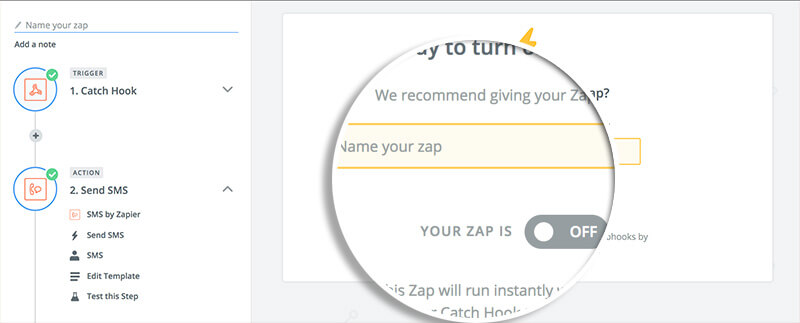 You can test the zap by submitting the campaign with any phone number. You should receive a text message your phone with the details of the submissions.
Congratulations! You've now created a Zap which will send you a text message whenever someone subscribes!
Want an easy way to keep track of your lead information? See our guide on how to add subscribers to a Google Spreadsheet with Zapier.
---
FAQs:
Q: Where does the lead information go?
A: In this setup, you are only receiving text messages from information received from the campaign, but you are not storing the information in any type of database, Email Service Provider, nor Customer Relationship Database. To store their name, email address, and phone number, you should take advantage of OptinMonster's Multiple Provider ability. Additionally or alternatively, you could even create another webhook to your campaign if you wanted the information added to something like Google Contacts.