Are you looking for the best BigCommerce alternative to start your online store?
It's never been easier to create a powerful, reliable, and affordable eCommerce store in minutes. And one of the biggest names on the market is BigCommerce.
This platform has helped tens of thousands of business owners set up shop and start selling their products online.
But like it is with all digital tools, there's no ONE solution that's right for everyone.
That's why, in today's article, we'll share the best BigCommerce alternatives to start your eCommerce business.
Before we dive into the list, though, let's get clear on what BigCommerce is and what it promises to do.
What Is BigCommerce?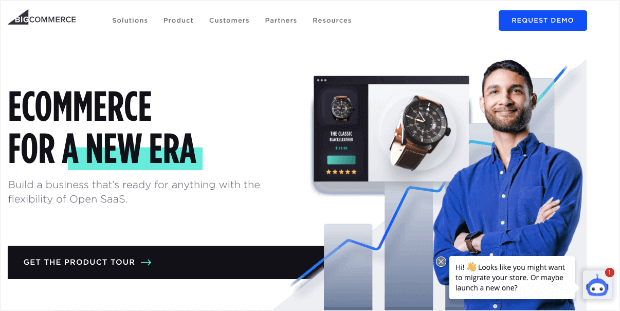 As the name suggests, BigCommerce is an eCommerce website builder that helps small business owners sell their products online.
BigCommerce comes with a set of powerful built-in features, such as responsive and customizable themes, multi-channel integrations, and a lot more.
You might be wondering, if BigCommerce is so user-friendly, why are we discussing alternatives?
The answer is simple: BigCommerce is not for everyone.
It might not have all the functionality you're looking for, perhaps it's out of your budget, or maybe you simply want to know your options.
So let's turn our attention to the 8 top BigCommerce alternatives that you can use to start selling your products or services today.
8 Best BigCommerce Alternatives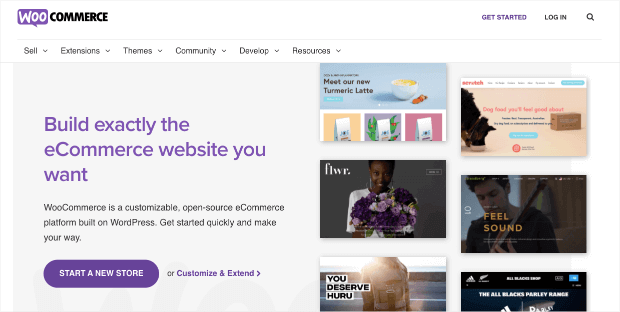 WooCommerce is hands down the most popular eCommerce platform on the market.
It's very beginner-friendly and, you can start your online store from scratch with zero technical knowledge.
WooCommerce is also very flexible and gives you tons of customization options. You can upload files, change colors, add buttons, and much more to your store with just a few clicks.
Plus, you can easily add more features to your store with the help of WooCommerce plugins and extensions.
In fact, WooCommerce provides access to 55,000+ free WordPress plugins.
Finally, there are more payment gateway extensions for WooCommerce than any other platform.
Key Features 
Simple set up and easy-to-use
100+ pre-built website templates
Easy inventory tracking
Centralized dashboard for performance tracking
Pricing: WooCommerce is a free, open-source platform.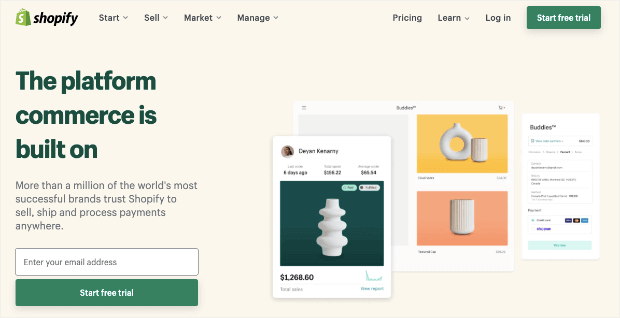 Shopify is one of the most famous eCommerce platforms in the world, and for good reason.
Anyone can use Shopify to build an eCommerce website in just a few minutes. You can seamlessly create as many pages as you want with Shopify's easy-to-use built-in editor.
Plus, you can always enhance your Shopify store with powerful apps.
In fact, there are thousands of Shopify apps that you can use to make your store visually appealing and grow quickly. You will also find apps for inventory management, business reporting, accounting, and much more.
Shopify has its own payment gateway and supports all the popular payment processors.
Finally, Shopify stores are known for great user experiences (UX) as they run smoothly across all devices and at any time.
Key Features 
Seamless shopping experience
4000+ Shopify apps
Inbuilt marketing tools
Built-in speed checker
24/7 tech support
Pricing: Paid plans start at $29/month.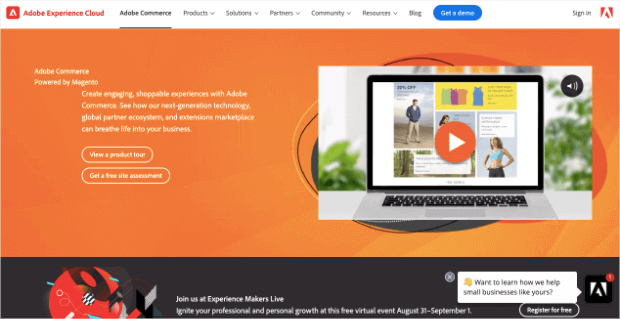 Magento is another open-source platform that can be used to build an eCommerce website.
This tool is powered by next-gen technology that helps create truly amazing shopping experiences.
You can enhance your Magento store with tons of third-party extensions and addons. There are more than 5,000 extensions available in the Magento marketplace.
This platform also helps you find extensions for site customization, sales reporting, accounting, payment security, and a lot more.
However, a majority of the extensions aren't free.
The good news, though, is that you don't have to worry about website performance with Magento. That's because it ensures optimum web performance without relying on your site's bandwidth.
Magento also offers incredible flexibility. You can easily add personalized content to your shopping pages with drag and drop tools.
This means you don't need to be a professional coding expert to develop a stunning eCommerce site.
Key Features 
Personalize with a drag and drop builder
Data insights to monitor business performance
Thousands of themes and addons are available on the marketplace
24/7 customer support
Pricing: Magento OpenSource is a free product to build a self-hosted site. That said, you'll need more technical skills to make your store look the way you'd like. Magento Commerce (the full-solution package) starts at roughly $2,000/month, making it one of the more expensive options on this list.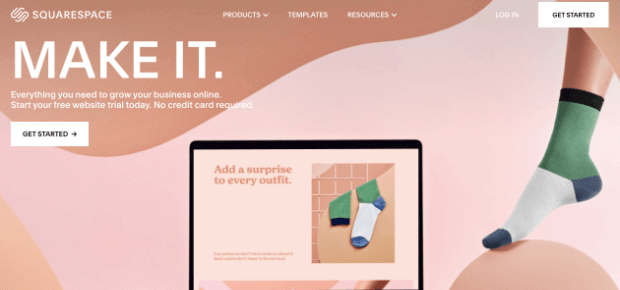 Squarespace offers you one of the easiest ways to build your eCommerce store.
You don't need any coding knowledge to build a site using Squarespace. Its drag and drop builder helps you design your site in no time.
Plus, it comes with pre-built themes that you can use to make your site look professional and stunning.
Squarespace has limited flexibility options compared to the other platforms, but it comes with handy widgets and integrations.
In fact, this platform also comes with a lot of built-in tools that you can use to upgrade your site.
Key Features 
Drag and drop builder
Eye-catching pre-built templates
Flexible layouts, custom color palettes, and built-in photo editing tools
Supports third-party extensions for finance, inventory, marketing, shipping, and more
24/7 support
Pricing: Squarespace's paid plans start at $16/month (or $9/month when billed annually).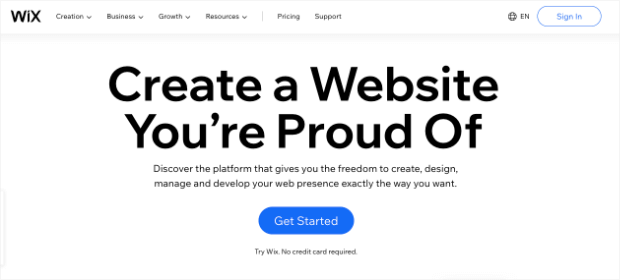 Wix is another platform that helps you to build eye-catching eCommerce websites.
Wix provides 500+ free online site templates that you can use right away. This platform provides a variety of customization options. You can customize anything from product pages to checkout.
The best part is that it comes with a lot of handy business tools like the Wix Logo Maker, Business Name Generator, and much more. You can make your site appear more professional and powerful using all these tools.
Lastly, Wix comes with a native payment solution called Wix Payments, and it also supports major global payment providers such as PayPal, Stripe, and more.
That means you can create a full-functioning eCommerce website with Wix even without any coding knowledge.
Key Features 
500+ free online store templates
Easy customization options
Essential business tools
Supports popular payment providers
24/7 customer support
Pricing: The basic eCommerce plan starts at $225/month.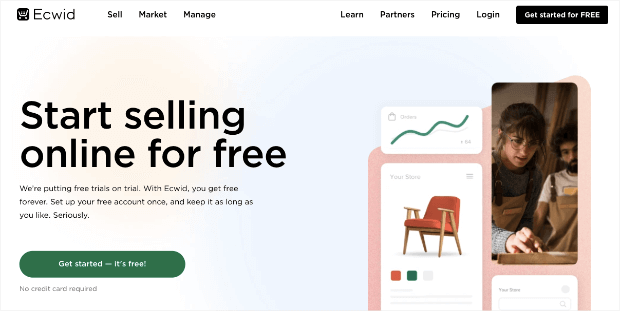 Ecwid is a powerful eCommerce solution suited for small businesses.
It easily integrates with most eCommerce platforms. That means, even if you have an existing website, you can still use Ecwid to get the best eCommerce features.
Ecwid has a user-friendly interface, and they recently updated their control panel to ensure seamless navigation even for the people who are using it for the first time.
But that's not all.
Ecwid is powered by an all-in-one sales dashboard that provides you a consolidated sales report. It also supports all the major sales channels such as Facebook, eBay, Amazon, and more.
Also, there are some essential tools that you can use for basic operations, such as automated tax calculations, inventory management, accounting, and a lot more.
Plus, Ecwid provides access to a large app market where you can find valuable extensions to enhance your store.
Key Features 
Easily sync with popular eCommerce platforms
Supports multiple sales channels like eBay and Amazon
Centralized inventory dashboard for inventory management
All-in-one sales dashboard for sales reporting
Wide collection of valuable extensions in the app market
Pricing: There is a free plan that you can get started with.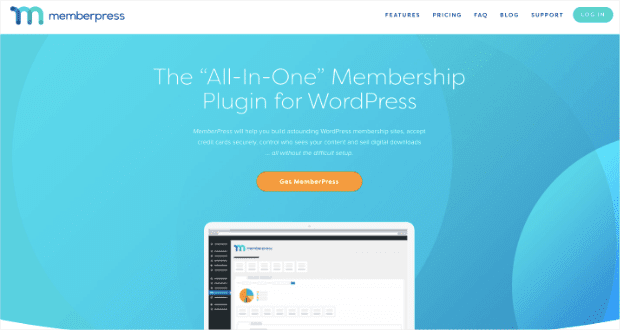 So far, we have looked at solutions that help you sell goods online. But what if you're just selling digital content or community memberships?
This is where MemebrPress comes into the picture. It's your go-to option if you're building a community with subscriber-based content.
MemberPress comes with a very simple setup process. You can easily set up different payment processes that help you sell memberships, subscriptions, and more.
It also comes with pre-built support for Stripe and PayPal payments.
MemberPress has limited customization options, but that doesn't need to interfere with your marketing efforts.
That's because MemeberPress integrates with a lot of popular live chat software, email service providers, and more.
Key Features 
Hassle-free installation
Integration with many third-party solutions
Works with any WordPress theme
Pre-built support for payment integrations
Pricing: Paid plans start at $129/year.

Square Online is the final eCommerce website builder on our list.
This platform helps businesses seamlessly add eCommerce features to their existing website.
You don't need any coding experience to get started. That's because Square Online provides a series of guides to help users successfully complete the setup process.
Even if you don't want to create a full-scale eCommerce store, you can simply create checkout pages with Square Online.
Also, you get a consolidated business report that helps you to monitor business performance.
Plus, you can also stay updated with your inventory. The Square POS Integration automatically imports your item catalog and helps you streamline your inventory.
Key Features
Free version available
Easy to create checkout pages
Supports all major credit cards
Easy to use features
Pricing: Paid plans start at $12/month plus transaction fees.
Which Is the Best BigCommerce Alternative?
In this detailed post, we covered some of the best BigCommerce alternatives. All these platforms have different advantages, and you should choose the one that caters to your immediate business requirements.
For most business owners, WooCommerce is the best BigCommerce alternative. It is beginner-friendly, and you can get started immediately.
Best of all, it offers tons of flexibility as it has the largest ecosystem of premium extensions.
WooCommerce also helps you to scale fast and continuously evolve your business with a large selection of plugins and addons.
For these reasons and more, WooCommerce is hands down the best option if you're looking to start your online store right away.
But regardless of which platform you choose to build your eCommerce shop, you'll run into another problem: you need a tool that brings more traffic, grows your email list, and generates more conversions.
This is exactly what OptinMonster helps you achieve.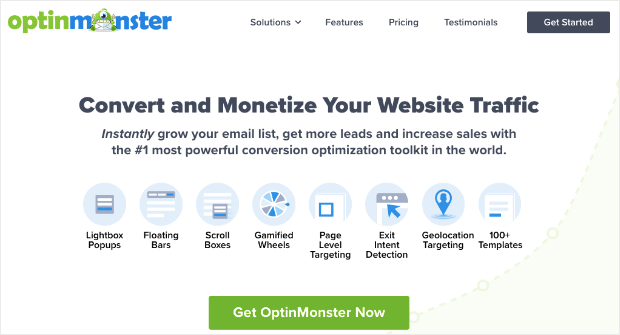 OptinMonster is the world's best lead generation tool.
With this tool, you can convert more leads with the help of eye-catching optin campaigns.
By "optin campaign," we mean things you're already familiar with, like popups, floating bars, spin-to-win wheels, and more.
Here's an example of an optin campaign in the form of a popup: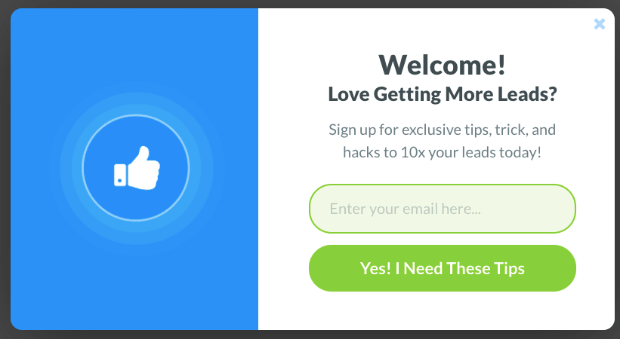 OptinMonster is so easy to work with because it lets you get started with 50+ pre-made templates, regardless of the type of campaign you're building.
It also comes with a drag and drop builder that helps you to easily customize your campaigns: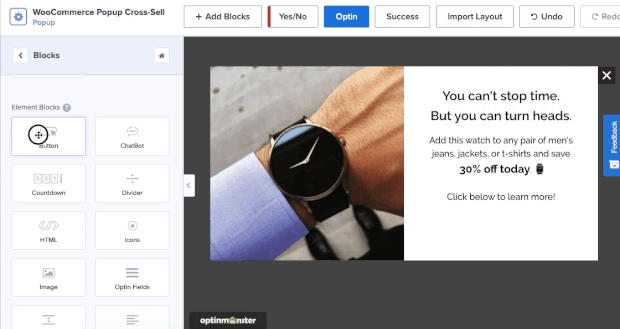 That means you can build stunning and high-converting campaigns in minutes with zero coding required.
Plus, OptinMonster seamlessly connects to the most popular email service providers (ESPs), such as Constant Contact, Drip, Sendinblue, and more: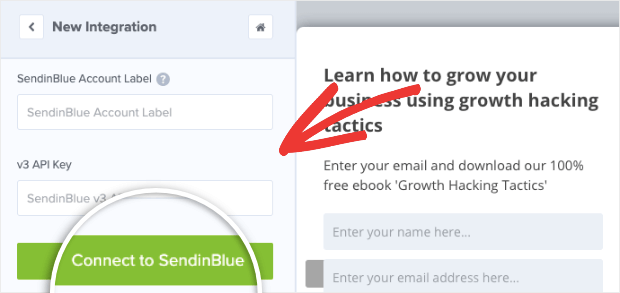 That means you can organize your contact lists and send new leads exactly where you need them to be.
But what really makes OptinMonster the best lead gen tool in the world is its powerful targeting features.
Some of the most popular targeting rules include:
Exit-Intent® Technology: Reduce cart and site abandonment by capturing leads as they're actively leaving your website.
Geolocation Targeting: Personalize your offers by targeting users based on their physical location.
Page-Level Targeting: Customize the user journey by matching offers to the content your visitors are reading.
These are just a few of the powerful targeting rules OptinMonster has to offer, though there are many others. In fact, there are even rules specifically for eCommerce to take your sales to the next level: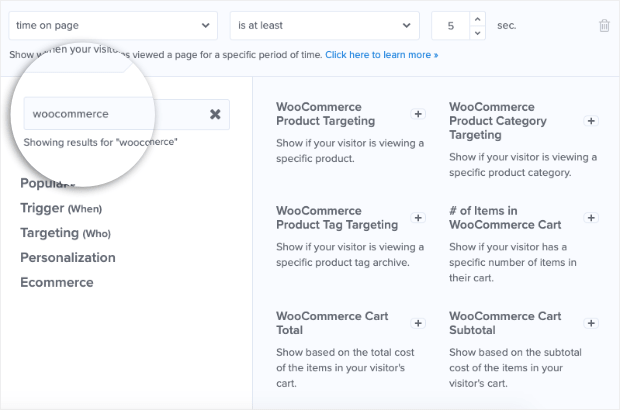 This allows you to present your optin campaigns to users based on:
Products they're browsing
Items in the cart
Cart subtotal
Product tags
And much more…
This works incredibly well when it comes to recovering abandoned carts.
OptinMonster works so well that the fitness company Crossrope converted 13.71% abandoning visitors with exit-intent options.
Want to get more leads with OptinMonster? Then get your 100% risk-free OptinMonster account below:
Get Started With OptinMonster Today!
BONUS: Done-For-You Campaign Setup ($297 value)
Our conversion experts will design 1 free campaign for you to get maximum results – absolutely FREE!
Click here to get started →
And that's all for today! We hope that you really enjoyed this post on the best BigCommerce alternatives.
If you did, you'd definitely find the following resources helpful:
These resources will help you find the best tools and strategies you need to grow your online store.