Are you looking for the best WooCommerce review plugins to increase conversions?
There are many techniques that you can implement to improve your sales. One of the most effective is leveraging user reviews as social proof.
These reviews show other customs that your product or services are reliable, trustworthy, and battle-tested.
Customer reviews are very impactful, and you should have plenty of them on your website. And a powerful WooCommerce review plugin helps you achieve exactly that.
So, in today's post, we'll look at the best WooCommerce review plugins for your business.
But first, let's get a bit more clear on why you might want a review plugin at all.
Why You Need a WooCommerce Review Plugin 
Successful reviews have a big impact on your brand's image. They build confidence with potential leads and help you get MORE conversions in LESS time.
There are a variety of common benefits that every business can get out of positive reviews:
Improve Word-of-Mouth Marketing: Get more people talking about your brand and let these reviews do all the persuasion for you.
Highlight Social Proof: Highlight how real customers are already happy with your products or services to get new leads to take action.
Drive MORE Sales: Ultimately, all the benefits of using a WooCommerce review plugin come down to this: you'll make more sales.
But with all these benefits, you might be wondering why you don't see more WooCommerce stores effectively using customer reviews.
The truth is that gaining (and displaying) these reviews can be time-consuming and tedious, especially if you don't have the right tools.
If you DO have the right plugin, however, then you can add customer reviews to your online store in minutes.
So, now, let's turn our attention to the best WooCommerce review plugins available.
Best WooCommerce Review Plugins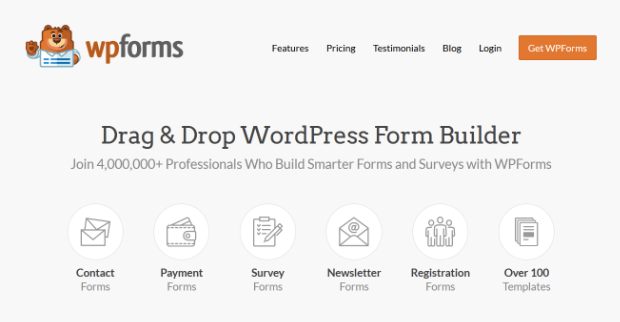 WPForms is the world's #1 form builder plugin for WordPress. You can easily create engaging, powerful, and user-friendly forms in a matter of minutes.
This allows you to create stunning forms including:
Contact
Payment
Survey
Newsletter
Registration
And many others, including forms for users to leave reviews.
Plus, it comes with a drag and drop form builder, so you don't need any technical skills or coding experience to get started. All the forms are totally responsive and mobile-friendly and can be embedded into your posts or pages in just a few clicks.
WPForms also comes with 100+ templates for forms that you can get started to get more user reviews from your online store today.
Here are some of the biggest advantages of working with WPForms:
Drag and drop form builder
Pre-built templates
Responsive form
Smart conditional logic
Easy to embed
Spam protection
If you want to get more user reviews, then WPForms will be one of the best tools at your disposal.
Get started with WPForms today!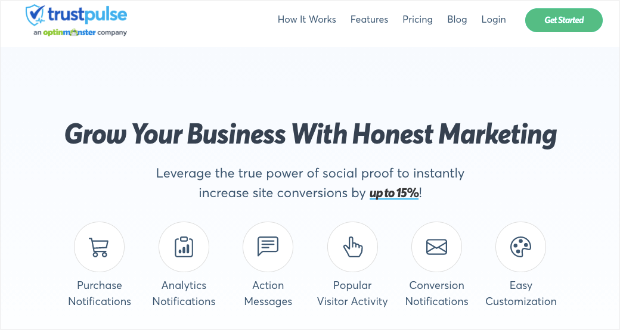 TrustPulse is the best social proof plugin on the market and can help you get MORE user reviews in LESS time.
How? TrustPulse helps to create effective social proof notifications that help other visitors take the actions you want them to (like filling out a user review form, for example).
From displaying popular user activity to conversion notifications, TrustPulse is a plugin that you MUST have.
With TrustPulse, have 4 different types of notifications that you can use to get more user reviews:
Recent Activity: Show a live stream of your website to display how many people have left you a review.
On-Fire: Display the number of people taking action on your website in a given period.
Visitor Analytics: Highlight active interest in your site by showing real page visits over time.
Action Message: Feature a single static notification to inspire visitors to take action or highlight information.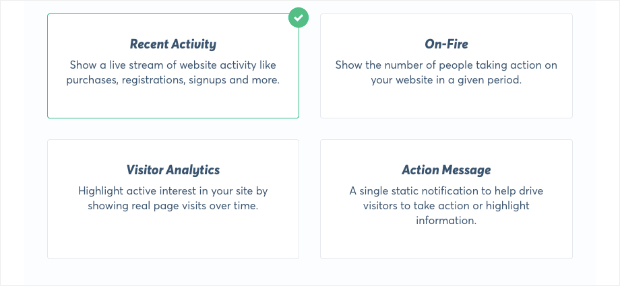 These campaign types allow you to display genuine social proof no matter what stage of business you're in.
Plus, you can use the Action Messages campaign to showcase your top reviews:
TrustPulse works on any website, and you don't need to have coding expertise to use this plugin. It is simple and really effective.
By showing how many other people have left you user reviews, you can get even more of your site's traffic to let you know what they think about your product or services.
And at the end of the day, this translates to MORE sales from your WooCommerce store.
Get Started with TrustPulse Today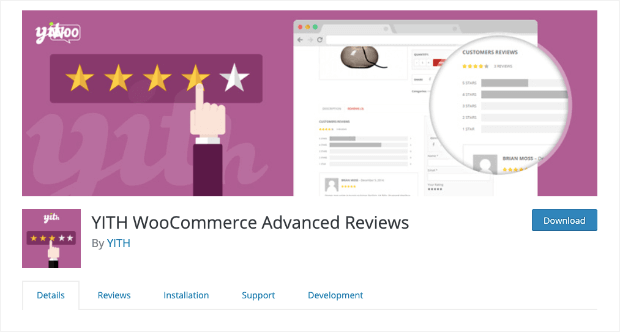 YITH WooCommerce Advanced Reviews is a simple WordPress plugin that helps you create a product review. These are in the form of 5-star ratings, and you've likely seen them on other eCommerce sites.
YITH WooCommerce Advanced Reviews helps to customize bar appearance, add histogram review tables, and also allows customers to add titles and attachments to their reviews.
This plugin is packed with a set of powerful features such as user edits, reCAPTCHA, open filtered reviews, and much more.
While you can do some of the basic things you'll need with a lower-tiered plan, you'll likely need to select a premium plan to unlock all the advanced features mentioned above.
Get started with YITH WooCommerce Advanced Reviews today!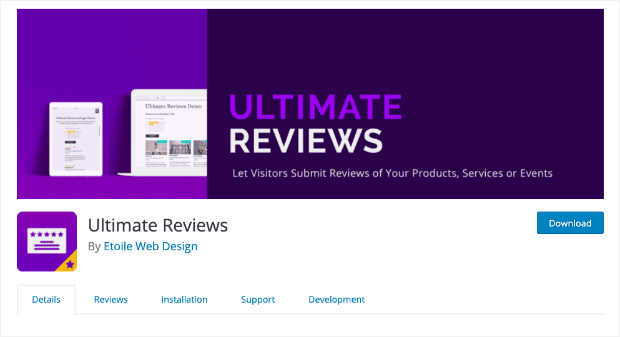 If you are looking for a simple plugin, then Ultimate Reviews can be a good option.
Just like any other review plugin, Ultimate Reviews helps customers easily leave ratings and feedback on different products.
This review plugin has an incredibly easy setup. And it even allows you to add more authenticity to every review by adding the date and author.
That's important because it makes your reviews more effective at converting your traffic into customers.
Plus, you can customize the review style with Ultimate Reviews. It provides a variety of flexible style options for designers to make sure the reviews aren't a distraction from the rest of the site.
Get started with Ultimate Reviews today!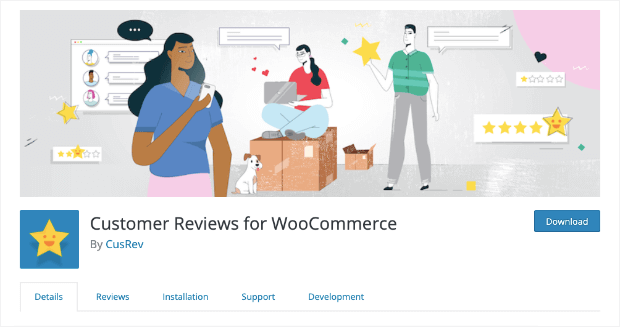 Customer Reviews for WooCommerce is another simple WordPress review plugin that you can use for your WordPress site.
This plugin's main features include discounts in exchange for reviews, voting options, Google Shopping, and more.
This review plugin helps you to send out personalized email reminders to customers after every purchase. That means you'll be able to get even more reviews from an audience that has already given you their email address.
At the end of the day, this means you'll be able to get more user reviews to strengthen your sales funnel.
Plus, this plugin authenticates every review. It also offers complete protection from spam reviews with reCAPTCHA.
This lets you and your audience remain confident that your store's reviews are from genuine and happy customers.
Get started with Customer Reviews for WooCommerce today!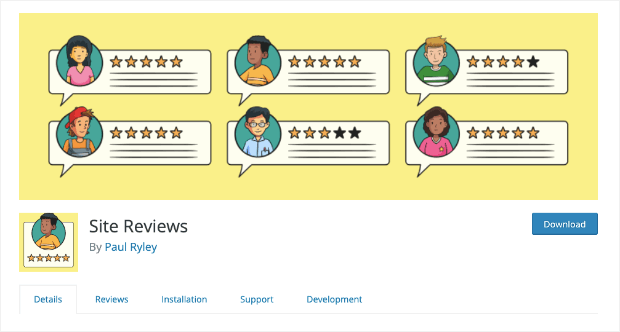 Site Reviews is a plugin that displays customer reviews with widgets, blocks, and shortcodes.
This review plugin is ideal for beginners because it's very easy to install. Using Site Reviews, you can make your best reviews appear at the top of your pages or posts.
You can even categorize your reviews based on products and users. This helps you provided more personalized reviews for your target audience.
The reviews appear on your page in a way that most users are already familiar with: a 5-star rating system that's similar to other review sites (such as Yelp, for example).
This tool also comes with 5 methods for preventing spam, which lets you rest assured that your reviews are 100% authentic.
Get started with Site Reviews today!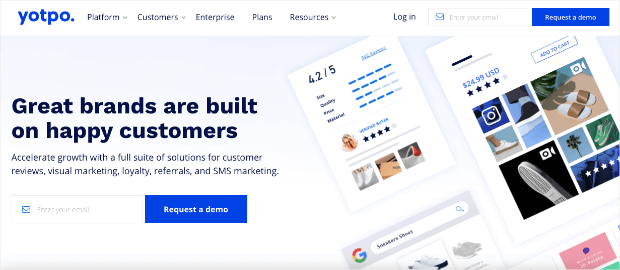 Yotpo Social Reviews for eCommerce helps you to leverage social media for trust-building. It helps to build online stores across popular social media platforms.
With Yotpo social reviews for eCommerce, you can showcase your reviews across popular social media platforms to gain maximum attention.
You can even build a brand community across social media using customer's content.
Yotpo can be a great fit for the social media audience. However, people coming to your site from other platforms cannot see your reviews.
Get started with Yotpo Social Reviews for eCommerce today!
And that's all for today. We hope you enjoyed this post on the top 7 WooCommerce review plugins.
If you did, you'll definitely want to check out the following resources:
These articles will give you more tools and tips for growing your WooCommerce store.