OptinMonster offers seamless integration with iPost. Connecting OptinMonster to your iPost account email list is very easy. Follow our step by step guide on how to connect OptinMonster with iPost.
---
Step 1 – Integrations Tab
In the Builder, select the Integrations tab to view the Integrations panel.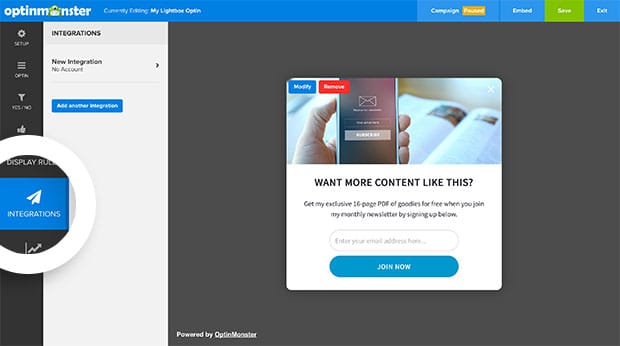 If this is your first time connecting an integration to your campaign you'll see a New Integration item in the Integrations panel of the builder. Select that to begin configuring your integration.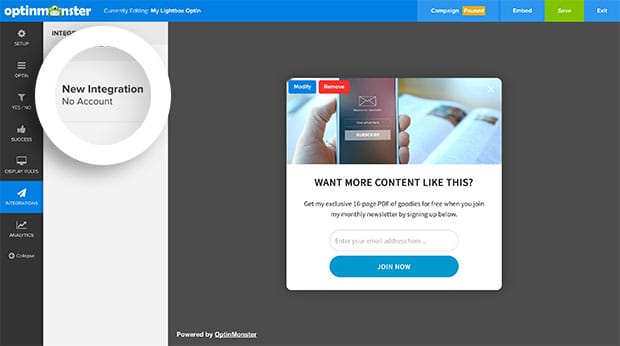 Next, select iPost from the Email Provider dropdown.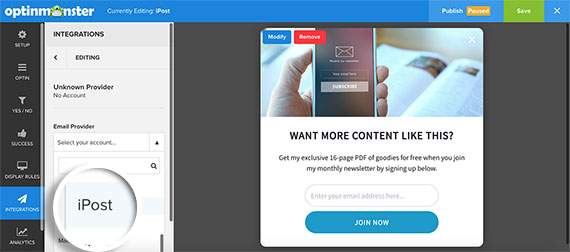 Once it's added, you will see the various required iPost fields appear: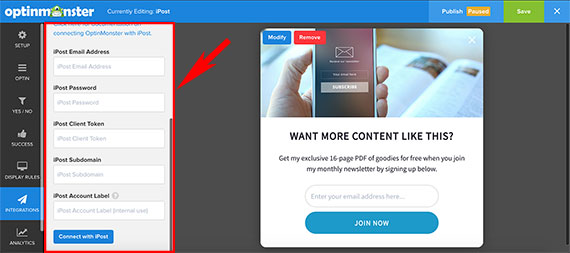 Step 2 – Log into Your iPost Account
After you login into your iPost account, please click the top-right arrow.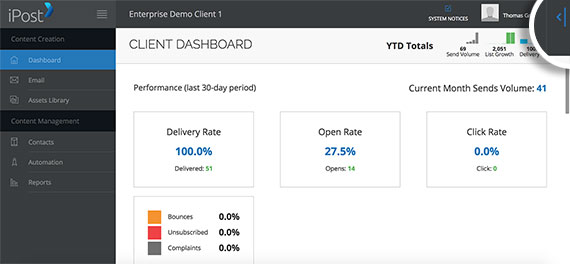 Next, you will need to click the Gear icon.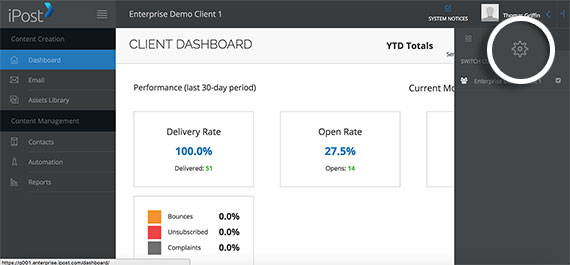 And finally, you will select the option of Client in this settings menu.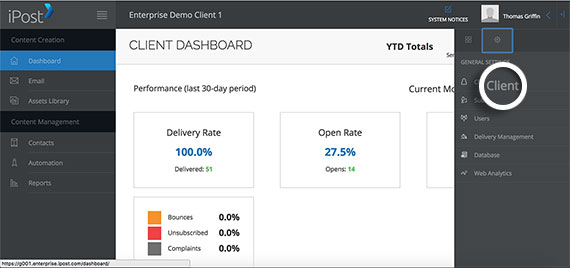 Great work.
On this page you will find your Client information needed for your account.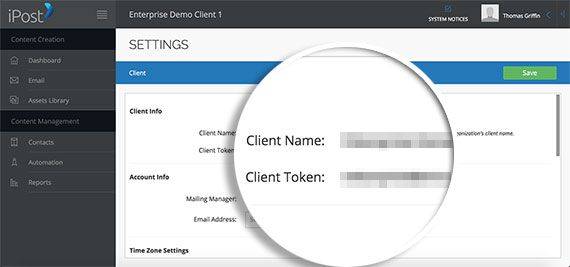 You will copy and paste those values into the appropriate fields in OptinMonster.
Step 3: Get iPost Sub-domain Value
As of now, the subdomain only has two options: g001 and g002. It's assigned by iPost and part of the user's login URL.
You can read more about this on iPost's Site: https://ipost.readme.io/reference#endpoint
Paste your sub-domain values in the OptinMonster Appropriate fields
Step 4 – Add a Personal Label
Once you've pasted your Authorization Code into the provided field, give your iPost Integration a label and click Connect with iPost.
Step 5 – Select a List
OptinMonster will now connect to your iPost account and fetch your email lists. Choose an email list you want users to subscribe to.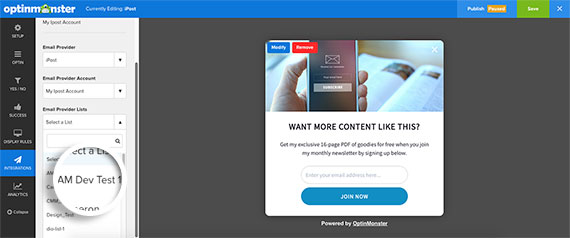 Step 6 – Configure Lead Options (optional) and Lead Journeys
Lead Options
We can work with iPost Data Tables. We will pass the following fields email, firstname, lastname, phone, ipaddress, source. They must be formatted exactly as shown here, and they must all exist in the table. If all of the fields are not present or formatted correctly (no spaces, all lowercase) the API request will fail, and no lead data will be added. The source field will always be OptinMonster.
Lead Journeys
Journey Automations (entitled "Lead Journeys" in the Builder) allow iPost users to create workflows to be triggered when a lead is added. Please contact iPost for any assistance in setting up your triggers.
That's all, you have successfully connected OptinMonster to your iPost account!
Now that you've added your integration, you can further target your campaigns by using Geo-location Targeting!
---
FAQs
I've connected my integration and new leads are being added to my list, but OptinMonster shows 0 conversions for my campaign. Why?
Confirm that conversion tracking is turned on for the submit button in your campaign. See our guide on How to Enable Conversion Tracking.
Is it possible for me to add a Phone Field to my campaign?
Yes! You can add a phone field. Check out How to Capture Phone Numbers with OptinMonster here.
What if I want to additional fields to my form?
You can do this using our Custom HTML integration, rather than our native iPost integration shown above. When creating your iPost form to add to the Custom HTML integration, you'll want to be sure to switch the button type to HTML in iPost.
This will ensure your button contains all of the necessary HTML needed for your form to work as expected.