With the rise of affiliate marketing, most eCommerce businesses are, like the Beatles sang in the 60s, getting by with the help of their friends. Or at least getting some passive income.
And, with a couple of handy WordPress link tracking plugins like the ones mentioned in this post, you can too.
Whether you want to create an affiliate marketing campaign of your own or take advantage of the programs that others have going, in this post you'll find a plugin that'll help you generate more revenue and increase awareness of your brand.
Without further ado, here's our list of favorite WordPress link tracking plugins.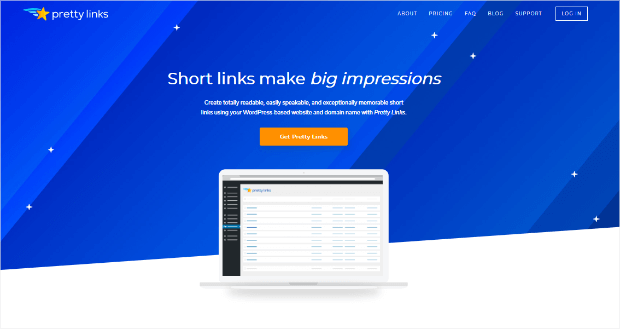 There's a reason why Pretty Links made our list of top WordPress plugins for eCommerce: it's awesome, incredibly easy to use, and turns those mile-long affiliate links into something readable and easy to remember. Hence the name "Pretty Links."
In addition to creating memorable affiliate links, Pretty Links also makes it easier to manage server-side redirects, brand and advertise your links with the Pretty Bar feature, and use built-in performance metrics to monitor your links' activity.
Short and pretty links make bigger impressions. Try adding Pretty Links' cloaked affiliate links in your email marketing campaign or in your OptinMonster popups to boost affiliate income while developing relationships with your visitors.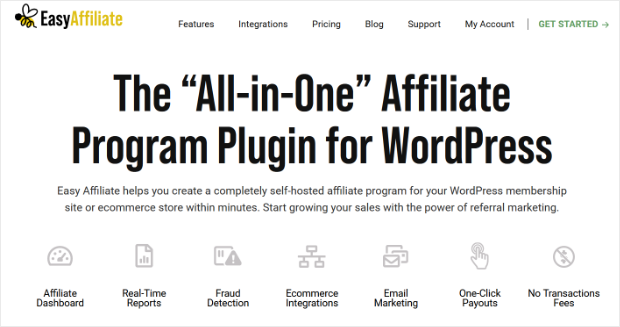 Want to implement an affiliate marketing program that boosts your sales and brand recognition, but don't know where to start? Then you're in luck because Easy Affiliate makes it easy to develop and implement a clear-cut affiliate marketing plan from start to finish.
With Easy Affiliate, formerly known as Affiliate Royale, you get a series of powerful affiliate link tracking tools that evaluate the performance of your campaign. Everything from clicks, payments, and sales can be viewed numerically and in graphs on Easy Affiliate's easy-to-use dashboard, which can be personalized to include data that are always relevant to your goals and expectations.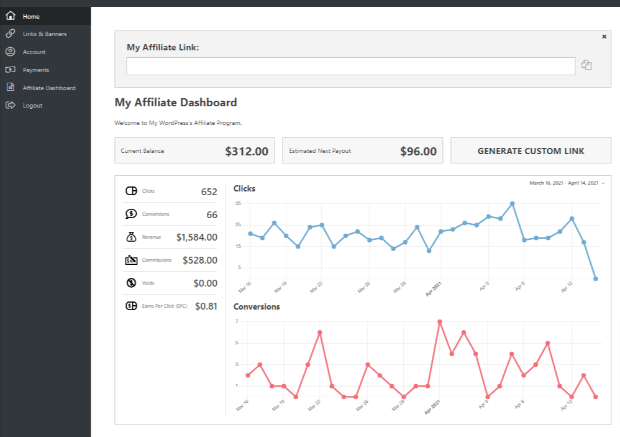 Launching your affiliate marketing campaign is quick and easy, thanks to Easy Affiliate's plug-and-play design. Simply install the plugin, and within minutes, you can build a fully-functioning affiliate campaign for your WordPress site.
The parent company of Easy Affiliate is CaseProof, which is also the parent company of MemberPress and Pretty Links. As you may have already guessed, all three of these platforms work seamlessly together and can be used to build an in-depth affiliate program with shortened, easy-to-remember affiliate links and referral programs to membership sites.
If you're looking for a bundle that allows you to track outbound links, as well as completely revamp your lead and revenue generation strategies, these three platforms are perfect for you.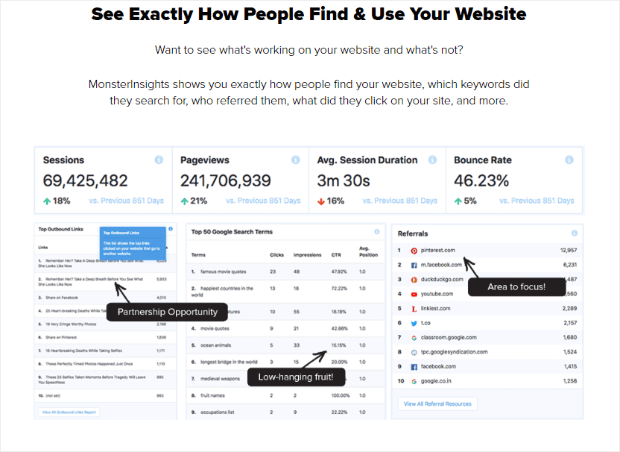 MonsterInsights is a powerful Google Analytics tool that offers actionable insights into how you can boost your WordPress site's performance. Simply enable its affiliate link tracking feature to gain access to in-depth reports on the performance of your affiliate marketing campaigns. Everything from which pages generate the most income to your most profitable traffic sources is presented in an easy-to-read dashboard.
Also, MonsterInsights is designed to be compatible with other eCommerce tools, including affiliate plugins like ThirstyAffiliates and AdSense. As a result, you can integrate it into your other marketing tools for adopting a big-picture approach to your affiliate campaigns, as well as your business strategy as a whole.
But don't take our word on it. Sample the free MonsterInsights Lite and if you like what you see, purchase the full version and take your marketing campaign to the next level.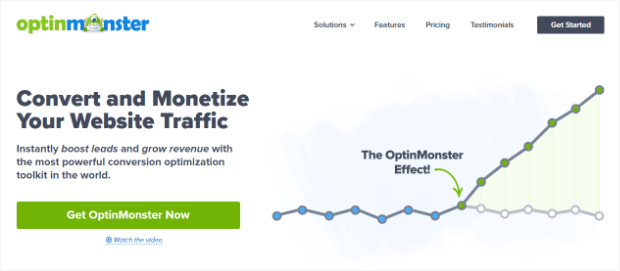 What if I told you that you can increase leads, grow your email subscriptions, and enhance revenue all from one easy-to-use platform? Well, with OptinMonster you can.
Perfect for all WordPress link tracking initiatives, OptinMonster lets you make personalized customer engagement campaigns using popup messages, lightboxes, floating bars, and other interactive elements that site visitors can interact with. All you need to do is add the desired affiliate links into the elements and let OptinMonster's smart tools take care of the rest.
But what makes OptinMonster such an integral part of a successful WordPress plugin referral tracking campaign? Mostly, it's the engaging content.
See, OptinMonster doesn't just spam visitors with annoying generic popups. Instead, it uses a number of smart targeting tools designed to track and predict visitor behavior, so every individual is engaged with content they can relate to.
And we all know that relevant content turns leads into loyal customers.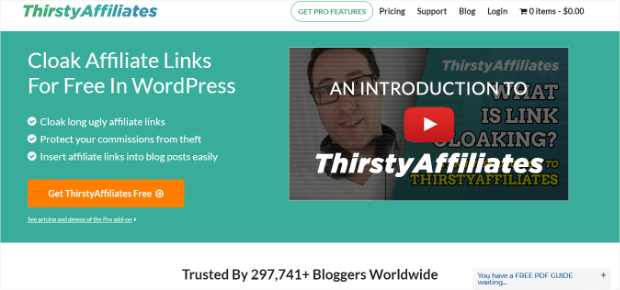 ThirstyAffiliates is an affiliate link manager that can turn any active WordPress site into a great source of passive income.
It's no coincidence that ThirstyAffiliates is one of the most popular WordPress link manager plugins on the market. Its easy-to-use design makes it simple for anyone to roll out an affiliate marketing campaign in a matter of minutes, with no extensive WordPress experience needed.
With just a few clicks of a mouse, ThirstyAffiliates lets you cloak those long and cumbersome affiliate links, as well as automatically insert links into your WordPress content.
The platform even comes with a dashboard where you can view performance reports, so you can evaluate the success of your affiliate marketing campaign in real time.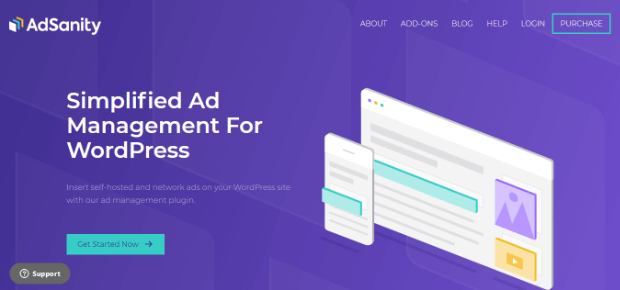 If accessibility is the name of the game, AdSanity's affiliate marketing software for WordPress tops the list of most intuitive platforms. That's because AdSanity strikes the perfect balance between power and simplicity, giving users the ability to insert affiliate banners in widgets, sidebars, posts, and other elements on their website.
But AdSanity doesn't stop there, it also gives you control over how you want to run your affiliate advertising campaign. You can choose when specific affiliate links appear on your WordPress site, as well as which visitors see what ads.
Combine this with its comprehensive performance and link tracking tools, and it's not hard to see why AdSanity is a favorite for anyone looking for a lightweight plugin for generating affiliate revenue.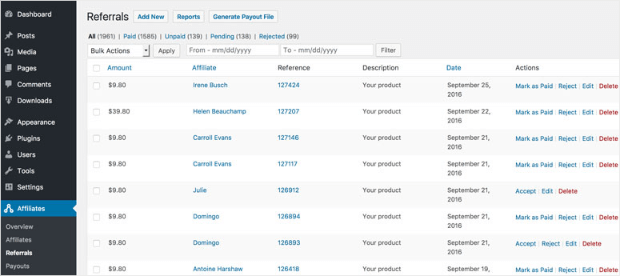 With AffiliateWP, you can set up a fully-fledged self-hosted affiliate program and keep your program organized and profitable with an advanced affiliate dashboard including real-time graphs and at-a-glance reporting.
Right out of the box, the plugin packs a punch by supporting an unlimited number of affiliates, unlimited creatives, easy affiliate registration, and affiliate URLs, as well as world-class support, just to name a few things.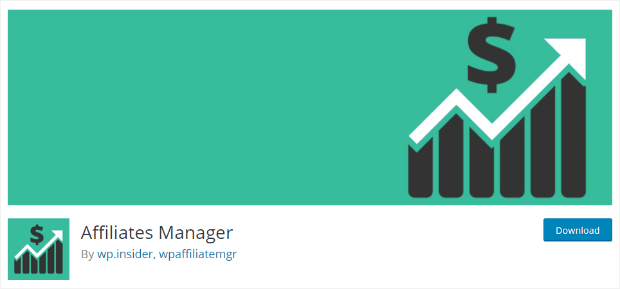 This plugin helps you with the management of your affiliate program from start to finish, from affiliate recruitment and registration to site login and the management process.
Like any good affiliate management platform, Affiliates Manager tracks referrals that affiliates send to your site and handles commissions (flat or percentage, based on affiliate) appropriately. You also get real-time reporting so you can see traffic and sales as soon as they happen. Plus, you can track how many times a particular affiliate ad is being viewed!

EasyAzon makes it easy to find and promote relevant Amazon products right from your WordPress dashboard and includes lots of great features, like:
Affiliate image links
Amazon.com buy buttons
Automated affiliate link cloaking
…and a lot more.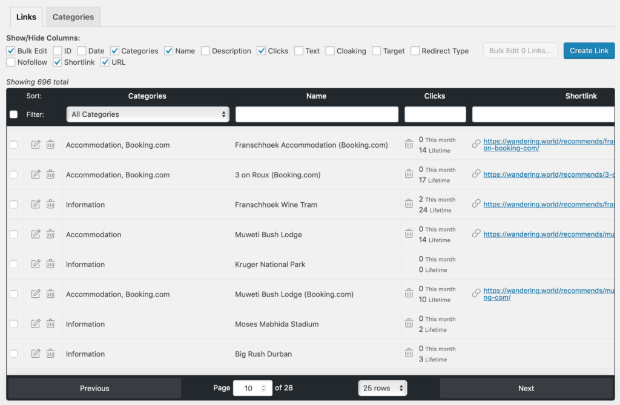 Easy Affiliate Links makes it, well, easy to cloak, add, and manage all of your affiliate links from a single dashboard. You can also leave certain links uncloaked if you wish, for Amazon compatibility.
The plugin allows you to assign categories to your links, import affiliate links from XML or CSV files, and track monthly and lifetime clicks. Easy Affiliate Links offers a premium add-on (Easy Affiliate Links – Statistics) that includes in-depth statistical data for all affiliate link clicks.
Which WordPress Link Tracking Plugin Is Right for You?
There are a number of awesome WordPress plugins for creating and managing your affiliate marketing initiatives. While this list just scratches the surface, it's got everything you need to roll out the perfect affiliate marketing program or take your initial strategy to the next level.
And if you're the one sharing affiliate links on your website, you'll need to be ever-innovative with the ways you try to capture your visitors' attention. You may find these resources helpful:
Or, you could sign up for OptinMonster and let its tools do all the hard work for you.