OptinMonster offers seamless integration with SendLoop email marketing service. Connecting OptinMonster to your SendLoop email list is very easy. Follow our step by step guide on how to connect OptinMonster with your SendLoop account.
---
Step 1 – Integrations Tab
In the Campaign Builder, select the Integrations tab to view the Integrations panel.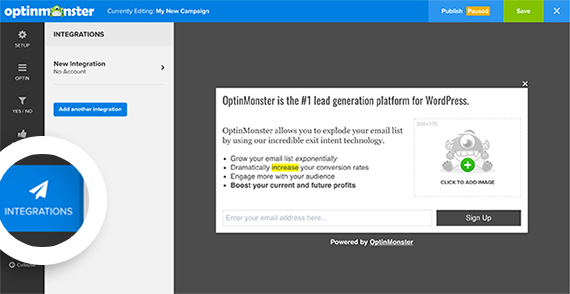 If this is your first time connecting an integration to your campaign, you'll see a "New Integration" item in the Integrations panel of the builder. Select that to begin configuring your integration.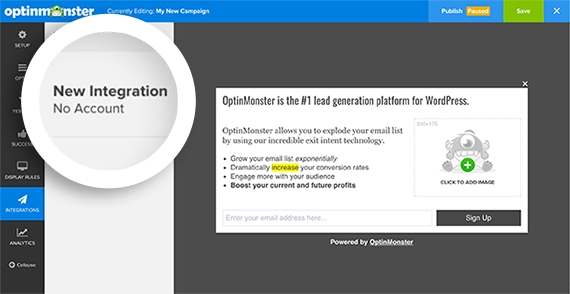 Next, select SendLoop from the Email Provider dropdown.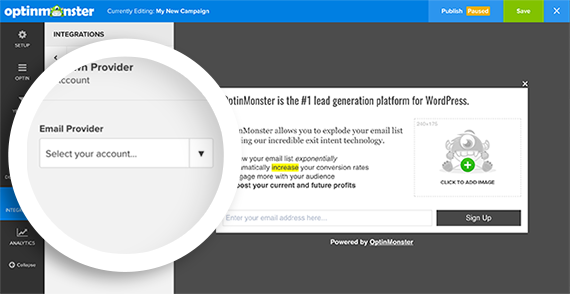 Step 2 – Log into Your SendLoop Account
To obtain your SendLoop API credentials, log into your SendLoop dashboard and navigate to your Settings page from the dropdown menu next to your account name.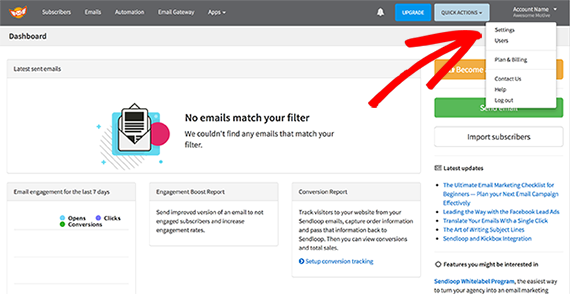 On the Settings page, you will need to select the API Settings tab in order to view your API keys.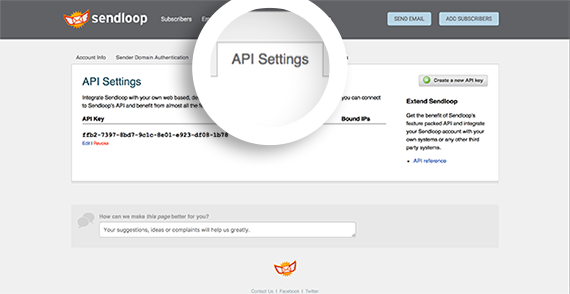 Select the API key you would like to use. Your first API key was created for you when you first signed up with SendLoop. From this page you may create and remove API keys as desired.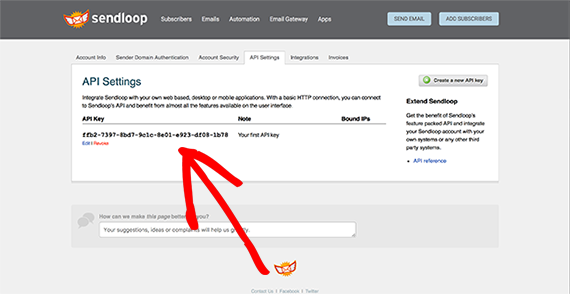 Step 3 – Enter the API Key
In the Campaign Builder, paste your API key into the corresponding field. Don't forget to add a unique label for easy identification! Then, select the Connect with SendLoop button.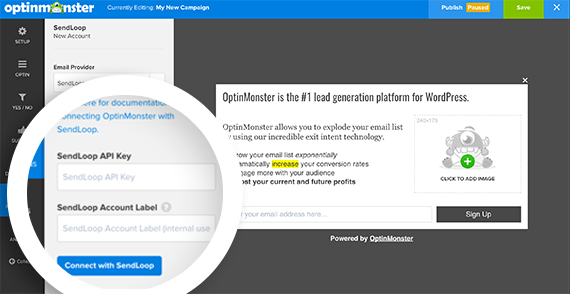 Step 4 – Select a List
OptinMonster will now connect to your SendLoop account and fetch your email lists. Select an email list you want users to subscribe to.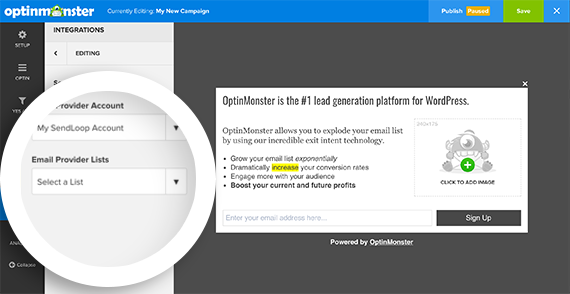 Step 5 – Configure Lead Options (optional)
If your campaign is collecting name and/or phone numbers you can specify the custom field IDs for these fields (from SendLoop) here.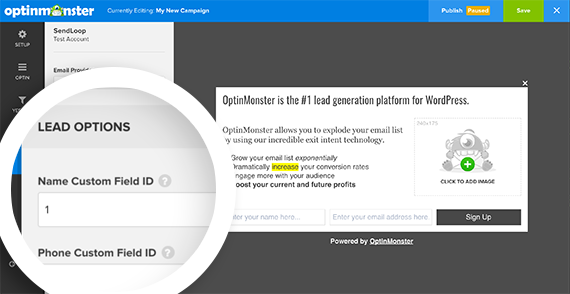 That's all, you have successfully connected OptinMonster to your SendLoop account!
---
FAQs
Q: How do I enable double opt-in with SendLoop?
A: SendLoop handles the subscription mode on a per-list basis. New lists in SendLoop are configured with double opt-in by default. You can manage the subscription mode for your list by first navigating to the Subscribers page using the link in the upper left of the page.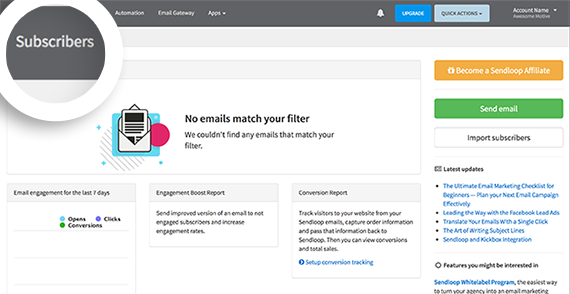 This will show you all of your current mailing lists. Next select the list you wish to configure.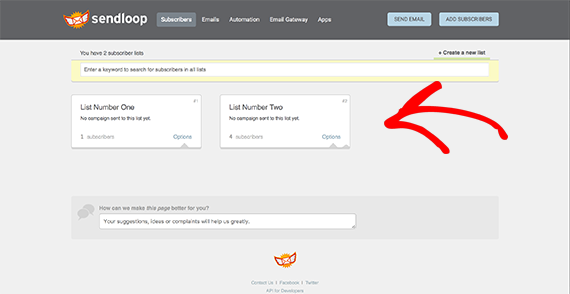 From your list overview page click on the Settings tab to view the ways you can configure your list.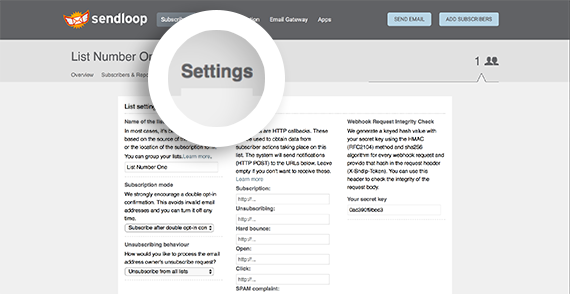 On this page you can change the Subscription mode depending on whether you prefer double opt-in or immediate subscriptions.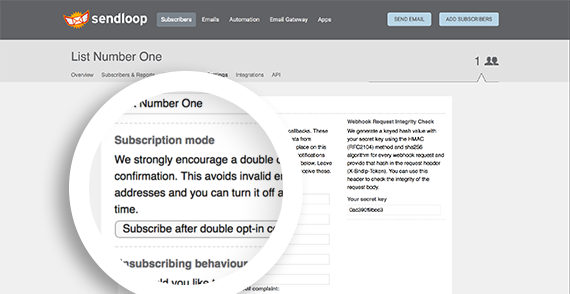 ---
Q: Can I collect name and phone data with my campaign?
A: Yes! You can display a name field in your form by simply selecting the option in the Optin panel when editing your campaign. For information on adding a phone field please check out How to Capture Phone Numbers with OptinMonster here.
In order to store data for your name and phone fields in SendLoop you will need to create a custom field within your mailing list and then store the ID of this field within your SendLoop integration with OptinMonster.
Start by selecting the list in SendLoop. This will show you an overview of your list.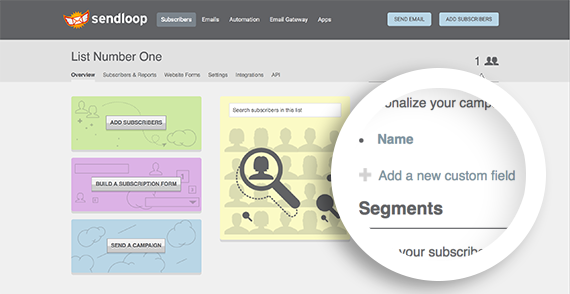 On the right side of the screen is a section showing custom fields for your list. Select Add a new custom field.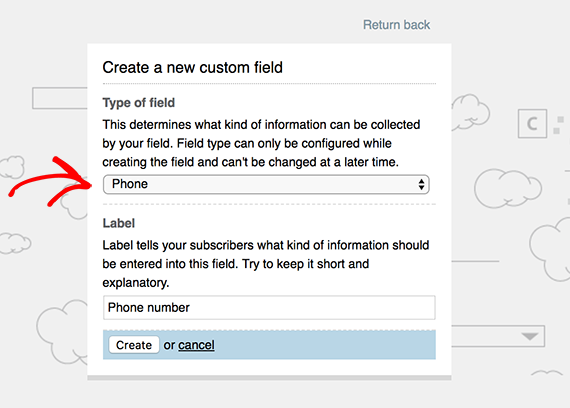 From this page you can choose the type of field you'd like to add as well as give it a custom label (optional). Click the Create button to add the field to your list. Once your custom field has been added successfully you can click on the field from your list overview page.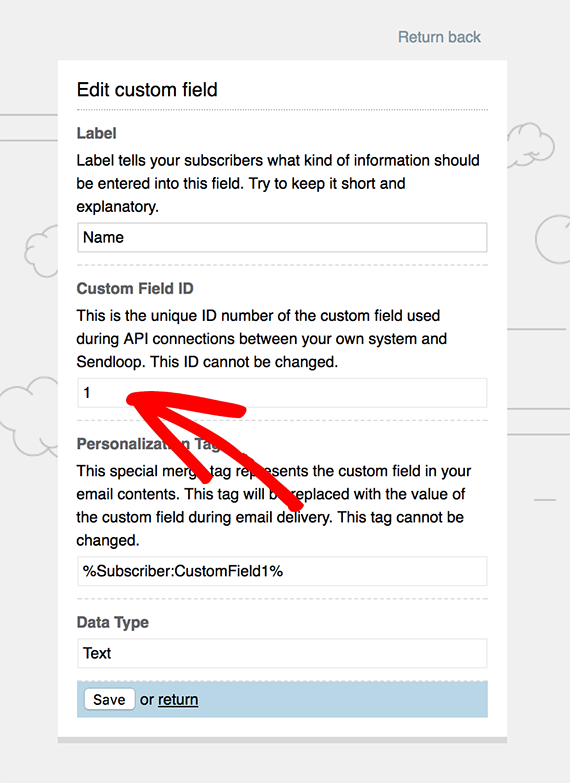 This page shows the ID of your custom field. This ID is unique among all custom fields for all of your mailing lists. Take this ID and save it within your SendLoop integration in OptinMonster for the appropriate field.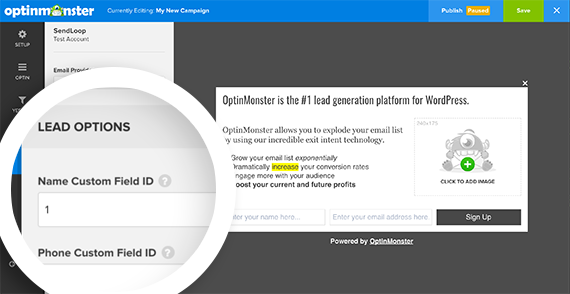 That's it! Now when visitors opt-in with your campaign the data for these fields will be available in your SendLoop account when viewing the subscribers of your mailing list.
---
Q: Can I use SendLoop segments with my OptinMonster campaign?
A: Segments in SendLoop are not associated with subscribers individually. They operate like smart folders where a series of rules determines which subscribers match with the segment. Because of this SendLoop segments cannot be connected to your OptinMonster campaign.
To create segments within your SendLoop list start by navigating to the list overview in your SendLoop account.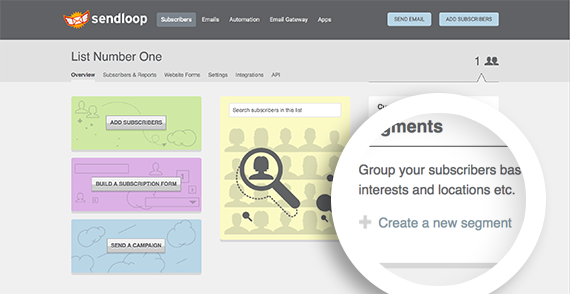 On the right side of the page is a list of current segments for your list and a Create a new segment link. Click this link to add a new segment to your list.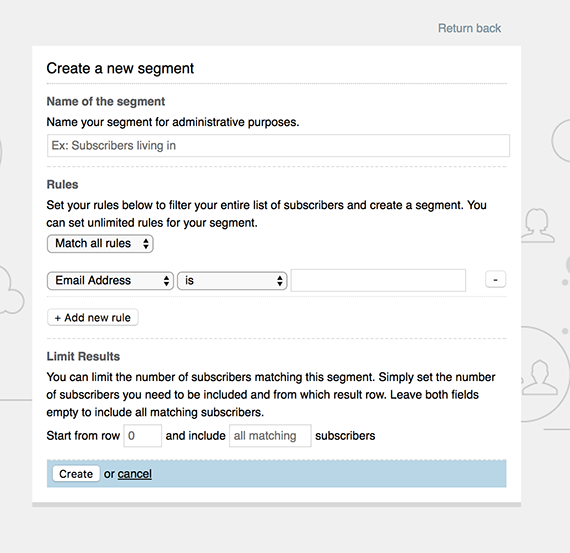 From this page you can give your segment a name, define the rules that determine which subscribers to your list will fit within the segment, and specify a limit to the size of the segment. Once created you can view the subscribers that match your segment by selecting the Subscribers and Reports tab.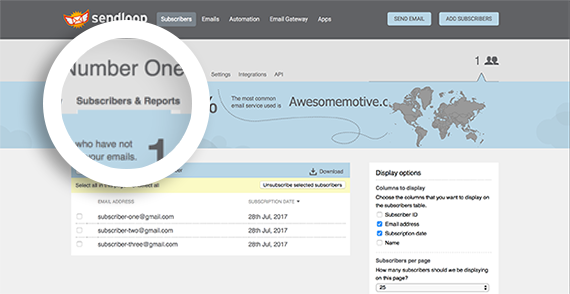 Initially this page will show all subscribers to your list. Select the dropdown that displays All Subscribers to open a list of your segments. Select a segment and the list of subscribers will be filtered to show only those that match the rules of the segment.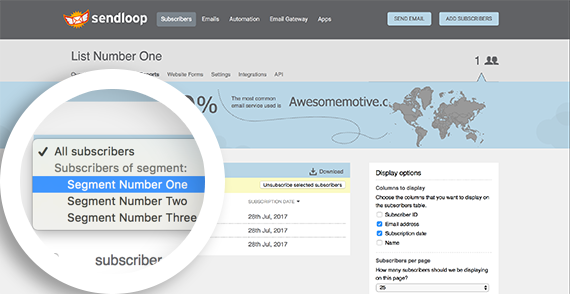 ---
Q: Why am I receiving a "failed to connect" error when trying to connect SendLoop with OptinMonster?
A: This can happen if the API key you're using has been revoked or if it has been configured to work on only specific IP addresses.
Check the API Settings in your SendLoop account. Make sure the API key you are using matches one of the currently active keys for your account. Also check to make sure there are no Bound IPs associated with your API key. If necessary, try creating a new API key to connect to OptinMonster to resolve this issue.