OptinMonster offers seamless integration with Salesforce Pardot email marketing service. Connecting OptinMonster to your Salesforce Pardot email list is very easy.
In this article, you'll learn how to connect Salesforce Pardot with OptinMonster.
Before you start, as a best practice we recommend you also connect your campaigns to Monster Leads as a backup.
Connect Salesforce Pardot
When you create a campaign in OptinMonster that you intend to collect leads with, you'll want to integrate with one or more services to send those leads to.
To send leads to Salesforce Pardot, follow these steps:
Create Connected App
Before you can connect Salesforce Pardot with OptinMonster you will need to create a Connected App in your Salesforce Pardot account.
To create a Connected App, follow these steps:
Log into your Salesforce account and navigate to the Setup page by selecting the gear icon in the top-right corner of the browser window.

Enter "App Manager" in the search bar that appears in the top-left corner of the Setup page and select the App Manager link from the search results.

From the App Manager screen select the New Connected App button.

When creating your app, the following details are required for the app to function properly with OptinMonster:

Connected App Name — we recommend using "OptinMonster Salesforce Pardot Connect"
API Name — this field will be automatically populated
Contact Email — this field is required for any app you create in Salesforce
Enable OAuth Settings — this checkbox must be enabled
Callback URL — enter this URL: https://app.optinmonster.com/account/oauth
Selected OAuth Scopes — Add the following scopes (highlight each scope, then click the "Add" arrow):

Access Pardot services (pardot_api) — Allows OptinMonster to connect to the Pardot API.
Perform requests on your behalf at any time (refresh_token, offline_access) — Allows us to fetch a new accesss token when it expires. Without this, the OptinMonster integration will fail after the token expires.

When you are finished configuring the App, click Save.
You will likely be shown the following message indicating it may take 2-10 minutes for your changes to be reflected.

Retrieve Client Keys
Once you have created a Connected App in Salesforce, you will need to retrieve the Client Keys for use when connecting OptinMonster.
To retrieve the Client Keys for your Connected App, follow these steps:
Log into your Salesforce account and navigate to the Setup page by selecting the gear icon in the top-right corner of the browser window.

Enter "App Manager" in the search bar that appears in the top-left corner of the Setup page and select the App Manager link from the search results.

From the App Manager screen locate the Connected App you created in the previous section. From the dropdown menu in the far-right column select View.

Under the API (Enable OAuth Settings) section, retrieve the Consumer Key and Consumer Secret to use in the next section when connecting with OptinMonster.

OptinMonster Integration
Once you have finished creating a Connected App and retrieved the Client Keys for your Salesforce Pardot account, you can connect OptinMonster following these steps:
Navigate to the Integrations view in the campaign builder, search for and select Salesforce Pardot.

Enter a Salesforce Pardot Account Name (*internal use only), your Salesforce Pardot Client ID, Salesforce Pardot Client Secret, and Salesforce Pardot Business Unit ID in the appropriate fields, then select the Connect to Salesforce Pardot button.

*The Salesforce Pardot Account Name can be anything that helps you identify the specific integration within OptinMonster. It's possible to add more than one Salesforce Pardot integration to your account and this is an easy way to differentiate between them when assigning integrations to individual campaigns.
A popup window will open and ask you to securely log into your Salesforce account. Enter your Salesforce credentials and after logging in select the Allow button to grant OAuth access.

Required: Once the Salesforce Pardot integration has been connected select the Salesforce Pardot Campaign you wish to send leads to from the Provider Campaigns field.
Optional: You can also assign Lists and configure the Allow duplicate email addresses? option.
When you're finished, Save your campaign.
Add Extra Fields
Our native Salesforce Pardot integration supports the following fields:
To add more fields to your campaign you'll want to build the form as you wish it to appear using the Salesforce Pardot form builder, and add it to your campaign using our Form Embed block.
Get started adding a custom form to your campaign.
Email Automations
To send emails automatically to new leads you'll want to configure email automations within your Salesforce Pardot account.
The following guides from Salesforce Pardot may be helpful to get started:
Testing
We strongly recommend you test the optin form before publishing your campaign to ensure it is working as you expect.
Before you begin, please be aware of the following details when testing Salesforce Pardot integrations:
Previously submitted or already subscribed leads may be treated differently by Salesforce Pardot than new leads. For this reason, we recommend using a completely unique email address each time you test submit your campaign's form. You can use a free tool like TempMail.io or learn how to create unlimited unique email addresses from a single Gmail account.
If the lead is captured in Salesforce Pardot but you do not receive any automated emails it indicates the integration from OptinMonster to Salesforce Pardot is correct, and the issue is with the automated email configuration. Salesforce Pardot controls email automation exclusively. If you require assistance in troubleshooting email automations we recommend reaching out to Salesforce Pardot support directly.
Get started testing with the Live Site Inspector tool.
Spin-a-Wheel Support
If you are configuring a Gamified spin-to-win campaign, spin-a-wheel support is automatically enabled when using our native Salesforce Pardot integration. The Coupon Label and Coupon Code will be passed as custom fields with each Salesforce Pardot prospect, like this:
Campaign Lead Source: OptinMonster
OptinMonster Campaign Name: CAMPAIGN_NAME
OptinMonster Coupon Code: COUPON_CODE
OptinMonster Coupon Label: COUPON_LABEL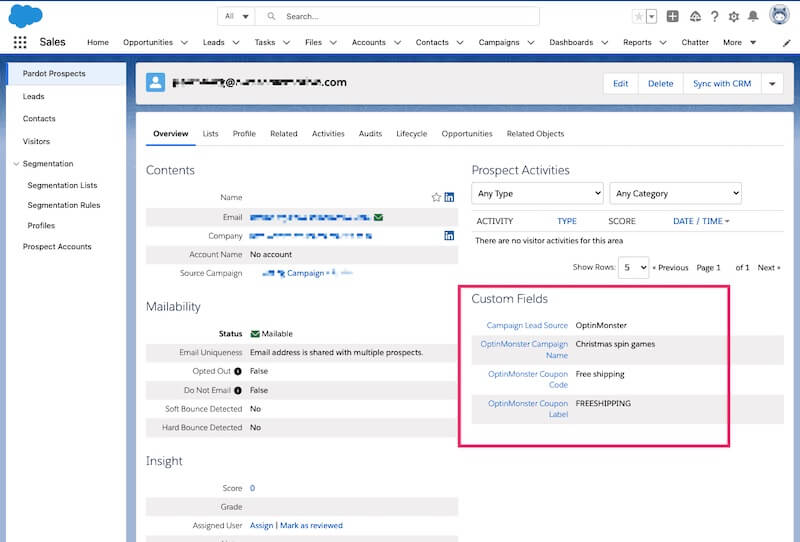 If you're serious about jumpstarting your website business growth, then get started with OptinMonster today!
Get Started With OptinMonster Today!
BONUS: Done-For-You Campaign Setup ($297 value)
Our conversion experts will design 1 free campaign for you to get maximum results – absolutely FREE!
Click here to get started →
FAQs
Can I send leads to more than one Campaign?
Yes! See our Lead Sharing guide to accomplish this.
How do I configure single or double opt-in?
See our guide on single vs. double opt-in.
Is it possible for me to add a phone field to my campaign?
Yes! You can add a phone field. Learn how to capture phone numbers with OptinMonster.
Do I need to add OptinMonster to the Allowed IP List?
This step is optional — if you are using the IP allowlist for Pardot, you will need to add our IP addresses in order for lead data to be passed along. Our IP addresses are as follows:
50.19.60.226
50.17.52.222
54.147.244.173
35.153.24.227
50.19.138.155
50.19.173.212
52.44.205.147
34.198.233.235
50.16.98.100
Do I need to install a Connected App in SalesForce Pardot for each site we are running campaigns on and want to integrate with?
If the Salesforce Pardot account belongs to you directly and not individual sites, you can use the same Salesforce Pardot connection and use Lists to differentiate the leads coming from different sites.
Troubleshooting
The campaign is capturing leads but shows 0 conversions in analytics.
Confirm that conversion tracking is turned on for the submit button in your campaign. See our guide on How to Enable Conversion Tracking.
Error: There was a problem retrieving your campaigns. Business Unit specified in SalesForce Pardot-Business-Unit-Id header not found or inactive.
This error may occur if:
you've entered an incorrect or invalid Business Unit ID for your Salesforce Pardot integration; or
you do not have the correct Pardot API Domain assigned to your Salesforce Pardot account
To check your Salesforce Pardot API domain, follow these steps:
In Salesforce, click the gear icon to access Setup.
From Setup, enter Installed Packages in the Quick Find box, and then select Installed Packages.
Find the package b2bmaIntegration.

If the namespace prefix is "b2bma", you can set up the OptinMonster integration,
If the namespace prefix is "pi3″, you are on the Pardot demo account ('pi.demo.pardot.com'), and the OptinMonster integration will not work for you.
See more details in Salesforce Pardot's official documentation.
You'll want to reach out to Salesforce Pardot support directly to ensure your account has the API domain necessary to connect with OptinMonster.