Lightbox popups are one of the most effective ways to get more email subscribers and build your emailing list. If you are looking to create a lightbox popup in WordPress or create a lightbox on any website, then you are at the right place.
In this article, we will show you how to create a lightbox popup in less than 5 minutes.
We built the best lead generation plugin for WordPress and now we've built the best lead generation plugin for any website — OptinMonster. Our design customizer allows you to easily create and customize popups and display them on your site.
Why use OptinMonster Popups?
You see most lightbox popups are poorly coded, and they will slow your site down. A lot of them don't even function properly, which can annoy your users. OptinMonster allows you to turn website visitors into subscribers and customers by using our signature exit-intent technology. Our users are seeing a subscriber increase as high as 600%.
Because OptinMonster works on any website, that means in just a few minutes you can create a lightbox popup for WordPress, Joomla, SqauareSpace, Magento, any HTML Website, and at least 11 more!
OptinMonster design customizer allows you easily create and customize lightbox popups for any website.
OptinMonster also provides pre-made lightbox templates that can be used right away or as lightbox examples that you can then customize with your own CSS.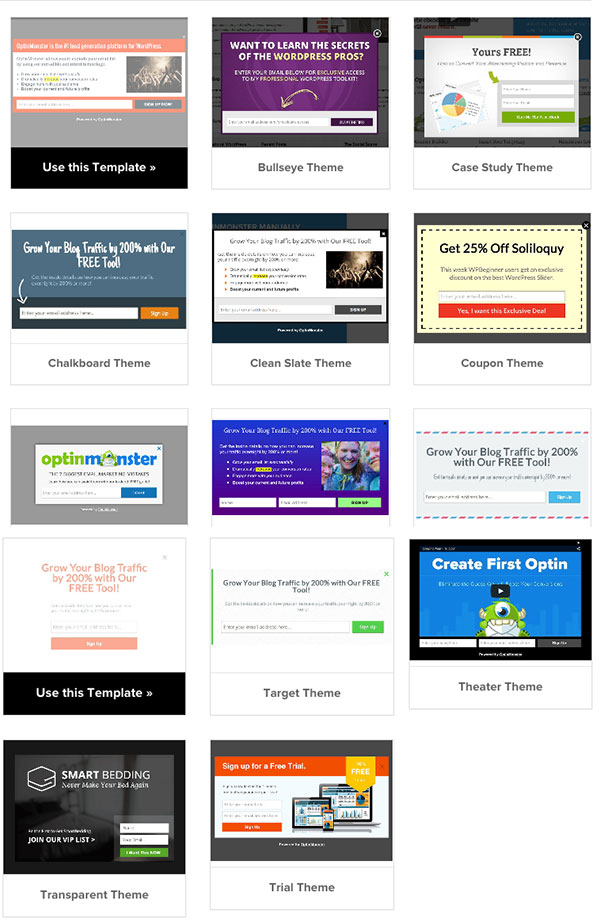 OptinMonster seamlessly integrates with all of your favorite email service providers such as AWeber, MailChimp, ConstantContact, InfusionSoft, GetResponse, iContact, CampaignMonitor, MadMimi, and 12 other native integrations, plus able to receive any Custom HTML.
OptinMonster comes with built-in A/B testing that helps you eliminate the guess work and show you exactly what works. Our actionable insights give you the stats that matter, so you can improve your lead generation strategy.
Even more than A/B Testing, OptinMonster's Lightbox Forms integrate with Google Analytics to provide insights into which page is converting more.
To show you how simple it is to create an lightbox, we've created quick how-to guide.
This walk-through is designed to be straight-forward and to take you step-by-step in creating and publishing your first optin. Go ahead and login to your OptinMonster account and navigate to your Dashboard to begin creating your first optin.
Step 1: Create a New Optin
Once in your OptinMonster Dashboard, you need to click Create New Optin.

Next, enter a name for your optin. After that, you need to select website where you will load your optin. If this is your first time, then click Add a new website.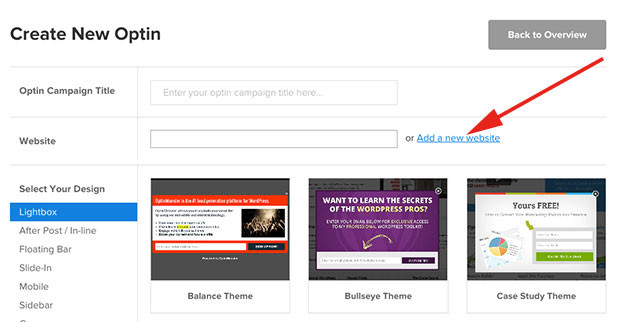 From here you can add a title (internal use only) and the domain for your website. If your optin is only for a sub-domain, just put the main domain, do not worry about the sub-domain.
Note: be sure the Site Domain does not have a trailing slash at the end. Your domain should be entered like: example.com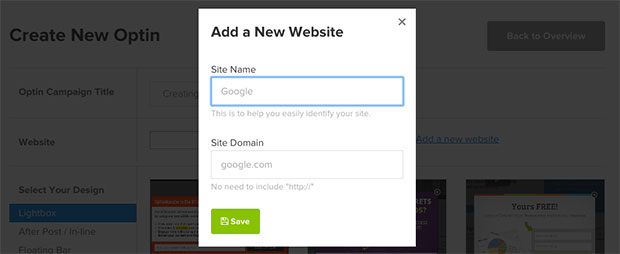 After you click Save, then you can select the theme of your lightbox popup
Now, choose the Theme you want to use by hovering over the appropriate design and clicking Use This Theme.
On the next screen you'll be able to further customize your optin, ready? Let's get started!
Step 2: Design Your Optin
The OptinMonster Builder uses a live preview screen so you can see in real-time the changes you make to your optin.
To begin, you can edit your Optin's design in 1 of 2 ways:
Use the left-hand side menu.
Click on the Optin and modify your design. This option gives clarity to exactly what you are modifying.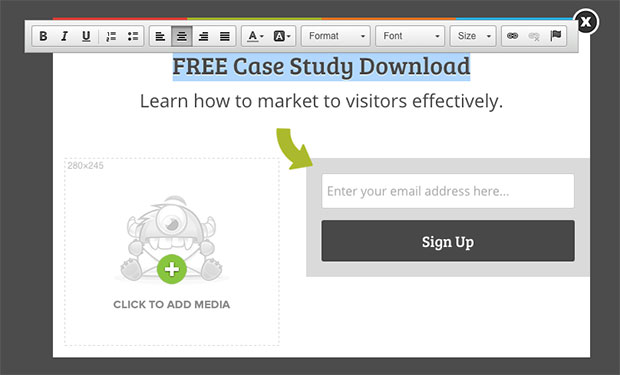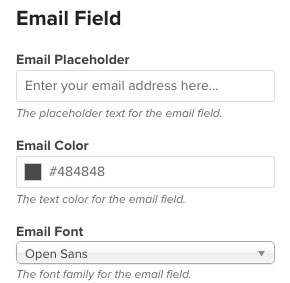 After some initial customization, you can also go to the FIELDS tab and add a Name field, as well as customize the design of each field. Go ahead and test it out yourself. (If you want more than 2 fields, please follow this guide.)
You will notice that you can change the color of the email field as well as change the placeholder text and even the font-family of your placeholder text.
Also, you can now add a Privacy Statement beneath your Optin Button that allows you to link to your privacy document.
Step 3: Configure Your Optin
The Configuration is the "brains" of how your lightbox popup works. Here, you can modify the title of your Optin (for internal use only), along with timing delays and other options. Check out our list below of everything you can do: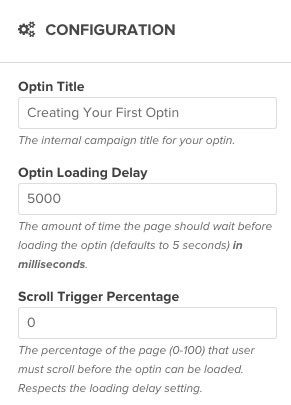 Optin Title — The internal campaign title for your optin.

Optin Loading Delay

— The amount of time the page should wait before loading the optin.

Scroll Trigger Percentage

— The percentage of the page that user must scroll before the optin can be loaded. Respects the loading delay setting.

Optin Cookie Duration

— The length of time before the optin will display again to the user once they exit or opt in to your campaign.

Optin Success Message

— The message to display once a user has successfully opted in to this campaign (only displayed if there is no redirect on success link).

Optin Redirect on Success

— The URL to redirect a user to after they have successfully opted in to this campaign.

Pass Lead Data to Redirect URL?

— Passes the lead email (and name if enabled) as query args to the redirect URL.
Load on Second Pageview? — Forces the optin to load on the second pageview for the visitor, not the first.
Load on Manual Trigger? — Loads the lightbox on the click of a link or button.
Show Powered By Link? — Shows a "powered by" link below your optin. If your affiliate link is set in the Misc settings, it will be used.
Enable Exit Intent? — Shows the optin when a user navigates their mouse outside of the website window (i.e.: "exit intent"). This is a Pro License Feature. Ignores loading delay and scroll trigger settings.
Exit Intent Sensitivity — Sets the sensitivity of exit intent detection on the horizontal X axis. Higher numbers make exit detection more sensitive.
Step 4: Integrate Your Optin with a Email Service Provider
You must also set up how your optin will receive and transmit the emails it captures. You have two options here. You can choose from one of our 19 integrations we offer. Or if you are using an email integration that we have not natively integrated with yet, check out our Custom HTML option.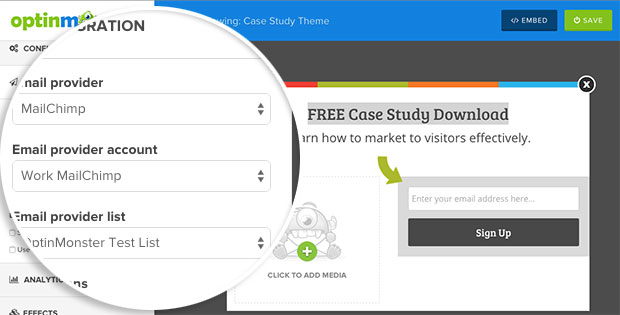 For reference, you can find all your current email service provider integrations by selecting the Integrations link from your Account Dashboard. You can also add Email Service Provider integrations directly from the Integrations page!
Step 5: Connect to Google Analytics
OptinMonster allows you to easily connect your Google Analytics account.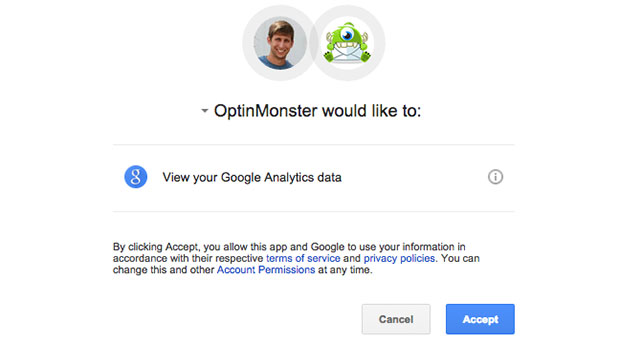 If you want to use Google Analytics then you can connect your account now, this guide can show you how.
Step 6: Page Targeting
OptinMonster provides powerful Page Targeting so you can fine-tune the delivering of your optin. This is an optional setting, if you're using WordPress be sure to read our documentation on Page Level Targeting which includes a section specifically for WordPress.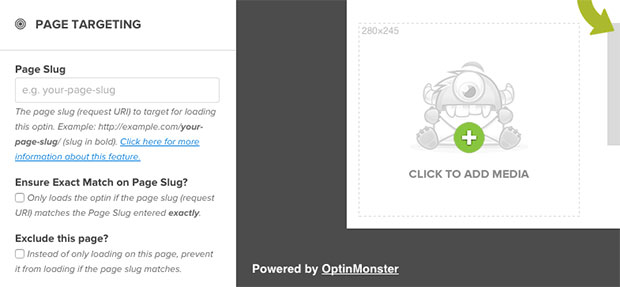 Step 7: Referrer Detection
If you want to show your optin based on the referring url, go ahead and set your Referrer Detection settings now. This is an optional setting.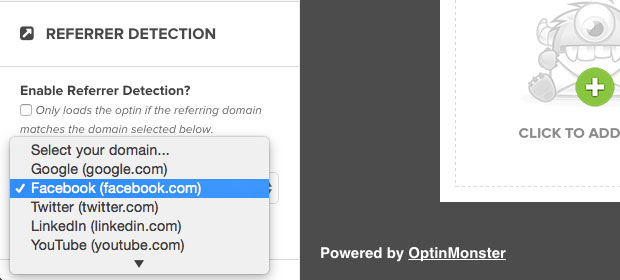 Congratulations, you have finished making your first optin!
See how easy it was. WPBeginner ran a test with OptinMonster using the exit-intent technology. They increased their email subscribers by 600% and went from getting 70-80 new subscribers per day to 445-470 new subscribers per day.
Lightbox popups work and when done right, they do not annoy users nor do they ruin your bounce rate.
When we ran a split test to see how lightbox popups affect bounce rate and user satisfaction, we found that it has absolutely no impact on the bounce rate as long as you're using the exit-intent functionality. Also we had zero user complaints, but rather the amount of new subscribers sky-rocketed.
This makes sense because the users who were going to leave will leave anyways. However using our exit-intent technology, you can convert a portion of those abandoning visitors into subscribers.
You see most website visitors have a short attention span and majority of the websites lack a clear call-to-action. More likely than not, even if they like your content, they will not take the effort to subscribe to your site. But if you prompt the user with a lightbox popup, then they're much more likely to subscribe.
Exit-intent lightbox popups give you a new real-estate, almost a new pageview, to retain the visitors and convince them into becoming a subscriber.
What are you waiting for? Take OptinMonster for a test drive with our 14-day money-back guarantee. Get OptinMonster Today!