OptinMonster can work with any website. The best lead generation tool works on Joomla! too! This guide will show you how you can integrate the power of OptinMonster into your Joomla! site.
---
Step 1 – Create and Publish a Campaign
The first step is to create a campaign and retrieve it's embed code. See this guide on how to embed your campaigns on your site for a step-by-step walkthrough if you need assistance.
Step 2 – Paste the Embed Code into a Module in Your Joomla! Site
First, login to the admin of your Joomla! site. Before we can add the embed code to a Module, we need to modify our Tiny MCE Plugin's settings.
To do this, navigate to the Plugin Manager section of your admin and select the Editor – TinyMCE plugin to edit.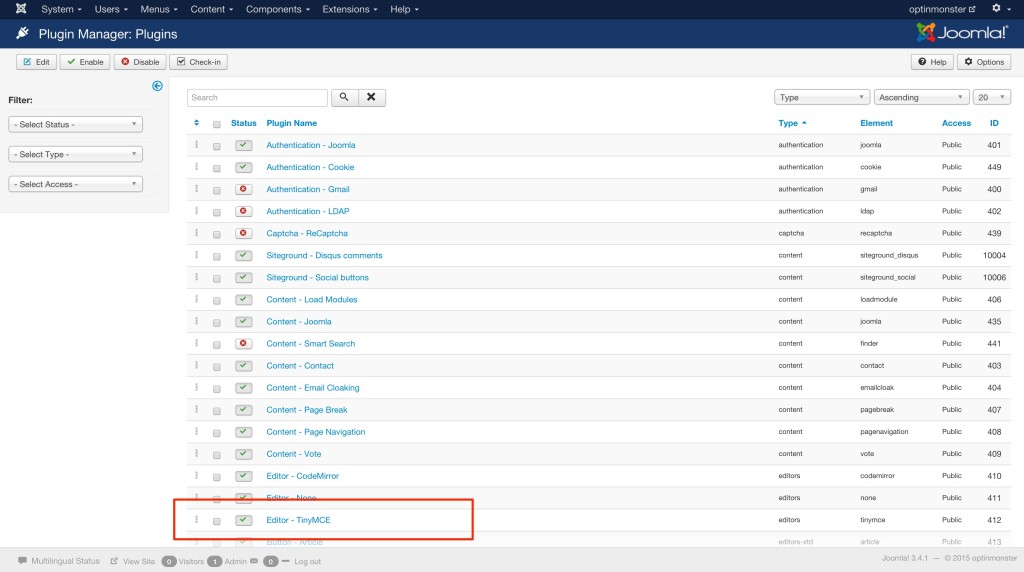 On the edit screen, scroll down to the Prohibited Elements setting. By default this field will contain script, applet, iframe. You'll need to remove script from this field (it should look like the screencapture below) so we can add our embed code. Save the changes to your plugin and we're now ready to proceed!

Add Module
We're now ready to add our embed code to a Module!
Navigate to your Module Manager area and select the New button.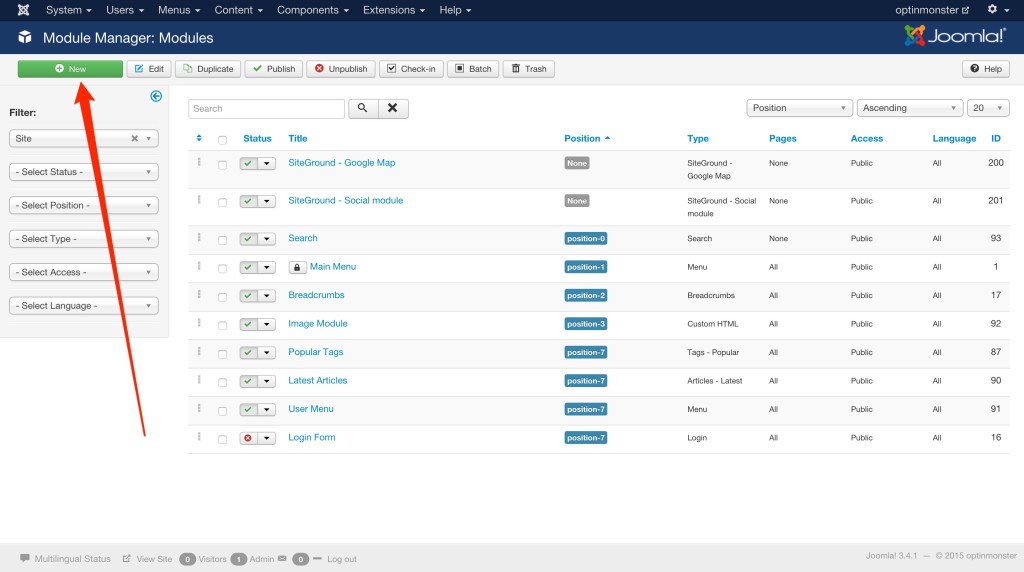 On the next screen, select Custom HTML as the Module Type you wish to add.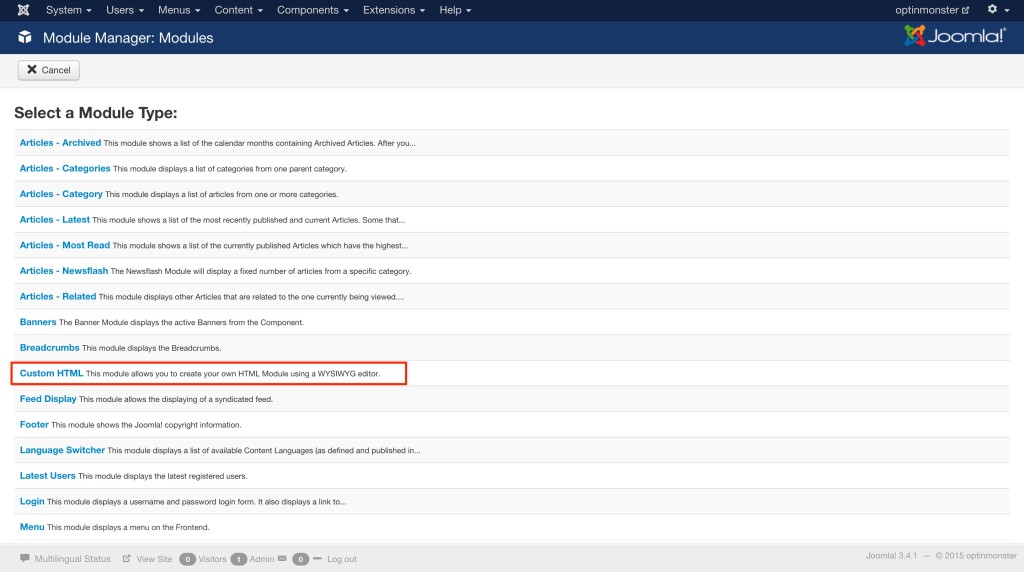 When creating your Custom HTML Module, first give your Module a Title to easily identify it.
Then, from the TinyMCE toolbar select Tools > Source Code.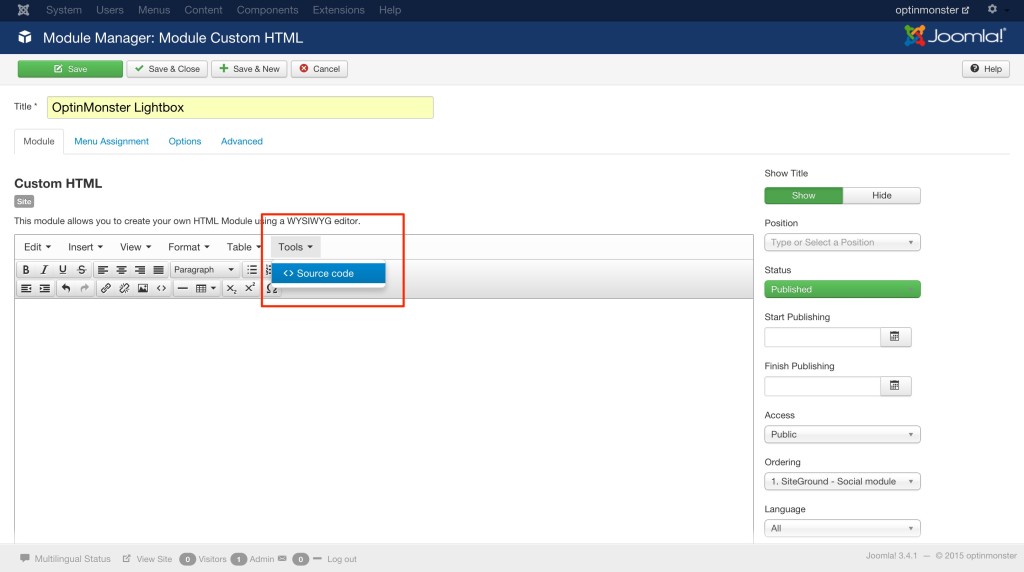 This will open a modal window where you can paste your campaign's embed code! Select Ok after pasting your code.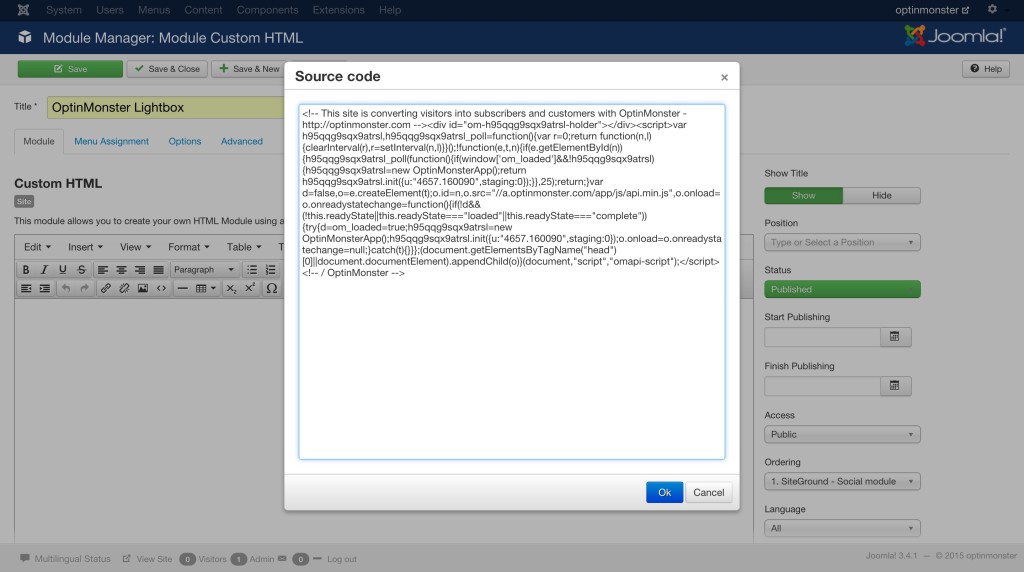 Next, from the right-hand options you'll want to set the Show Title option to Hide if you're displaying a popup campaign. You can optionally show the Title if you're adding an Inline campaign.
Finally, we need to set the position of our embed code.
If you're adding a popup campaign, we recommend you add the embed code to a position in your theme as close to the end of the page as possible, here we've added ours to the Footer position provided by our theme, but you can add yours to any position you prefer.
If you're adding an inline type campaign (After Post / Inline or Sidebar), you'll add either the HTML Placeholder (if using a Sitewide Embed) or the entire Campaign Specific Embed, and the position you set for your Module is where the campaign will appear on the page.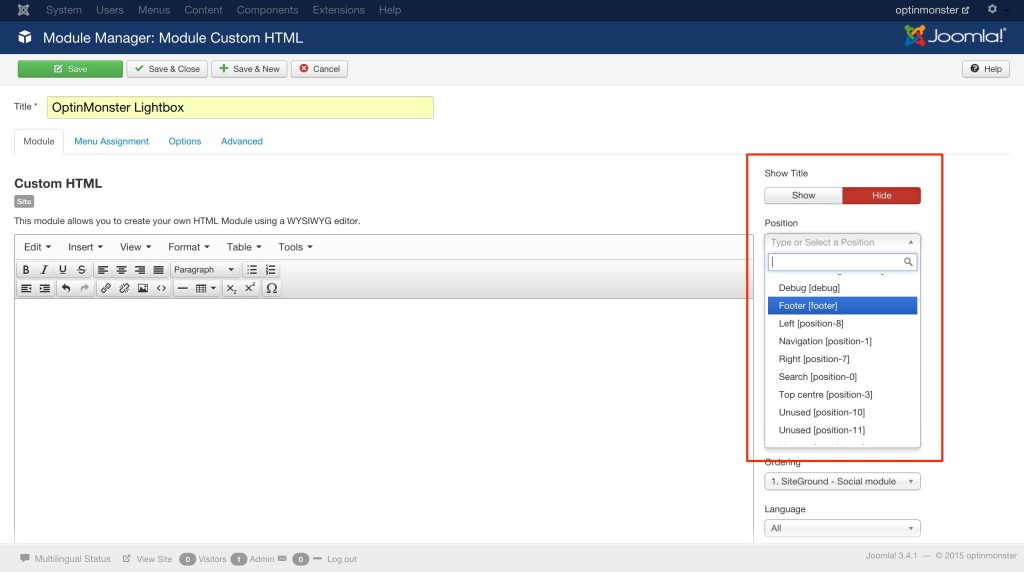 Be sure to Save your Module when you're finished and that's it! You can now navigate to the front-end of your Joomla! site and test your beautiful new campaign!
---
FAQs
Q: What domain do I enter when creating my campaign?
A: If you're using the hosted version of Joomla! you can add the domain joomla.com for your campaign to load on. This will allow you to view the campaign when previewing your site.
If you're hosting the self-hosted version of Joomla or your site uses a custom domain, you should also add your site's custom domain (the domain used to reach the front-end of your site) in the Setup panel > Optin Campaign Website section of the campaign builder.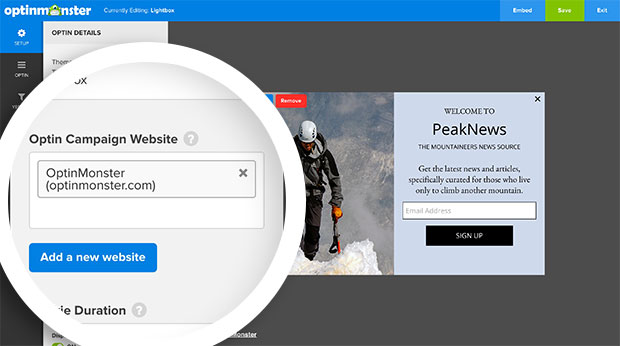 ---
Q: I have questions about how the Embed Code works.
A: If you have any questions, such as:
What domain do I enter when creating my campaign?
What's the difference between the Sitewide and Campaign Specific embed codes?
I'm using the Sitewide Embed, how do I control where my campaigns load?
I'm using the Sitewide Embed, how do I control where on the page my After Post / Inline or Sidebar campaigns appear?
Does the embed code have to be pasted before the closing </body> tag?
How do Afterpost and Inline Campaigns work with Embed Codes?
All of the questions above are answered on our main Embed Documentation available here.