Would you like to create a completely customized campaign layout? It's easy with our new drag and drop Builder! With the Canvas Template, you can create custom designs in OptinMonster in just a few easy steps.
---
Step 1 – Create a New Canvas Campaign
The first step is create a new campaign by determining it's type and title according to our guide.
For this guide, you should select the Popup Campaign Type.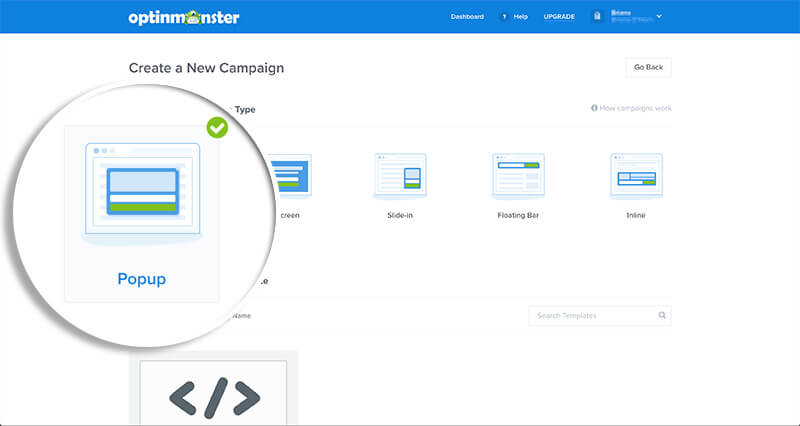 Then, select the Canvas Campaign Template.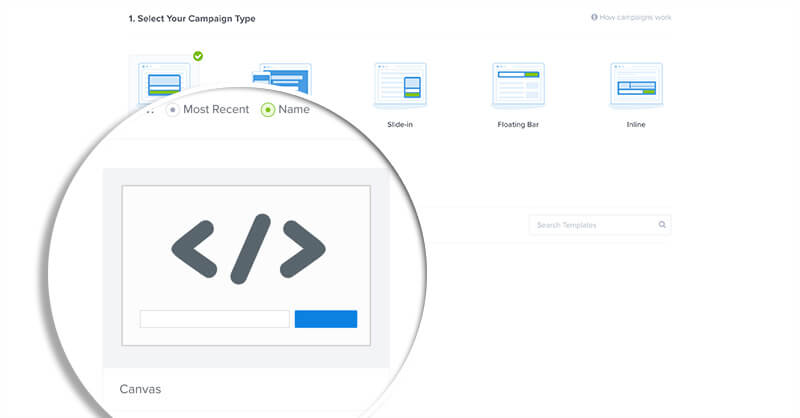 NOTE: You can use Canvas with all of our campaign types! While this guide walks you through creating a Popup Canvas campaign, the same steps can be followed when creating any other campaign type.
Step 2 – Design Your Canvas Campaign
The next step is to design your popup. When the Builder opens you will notice an entirely blank campaign. Don't panic, it is supposed to be blank to start with!

Click on the plus to start adding columns and elements. From here, you can use the columns and elements to configure the layout of your Canvas campaign. See our Builder overview for more information on using the drag and drop Builder.
Step 3 – Embed Your Canvas campaign on Your Website
Once you finish designing your Canvas campaign you're ready to embed it on your website!
Check out our Platform Docs for guides on adding OptinMonster to many popular platforms.
Looking for an example of using the Canvas theme? Check out our guide on how to create a Facebook Like Box using Canvas!
---
Frequently Asked Questions
Q: How do I add a custom form to my Canvas campaign?
A: To add a custom HTML form to a Canvas campaign, first add an Optin Fields element to your campaign. From there, go to the Integrations tab and set the integration to Custom HTML.  See our Custom HTML guide for more information on configuring custom HTML forms.
---
Q: What types of campaigns support Canvas?
A: All of our campaign types support Canvas!
---
Q: Can I only use the Canvas Template to collect emails?
A: Aside from using OptinMonster campaigns to build your email list, you can use our Canvas technology to display special coupons, e-commerce applications, related products, Facebook like box, or basically anything else that you can code or embed.
Check out our blog post where we show you 9 Creative Ways you can use OptinMonster's Canvas Technology.
For instance, have you ever wondered how to create a Facebook like box popup? With OptinMonster's Canvas Technology, you can create a customized Facebook campaign so that your website visitors can like your Facebook page straight from your OptinMonster campaign!
---
Q: Can I use a native integration with my Canvas campaign?
A: Yes, you can add the Optin Fields element to your Canvas campaign and then configure the native integration on the Integrations tab.