Do you have groups in your MailChimp list that you would like your new leads to be automatically added? Would you like your new subscribers to choose a group or sub-list within your main MailChimp list? With OptinMonster, both of those options and more are easily achievable.
REQUIREMENTS:
Before you begin, this guide presumes you already have a MailChimp account and you have already added your
MailChimp integration
. If you haven't yet, you must set up your MailChimp integration to your campaign 
first
.
---
MailChimp Lead Segments Overview
If you have groups created already in your MailChimp account for the specific List you've chosen when setting up your MailChimp integration, then you will see a new section show up beneath the Lead Options section titled Lead Segments.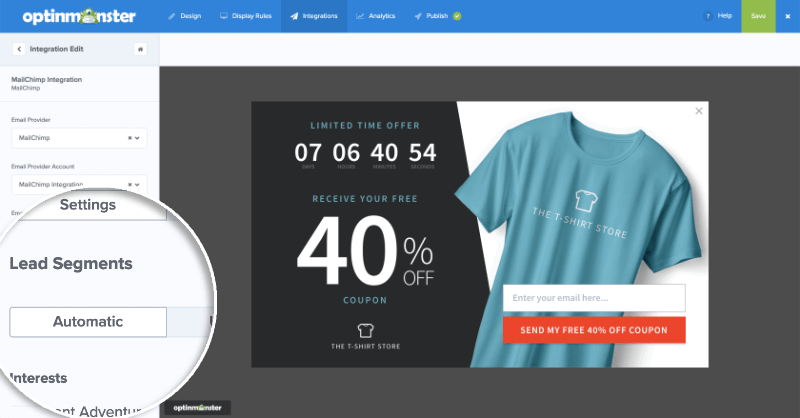 At this point, you will have 3 options:
How to Automatically Add New Subscribers to Groups
This option will let you automatically add new subscribers to your MailChimp groups. Under your Lead Segments sub-header, choose the Automatic option.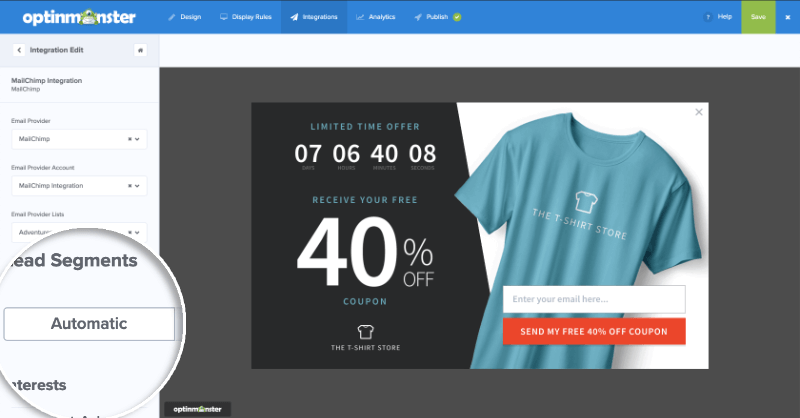 Check the box for the group or groups you want your new subscribers to be added to automatically.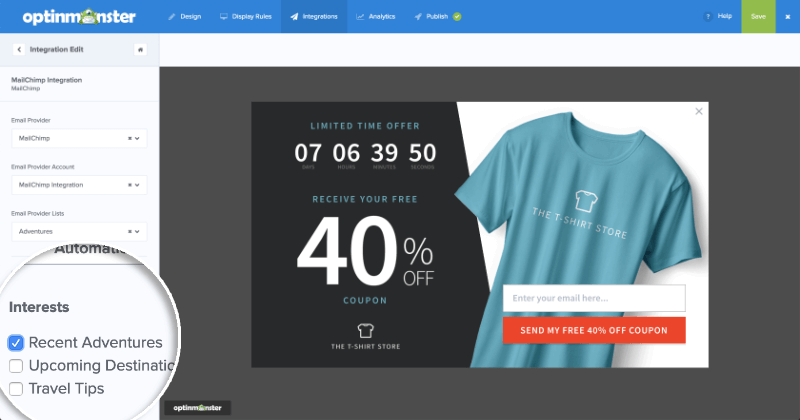 NOTE: There will not be any visible changes in your campaign because the groups are being added automatically.
How to Let Your New Subscribers Choose Their Own Group to Join
This option will let your new subscribers choose a group or groups they want to join themselves. In the Lead Segments section, choose the User Input option.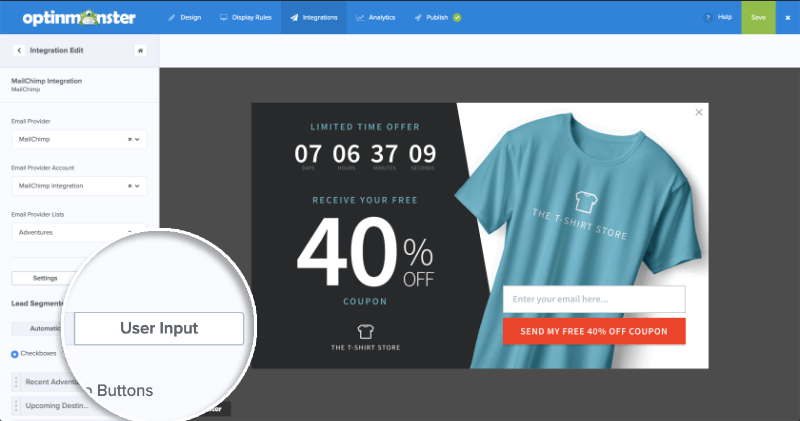 With User Input, you have a few additional options for your configuration.
If you want to force a user to only select one group, choose Radio Buttons. If you would like users to be able to choose multiple groups, use the Checkboxes option.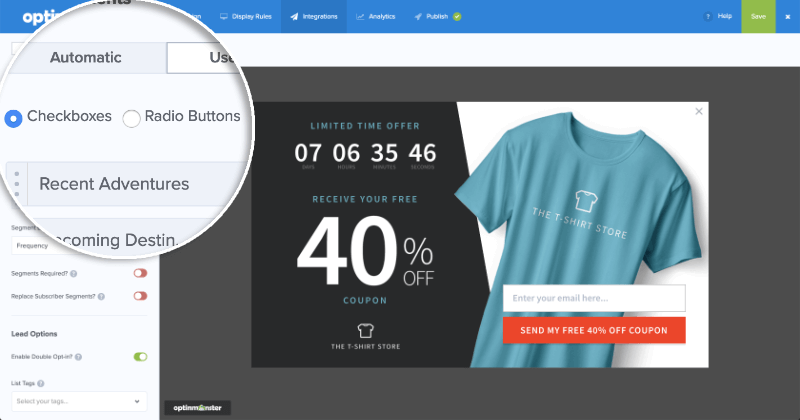 Click the eye icon for any possible group choice the user should be able to select. The eye icon controls which groups show on the campaign.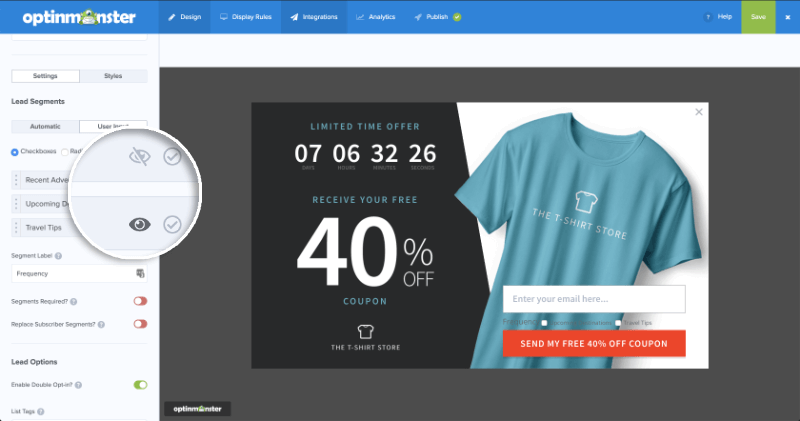 You can also optionally enable one or more of the options by default using the check mark.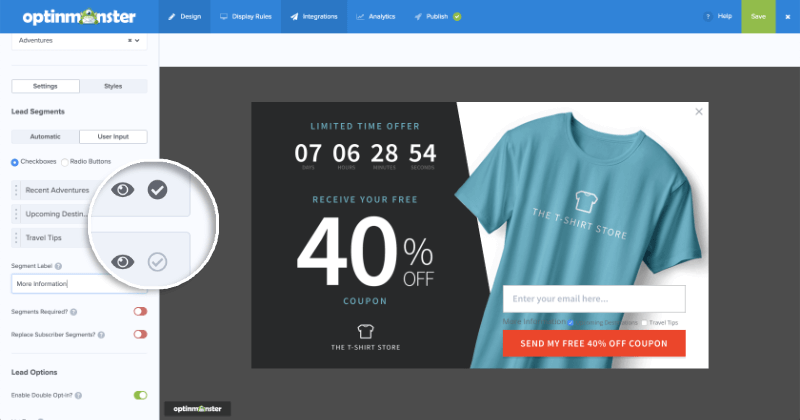 After the group configuration, there a few more segment options:
Segment Label: This shows in front of the options and gives more information about what the selections are for, such as "Frequency" or "Interests".
Segments Required: This forces the user to choose at least one of the available options.
Replace Subscriber Segments: When enabled, if the user is an existing subscriber, their current groups will be removed and updated. Otherwise, new groups will simply be added to any existing groups the user already belongs to.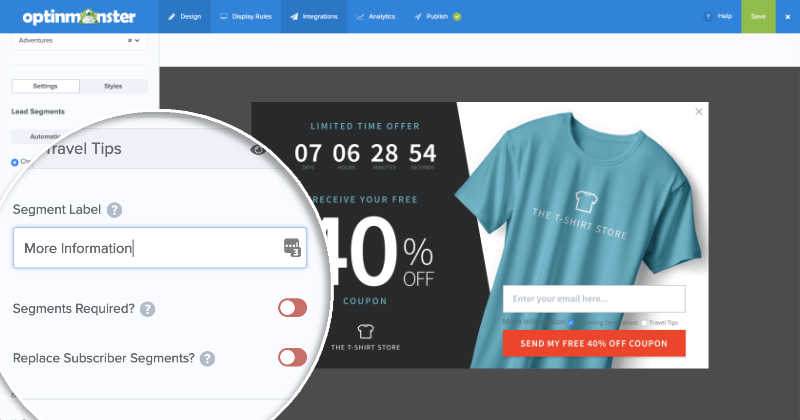 Configure Group Selection Style (Optional)
You can change the style of the user input segments in the Styles tab.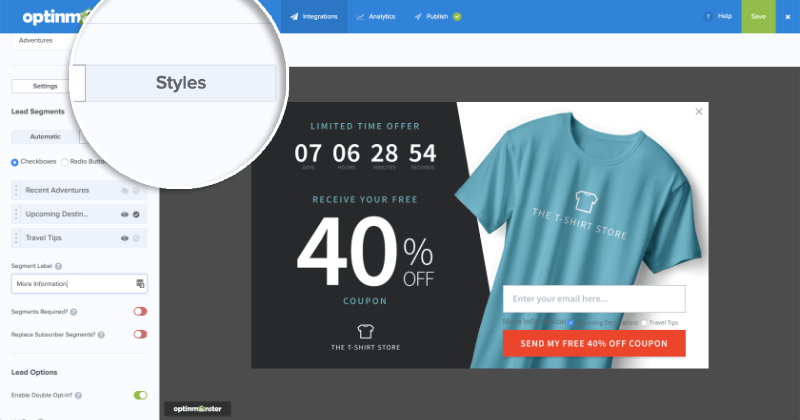 From here, you can change the Layout as well as the font settings for both the Segment Label and the Group Titles.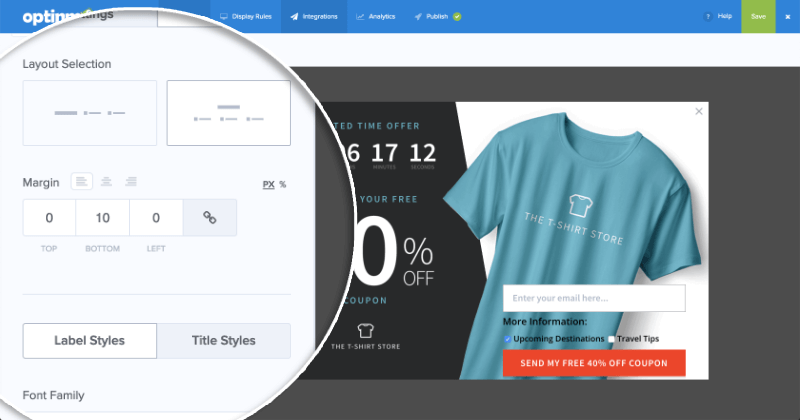 How to Combine Automatic and User-Chosen Groups
This option is the best of both worlds. You can have your new leads automatically added to a specific group of your choice, while also letting your new subscribers choose additional lists that they want to join.
To utilize both Automatic and User Input type of lists, select lists on both sides. First, set up automatic groups, then configure user input groups.
After you make your changes, don't forget to save your campaign, and that's it!
Looking for more information on how to get the most out of lead segmentation? See our post on proven ways to segment your email list!