Do you have groups in your MailChimp list that you would like your new leads to be automatically added? Would you like your new subscribers to choose a group or sub-list within your main MailChimp list? With OptinMonster, both of those options and more are easily achievable.

IMPORTANT: It has come to our attention that there is currently an issue with MailChimp's API regarding tags. We are looking into this issue and hope to have it resolved as soon as possible. Thank you for your patience.
REQUIREMENTS:
Before you begin, this guide presumes you: (1) Already have a MailChimp account AND (2) you have already added your
MailChimp integration
. If you haven't yet, you must set up your MailChimp integration to your campaign 
before
proceeding any further.
---
Overview of Your Options
If you have Groups created already in your MailChimp account for the specific List you've chosen when setting up your MailChimp integration, then you will see a new section show up beneath the Lead Options section titled LEAD SEGMENTS.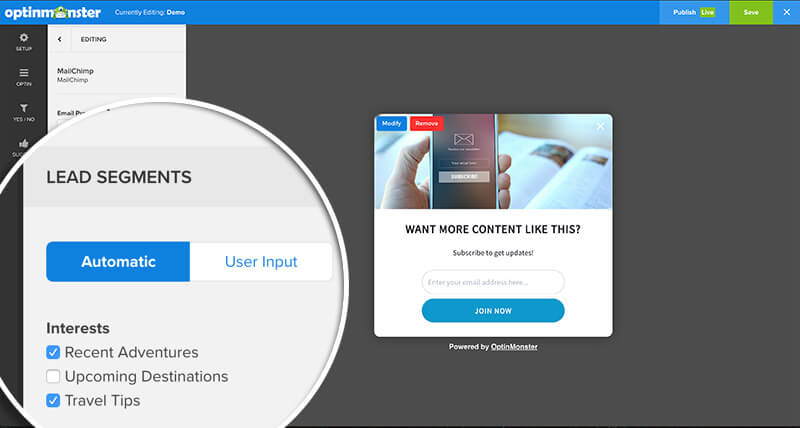 At this point, you will have 3 options:
---
OPTION 1: AUTOMATIC
This option will let you automatically add new subscribers to to your MailChimp groups. Under your LEAD SEGMENTS sub-header, you will choose the Automatic option.
With this setting, you can choose to auto-assign your subscribers to certain groups with your list.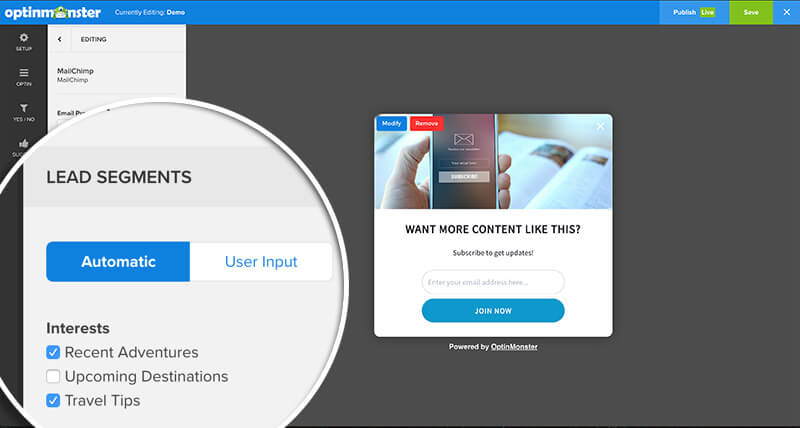 One thing to note: there will not be any visible changes in your campaign because the groups are being added automatically.
---
OPTION 2: USER INPUT
This option will let your new subscribers choose their own group to join. Under your LEAD SEGMENTS sub-header, you will choose the User Input option.
With this setting, you choose the group options available for the user.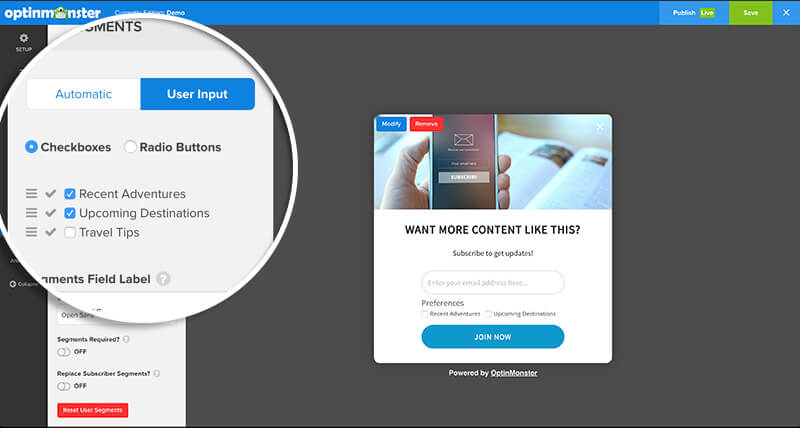 Whatever groups you add, only those groups will show in the campaign.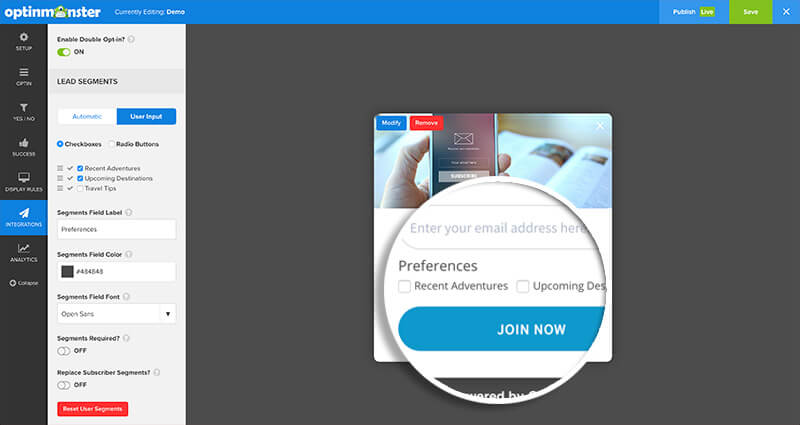 If you choose User Input, then you are presented with a few more options.
First, you can choose between checkboxes or radio buttons. To put another way, the checkboxes let users sign-up to multiple lists, whereas the radio buttons force the user to choose only one group.
Second, you have 3 new fields:
Segments Field Label: This allows you to label the selectable segments. Something like "Choose a list below." could be sufficient.
Segments Field Color: This allows you to change the color of the font of both the Segments Field Label and the options themselves.
Segments Field Font: This allows you to change the font-type used for the segments area.
In addition, you can pre-select suggested groups by click the checkmark beside the Group name.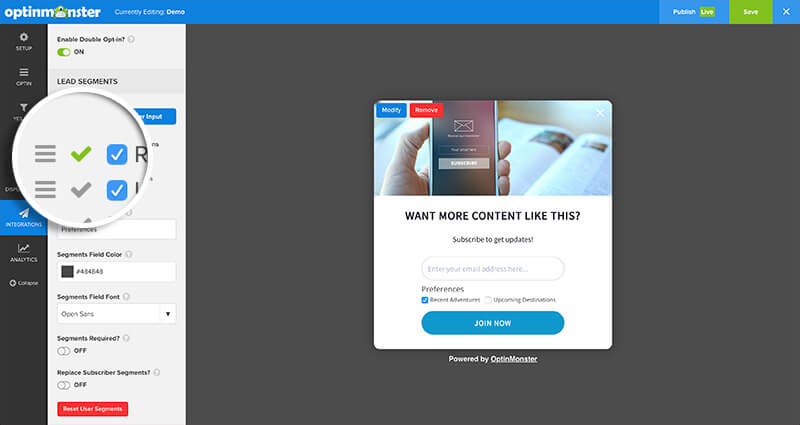 Finally, you can Require a Segment be Chosen. If you turn ON the Segments Required? field, then your web visitor must select at least 1 group to which they will be added. Otherwise, the form will not submit.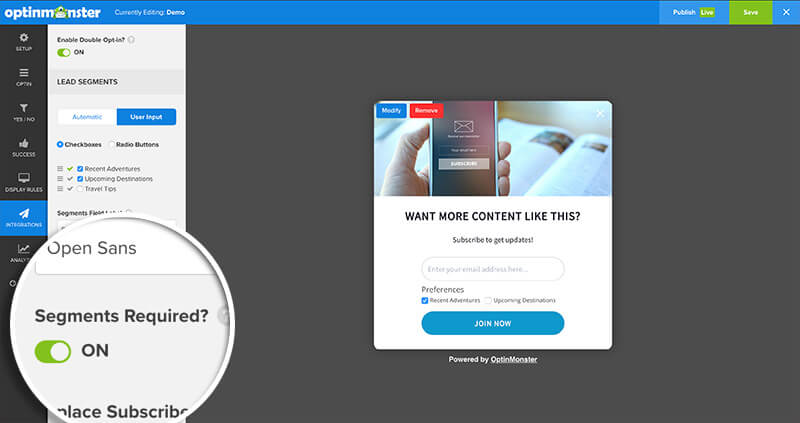 ---
OPTION 3: Both AUTOMATIC and USER INPUT
Essentially, this option is the best of both worlds. You can have your new leads automatically added to a specific group of your choice, while also letter your new subscribers choose additional lists that they want to join.
To accomplish both Automatic and User Input type of lists, you only need to select lists on both sides. Therefore, you will first complete Option 1: Automatic, then you will complete Option 2: User Input.
After you make your changes, don't forget to save your campaign, and that's it!