Are you seeing inaccurate results in Google Analytics due to your own visits to your website? You can update your account to ignore events triggered from your IP address. In this guide we'll show you how to exclude your own IP address from results in your Google Analytics account.
---
Log Into Google Analytics
The first thing you will want to do is to log in to your Google Analytics account.
This guide assumes that you have already set up your Google Analytics for your OptinMonster campaign(s) and that you know how to view your analytics reports. If you haven't reviewed either of those docs, please do that first before proceeding any further.
Find Your IP Address
Now, to prevent your analytics data being affected by your personal IP address, you will need to add a filter to your account.
You can find the public IP address you are currently using by searching "what is my ip address ipv4" on google.com. You can find out what IP addresses and subnets your company uses by asking your network administrator.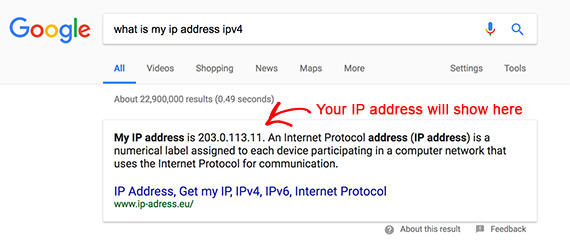 A Note on IP Addresses: In this example we are using the IPv4 address (or Internet Protocol Version 4) which is the shorter, more common form of IP address. The longer IPv6 address can also be used with Google Analytics.
Add A Filter to Your Account
Now we will create a filter for your account that will exclude data from your IP address from all reports.
First select the Admin tab in the bottom left corner of the interface. This will bring up a new page with many administrative options.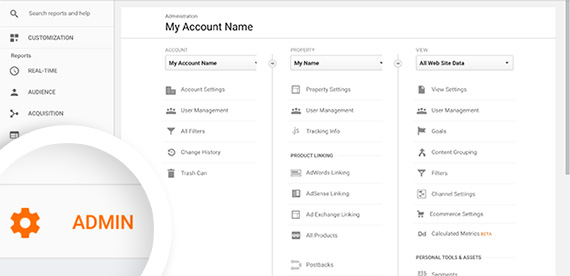 The Admin page is separated into three columns with options for your Account in the leftmost column. From this column click All Filters.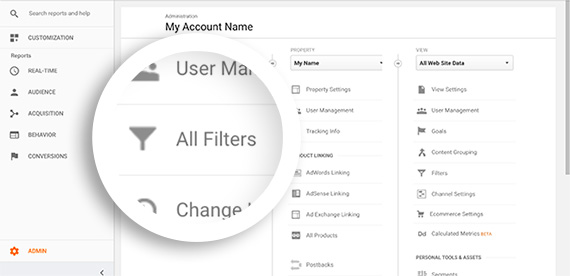 And then click + ADD FILTER.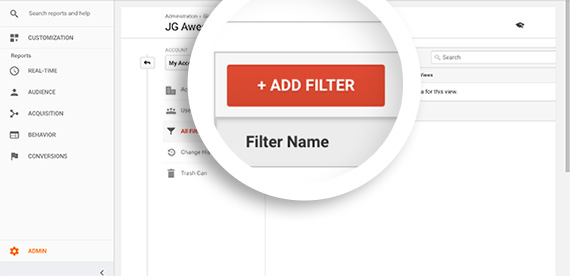 Now the page is displaying a form that is used to create the filter. Follow these steps to fill out the form:
Enter a name for the filter. I named my filter "Filter Out My IP Address"
Leave the Filter Type as Predefined
Click the Select filter type drop-down menu and select Exclude
Click the Select source or destination drop-down menu and select traffic from the IP addresses.
Click the Select expression drop-down menu and select that are equal to.
Enter your IP address in the text field.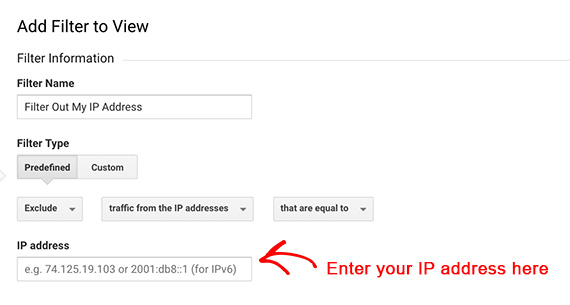 Click Save to save your filter and that's it, you are done. It is in place and working. If you want to test it out, you can follow Google's Guide here where it says "Make sure the filter works".
Congratulations on filtering out your IP Address. Now that you have more accurate results, you should consider split-testing your campaigns to improve your conversion rate.
---
Frequently Asked Questions
Q: Can I exclude multiple IP addresses?
A: If you have multiple IP addresses or subnets to exclude, you can either specify multiple address in a single filter or else make more than one filter. As with all filters, make sure the conditions you specify don't interfere with or contradict each other.
---
Q: How do I Easily Exclude Logged-In Users in WordPress?
A: You can use the plugin called MonsterInsights where you can follow their guide to easily exclude logged-in users of various roles.