We have answered thousands of tickets, and these are the most common bug scenarios we have found and fixed. Please review the following items below before submitting a support ticket as the solution to your issue may already exist!
Quick Tip: Use Cmd + F (or Ctrl + F on a PC) to do a quick search for a term that may help you locate your bug and a possible fix.
Before You Start
When debugging OptinMonster, we would highly recommend using Google Chrome. They have a very helpful debugging tool that lets you know exactly where errors are occurring and the nature of them. When in Google Chrome, you can do the following:
Visit the webpage where the error is occurring.
Right-click on the page and select the "Inspect Element" option from the screen popup.
Once the debugging window has appeared, click on the "Console" tab to the right.
If there are any JavaScript errors on the page, they will be listed in this console area. The messages output can be very beneficial for debugging OptinMonster.
Campaign Not Showing
The following are the most common reasons a campaign fails to load as expected:
Campaign Not Embedded
The campaign embed code has not yet been added to the site (non-WordPress), or the Output Settings haven't been configured (WordPress). See our documentation for instructions on adding OptinMonster to your specific site's platform.
Invalid or Incorrect Display Rules
The Display Rules for the campaign are invalid or preventing the campaign from loading on the specific page. Double-check the Display Rules set for your campaign according to our page-level targeting documentation.
Incorrect Domain
The domain set for the campaign to load on may contain a typo, or not match the front-end domain for your website. Some websites will use one domain for the admin of their site and a different domain for the front-end. If your site is configured in this way be sure you've added both domains for your campaign to load on.
Javascript Errors
Javascript errors on your site can interfere with OptinMonster. You can use Chrome's Dev Tools to check for Javascript errors on your site.
Campaign Image Size Issue
OptinMonster does not crop or resize your image(s) on upload, and the original image size is added to the campaign. In some browsers, if the image is larger than the intended space it can result in the campaign's content becoming distorted to accommodate the image.
We recommend you resize the image using your favorite image editor and re-upload it to correct this issue. Not only does this resolve the appearance, but it will also improve the campaign's page speed performance for your visitors.
See how to optimize your campaign images.
MailChimp Merge Field Error
If you're using MailChimp and receiving the following error, there are two possible causes/resolutions:
Oops! It looks like there was an error: There was an error with your submission: Your merge fields were invalid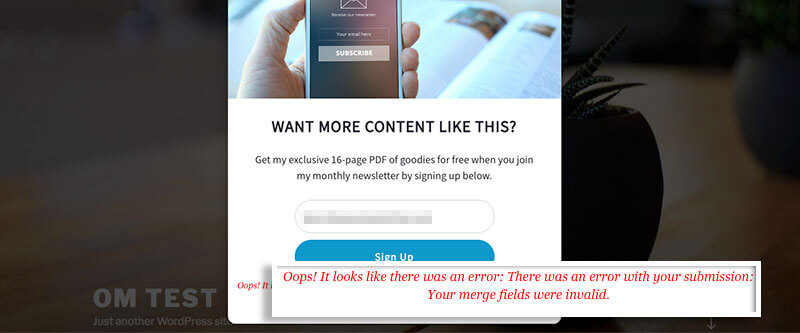 This error occurs when:
Your MailChimp's List settings require a certain field, such as the First Name input field, but you're not displaying the First Name field in your campaign;
or, the First Name input field has a name other than FNAME in your MailChimp account's settings.
To correct this issue, login to your MailChimp account and navigate to Lists > Your List and from the Settings dropdown select the List fields and *|MERGE|* tags link.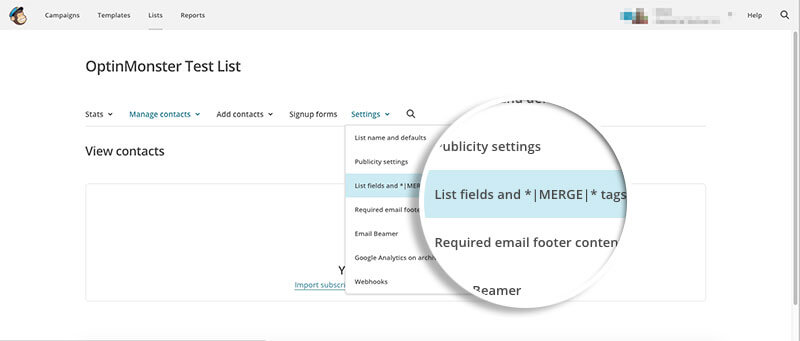 Locate your required field (such as the First Name field) and disable the required option if you aren't displaying the First Name field.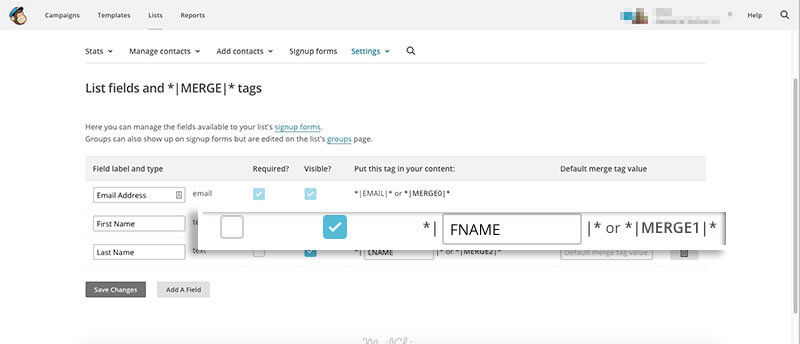 Be sure to Save Changes and your form should be ready to submit!
WordPress-Specific Debugging
I have downloaded the OptinMonster WordPress plugin .zip file but it's appearing as a folder in my Downloads. What do I do?
All you need to do is re-zip the folder so that you can then follow the installation instructions for installing OptinMonster. Your browser is probably set to unzip a file upon download. You can re-compress the OptinMonster file yourself (so it is zipped) and upload it to WordPress, install OptinMonster from your Plugins > Add New screen, or you can manually upload it using FTP.
Helpful Documentation:
How do I get updates for the OptinMonster WordPress plugin?
Go to Dashboard > Updates. Any updates will be listed here.
If you do not see any updates for OptinMonster but have been informed that there are some, you may need to refresh the page a time or two to see the update that is available.
I've enabled my campaign, but it's not appearing on my site
There are a couple of reasons your campaign may not be properly appearing on your site, including:
Page-Level Targeting hasn't been set or has been improperly set
When using the OptinMonster plugin to add your campaigns to your site you're able to configure where they appear on your site using the plugin. If you're also using the Display Rules in the campaign builder to control where your campaign appears it's possible to configure conflicting settings in these two areas. Be sure to check the output settings in the plugin and the Display Rules in the campaign builder to make sure there are no conflicts.
You're using a JavaScript minification plugin
Such as W3 Total Cache, Autoptimize, BWP Minify, etc. JavaScript minification plugins can prevent OptinMonster from functioning properly. Some minify plugins allow you to exclude specific JavaScript files, be sure to check that the minify plugin you're using also allows you to exclude specific JavaScript files. You'll need to exclude OptinMonster's api.js file from being minified.
If you're using Autoptimize just add api.js to the "Exclude scripts from Autoptimize" field and save.