A multi-site setup to handle different sub-organizations within a larger organization is becoming the ideal way to manage organizational websites. Perhaps your school has multiple departments, your company has different divisions, or your blog has vastly different audiences. No matter the reason for using multi-site, OptinMonster can help you generate leads across your different sites.
In this guide, we will walk you through how you can use OptinMonster with WordPress multi-site.
---
Step 1 – Determine Plugin Activation – Network or Sub-Site
There are two ways to install OptinMonster on a Multi-Site:
The difference between the two options is if you want to use OptinMonster on all of your sub-sites OR if you only want to use OptinMonster on some of your sub-sites, respectively.
To install OptinMonster for use on your sub-sites, navigate to the plugin menu on the network as follows:
Hover over My Sites.
Hover over Network Admin.
Scroll over and select the Plugins link.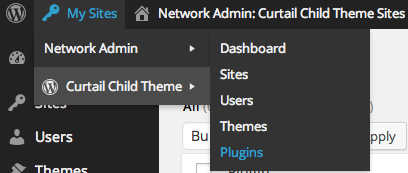 TROUBLESHOOTING:
Don't see the network plugin menu? Be sure your user account is the
Network Admin
, a requirement to access this area of the Network.
Your next screen will be the plugin menu. Install the OptinMonster plugin, but hold off on activating the plugin until you decide if it will be network or sub-site activated.
OPTION 1 – Network Activated
In this situation, you will notice that you can Network Activate the plugin.

Network activating the plugin will allow all of the sub-sites on the network to use OptinMonster without having to verify their install, etc.
If all or even most of your sub-sites will use OptinMonster, then Network Activating the OptinMonster plugin will likely be the best fit for your workflow.
OPTION 2 – Sub-Site Activated
The other option is to install the OptinMonster plugin and activate it only on individual sub-sites in the network. This can be beneficial because some of your sub-sites may have no use for OptinMonster. Therefore, one can keep a cleaner sub-site dashboard by not activating unused plugins.
To activate on a sub-site, navigate to the sub-site's plugin menu, scroll down until you see OptinMonster and select the Activate link.
Next, navigate to the OptinMonster menu link, where you'll be prompted to authenticate your OptinMonster account before proceeding.
---
Step 2 – Create, Test & Adapt!
After you have your multi-site setup configured, you are ready to begin creating campaigns!
Also, checkout the following useful tips to get started building successful campaigns:
Creating your First Optin — this guide will show you all you need to know about creating your first optin.
Split Tests — this guide will show you how you can create a split test, learn which designs convert better, and adapt your designs to increase your subscriber base.
Follow our Blog — keep up to date with Email Marketing tips, Lead Generation ideas, and learn new ways to use OptinMonster
---
FAQs
Q: How do I allow my campaigns to load on multi-site subdomains?
A: You can now target specific sub-domains in OptinMonster for greater control over where your campaigns load. See our sub-domain targeting guide to get started.
Q: If I have OptinMonster activated on the sub-site level, but don't want to worry about continuously verifying the license key on each sub-site, is there anything I can do to keep the plugin verified on all sub-sites?
Yes, you can add the following to the wp-config.php file:
define( 'OPTINMONSTER_API_USER', 'your_username_here' );
define( 'OPTINMONSTER_API_KEY', 'your_key_here' );
This will keep your key verified and therefore will allow the sub-sites to activate and use OptinMonster without needing the key from the Network Administrator.