Once you get a taste of greatness, you want more. This is why we made the upgrade process easy. You can upgrade your OptinMonster account in a few easy steps, from a monthly subscription to a yearly subscription, or from a lower subscription level to a higher subscription level.
---
How to Upgrade your Account
To upgrade your OptinMonster subscription, first log into your OptinMonster account.
Next on your main Dashboard page, click the Upgrade button.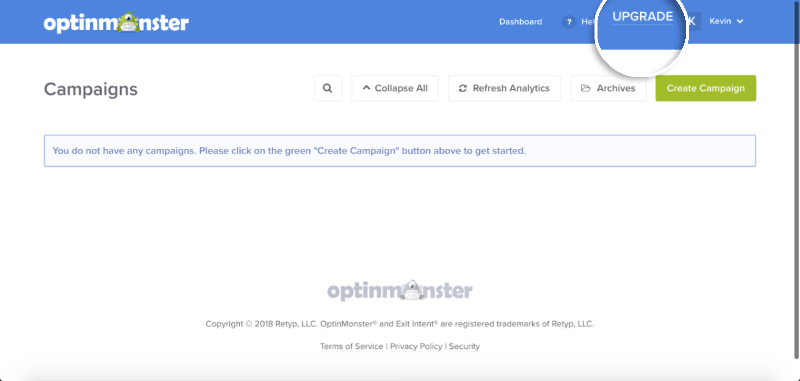 The very next page will show you your optimal upgrade option, which will give you access to the greatest number of features. With all of your options presented, you can compare the subscription levels and make the best choice for your business needs.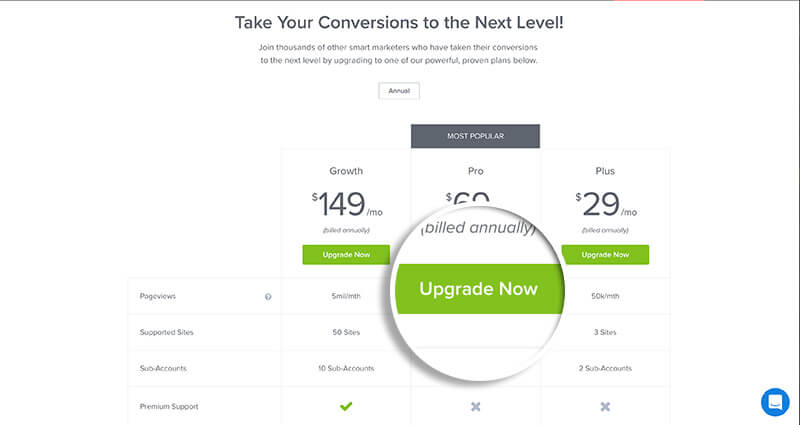 Select the subscription you would like to upgrade to by clicking Upgrade Now. When you do that, you will get a confirmation box.

You can click Confirm Upgrade and you're good to go.
You now have instant access to your new plans features and benefits!
If you have a question, click Contact Sales instead, and you will can send our support team a message.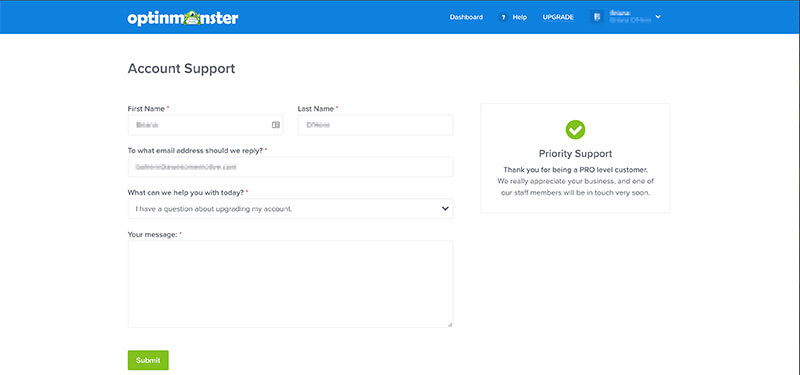 ---
FAQs
Q: Will my Account be Pro-rated?
A: Yes, your account will be pro-rated according to the upgrade you complete — from monthly to yearly, from Plus to Pro, etc. It all depends on your current usage.
---
Q: If I upgrade from a Monthly to Yearly Plan, how much time will I have available on my Subscription?
A: You will have 1 year from the date of upgrade.
Example: If you are on a monthly account, which started on May 1, 2017, and you upgrade to an annual subscription on May 15, 2017, then you will have an active subscription for a whole year starting on May 15. The price you pay for the upgrade will be pro-rated for the 15 days you used in May.
---
Q: Can I downgrade my subscription?
A: No, you cannot downgrade to a lesser-featured subscription nor move from an annual subscription to a monthly subscription while your current subscription is still active.