So, you've seen what OptinMonster can do, and you're now ready to upgrade your account for even more of the goodness that you've come to know and love.  More features and flexibility are going to give you everything you need to continue skyrocketing your conversions.
In this article, you'll learn how to upgrade your account.
Before You Start
Here are some things to know before you begin.
You can not downgrade your account without contacting support.
Your OptinMonster account upgrade will be pro-rated when you update your account.
Get Started With OptinMonster Today!
BONUS: Done-For-You Campaign Setup ($297 value)
Our conversion experts will design 1 free campaign for you to get maximum results – absolutely FREE!
Click here to get started →
How to Upgrade your Account
To upgrade your OptinMonster subscription:
Log into your OptinMonster account.
On your main Dashboard page, click the Upgrade button.
Choose your preferred upgrade option for your account on the next page. 
Select the subscription you would like to upgrade to by clicking Upgrade Now. When you do that, you will get a confirmation box.
Click Confirm Upgrade.
You now have instant access to your new plans features and benefits!
If you have a question, click Contact Sales instead, and you can send our support team a message.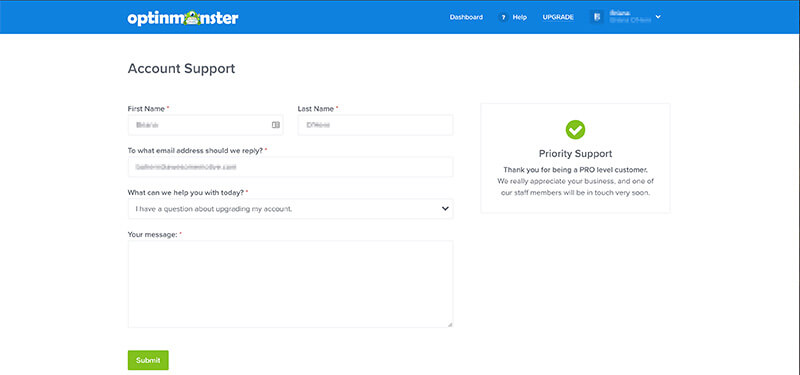 Troubleshooting
Will my upgrade cost be pro-rated?
Yes, your upgrade cost is automatically pro-rated based on the plan you upgrade to and the amount of time remaining in term of your current subscription. The pro-rated amount is reflected on the checkout page when upgrading your plan.
If I upgrade from a Monthly to Yearly Plan, how much time will I have available on my Subscription?
You will have 1 year from the date of the account upgrade.
Example: If you are on a monthly account, which started on May 1, 2019, and you upgrade to an annual subscription on May 15, 2019, then you will have an active subscription for a whole year starting on May 15. The price you pay for the upgrade will be pro-rated for the 15 days you used in May.
Can I downgrade my subscription?
There is no way to downgrade from within your own account, however, our customer support team would be happy to assist. Please open a support ticket with details of how you'd like to adjust your account.