Do you need to take a break from OptinMonster? We make it easy for you! This guide will show you how you can cancel your subscription with OptinMonster.

IMPORTANT
: Cancelling your account
does not
automatically issue a refund. If you are looking for a refund and you are within your first 14 days of use, then please
contact our support team
to request a refund.
---
What Does "Cancel My Subscription" Mean?
OptinMonster is a subscription based product. When you cancel your subscription you will be able to finish out your paid term, but your account will not auto-renew.
For example, let's say you have a Monthly – Pro Subscription and your purchased it on January 1, 2015. Come July 15, 2015, you decide you don't need OptinMonster at the moment. If you cancel your subscription, your auto-renewal stops, but you will still be able to use OptinMonster for the remainder of July.
This is true for annual subscriptions as well, except in those cases your term is a year.
Once your paid term expires you will no longer have access to your campaigns and they will not display on your website(s) until you purchase a new subscription.
How to Cancel Your OptinMonster Subscription
Canceling your OptinMonster subscription is quite easy. It is accomplished in just a few steps!
Step 1 – Select "Cancel Subscription" on Your Account Page
To cancel your OptinMonster subscription, first log into your OptinMonster account.
Then, click on your name at the top right followed by My Account.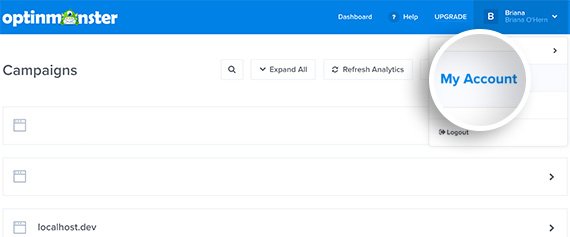 From the My Account page, click on Billing at the top.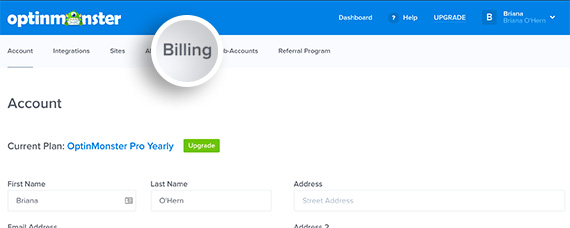 This will open the Billing page. On this page, scroll down and select the Cancel Subscription link.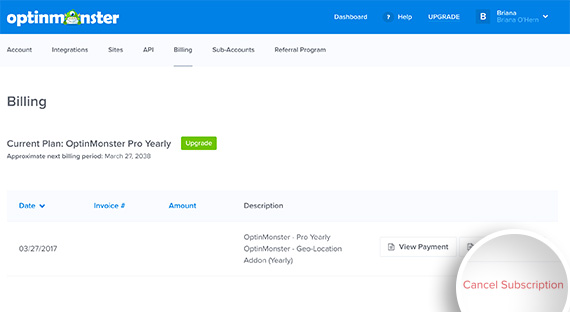 Step 2 – Confirm the Cancellation
IMPORTANT:
It is not possible to 'undo' the cancellation of your subscription once it's been confirmed in this step. If you incorrectly cancel your subscription and wish to reactivate your subscription you must
purchase a new subscription
.
Proceed with caution.
Next you will be taken to a page to confirm the cancellation of your subscription. If you just want to cancel your Geo-Location addon, click
Cancel Addon Subscription
. Otherwise, if you want to cancel your primary OptinMonster subscription, click the 
Cancel Subscription
button at the top finish the cancellation.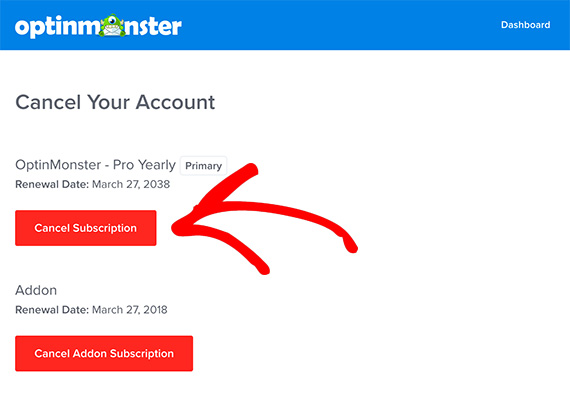 That's it, your subscription has been successfully cancelled!

NOTE
: When you decide to come back, just
log back into your account
, purchase a new subscription as prompted, and you'll immediately regain access to all of your campaigns!
---
FAQs
Q: If my subscription expires will all of my campaigns and data be deleted?
A: No! You can return to OptinMonster at any time and pick up where you left off with all of the campaigns you had previously created.
---
Q: Why don't I see a 'cancel subscription' link on my Account Page?
A: There are a few reasons the 'cancel subscription' link may not be available. To confirm the status of your account please contact our support team and we'd be happy to personally assist in the matter!